Sante's Hermit Cookies Recipe
My friend Sante shared his hermit recipe with me - a simple, drop-style, spice cookie loaded with tiny currants, chopped walnuts, and finished with a bit of icing.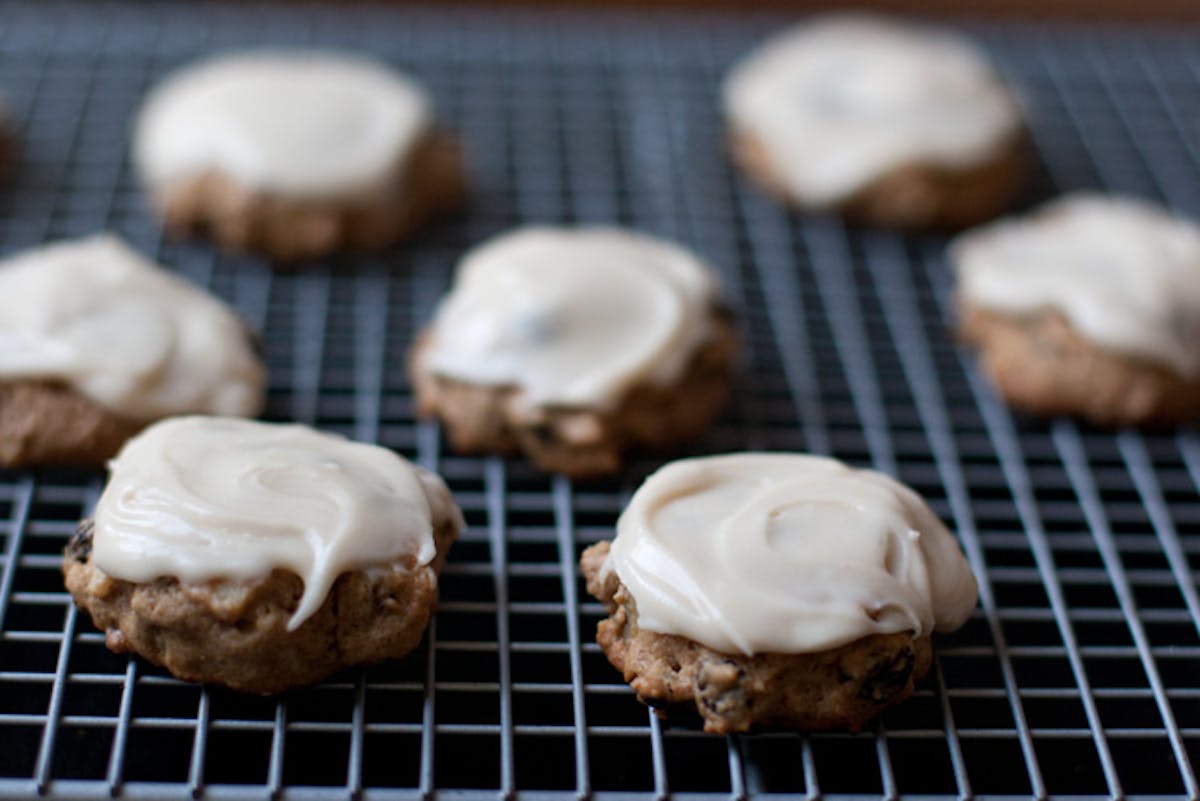 The other night I was enjoying dinner with my friend Sante and a few others. Sante is a fun person to chat with because he's one of those guys who never runs out of stories - or opinions for that matter. Some of you may know him from his days as the chef at the Slow Club here in San Francisco. Late in the evening the topic of conversation turned to Christmas cookies. Sante started talking about hermits - a cookie he makes regularly for a friend who loves them. I had no idea what he was talking about. I'd never heard of a hermit cookie. He went on to describe a simple, drop-style, spice cookie loaded with tiny currants and chopped walnuts, finished with a bit of icing.
A few things I've learned after making my first batch of hermits...Hermits are really good the day they are baked and iced. They are even better the day after - the icing develops a bit of a crust and the spices seem to meld together. Hermits are perfect with a cup of coffee in the morning. They are great on a holiday cookie plate. They are great with a cup of tea in the afternoon, and they are simple to make. The chewy, nuttiness along with warm flavors like cinnamon, allspice, and cloves strike a nice balance, and I kept thinking to myself - this might make a delicious muffin batter.
I made a couple tweaks to Sante's version of hermit cookies using the ingredients in my own pantry. And truth be told, I accidentally overlooked the "chill for one hour" instructions with no negative consequences - my dough was a bit tacky, but the cookies still turned out fine. I think I also went a bit heavy on the icing, but no one around here was really complaining.
For those of you still on the hunt for Christmas cookie recipes, I've compiled a bunch from past holidays into once place.
Sante's Hermit Cookie Recipe
I use whole wheat pastry flour here, but you can substitute unbleached all-purpose flour if that's what you have on hand.
1 1/2 cups whole wheat pastry flour (or unbleached all-purpose)
2 teaspoons aluminum-free baking powder
1/2 teaspoon fine grain salt
1/2 teaspoon ground cloves
1 teaspoon ground cinnamon
1 teaspoon ground allspice
1/2 cup unsalted butter, room temperature
1 cup natural cane sugar, sift out any chunks
1 large egg
1 teaspoon pure vanilla extract
1 cup currants
1 cup walnuts, chopped
1/4 cup milk

1 cup organic powdered sugar, sifted
4 - 5 tablespoons heavy cream
1 teaspoon pure vanilla extract
Preheat the oven to 350F degrees. Racks in the top and bottom third.
Sift the flour, baking powder, salt, cloves cinnamon, and allspice into a medium bowl - set aside. In the bowl of an electric mixer (or by hand), cream together the butter and sugar. Add the egg and vanilla. Blend well, scraping down the side of the bowl a few times along the way. Add the currants and walnuts. Add the dry ingredients in three batches, alternating with the milk. Chill (covered) for one hour.
Drop the cookie dough (one level tablespoon at a time) onto un-greased cookie sheets, leaving an inch or so between cookies. Dampen your fingers with a bit of water and gently flatten the dough. Bake for 12 -15 minutes or until the bottoms of the cookies are deeply golden. Cool on a wire rack.
While the cookies are cooling, make the icing. Whisk the powdered sugar, heavy cream, and vanilla together in a small bowl - use immediately. Frost each cookie with an off-set spatula (or pastry bag) - but not until they are completely cool.
Makes about three dozen hermits.