Sesame Almond Brown Rice Balls Recipe
Perfectly portable sesame almond brown rice balls. I packed these for a road trip from SF to Portland last week. They're flecked with green onion, and you can tuck edible surprises (i.e. avocado) in the centers if you like.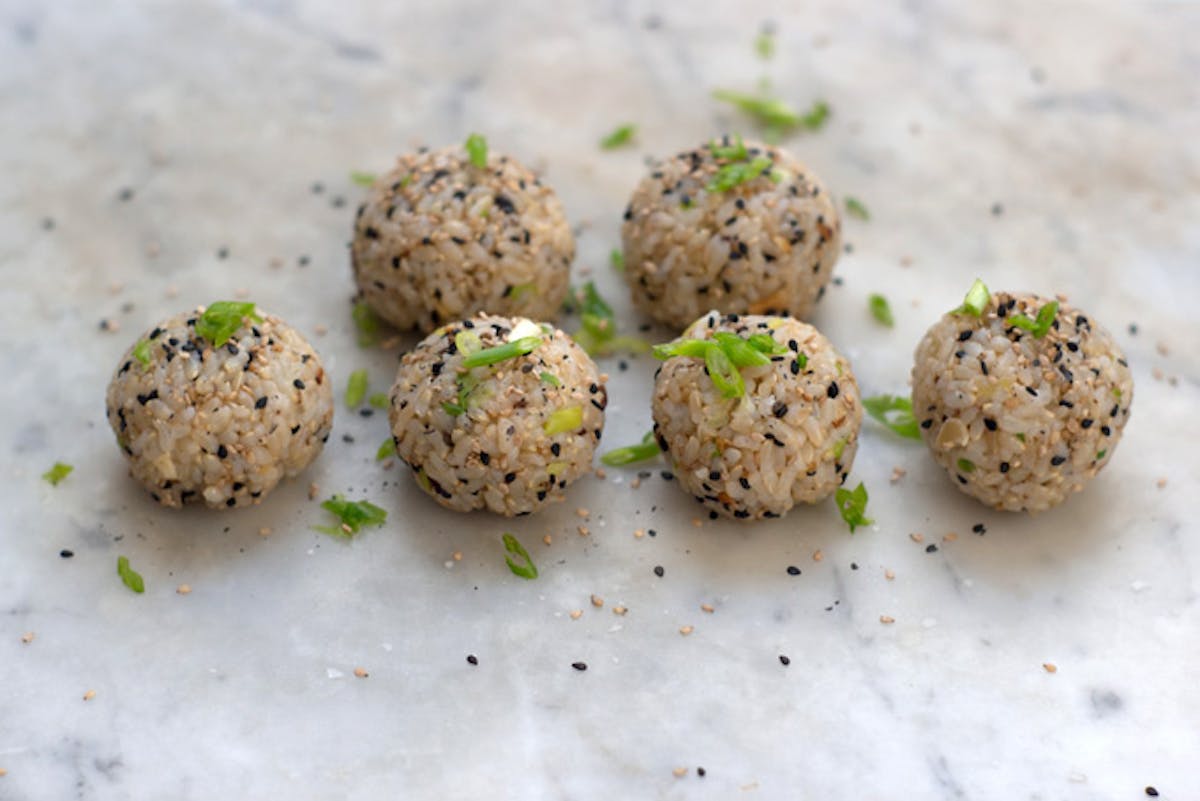 The last time I was stranded on the side of a road was in Sri Lanka. The sun was intent on breaking us, the location remote. I can tell you this, a shredded tire on the side of an Oregon highway, storm or no storm, is preferable than one outside a game park near Wellawaya. Remedying that situation involved hitching rides in unfamiliar minivans. Then a visit to a Sri Lankan safari don's living room where we commissioned a ride south (you can imagine who had the upper hand in that negotiation). This one? A phone call, a flat bed truck, and a short stint in the waiting room of the repair shop. I'm home now, and aside from a couple hurdles (wind, rain, snow, icy roads, flat tires) driving along the coast from San Francisco to Portland, Oregon is beautiful. Although...I might make it a summer trip the next time around.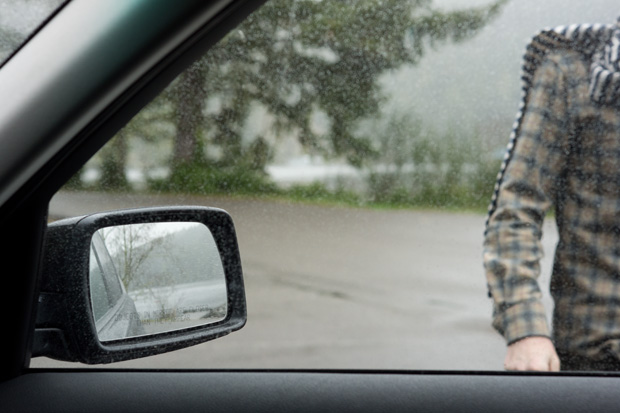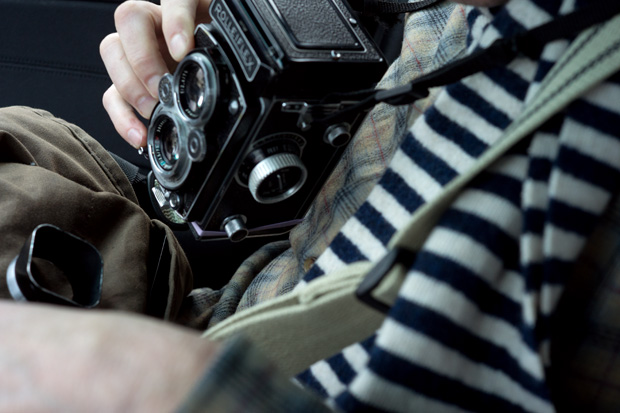 I'm realizing that a good number of the shots I took over the past week were from where I was sitting IN the car. The wind was blowing so hard at some points that it was hard to open the door.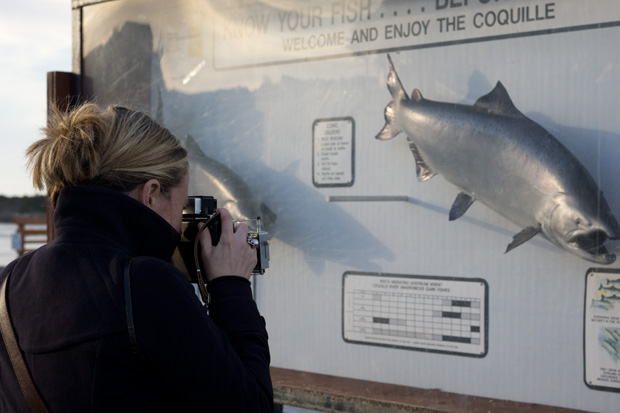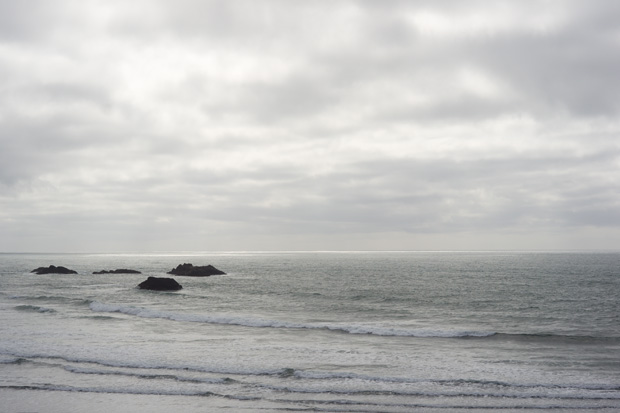 As far as provisions go...aside from the cake, I packed the car with all sorts of things to make into snacks (or meals) in a pinch. With a bit of soy sauce and some tofu we grilled on the balcony of the hotel, these brown rice balls worked out nicely as a quick dinner one night. I should clarify the hotel was more like a condo with a sizable balcony and I'm guessing not all properties allow this.You can tuck little cubes of avocado,or whatever else, into the centers to make them as substantial as you like.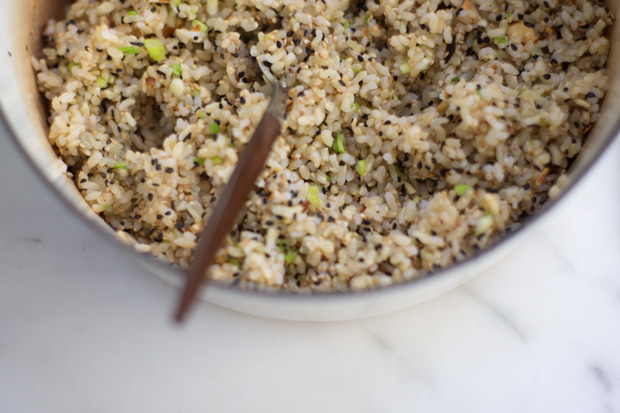 You can make the rice balls as large or small. I like them on the small side - more golf ball than baseball. As long as you use the right kind of rice, shaping them just takes a bit of patience and practice. I line a tiny, steep-sided bowl with a sheet of plastic wrap, fill the bowl, twist, shape, peel. The cup I use is about 1/2 cup capacity, and I fill it 2/3 full. You want to use short grain brown rice - I use short grain brown Japanese rice, sometimes labeled sushi rice. Long grain rice doesn't work as well. Arborio rice works well too, but I never see that sold as whole grain. Have a look at the photo (up above) so you can see the size of the rice grains in my hand.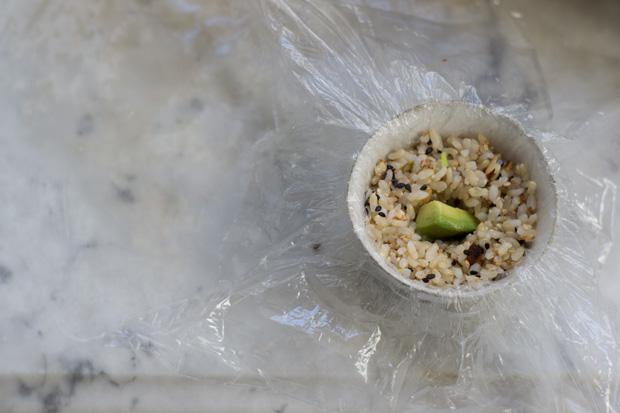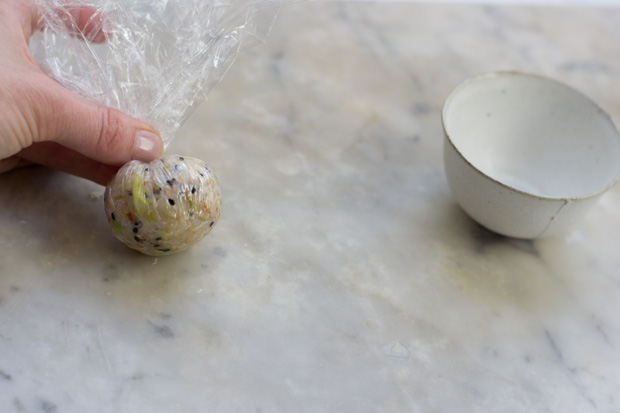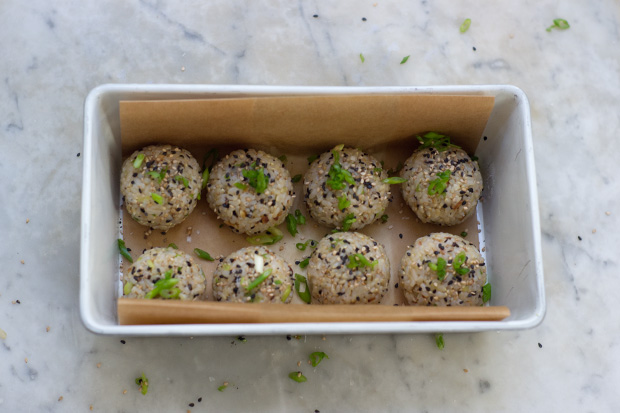 I seasoned this batch of rice balls with sesame seeds and green onions, studded them with chopped almond slices. As you can imagine, you can go in a million different directions here. They are super portable - picnic, cubicle, car, plane, school lunch - as long as you have a structured container, they should survive intact. I put mine in a parchment lined cake pan.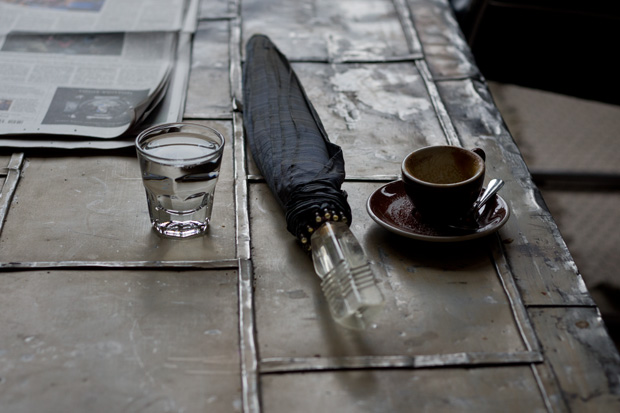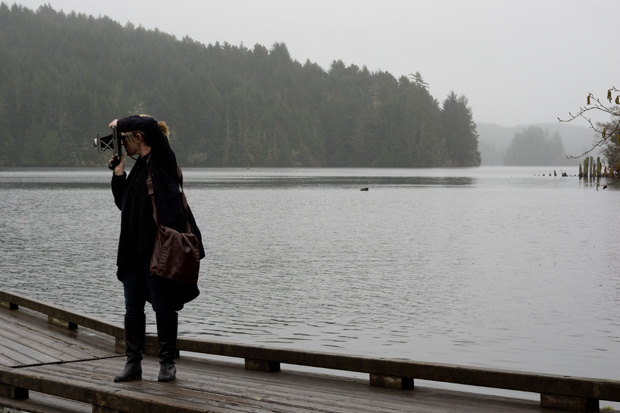 Before I sign off I wanted to thank all of you who sent such nice notes about the James Beard nomination of Super Natural Every Day (here's a PDF of the nominees). They made my day. It's a fantastic feeling to be nominated, even better to know so many of you are excited as well. I keep saying it, the support and enthusiasm you've directed toward my book over the past year continues to blow me away. And it certainly keeps me thinking about how I can raise the bar the next time around. xoxo -h
Sesame Almond Brown Rice Balls
Because brown rice has all the stuff that can go rancid still intact - bran/germ, if you can find organic rice labeled "new crop", go with that. And, in case you want to make a larger pot of rice, use ~1 1/2 cups / 360 ml water for each cup of rice - perhaps a splash more.
2 cups / 14 oz / 400 g brown sushi rice (stubby, short grains)
3 cups / 710 ml water
1/2 teaspoon fine grain sea salt

1/4 cup / 1.5 oz / 45 g sesame seeds (white/black mix)
3 tablespoons toasted almond slices/slivers, chopped
1/4 cup / 4 tablespoons minced green onions

Optional: things to tuck in the middle: avocado cubes (toss in lemon juice first), tofu, etc.
In a colander or fine-mesh strainer, rinse the rice briefly and drain. If you have time to soak the rice for an hour or two, do it. If not, just proceed. Bring the rice to a boil over medium-high heat in your thickest-bottomed pot. Dial the heat back so the water is just simmering actively - low-med. Cover with tight fitting lid, and try not to peek too often.
Cook the rice until the water has been absorbed and the grains are cooked through, usually about an hour, less if you've soaked the rice.If the grains have cooked but there's still water to be absorbed, dial the heat up to medium-high until the pan dries out, being careful not to scorch the rice at the bottom. Remove the rice from heat and let rest, covered, for at least 15 minutes, preferably a bit longer. Fluff with a fork, then gradually add and incorporate the sesame seeds, almonds, and green onions. At this point, taste, and adjust the seasoning, adding more salt if needed. I let the rice cool quite a bit before shaping.
To form the rice balls, line a small cup with plastic wrap, sprinkle the plastic wrap with a dab of water, then fill the cup 2/3 full with rice mixture. No need to pack it down. You can tuck something in the center at this point if you like. Gather the plastic wrap like you would a ponytail, and twist at the base of the rice. Make sure there is no air trapped, and use your opposite palm to shape into a ball (see photo up above). Carefully remove plastic wrap and set the rice ball in a parchment lined container or on a plate. Repeat with the remaining rice.
A couple tips: If your fingers get sticky, dab with water. And if you run out of steam making rice balls, just cook up a couple eggs into a thin omelette, cut into shreds, and toss with the rice - makes for one of my favorite quick lunches.
Makes about 2 dozen small rice balls.
Prep time: 20 minutes - Cook time: 60 minutes