SNE: Choosing a Cover Recipe
A few notes on choosing the cover for my next book, Super Natural Every Day.
I thought I might loop you all back into the realm of Super Natural Every Day, to share a bit more of the play-by-play that goes into the making of a cookbook like this one. In case you missed previous (related) entries, I wrote this to kick off the series, then this one about how I approach the manuscript. Today I thought I'd share a bit about choosing a cover. It looks like we have a cover design that (fingers-crossed!) I hope you like as much as I do, and I'm excited to share some of the thoughts that went into it. Here it is:
I should start by saying, the path from having an idea for a book to holding the book in your hands is (in many cases) long and surprisingly non-linear. For example, I'm deep into the manuscript and photography for Super Natural Every Day, but not finished. At the same time, we're deciding on a cover. The cover seems to be one of the first things that needs to be nailed down. It appears in all sorts of places long before the book goes to the printer - for example, the publisher's catalog, on the pages of online book stores (for pre-orders), etc. It's the face of the book, and if done well, should set the tone for what you'll find inside.
I'm sure I've mentioned this before, but I feel very fortunate to be working with Toni Tajima at Ten Speed Press on the book design for Super Natural Every Day. Toni was my designer on Super Natural Cooking, and having her on that project was a stroke of good fortune I'll forever be grateful for. Being able to work on the follow-up with her? I've been out-of-my-mind excited about it. Toni heads up the design on the entire book - cover, interior, fonts, spreads - the whole nine.
So, let's talk about the function of a cover. They're quite complicated. Practically speaking, they have jobs to do. They need to communicate the premise of the book. They can set the aesthetic tone for the pages to follow. They need to look good life-sized, and as thumbnail icons. In my case, this cover had to differentiate itself from the last book at a glance, yet look related. As far as working with your publisher goes, you want to have buy-in from the people in the departments who support your book as well - the list is long (and important), and includes sales people, marketing people, as well as editorial. It's a collaboration, and the trick is creating and choosing something you love that doesn't fall into the design-by-committee trap.
Toni did a bunch of different mock-ups for this cover, and I fell for the one up above the minute she display it on her screen. All the other stuff aside, it felt right to me, hit the right tone. It's pretty, feminine, quiet with a couple understated flourishes. I liked the restrained color palette, and the font treatments. It has the dahlias I love to visit in Golden Gate Park in late summer, and one of my favorite recipes from the book pictured (a special potato salad). It's the kind of book I would pick up at a glance. This was one of the last comps she shared with us after sending other versions in the previous weeks. There were six or seven of us huddled around her desk when she showed it, and everyone seemed to light up.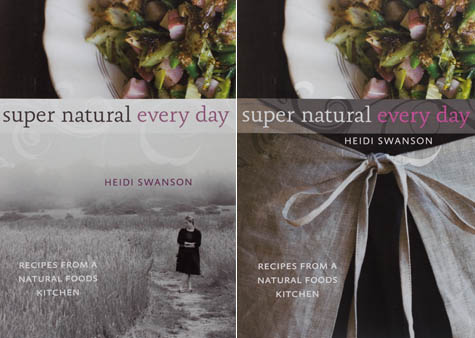 Here are a couple earlier versions (above) - two alternate favorites of mine. I like the softness of both, and again, the limited color palette. I'm not much of a shouter, part of the reason I think these quieter covers resonate with me.
As I mentioned up above, we talked a lot about how Super Natural Cooking and Super Natural Every Day should look different, yet related. One thing that will help, in addition to the actual cover design, is the trim size of the actual book. The new book will be the same as SNC, but with more pages. It'll be thicker. But if all goes well, you'll be able to tell they're sister titles.
And here we have a couple more me-centric (and, I'd argue, more commercial) covers. I think everyone agreed they're too close to the SNC cover. Also, while I might be on the covers here, they didn't really feel like me, if that makes any sense. Let's just say, I'm happy to make my exit from the cover to relax on a few of the inside pages ;)....
So, that's where things stand on the book front. I'm sure it won't be long before I'm able to share some spreads with you, or a glimpse at the recipe pages, or any other aspect of the creative process you might be interested in. We're working toward sending it to the printer this November(!)...which seems so far off, but really isn't. And lastly, I know some of you feel short-changed when I don't have a recipe to share, so I went back into the archives and cherry-picked two favorites to remind you of - I hope that will hold you over for a few days. xo -h
This Carrot, Dill & White Bean Salad is one of my favorites: Warm, coin-shaped slices of pan-fried carrots, white alubia beans, and chopped dill tossed with a tangy-sweet lemon shallot dressing. And it has been some time since I posted a sandwich, maybe because none are as good as this TLT, if cherry tomatoes have started turning up in your markets, give it a go.