Spice-kissed Pumpkin Pie Recipe
Favorite, easy pumpkin pie recipe. Made from a rich, roasted pumpkin and coconut milk base, and baked in a hazelnut-lined crust - delicious!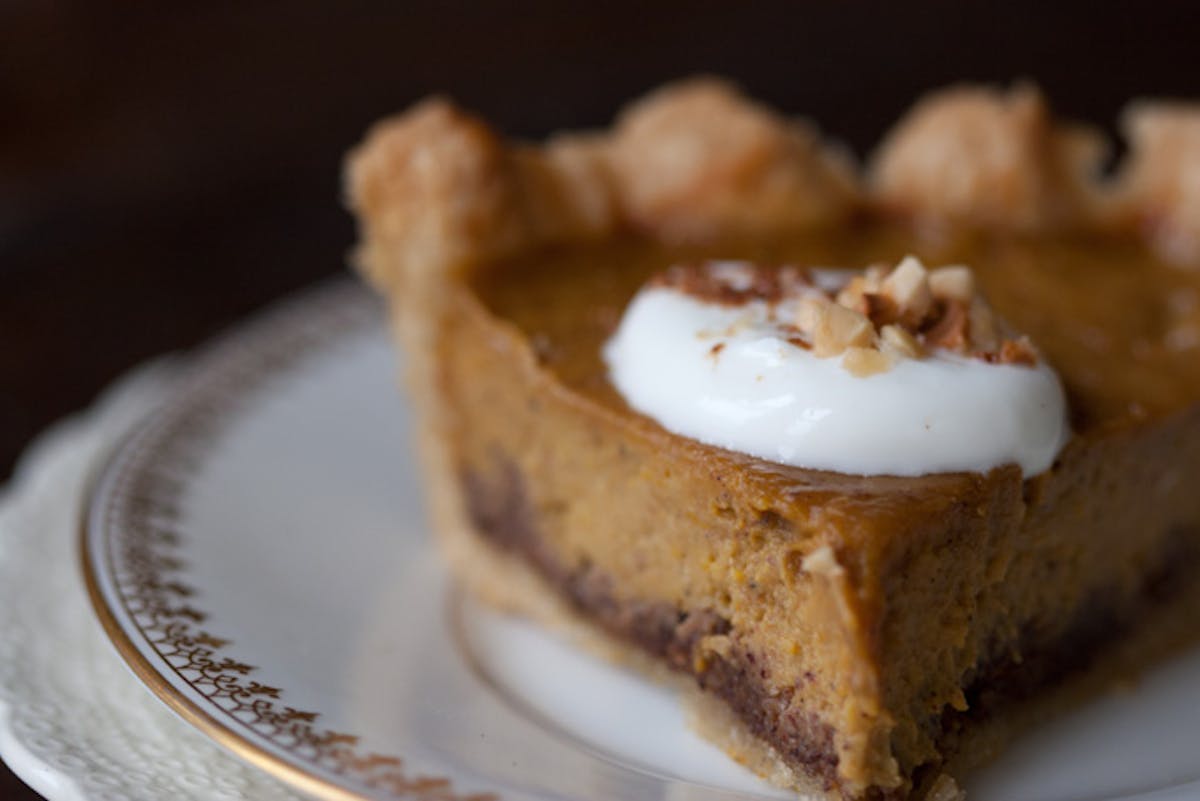 I just updated this recipe to include a quick pat-in-pan crust option. This pumpkin pie recipe was inspired by Kathy FitzHenry. Her name might not ring a bell with many of you, but few people have had a bigger impact on my cooking in the past year than Kathy. Kathy FitzHenry and her partner Bill Mc Gaughey toil away in the back of the Presidio's Officers' Club creating wonderful small-batch spice blends under the name The Occasional Gourmet (also known as Juliet Mae Spices). Kathy's dry harrisa stopped me in my tracks at the Fancy Food Show last year, and her rose petal cinnamon is my favorite secret baking ingredient. Kathy invited me to visit her at work where she showed me how she makes her vibrant, fragrant pumpkin pie spice blend. I then went on to use it in my favorite pumpkin pie made from a rich, roasted pumpkin and coconut milk base, and baked in a hazelnut-lined crust.
So, let's start at the beginning. Using good quality, freshly ground spices can transform culinary creations. The blend I made with Kathy certainly took my pumpkin pie to delicious new heights. Having command of the language of spices can give you endless ways to make your culinary creations "your own" - and that is something I'm always thinking about - how to evolve my culinary point of view. For example, it took some time but I eventually realized that I'm most excited about cooking with all those deliciously underutilized whole grains, a wide range of locally grown produce, big flavors, and plenty of texture and colors. I think spice blends are the next frontier for me and I'm curious about all the new and unexpected ways they might intersect my current cooking palette. I don't really know how it will play out yet, but that's why I bug Kathy. She has much to teach me, and she is generous with her knowledge.
What makes Kathy's spice blends different from many other spice blends you might encounter is that she makes them to order in small batches. This means she grinds her spices the same day she blends and seals them. When you grind spices to order you're preserving the essential oils in the spices - which is critical. Other producers grind in bulk and use those pre-ground spices over the coming days and weeks. No good. Think about all the countries where cooks shop daily for spices, there's good reason.
When you are doing your own spice blends at home be sure to seek out whole spices that aren't tired and stale - grind them just before using if possible. You can make the same pumpkin pie spice blend we made in your own kitchen using a small blade-coffee grinder with no problem, the spice ratio and recipe is down below. Kathy likes the Braun mini-grinder for spice grinding. Or you can let Kathy do the work for you - her spice blends come in tiny, air-tight, resealable mylar bags and are available through her site if you aren't local - she has also been kind enough to offer 101 Cookbooks readers 10% off any purchase you make on The Occasional Gourmet before 12/3/07 (thank you Kathy!)...
What Kathy knows about spice blends could fill volumes, but one thing in particular struck me as important. Kathy approaches blends the way a parfumeur might approach making a scent - by using bass notes, midnotes (like tumeric or coriander), and top notes (like rose petals). I was talking to her about how she goes about creating her blends and she mentioned that major spices tend to fall into five basic flavor groups:
Sweet: allspice, anise, cassia, cinnamon, nutmeg, vanilla

Pungent: ajowan, asafetida, caraway, cardamom, celery seed, cloves, cumin,
dill seed, fenugreek seed, galangal, ginger, juniper, licorice, mace, nigella, orris root, star anise

Tangy: amchur, barbery, black lime, caper, kokam, pomegranate, sumac, tamarind, zest

Hot: chile, horseradish, mustard, black/white pepper, wasabi

Unifying/Amalgamating: coriander seed, fennel seed, paprika, poppy seed, sesame, turmeric, fennel seed (and she notes: Who would think? But it is a wonderful bridge spice to orange)
A bit about today's pumpkin pie recipe. While many traditional pumpkin pie recipes use cream or half-and-half, I like to use coconut milk. Pumpkin and coconut milk - its perfect! And for you traditionalists who are worried about the coconut milk flavor - it isn't at all pronounced. I also make a toasted hazelnut paste and spread it across the bottom of my pie crust before baking - in addition to adding another layer of flavor, it also helps keep the crust from getting soggy. You can skip the hazelnut paste if you like. I typically use a simple pate brisee for my pie dough, but I use whole wheat pasty flour in place of all-purpose flour. I'm also going to include an alternate pat-in-pan graham cracker crust for those of you who want a quick and easy homemade crust for your pie but don't want to deal with a traditional crsut. For those of you pinched for time during the holidays - I'll note some time-saving tips in the head notes of the recipe as well. And of course, related to this post - use the best spices you can get your hands on. Thanks again Kathy and Bill for letting me spend the morning with you, I can't wait to come back and witness the curry powder coming together!
Spice-kissed Pumpkin Pie Recipe
As I mention above, freshly ground spices, make all the difference in a recipe like this. For the filling, you can also substitute roasted sweet potatoes or other roasted winter squash as the base ingredient. If you are pinched for time you can also use canned pumpkin puree (but I really prefer the flavor that comes from roasting my own). If you used canned puree, be sure it is pure, non-spiced pumpkin puree. You can certainly use a store-bought crust if you like, for a pie like this I use a standard pie dough recipe (pate brisee). I use whole wheat pastry flour in place of all-purpose flour - pictured above. Alternate crust option: you can make a simple pat-in-pan graham cracker pie crust by giving 2 cups well-crushed graham cracker crumbs, 1/3 cup melted butter, and 2 tablespoons of honey a whirl in a food processor. Then press (intensively) into a 9-inch pie pan, and proceed with filling.
You can use the filling in tarts, or for individual pies/tarts as well. I love to use deep, dark Muscovado sugar in place of standard brown sugar for its flavor, but some people are turned off by the darker color it lends to the filling.
1 pie crust (of your choice), see head notes for pat-in-pan option
2 cups hazelnuts (divided) , toasted
1/2 cup brown sugar
1 tablespoon pumpkin pie spice blend*
1 teaspoon salt
1 tablespoon arrowroot (or cornstarch)
1 1/2 cups of roasted pumpkin puree*
1 teaspoon vanilla extract
3 extra large eggs PLUS one for glaze, lightly beaten
1 cup coconut milk
Preheat oven to 350 degrees, racks in the middle.
Puree 1 1/2 cups of the toasted hazelnuts in a food processor until they turn into a hazelnut paste, past the 'crumble' stage. Set aside. Chop the remaining 1/2 cup of hazelnuts and set aside seperately, these will be sprinkled on top after the pie is baked.
To make the pumpkin pie filling, whisk together the brown sugar, pumpkin pie spice blend, salt, and arrowroot. Stir in the pumpkin puree, and vanilla. Now stir in the eggs and coconut milk until just combined. Set aside.
Before filling the pie crust, crumble the hazelnut paste on top of the pie dough into the pie plate, quickly and gently press it into a thin layer across the bottom creating a layer of hazlenuts that will sit between the dough and the filling. Using the last egg gently brush the decorative edges of the pie dough. Use a fork to prick the pie dough a few times to prevent air bubbles. Fill the pie crust with the filling and bake for about 50 minutes - the center of the pie should just barely jiggle when you move the pie - the edges should be set.
Let the pie cool a bit, this makes slicing less messy. Serve straight or with a dollop of bourbon-spiked, sweetenend whipped cream or creme fraiche, and a sprinkling of chopped hazelnuts.
Makes one 9 or 10-inch pie.
Kathy's Pumpkin Pie Spice Blend
1 tablespoon freshly ground cassia cinnamon
3/4 teaspoon freshly ground allspice
scant 1/2 teaspoon freshly ground cloves
1 1/2 teaspoons ground ginger (pre ground)
Use a coffee grinder to separately grind each of the following: cinnamon, allspice, and cloves. Smash the cinnamon a bit before grinding it. The spices should be powder-fine, and sifted into a bowl together. Stir in the ground ginger, and use in any recipe calling for a pumpkin pie spice blend.
Roasted Pumpkin Puree
1 3 lb. sugar pie pumpkin
2 tablespoons olive oil
salt
Preheat oven to 400 degrees. Carefully cut the pumpkin into four big wedges - get rid of the stem. Scoop out the seeds and pulp (you can toast the seeds if you like), drizzle then rub the pumpkin wedges with olive oil, sprinkle generously with salt, and then bake on a baking sheet (middle rack) until tender throughout - about an hour. Scoop flesh out of the skins and puree with a hand blender or mash well by hand.