Spooky Ghost Meringues Recipe
I'm squeaking this meringue recipe in under the gun, hoping that it's not too late for at least a few of you to try for Halloween. Going along with the spirit of the season, I piped meringue into tiny ghost shapes. Looking through my oven's window, the baking sheet looks like it is housing a tiny ghost army. If you aren't into ghosts and ghouls - no problem, the great thing about this recipe/technique is that you can shape the meringue into any form you can dream up. If you don't get around to trying it now, check back later in the year, and use the same approach to create edible trees or candy cane shapes.
If you've never attempted to make meringues, you should. I know that beating egg whites and using a pastry bag all in the span of one recipe might seem a bit too fussy for some of you, but I'll play devil's advocate and say that on the flip side we are only talking about a tiny ingredient list. In my mind, a bit of fuss on the production end of things offsets the ingredient scavenger hunt that can go along with more elaborate baking recipes. For this meringue recipe all you need is egg whites, salt, cream of tarter, and powdered sugar. And a couple silver sprinkles (or dabs of chocolate or seeds) for the eyes. But the real payoff is in the process. There are few things more satisfying to me in the culinary realm than watching a couple sudsy looking egg-whites turn into elegantly structured, glossy, bright-white meringue.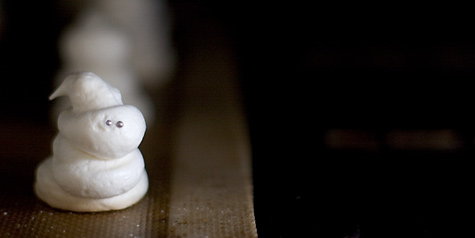 Feel free to double the recipe if you like, though two egg white make a nice amount of meringue. Have fun!
Spooky Ghost Meringues
It is important to let your egg whites come to room temperature, this will help you get the most volume. Also, make sure all your bowls, whisk, etc are spotlessly clean and free of any grease.
2 egg whites, room temperature
tiny pinch of salt
tiny pinch of cream of tartar
3/4 cup powdered sugar, sifted
tiny silver candy sprinkles (chocolate or little seeds) for eyes

1 dark chocolate bar, melted (optional)
1/4 cup shredded coconut, toasted (optional)

Special equipment:
pastry bag with 1//2-inch tip
Preheat oven to 200F, racks in the middle.
Get everything ready ahead of time. Line a baking sheet with parchment or a Silpat mat. I also like to set up my pastry bag in a tall empty glass to make it easier to fill. Have a spatula on hand.
Place the egg whites, salt and cream of tartar in a large, clean mixing bowl. Start whisking the egg whites at medium speed in a large bowl with an electric mixer or Kitchen-Aid. This stage is all about watching and letting the egg whites tell you what to do next and you have to be nice to them to get them to transform - so avoid turning your mixer on and off. When the whites are frothy and have a bit of volume to them, start sprinkling in the sugar a bit at a time over a minute or two - leaving the mixer on the entire time.
Keep mixing, it usually takes me 15 -20 minutes to get the volume I'm after here, but all sorts of variables can effect this time - weather, temperature of the whites, etc. The whites will become glossy and their appearance will resemble marshmallow cream, keep going. At this point you need much more volume out of the whites, try to imagine making a dozen 2-inch cookies out of the mixture. Whisk, whisk, whisk. You will start to see the volume really start to increase, the whisk will be leaving more definitive trail in the meringue. At this point I usually gradually slow down the whisk, and see if I can lift it out of the meringue leaving a stiff structured peak. Imagine, you are going to pipe this out onto the cookie sheets, so you need it to have lots of structure, if you don't go far enough your ghosts (or shapes) will just collapse into a puddle.
Working gently (but quickly) fill the pastry bay -or alternately, a large plastic freezer bag with the corner snipped off - using the spatula. Try to avoid lots of air pockets in the pastry bag, they make piping much more difficult. Close the bag by rolling the top down a few times.
Now pipe about 12 ghost shapes onto the prepared baking sheets. I found that making tiny circles all the way up was the easiest way to make the shape I was after. Press the candy silver balls one at a time into your pointer finger and place them on the ghost - again, quickly but carefully.
Place the meringue in the oven for an hour. After an hour, open the oven door an inch or two and cook for another 30 minutes. I usually touch one of them at this point, they shouldn't be gummy or wobbly. If they are still too moist, leave them in the oven until they aren't. Turn off the oven, and leave the meringues in there until it comes down to room temperature.
At this point you can eat the ghosts, but I like to dip them in a bit of chocolate and then shredded coconut (see top photo).
If you are storing them, do so in an air-tight container.

Make about 12 meringues.