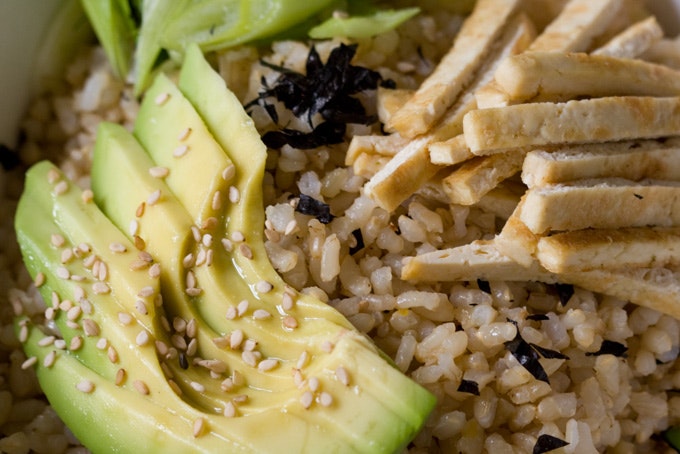 I'm packing my bags and hopping a plane to New York City for what should be a jam-packed, exciting weekend. Super Natural Cooking is nominated for a James Beard Foundation Award(!) - a great excuse for me to trade coasts and cram as much food, friends, frolicking, and photography as humanly possibly into seventy-two fleeting Big Apple hours. It's a big weekend for my little book, so I thought I'd post one last recipe from SNC for you to enjoy - the Sushi Bowl. Looking back at the recipes I included in SNC, this is one that has remained a personal favorite of mine (top five for sure), and from what many of you have told me - it's now a favorite for many of you as well. Simply stated, we are talking about a de-constructed sushi roll - brown rice, tofu, avocado, toasted nori and green onions served with a tangy, sweet citrus-soy dressing.

Sushi Bowl Recipe
I've included the instructions for cooking brown rice here, but when I'm pinched for time I just grab for frozen, pre-cooked brown rice (freeze it yourself, or look for it in the freezer section at Whole Foods).
2 cups short-grain brown rice
3 1/2 cups water
2 teaspoons fine grain sea salt
2 (4-inch) square sheets nori seaweed
6 ounces extra-firm tofu

grated zest and juice of one orange
grated zest and juice of 1/2 lemon
2 tablespoons (raw) brown sugar (reg. sugar is ok too)
2 tablespoons shoyu sauce (or soy sauce)
2 tablespoons (brown) rice vinegar

4 green onions, chopped
1 avocado, peeled, pitted, and thinly sliced
3 tablespoons sesame seeds, toasted
Rinse and drain the rice two or three times. Combine the rice, water, and salt in a heavy saucepan and bring to a boil over high heat, cover, and simmer gently until the water is absorbed, about 45 minutes.
Toast the nori in a preheated 300F degree oven or a medium-hot skillet for a few minutes. Crumble or chop coarsely.
Drain the tofu and pat it dry. Cut the block of tofu lengthwise through the middle to make four 1/4-to 1/2-inch thick sheets of tofu. Two at a time, cook in a dry skillet or well-seasoned skillet over medium-high for a few minutes until browned on one side. Flip gently, then continue cooking for another minute or so, until the tofu is firm, golden, and bouncy. Let cool, enough to handle, then cute crosswise into matchsticks (see photo). Repeat with the remaining sheets.
To make the dressing, set the sheets aside. Combine the orange juice lemon juice, and sugar in a small saucepan and bring to a gentle boil. Cook for 1 or 2 minute, the add the shoyu and vinegar. Return to a gentle boil and cook another 1 or 2 minutes, until slightly thickened. Remove from the heat and stir in the zests.
When the rice is done, stir in 1/3 cup of the dressing and add more to taste. Scoop the rice into individual bowls and top with the toasted nori, green onions, tofu, avocado slices, and a sprinkling of sesame seeds.
Makes 4-6 servings.