Ten Days in Paris Recipe
I packed my bags for Paris recently when Clotilde and I decided to trade apartments. I went to Paris, she came to San Francisco. I thought you might enjoy seeing some pictures and reading a list of highlights from the trip.
Update: 4/2/12 I'm consolidating my Paris information onto a more current page. It includes a map, a long list of places I enjoy in Paris, and links to other Paris references. Here's the link: Paris: Places I love.
It's 5:45 in the morning, the sky is starting to glow ever so slightly near the horizon, and all is still and quiet outside. I'm sitting on my sofa wide awake. My body thinks it's the middle of the day, and there is no way around it - I'm in for a couple more early mornings before I can shake this jet lag. So. I thought I'd make myself some tea, watch the sun come up, and take a bit of time to share my notes on Paris, before the details of this adventure start to slip my mind.
I mentioned a few weeks ago that Clotilde and I decided to swap apartments. She came to San Francisco while I went to Paris. Wayne and I spent ten days in Paris criss-crossing the city on foot and by subway, darting into patisseries, taking photographs, and sitting on benches in flower-lined city gardens. We ate well in Paris, and I found plenty to be inspired by in the little cafes serving up seasonal tarts, salads, crepes, and quiches.
We settled into Clotilde's lovely Montmartre apartment just short walk down the hill from the Sacré-Cœur. After the long flight Wayne and I unloaded our bags and walked five minutes to Rose Bakery for a late lunch. I'll tell you right now, I could eat there everyday for the rest of my life and be perfectly content. The curried yellow lentil soup I ordered hit just the right note that first rainy day in Paris. The rain cleared in the afternoon and we eventually walked up the hill to the Sacre Coeur. It was a nice (if not touristy) way to start our exploring. Paris at your feet, the sun threatening to set behind the Eiffel Tower off in the distance, Parisians lounging on the steps with wine in hand.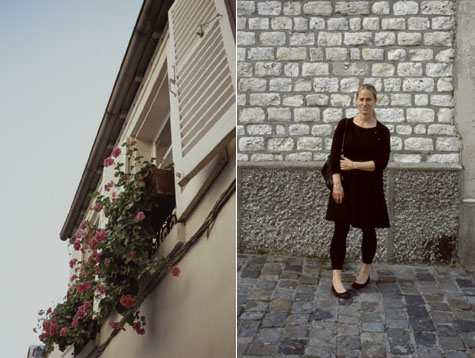 We then dove right in to the museums, cafes, and hussle-bustle of Paris. There were many things worth remembering about this trip, but I tried to condense it into a list of highlights - places I loved, great food I tasted, the best things I did. Hopefully the list can serve as a bit of inspiration if you find yourself in Paris sometime soon.
Paris highlights: Shopping for seasonal gems at the Saturday morning President Wilson Market - fresh hazelnuts, currants, flame-tinted grapes, pretty flowers and piles of golden chanterelles. // Cartier-Bresson exhibit at the Musee d'Art Modern // Planet Parr exhibit at Jeu De Paume. // Picnic lunch & people watching at the Luxembourg Gardens. // Good pizza with arugula, frosty beer, and friendly service at La Briciola in the Marais. // Browsing hundreds of stalls of books, chandeliers, and vintage wares at the Sunday flea markets in Clignancourt - I should also mention we had a tasty Breton-style buckwheat crepe with egg and a bit of cheese, just down the road a few steps from the market Dauphine stalls. Highly recommended if you need a quick bit of shopping sustenance. // Stopped into Mariage Freres for a few tea-related gifts. // Best fallafel sandwich ever at L'as du Fallafel in Le Marais - enjoyed while standing in a nearby doorway. // Best espresso we had in Paris was close to L'as du Fallafel at Pozzetto (great pistachio gelato too). // Seeing Matisse's Nu aux oranges at the Centre Pompidou, then snapping pics of the Paris rooftops from the escalator and finishing things off with a visit to the easy-to-miss Atelier Brancusi down below. // Walking the city with David was a real treat- bought some rosemary flecked fougasse and pain à l'ancienne at Du Pain et des Idées. Dinner was at Le Verre Volle, a charming little spot with a handful of tables - just my speed. Plenty of seasonal deliciousness, cheese, and wine all around. You can pull bottles from the wall and drink them with dinner, or purchase them to go instead. // We browsed lots of bookstores including: La Chambre Claire, Librarie La Hune, and WHSmith.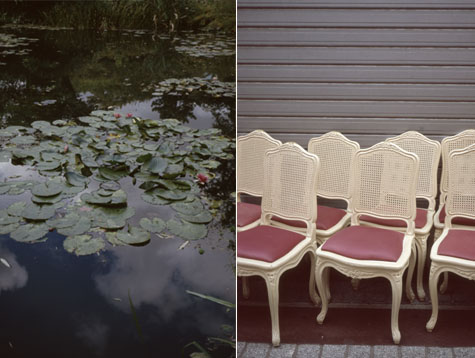 There was macaroon sampling at Gérard Mulot, and Ladurée Royale. // Nice paper products - notebooks, clipboards, stationary and the like at Papier+ and Calligrane. // Browsed the quiche pans and copper pots at E.Dehillerin. // Walked up to the middle platform of the Eiffel Tower. // Had a simple and perfect "formula" lunch at Cuisine de Bar - your choice of tartine, salade du jour, and glass of chardonnay. Then next door to Poilâne. // Fondation Henri Cartier-Bresson for August Sander exhibit. // Gift shopping at Ets Lion in Montmartre. // Gruyere buckwheat crepe with mushrooms, a drizzle of cream, and a pinch of Espelette pepper at Breizh Cafe (reservations required!) // Seeing Monet's Water Lilies (Nympheas) at the Musee de l'Orangerie, then later in the week, a day trip by train to Giverny to see his actual gardens. I can imagine during peak season this could be a mobbed, touristy nightmare, but we enjoyed ourselves. The village wasn't entirely overrun, and we had lunch at La Terrasse - a cute, little unassuming place with a menu of good ciders, crepe, and tarts. // Loved the Degas paintings upstairs at the Musée d'Orsay, a few rooms down from the Van Gogh crowds. // Stumbled on Kitchen while walking around one day - good, healthy eats. You choose from a board listing a daily juice, soup, salad, sandwich, stew, etc. We shared a 9-inch avocado futomaki roll, a simple sandwich, and a lentil and rice "stew" with roasted vegetables. Hit the spot. // Stocked up on easy-to-pack food items like spice blends, salts, mustards and sugars they don't have at home at La Grande Epicerie. // The Ferdinando Scianna and Ara Güler exhibits at the Museum Maison Europeenne de la photographie. // Queueing up at Berthillon for a nice custardy scoop of vanilla. // Diving into a jar labeled "prune sauvage", a treat from David. Limited edition, made from wild plums - it was the prettiest shade of rose, not too sweet, with a whisper of acidity, and a hint of floral in it.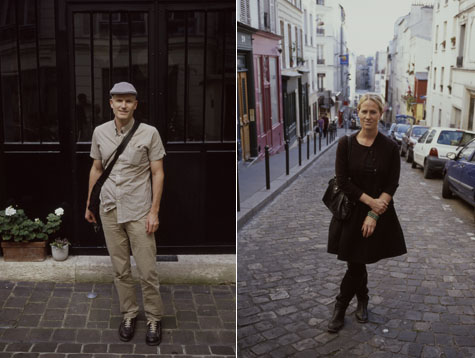 What an amazing city, I felt like I could be there a year and barely put a dent in it. There was so much to see, people in the streets all the time - I feel lucky to have been able to spend that much time there. Thanks to all of you who offered up suggestions and stories about your experiences in Paris. Between you and Clotilde, and David, and Dorie (who I just missed by a couple days!), I felt like I had a thousand little angels whispering in my ear.