Unfussy Apple Cake Recipe
A deliciously unfussy and relatively healthy apple cake recipe. Red-skinned apples punctuate a buttermilk batter and a final sprinkling of sugar before baking lends a nice top crust.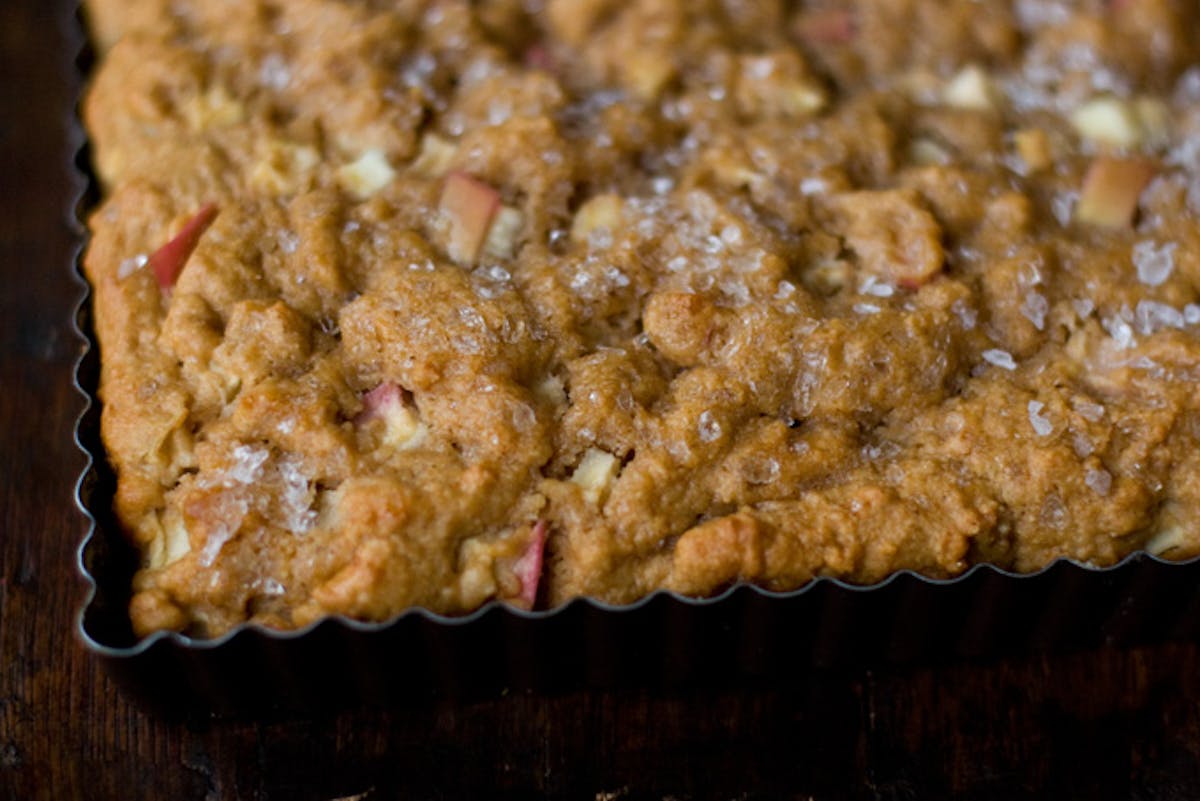 I love this apple cake - here's how it came into being. I accumulated seven different kinds of apples over the past ten days or so. Not really on purpose (election anxiety?), but it happened regardless. There are Rome Beauties in the crisper, Honeycrisps in the refrigerator, Fujis in a bowl on my kitchen island, Braeburns and Galas still in a grocery bag on the counter, and a mix of three tiny heirlooms that found their way into my purse. Time to make an apple cake. Nothing fancy, I used my standard buttermilk cake batter (which I love, and find endlessly adaptable), plenty of hot and spicy cinnamon, and the apples? I decided the sweet, juicy Fujis would take the stage as the signature ingredient. Their rosy skins ended up dotting the cake like confetti, and they bring a sweetness to the cake that allowed me to keep the sugar elsewhere in the batter to a minimum.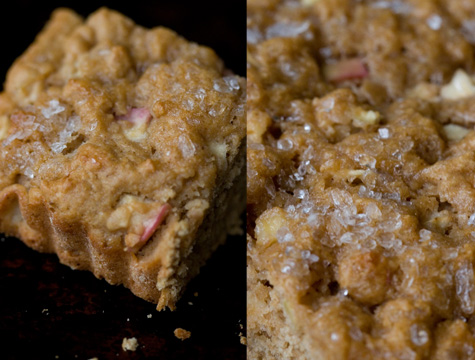 I used a vibrant, spicy Saigon cinnamon in my cake (also known as Vietnamese cinnamon). Have you tried it? It has fun notes of red-hot candy, and a more complex, less woody scent than the cinnamon many of you are used to. If you come across any from a good spice vendor, be sure to pick some up. Not to worry if you can't track it down, the cinnamon you typically use for baking will work here as well. I bought mine at the Farmers' Market (Marin) from Kathy and Bill - who some of you might remember I visited last year. Kathy showed me how to make her pumpkin pie spice blend, which I then used in last year's pumpkin pie recipe.

Unfussy Apple Cake Recipe
A big, floppy dollop of boozy, slightly sweet whipped cream takes this cake over the top. Wanting to keep this cake simple, I also had to restrain myself from adding any extra ingredients although I had a block of quince paste (membrillo) that would have been nice cut into tiny cubes and mixed into the batter, or caramel cut into little cubes, or toasted walnut or pecans, or, or, or.....I used a huge, flaked Japanese sugar on top of this cake (you can see it in the photo), but any big-grain sugar will help lend a nice crunchy, sweet, sugar crust. If you don't have whole wheat pastry flour, unbleached all-purpose flour will work as a more conventional substitute.
2 cups sweet, crisp red apples, cut into 1/4 cubes (peel on)
2 1/2 cups whole wheat pastry flour
1 tablespoon aluminum-free baking powder
2 teaspoons cinnamon
1/2 cup dark Muscavado sugar (or other fine-grain natural cane or brown sugar), lump-free
1/2 teaspoon fine grain sea salt
2 eggs
1 cup buttermilk
1/4 cup butter, melted and cooled a bit
3 tablespoons large grain sugar
Preheat the oven to 400F degrees, racks in the middle. Butter and flour (or line bottom with parchment paper) one 9-inch square baking dish or tart pan, you can also bake it in a 9x13 pan but really keep a close eye on it after 20 minutes - it will be quite thin.
Place the chopped apples in a bowl of water along with the juice of one lemon. Set aside. Combine the flour, baking powder, cinnamon, sugar and salt in a large bowl. And in a separate smaller bowl whisk together the eggs and the buttermilk. Whisk in the melted butter. Pour the buttermilk mixture over the flour mixture and stir until barely combined - try not to over mix. Now drain the apple, shake off any excess water, and fold the apples into the cake batter.
Spoon the batter into the prepared pan, pushing it out toward the edges. Sprinkle with most of the large grain sugar. Bake for about 20-25 minutes or until cake is just set and a touch golden on top. I like this cake every-so-slightly under-baked, just barely, remember it will cook for a little while after you remove it from the oven.
Serves about 12.