Wild Fried Rice Recipe
Fried rice made with wild rice, a thin omelette cut into strips, a splash of soy sauce, tofu, and whatever seasonal greens you have on hand - peas, asparagus, pea shoots, spinach.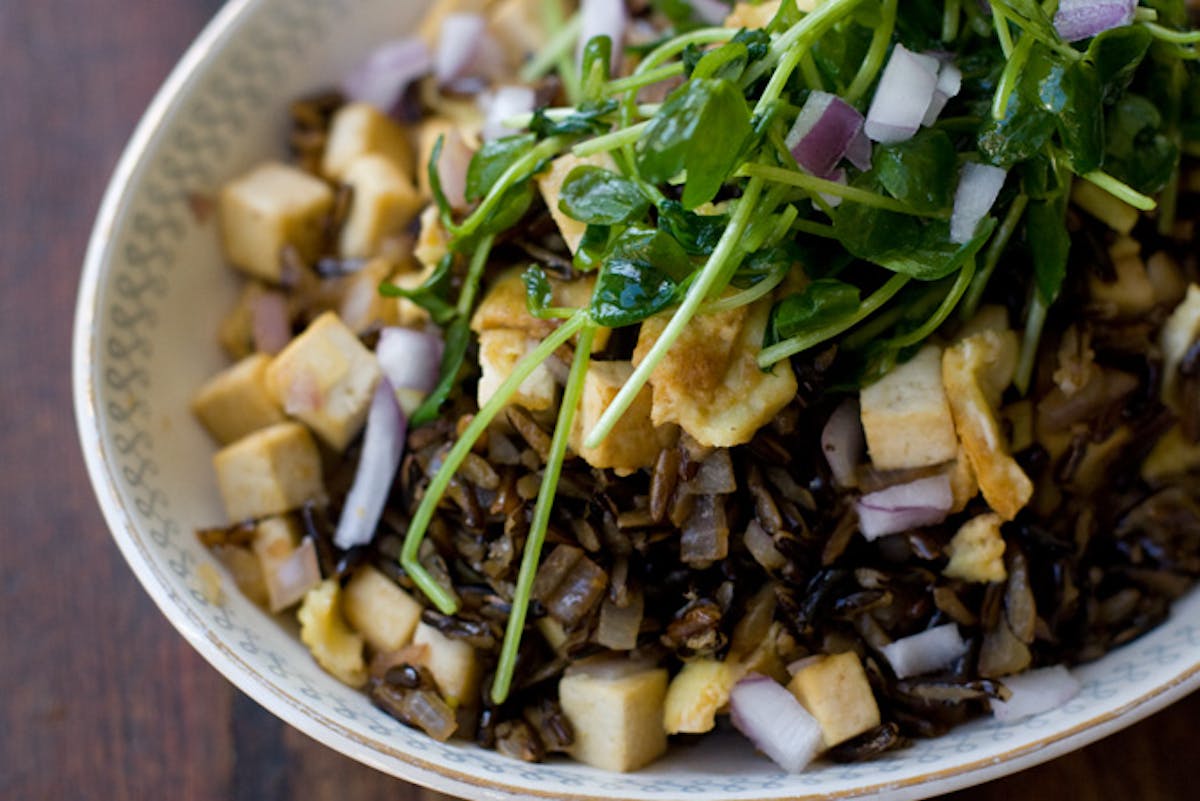 On occasion I have to remind myself of this - the recipes I throw together on those I-don't-feel-like-cooking nights might just be the most useful to you. Right? What I mean is, they're the ones that come together quickly, usually without much fuss, and with just a handful of ingredients. Sometimes I don't share them here because they're not anything special, or they're so simple it's a stretch to assign the word 'recipe' to my instructions. Sometimes I'm simply embarrassed to show you what I threw in the skillet. Anyhow, on nights when I don't feel like doing much more than chopping an onion, nights when using two pans is one pan too many for me to face, I make this sort of fried rice. I can usually get everything prepped and ready-to-eat in under ten minutes. And while it is a simple preparation, there are a couple tricks I deploy to make sure everything comes together nicely. For example, I cook the eggs, on their own in a (toasted) sesame oil and olive oil blend before shredding the omelette into fluffy strips. The strips end up in the skillet alongside wild rice, tofu, onions, and pea shoots and keep their structure nicely. Another tip - I use the very best eggs I can buy.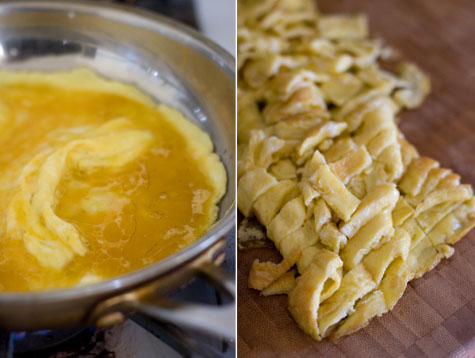 As far as technique goes, there are as many ways to fry rice as there are cooks. I know many people crack their eggs straight into the skillet alongside the rice, but I have to argue for cooking and slicing the eggs separately. Like I mention up above, the eggs stay fluffy and separate from the rest of what is in the skillet when cooked first.
You can swap in whatever rice or grain you like, and whatever vegetables are in season. Don't feel limited by this version. I've used cooked millet, quinoa, and brown rice in the past - and we are coming up on that time of year where you can look for fresh peas, asparagus, or artichokes. For those of you who have Super Natural Cooking, there is a millet fried rice version in there - I think I scale back on the oil a bit in this version, but the approach is similar.
Wild Fried Rice Recipe
Use your widest skillet here to get the eggs as thin as possible. Sometimes I brown the tofu first, sometimes I use it raw, and just toss it in the skillet toward the end to heat it up.
1 scant tablespoon toasted sesame oil
1 scant tablespoon olive oil
3 - 4 good quality eggs, well beaten with a big pinch of salt
1 small red onion, finely chopped
1 1/2 cups cooked wild rice
6 ounces extra-firm nigari tofu, cut into 1/2-inch cubes, raw or browned in a skillet ahead of time
2 big handfuls of pea sprouts, chopped green beans or peas
1+ tablespoon tamari or soy sauce
In a large, clean skillet, heat the toasted sesame and olive oil. When they are nice and hot (but not too hot!), pour the eggs into the pan, count to ten, then gently swirl the pan to create a thin layer of egg evenly distribute across the pan. Cook this thin omelette for about 45 seconds or until it sets up. Fold the eggs over on themselves and cook for another 30 seconds or so (but avoid scorching) before transferring to a cutting board. Let it cool a bit, then slice into strips. Set aside.
Don't bother cleaning the skillet outright, just scrape or wipe out any remaining egg. There should still be enough residual oil to cook the onions over medium high heat for a minute or so. Stir in the wild rice and tofu and cook until heated. Now stir in the pea sprouts, and cook for 20 seconds. Gently add the eggs back into the skillet and finish by adding the tamari. Use a spatula to stir until the tamari works its way around the pan. Taste, and adjust - more salt (or tamari), or maybe a pinch of red pepper flakes...
Serves 2-3 as a main.