Better Breakfast Cereal
This is going to make your mornings better. Combine entire boxes of healthful cereal into your biggest bowl, add extra oats, oat bran, ground flax seeds, and freeze-dried berries. Now you have plenty of breakfasts ready to go.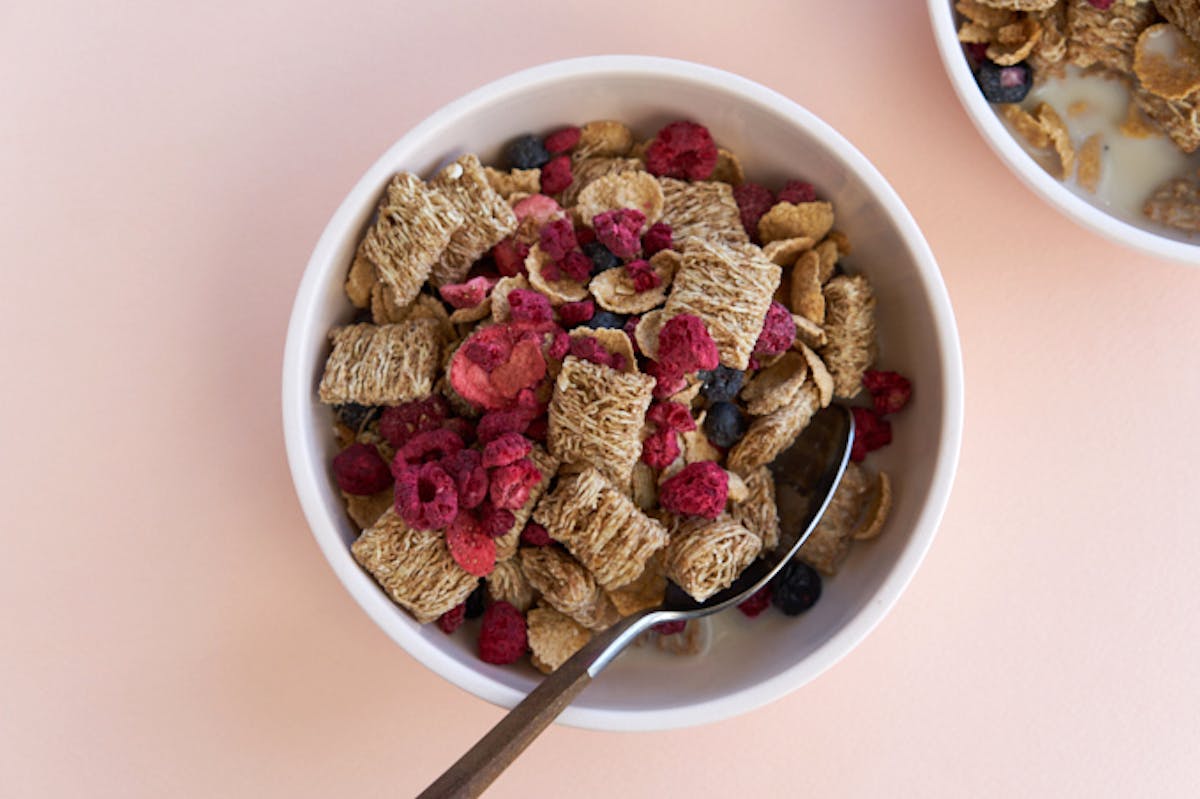 I'm going to share with you a bigger, better, crunchier breakfast cereal. Also more nutritious. Some of you aren't going to be interested in this concept at all, and that's cool. For some of you, this is going to be a game changer. Because all of the the components are dry, your are rewarded with weeks of quick breakfasts, and you can easily scoop some into baggies for simple travel breakfasts.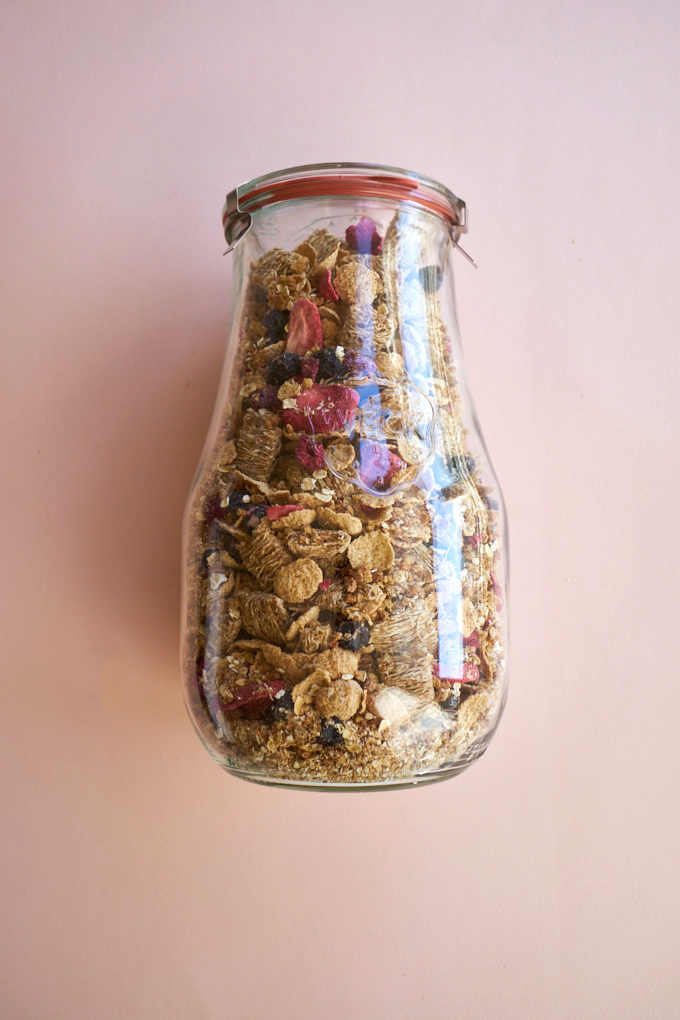 I had been making my own dry cereal breakfast blends for months before things started to get more interesting. I started making it in increasingly larger, and larger batches. We eventually got to the point where I like to cherry-pick boxes of favorite cereals, dump entire boxes into the most massive bowl I can find, and add quick oats, oat bran, ground flax, and freeze dried fruit. After that, give everything a good toss, and transfer to two XXXL glass Weck jars. The big-batch thing is the magic. Especially if you're at all lazy, but still want a great breakfast.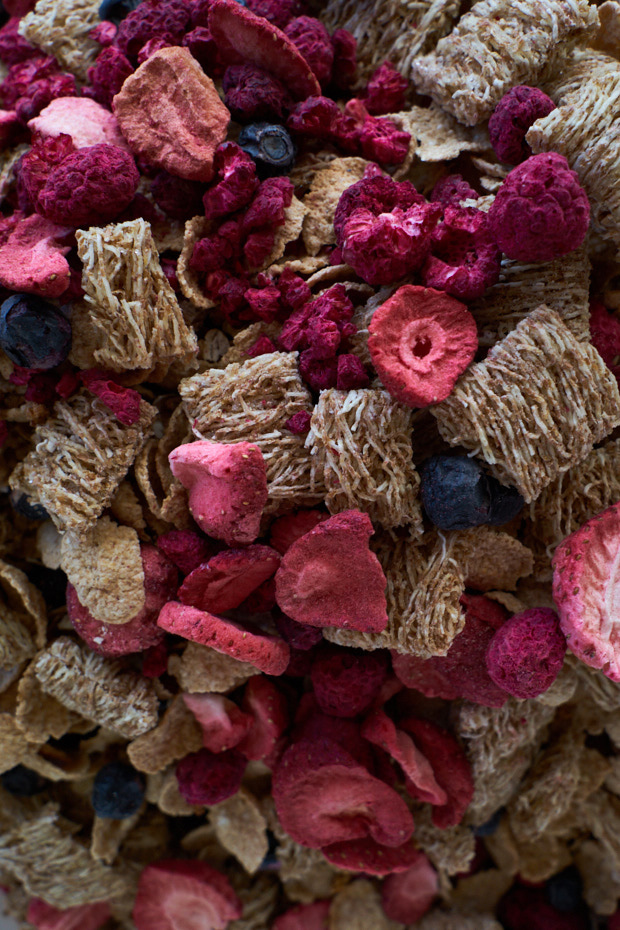 A Custom Blend: Choosing Your Cereals
I'm including the recipe down below for what I think of as my "base" cereal recipe. That said, I encourage you to use it as a jumping off point. Try not to get hung up on whether you can track down the exact cereals I use. My cereals of choice are oat flakes, shredded wheat, plus some sort of dense nugget cereal. Broadly speaking, a mix of sugar-free / whole grain / high-fiber cereals is what you're going for. Said another way, a mix of textures, and nutrient diversity.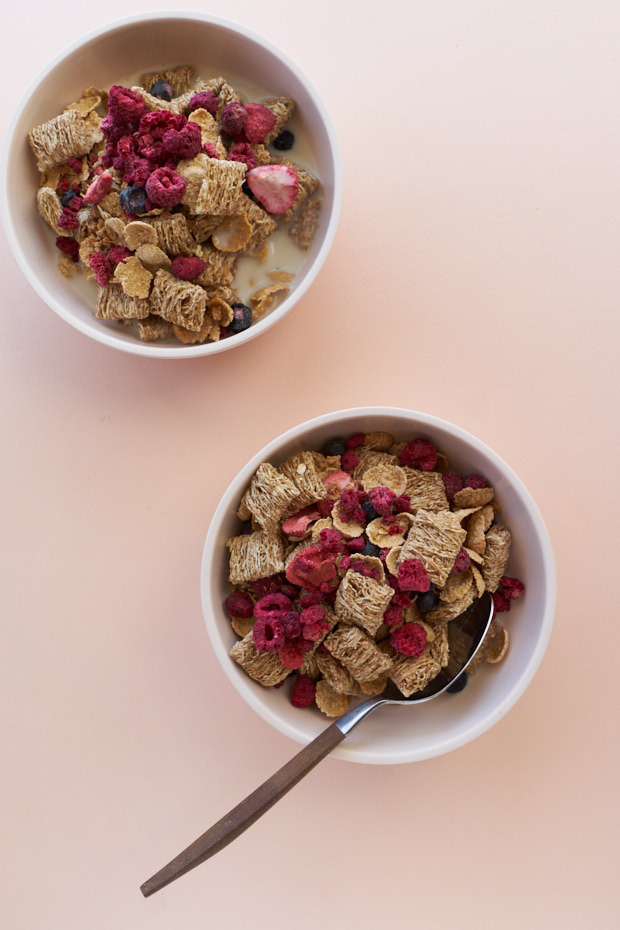 Better Breakfast Cereal: Variations
This is the berry version (photos above and below). But there are times I do a tropical version, swapping out the berries for freeze-dried bananas, pineapple, and apples. Big flakes of toasted coconut is also a good add. You can also introduce fresh fruit when you add the milk, along with anything else you have on hand that might be a bonus.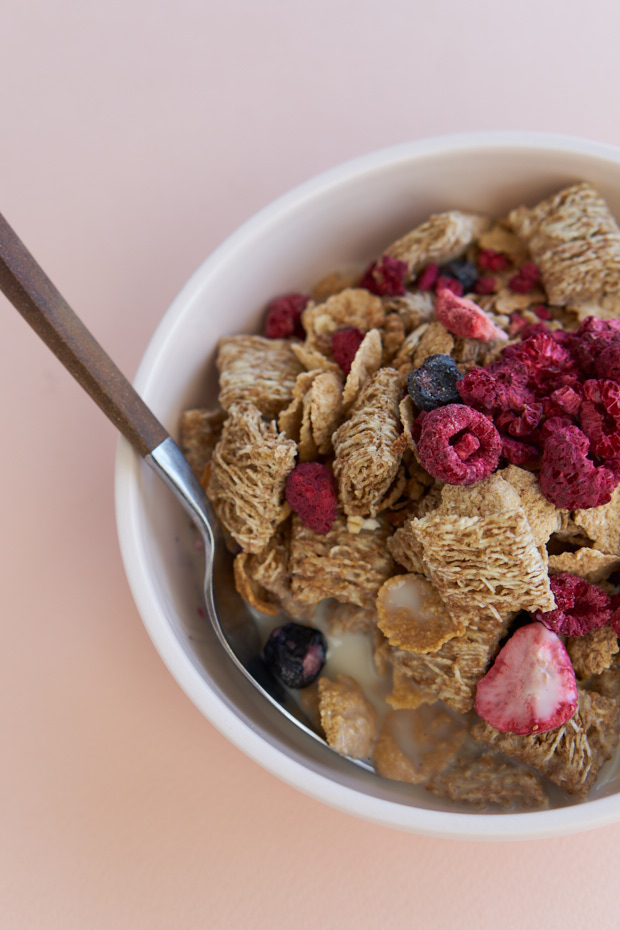 More Make-Ahead Breakfast Recipes
Better Breakfast Cereal
Just a heads up, this isn't a sponsored post, I'm calling out name brands to illustrate the exact blend I use, but you can substitute using the same general concept!
Ingredients
1

box Kashi wheat biscuits (16 ounce)

1

box Nature's Path Multi-grain Oat Flake Cereal

1

box Kashi 7-grain nuggets, or Ezekiels

2 1/2

cups

quick-cooking rolled oats

1 1/2

cups

oat bran

4

cups

freeze-dried berries (mix of raspberries, blue berries, strawberries)

1/2

cup

ground flax seeds

to serve: fresh berries fruit or sliced banana, chia, hemp seeds & your milk of choice (I prefer almond milk here or a blend of cashew and almond milk)
Instructions
Combine everything in your largest bowl, toss well, and transfer to air-tight containers (two Weck 2.5 L glass jars are perfect).
Notes
Makes about 20 cups of cereal.
Related Recipes
More Recipes
Popular Ingredients