Braided Onion Bread
This braided onion bread is made with a rich, buttery, yeast-based dough. Each of the four strands in the braid is stuffed with a caramelized onion and grated cheese mixture.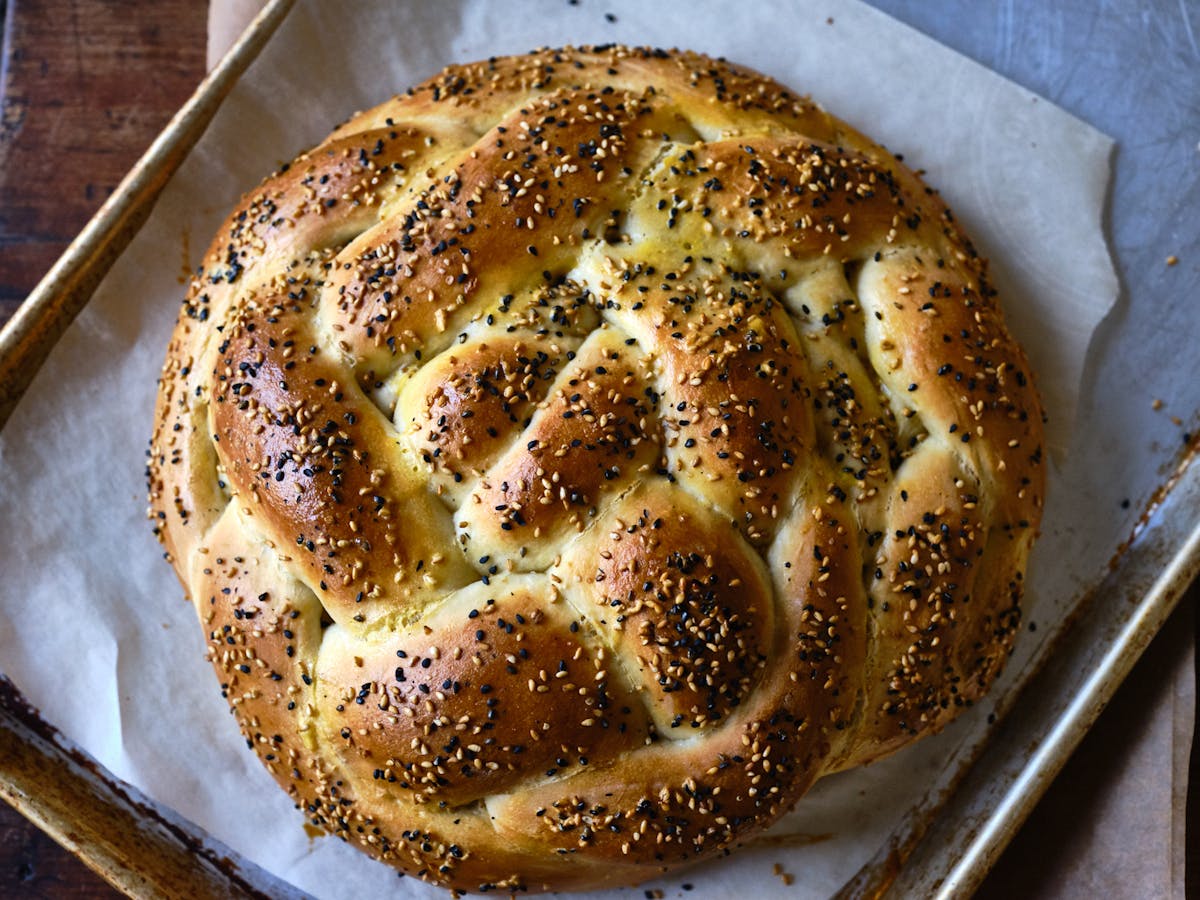 One of my first memories related to baking was a demonstration conducted at my kindergarten where bread dough was shaped into turtles, and birds, and elaborate braids. Scissors were used to create the tiny bread spikes on the backs of alligator and hedgehog-shaped loaves. Lobster claws got a snip up the center for visual effect and each figure was placed in an oven until puffy, golden, and fragrant. We were each allowed to take one home. The whole experience blew my five year-old mind.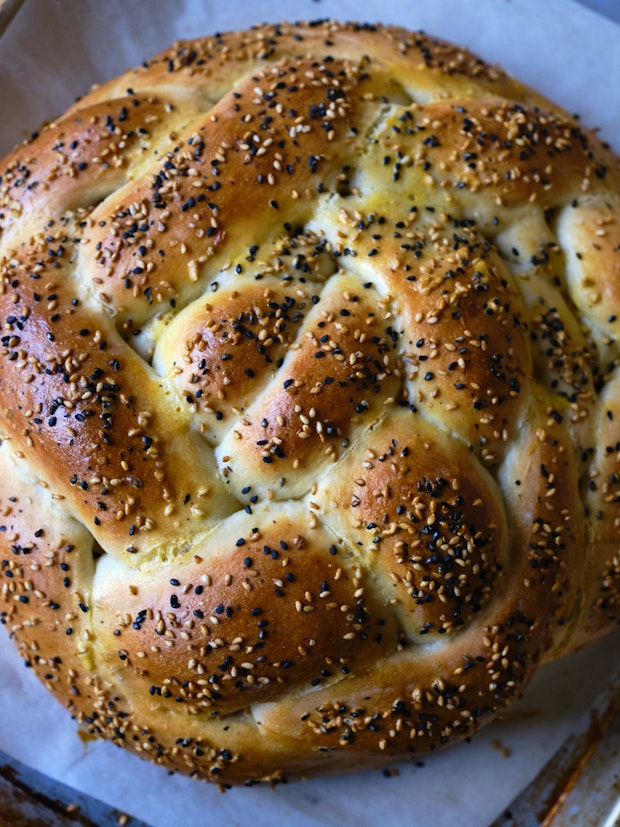 I still like to bake elaborate braided loaves. Especially when things in my life are tumultuous. I made this one a couple of times prior to the holidays, and decided to make it again last week to photograph and share with you. It's made with a rich, buttery, yeast-based dough. Each of the four strands in the braid is stuffed with a caramelized onion and grated cheese mixture. If you've never baked a braided loaf before, I'll admit that stuffing the strands adds a layer of complexity, but the whole process is incredibly forgiving if you commit and keep going. If you look at the shape below and think "no way" just remember it's a simple braid coiled into a snail shape.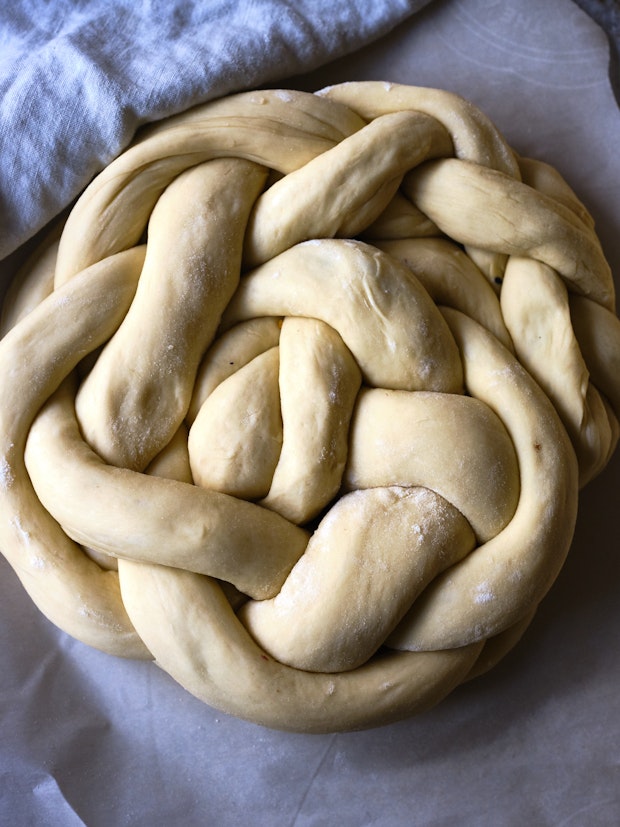 The (Stuffed) Braided Bread Process
To make this bread you start by making beautiful yeast dough. You roll your dough into a rectangle, cut that rectangle into four strips, and then stuff each strand with awesomeness. I usually prepare the stuffing a day ahead of time, or the morning of the day I plan on baking. This gives the filling some time to cool. I've locked onto this onion-cheese combo lately, but you can imagine endless variations.
To fill the dough, you run the filling in a line up the middle of each of the four strips of dough. Fold them each in half, and then pinch the seam to seal the filling in. Now you have four filled strands that you'll arrange side-by-side (below). Pinch them together at the top and start braiding (see diagram below). Coil the braid into a tight round, snail shape, let the dough rise, brush with an egg wash, and bake!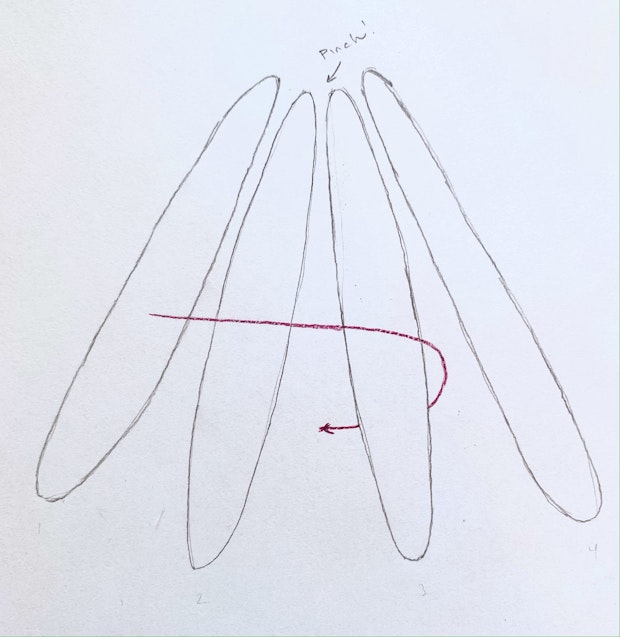 A Four-strand Braid
First, let me say - if you're worried about trying the four-strand braid, I understand! If you want to fall back to a chubby three-strand bread braid the first time through, go for it. The main thing is to commit to the braid either way. Even if you're convinced things aren't going well. This feeling can be triggered by a few things. A common problem is strands splitting open to reveal the filling - just re-pinch and keep going. Or, you might feel like your strands keep stretching and getting longer and longer? It's ok, you will coil them into a round shape. Keep braiding even if your strands are longer than your sheet pan. Boss the dough around a bit. If it's too sticky, dust with a bit of flour. The main thing? Don't get discouraged, keep going.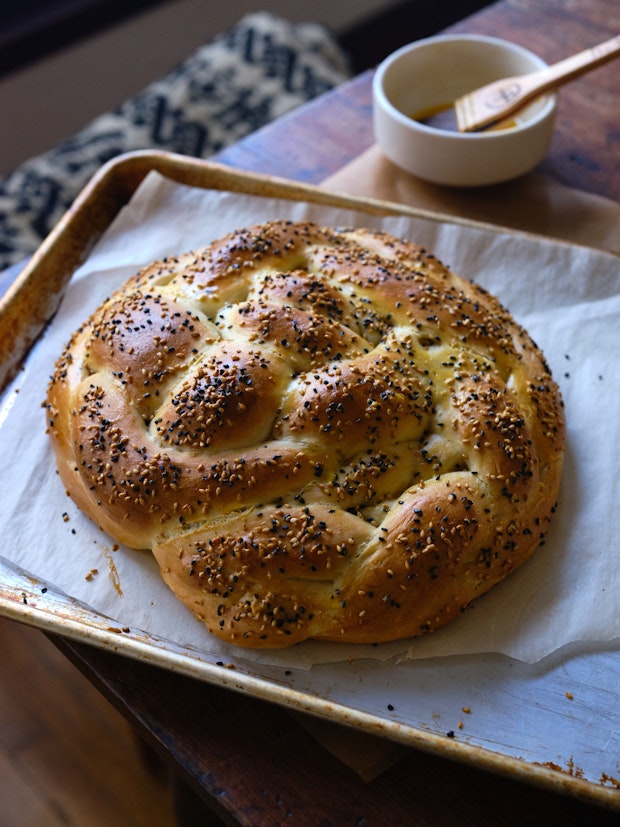 Please let me know if you bake a braided loaf, or send me a message on Insta. Or if you experiment with other fillings, please leave a comment. I can't wait to see what you do with this one. I loved seeing all of you posting soup pics last week. And if you're ready to use your oven some more, here's where you can browse all the baking recipes. This focaccia is a beauty, and you likely have most of the ingredients for this Easy Little Bread. Don't miss this black bread, or the Big Sur Bakery Hide Bread. And this oatmeal bread is so good, with lots of opportunity for variations. Have fun baking!
Braided Onion Bread
Use your favorite strong, shreddable aged cheese here. I've been using a local aged cheddar, but Gruyere or Parmesan or something along those lines will also work well. If you want to make two smaller loaves in place of a single large one, you can divide the dough in half, and do two smaller braids. When I do that I cut the 12x16-inch dough rectangle into eight strips along the length, each 2-inches wide, fill each of the little strips with onions, and use four for the first braid, and another four for the second braid. Baking time will be less, so keep an eye on them and adjust.
Ingredients
Caramelized Onion & Cheese Filling
3

tablespoons

extra virgin olive oil

4

cups

chopped yellow onion (~2 large)

Fine grain sea salt

1

cup

aged cheddar cheese, grated

1/3

cup

toasted sesame seeds
The Dough
4 1/2

cups

/ 540g unbleached all-purpose flour, plus more if needed

2

tablespoons

sugar

1 1/2

teaspoons

fine grain sea salt

2 1/2

teaspoon

(1 packet) active dry yeast

1 1/2

cups

warm milk or oat milk (120F)

1

egg, beaten

8

tablespoons

unsalted butter, room temperature
Instructions
Line a baking sheet with parchment paper and set aside.
Make the Filling
Start by making the filling. You can do this a day or two ahead of time, and refrigerate. Heat the olive oil over medium-high heat, and stir in the onions along with a generous pinch of salt. Saute, stirring regularly, until the onions get brown and caramelized - twenty minutes or so. Remove from heat, allow to cool, and then stir in the cheese and 1/4 cup of the sesame seeds. Set aside or refrigerate until ready to use. If you've cooked your filling ahead of time and refrigerated it, bring it back to room temperature before filling your dough.
Make the Dough
To make the dough, combine 2 cups of the flour, the sugar, salt, and yeast in a medium bowl. Add the warm milk and stir just until you don't see any more dry flour. Add the egg and butter, and stir until it is all incorporated. Add the rest of the flour (the remaining 2 1/2 cups) and stir until you have a nice, soft dough.

Turn the dough out onto a lightly floured surface, and knead until a cohesive, not-too-sticky dough forms. Dust with more flour, a tablespoon at a time, if your dough is too wet or tacky. Sometimes I need up to 1/4 cup more flour at this point. Knead for five minutes or so. I like to hold my bench scraper in one hand at this stage, to scrape the dough from the counter when it sticks. When you're done kneading, transfer the dough to a lightly oiled bowl, and cover with a clean towel or plastic wrap. Place in a cozy or sunny spot. Allow to rise and double in size - usually between an hour or two.

Use your hand and gently press to deflate the dough. Turn out onto a floured surface, and roll the dough out into a rectangle roughly 12-inches wide and 16-inches long. Cut the dough lengthwise into strips 3-inches wide with a pizza cutter or knife. You'll have four strips. Divide the filling into four equal portions (roughly 1/2 cup each), and spread a portion of it down just the center of each of the four strips, leaving the edges clear. Fold each strip in half and pinch to seal the filling in all the way down the length of each strip. At this point you should have 4 "tubes" of filled dough, and it's time to braid!

Quickly and assertively transfer the strips to your parchment lined baking sheet a couple inches apart. Ideally, they'll be seam side down. Now, this part can get a bit crazy, don't get flustered. If the strips stretch out, don't panic. If they're longer than the pan, don't sweat it. Just keep going. You're going to braid and coil the dough, so most of the mistakes you make don't really matter! Pinch the four strands together at the top, and start to braid.

Take a look at my sketch up above for more clarification, if needed. Take the left strand and move it over two strands (to the right) and under one strand back to the left. Switch to the other side: take the most right strand and lift it over two strands to the left and back under one strand to the right. Repeat, alternating from left side to right side until the loaf is complete. I find it easiest to say out loud, "over two under one, over two under one." Pinch the ends together. Now, use your hands to coax the braid into a coil, like a snail shell. The fuller, top of the braid should be the center, and then keep wrapping around until you reach the end. Tuck the end under. It should be fairly snug. Cover loosely and allow to double in a cozy spot - usually 30 minutes to an hour. While you're waiting, preheat your oven to 350F with a rack in the center.

Last step is to glaze your bread! Whisk the egg yolk with 2 tablespoons of water. Brush the dough completely with the glaze and sprinkle with the remaining sesame seeds. Bake until the bread is beautifully golden, and cooked through, roughly 35-40 minutes. To be extra sure, I use a thermometer to make sure the dough in the center reaches about 190F, and then you know you're a-ok. Transfer to a baking rack to cool. Enjoy!
Notes
Makes one large loaf, or two smaller.
Related Recipes
More Recipes
Popular Ingredients