Rustic Cabbage Soup
Hearty, healthy, and satisfying - this cabbage soup recipe is super simple to make. Slice a cabbage into thin ribbons and cook it down in a simple pot of sautéed potatoes, onions, beans, garlic and flavorful broth. Finish each bowl with a generous drizzle of great olive oil, a couple dollops of sour cream and a jolt of something spicy.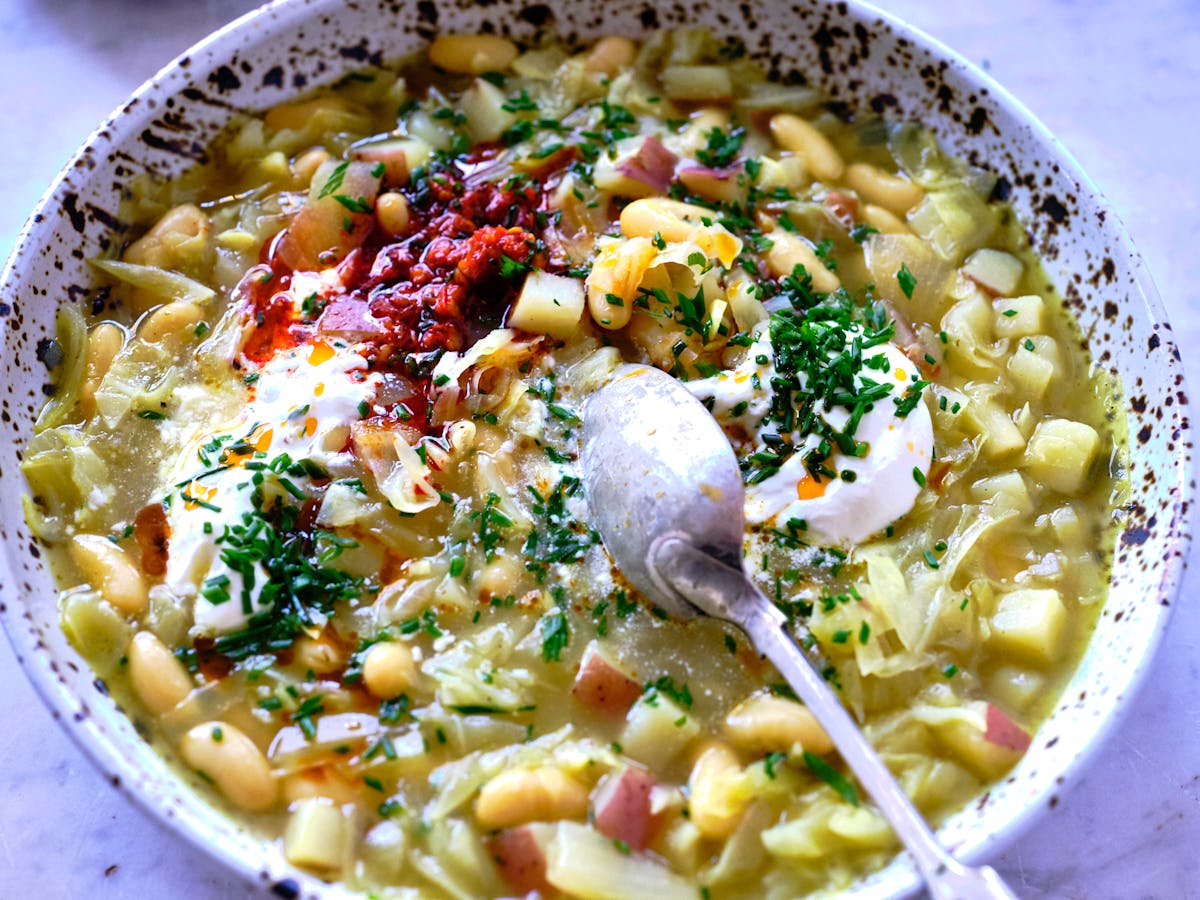 Today's cabbage soup recipe was inspired by the a mystery box delivery from Mariquita Farm in Watsonville, Ca. I show up to a designated pick-up spot, pay $25 and in turn get what feels like twenty pounds of beautiful produce direct from the farm. This time of year I might see the eyes of impossibly petite potatoes peering back at me, they could be nestled alongside a kaleidoscope of vibrantly colored carrots, or shouldered up against a of pile of parsnips.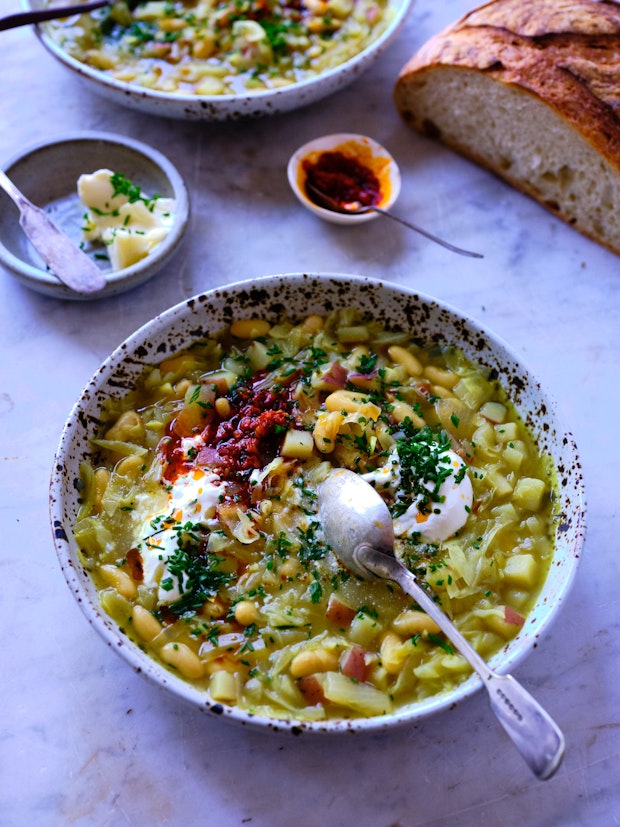 Cabbage Soup Ingredients
Taking inspiration from a beautiful moon-shaped cabbage and potatoes in the mystery box, I sliced a the cabbage into thin ribbons and cooked it down in a simple pot of sautéed potatoes, beans, onions, garlic and flavorful broth. Each bowl was finished with a generous drizzle of great olive oil, a couple dabs of sour cream and a jolt of something spicy - in this case a bit of Calabrian chile paste. Couldn't be more simple.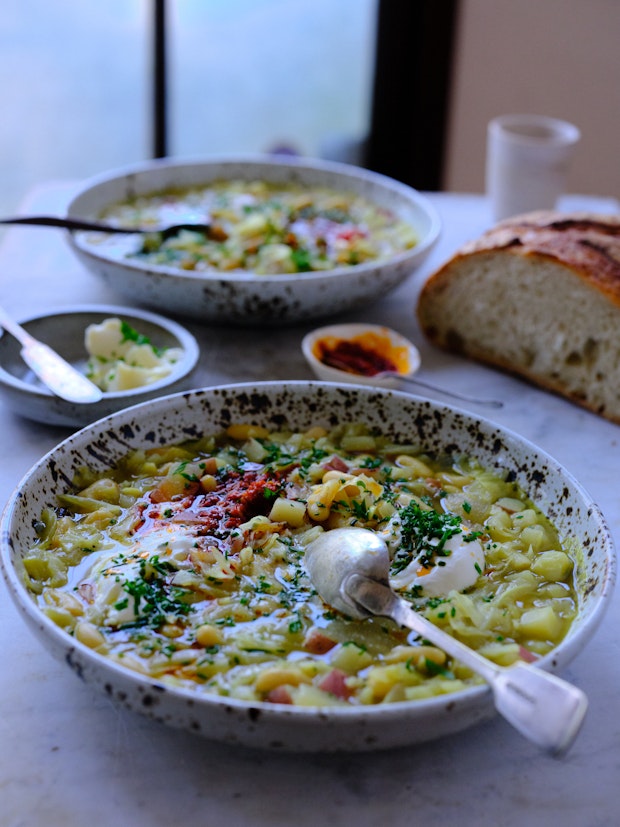 But before I get too far ahead of myself on the soup front, let me tell you a bit more about Mariquita Farm and what Andy and Julia are doing. There's a bit of back story. I used to buy produce from Mariquita at the farmers market on Saturdays. After many years they decided not to do the market anymore. Mariquita sells my favorite rainbow carrots, and I was convinced I was going to have to find a new source. Not the case, Julia emailed some of her regulars last summer mentioning that she would be making the occasional delivery to San Francisco..."would we be interested in doing a pick-up?" She also mentioned the option of buying one of Andy's specially curated mystery boxes - which have since become very popular.
This isn't a CSA, it's more guerilla than that. As it stands now, every other week(ish) Julia and Andy pack a huge delivery truck with many, many mystery boxes. Julia then climbs into the big truck and navigates her way over the Santa Cruz mountains down into Silicon Valley and then north toward San Francisco. She parks the truck in front of a previously designated neighborhood restaurant and people come from all over the city to trade cash for mystery crops. It's great. I end up trying all manner of ingredients I might not buy otherwise. The crops are beautiful and bright because Andy takes such care in growing and handling them.
With out sounding too mushy, this is just one more reason I love living in San Francisco. On a good night, not only do I go home with the box (er, bag - the boxes get reused), but sometimes I even get to sit down for a drink or slice of pizza and catch up with Julia. It's a real treat.
A few related links: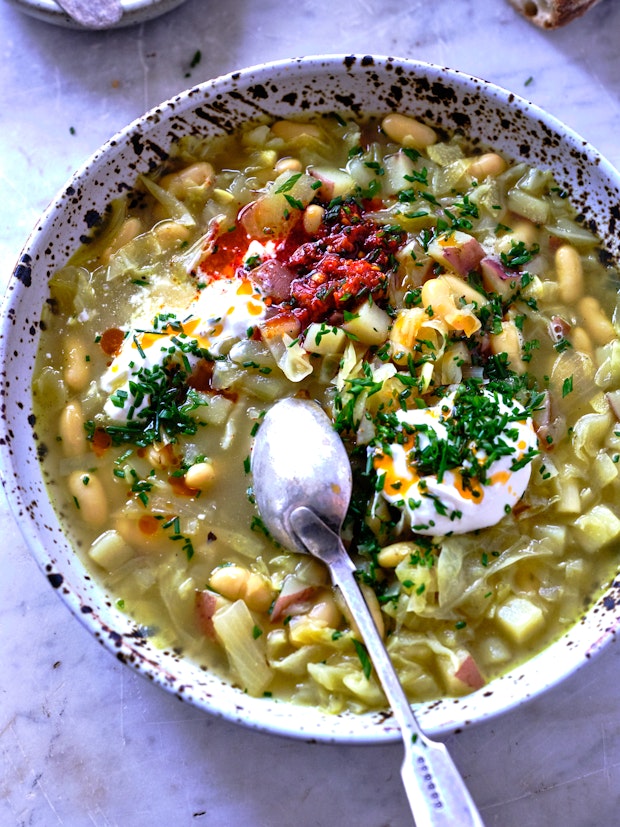 Cabbage Soup Variations
Back to the soup - there are a bunch of variations I've made over the years cooking this. Here are a few stand-outs.
Parmesan Cabbage Soup

: There are nights when I keep this super simple, finishing things off with a generous dusting of Parmesan cheese and a few chopped herbs.

Curried Cabbage Soup

: Add a scant tablespoon of curry powder to the pot prior to stirring in the broth.

Lemony Cabbage Soup

: Make the soup as written but serve each bowl topped with freshly grated lemon zest and a generous drizzle of lemon olive oil.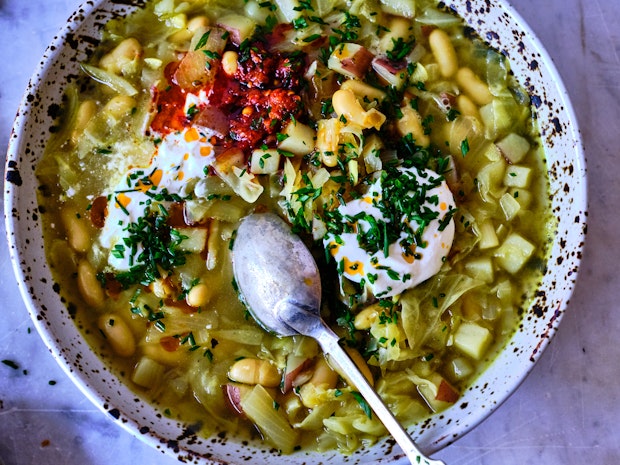 Cabbage Soup Leftovers
This is a great next-day soup. So keep that in mind. Generally speaking, there are a couple ways to deal with leftovers here (like, if you make a double pot). Cabbage soup freezes well, so eat your fill of the soup for a couple days, and freeze the remaining. You'll want to make sure it is room-temperature or cold prior to freezing. Allow to thaw before reheating.
I suspect many of you have all the ingredients needed on hand - aside from the cabbage. I'm going to encourage you to give this a try! It's a great staple recipe to have in your back pocket. This recipe was posted in early 2008, and I've cooked it many times in the years since. Enjoy! -h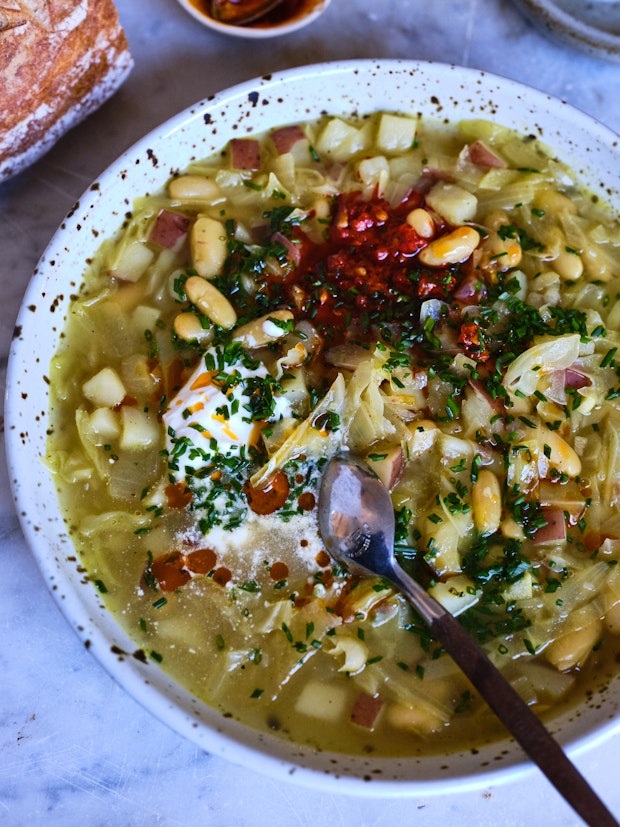 More Favorite Soup Recipes
Here's where you can browse all the soup recipes. I love this broccoli cheddar soup, and this coconut red lentil soup is much loved by everyone who tries it. This ribollita is a reliable winter warmer, and if you enjoy making soups as much as I do, you'll want to start making your own homemade bouillon powder. Oh! And this wonton soup has been a favorite this year. I also love make-ahead soups like this Tortellini Soup ,these Spicy Coconut Curry Noodles, and this Italian Barley Soup. 
Rustic Cabbage Soup
Use a good tasting vegetable broth or boost some water with a cube of bouillon here. I like to make my own homemade bouillon powder, but use what you've got. The goal is a using agreat tasting broth for your base. For a soup this simple, it's important. For the vegans out there, just skip the cheese or dairy in the added toppings, or swap in something like an herby drizzle in place of the dairy.
Ingredients
2

tablespoons

extra-virgin olive oil

1/2

teaspoon

fine grain sea salt, or to taste

1

pound

potatoes, skin on, cut 1/4-inch pieces

4

cloves

garlic, chopped

1/2

large yellow onion, thinly sliced

5

cups

vegetable broth or water (see head notes)

2

cups

white beans, precooked or canned (drained & rinsed well)

1/2

medium cabbage / 12 ounces, cored and sliced into 1/4-inch ribbons

Topping ideas: sour cream, spicy chile paste, chives, more good-quality extra-virgin olive oil (or chile oil) for drizzling
Instructions
Warm the olive oil in a large thick-bottomed pot over medium-high heat. Stir in the salt and potatoes. Cover and cook until they are a bit tender and starting to brown a bit, about 5 minutes - it's o.k. to uncover to stir a couple times.

Stir in the garlic and onion and cook for another minute or two. Add the broth and the beans and bring the pot to a simmer. Stir in the cabbage and cook for a couple more minutes, until the cabbage softens up a bit and the soup comes back up to a simmer. Now adjust the seasoning with more salt if needed. Getting the seasoning right is important or your soup will taste flat and uninteresting. The amount of salt you will need to add will depend on how salty your stock is (varying widely between brands, homemade, etc)...

Serve hot with a couple dollops of sour cream, a drizzle of good olive oil, a bit of something spicy (like a chile paste), and a sprinkling of chives.
Related Recipes
More Recipes
Popular Ingredients