Easy Little Bread
The simple, easy little bread you should make right this minute - yeast-based, farm-style, made from rolled oats and a blend of all-purpose and whole wheat flours.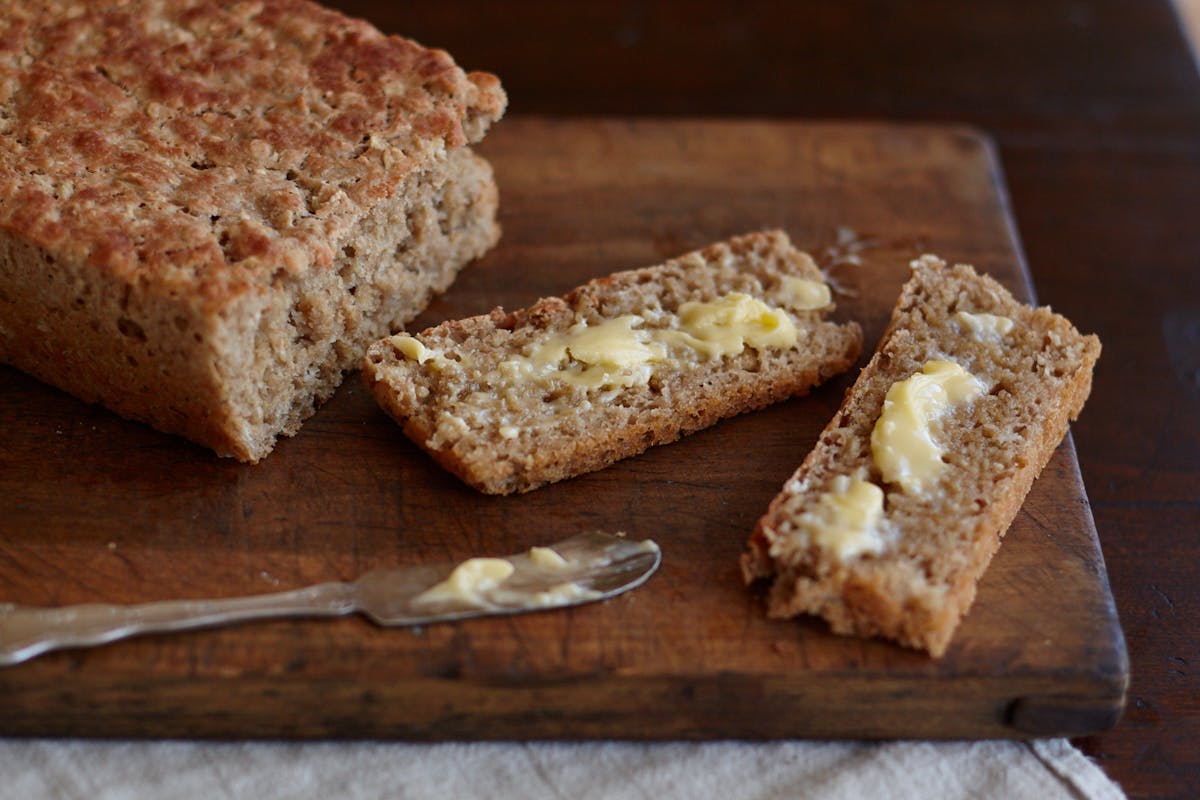 I'm eating a slice of butter-slathered homemade bread. And quite frankly, it might be the least interesting looking bread you've ever set eyes on. That said, at this particular moment, there isn't anything on this earth that would taste better. I'm convinced of it. It reminds me of the bread my dad would sometimes bake for us as kids. A dead simple yeast bread recipe made from ingredients I can nearly guarantee you have on hand. My dad's bread was made using all-purpose white flour, whereas this bread is made with a white, wheat, rolled oat blend. I've baked it three times this week, after I came across the recipe for it in a beautiful, heartfelt cookbook by Natalie Oldfield.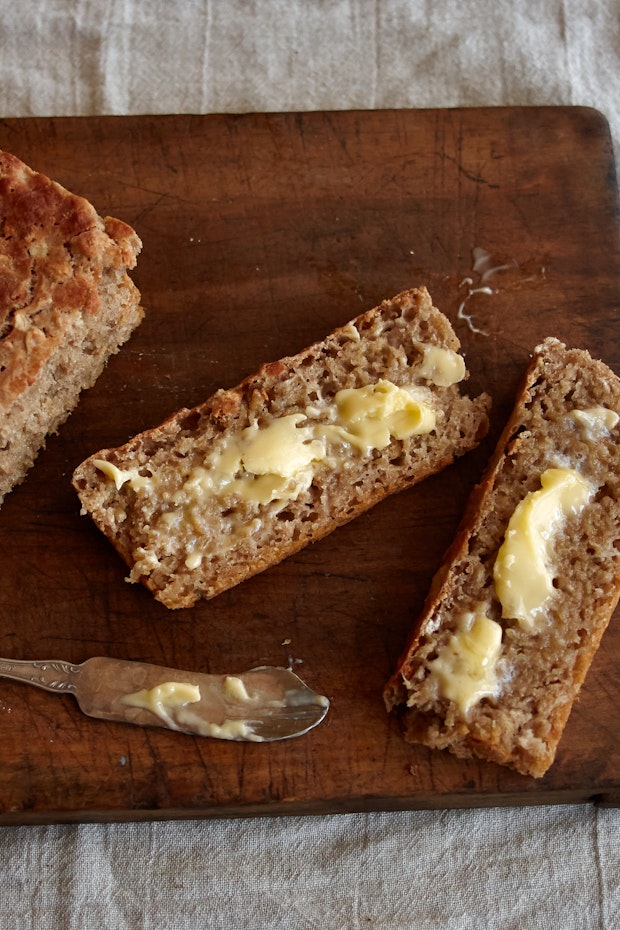 I snapped a few shots of the book to give you a sense of it. See below. Super cute, right? I love the grids of vintage family pictures, and the soft color palette of the recipe pages. It's a collection recipes inspired by the notebooks of Dulcie May Booker, written by her granddaughter Natalie. It was published in New Zealand, then Australia and the UK. I stumbled on my copy of it the other day at Omnivore Books here in SF, although I don't think it's been published in the U.S. yet.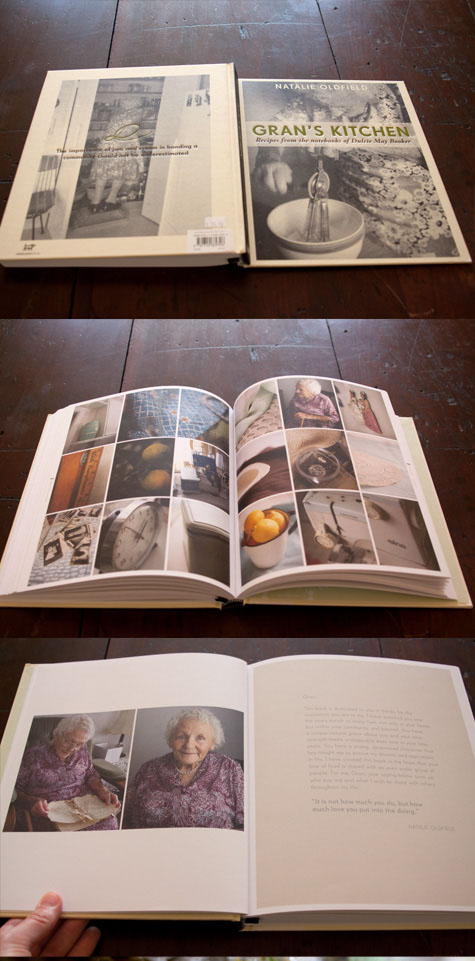 The recipes are classic and no-fuss. The kind that can and (clearly) have been whipped up a hundred times over - scones, fruit pies, chocolate cake, lemon bars, shortbread, and a selection of savory dishes as well.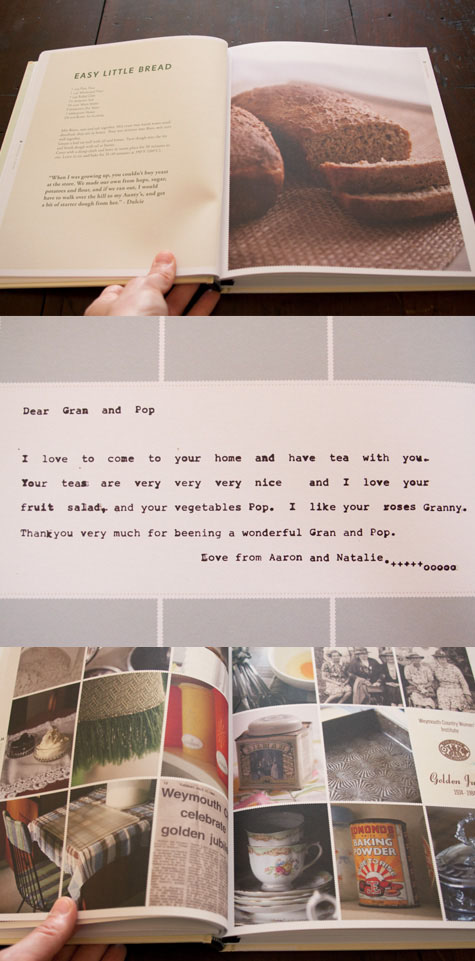 So, to all of you who still shy away from yeast-based recipes - you've got to try this one. You can have the dough in the pan in 5-10 minutes. It sits around for 30 minutes while I'm in the shower, then straight into the oven. Thank you Gran & Natalie. It's a beautiful book.
Also! If you're ready to use your oven some more, here's where you can browse all the baking recipes. This focaccia is a beauty, and this braided onion bread is also a delicious stunner. Don't miss this black bread, or the Big Sur Bakery Hide Bread. And this oatmeal bread is so good, with lots of opportunity for variations. Have fun baking!
Easy Little Bread Recipe
Ingredients
1 1/4

cups

/ 300 ml warm water (105-115F)

2

teaspoons

active dry yeast (one packet)

1

tablespoon

runny honey

1

cup

/ 4.5 oz / 125 g unbleached all-purpose flour

1

cup

/ 5 oz / 140 g whole wheat flour

1

cup

/ 3.5 oz / 100 g rolled oats (not instant oats)

1 1/2

teaspoons

fine grain sea salt

2

tablespoons

butter, melted, for brushing
Instructions
In a medium bowl, sprinkle the yeast onto the warm water and stir until the yeast dissolves. Stir in the honey and set aside for a few minutes, until the yeast blooms and swells a bit - 5 - 10 minutes.

In the meantime, mix the flours, oats, and salt in a large bowl. Add the wet mixture to the dry and stir very well.

Brush a 8-cup loaf pan generously with some of the melted butter. Turn the dough into the tin, cover with a clean, slightly damp cloth, and set in a warm place for 30 minutes, to rise.

Preheat the oven to 350F / 180C, with a rack in the middle. When ready, bake the bread for 35-40 minutes, until golden and pulling away from the sides of the pan. I finish things up by leaving the bread under the broiler for just a heartbeat - to give the top a bit deeper color. Remove from oven, and turn the bread out of the pan quickly. Let it cool on a rack so it doesn't steam in the pan. Serve warm, slathered with butter.
Related Recipes
More Recipes
Popular Ingredients