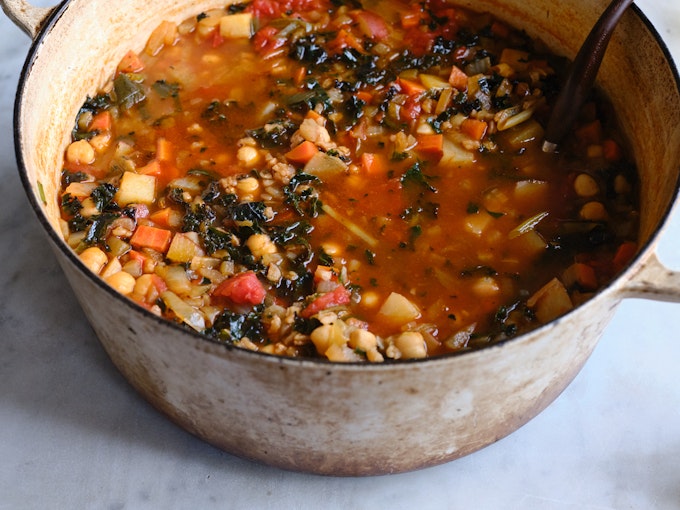 I'm updating this soup from the archives (2010)  because it's the sort of hearty, timeless, comforting soup that helps in times like these. I made it this afternoon and feel a bit better because of it. There's chopping to do, which keeps the hands busy and mind focused. The foundation ingredients are flexible and straight from the pantry - grains, canned tomatoes, beans. And if you have a lot of produce that needs to be used, a soup like this is perfect - eat some, freeze some.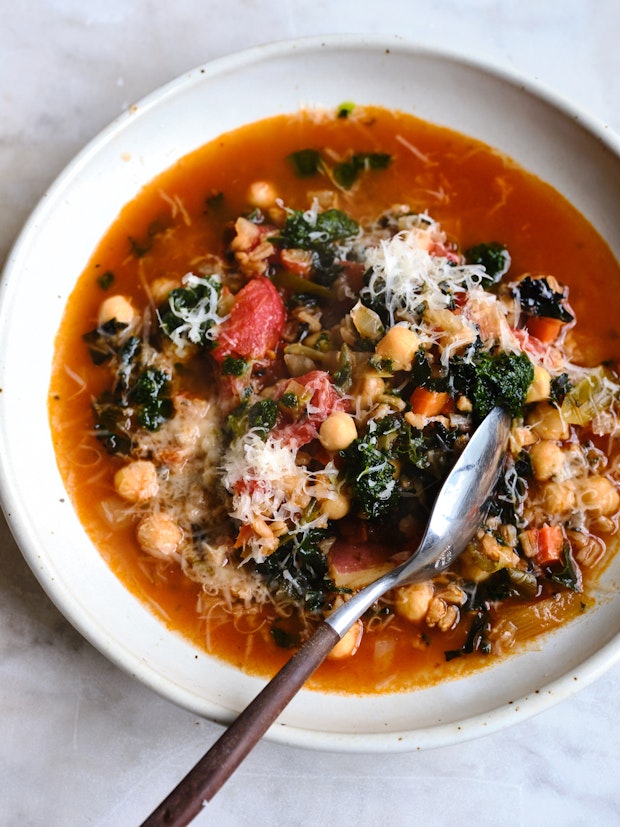 I want to keep my original post here because it reminds me of how I felt cooking it for them ten years ago. // (February 23, 2010) I spent the night at my mom and dad's house last week. I'm sure I've mentioned this before, but they live an hour south of San Francisco in Los Gatos. It's nice cooking in their kitchen this time of year because the view from the sink is quite beautiful. The hills surrounding their house are an electric shade of green and the old craggy-skinned oak trees are covered in moss and lichen. They say coyotes have been out recently, but when I was growing up it was mainly deer, skunk, and raccoon, (and the occasional rattle snake). I made a big pot of farro and bean stew for them - simple, hearty, and straightforward. They both went back for seconds, and I took that as a good sign.


The recipe below ended up being quite a departure from the recipe I photocopied, folded, and slipped into my overnight bag - regardless, I wanted to mention the book the inspiration came from - La Cucina: The Regional Cooking of Italy. I've been reading through it at night. It's the culmination of the work of the Accademia Italiana della Cucina. It is an organization of thousands of members who would visit villages, towns, and farms all across Italy to document cooking techniques and ingredients - in order to preserve the culinary heritage of their country. The resulting volume is 930+ pages huge. The farro soup section has five or six recipes.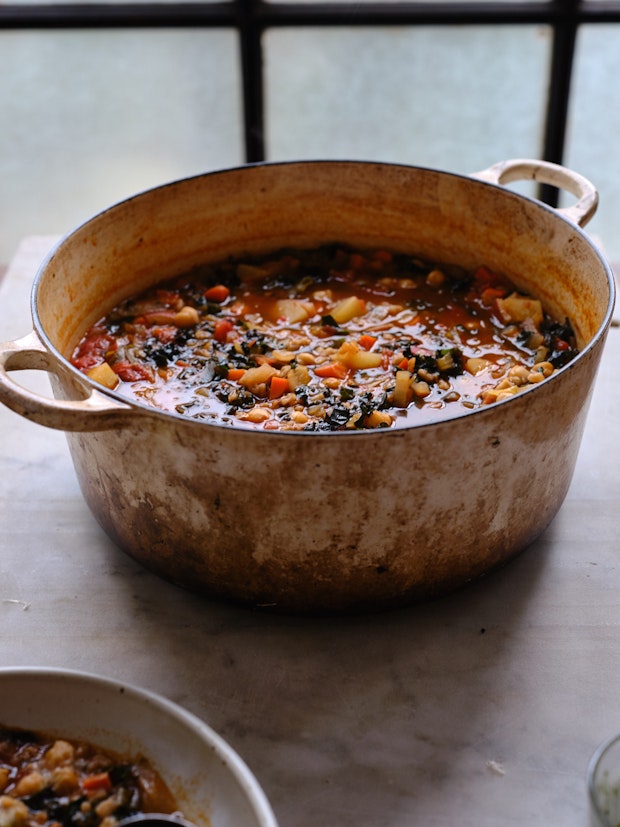 Over the years I'm made tweaks and variations to this soup, and topped it with any number of things. Here are a couple of favorites.
Harissa & feta: We ate the soup drizzled with harissa/olive oil and a good amount of feta cheese. Highly recommended for those of you sitting on harissa. Whisk together a ratio  about 1/3 harissa paste to 2/3 olive oil. Drizzle over the top of the soup.
Cilantro-garlic: Pictured here drizzled with a cilantro-garlic olive oil. Puree the leaves and stems of a bunch of cilantro with 2-3 cloves of garlic, a pinch of salt, and olive oil to cover.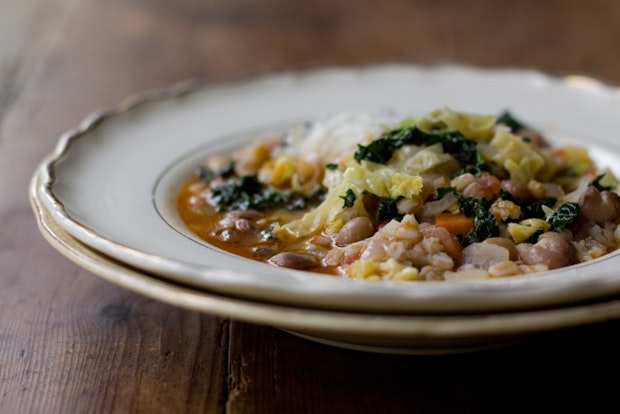 A version with heirloom beans, Savoy cabbage, and kale.

Your Bean Strategy
You have a lot of latitude here. I've done versions of this soup with dried beans, and canned beans. I've used I used Sangre de Toro beans, Rosa de Castilla , cannellini beans, and (as you see pictured here) canned chickpeas. I used Sangre de Toro beans the first time around. The second time I used Rosa de Castilla. Both were good (the pot liquor from the Sangre de Toro was intense in a good way), but the Rosa de Castilla were great - they held their shape, then melted in your mouth. Red beans are traditionally used. Canned chickpeas work wonderfully too. They're all delicious, use what you think you might like, or what you have on hand. And remember, if you use dried beans, great! Save the bean broth and use it in combination with the water called for in the recipe for a wonderful, fully-bodied broth.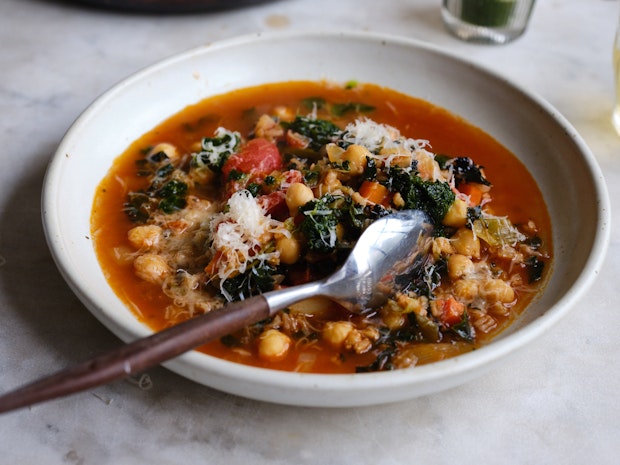 A Creamy Soup with No Cream
One last variation you can explore if you like. If you mash a cup of your cooked beans before adding them to the soup it results in a "creamier" broth. I skipped that step in the recipe below, opted for a more clear broth (as you can see above), but keep the idea in your back pocket.
Simple Farro & Bean Soup
As noted up above, if you use dried beans by all means use the bean broth in your soup. It's wonderful. Use it in combination with water to equal about 9 cups. Also, you can certainly experiment with other grains here, for example, whole wheat berries, or pearled barley. Just keep in mind the non-pearled grains will take longer to cook. Brown rice could also work. And lastly...this freezes well, so you can let it cool, then bag and freeze it. I didn't have celery the last time around, but had plenty of green onions, so I chopped a bunch up and used them. Plenty of flexibility here!
Ingredients
1

pound

dried beans, cooked OR a 28-ounce can of chickpeas or cannellini beans, drained

1/4

cup

extra-virgin olive oil


1

large

yellow or white onion, chopped

2

stalks celery, chopped

1

teaspoon

fine grain sea salt

28

ounce

can whole, peeled tomatoes, chopped (with liquid)

1

medium carrot, chopped

3

medium waxy new potatoes, cut 1/2-inch

2

cups

pearled farro

5-6

big handfuls of chopped cabbage, kale, and/or greens (~1-2 heads de-stemmed)

Serve with any/all of the following: grated cheese, chopped olives, herby drizzle, olive oil, or a harissa drizzle
Instructions
If you want a creamier broth for your soup mash 3/4 cup of the beans. I find it's easiest to just do it with my hands, and set all the beans aside.

In your largest soup pot over medium-high heat combine the olive oil, onions, celery, and salt. Sauté until the onions start to brown a bit, 7 - 10 minutes. Stir in the tomatoes and cook for another minute or two. Add the carrot, potatoes, farro and nine cups of water. Bring to a boil and then dial back to a simmer. Cook, stirring occasionally, until the farro is cooked through, 20 - 30 minutes. Be sure the vegetables are tender through as well. If you need to stir in more water or broth do so 1/2 cup at a time until the stew is the consistency you like. Taste and add a bit more salt if needed.

Stir in the beans, bring back up to a simmer, and then stir in the kale or cabbage. Cook another few minutes until it collapses. Serve in bowls topped with plenty of freshly grated Parmesan and a generous drizzle of good olive oil (or alternately harissa oil/feta), or any of the suggested toppings.

When you go to reheat leftovers you may need to add water to thin the stew out, and then readjust the seasoning.
Related Recipes
More Recipes
Popular Ingredients