Nikki's Healthy Cookie Recipe
A remarkable healthy cookie recipe. And SO popular! Banana-batter, shredded coconut, dark chocolate chunks, and oats. The recipe is butter-less, flour-less, egg-less, and potentially sugar-less cookies make great after school or after work treats. Healthy cookies!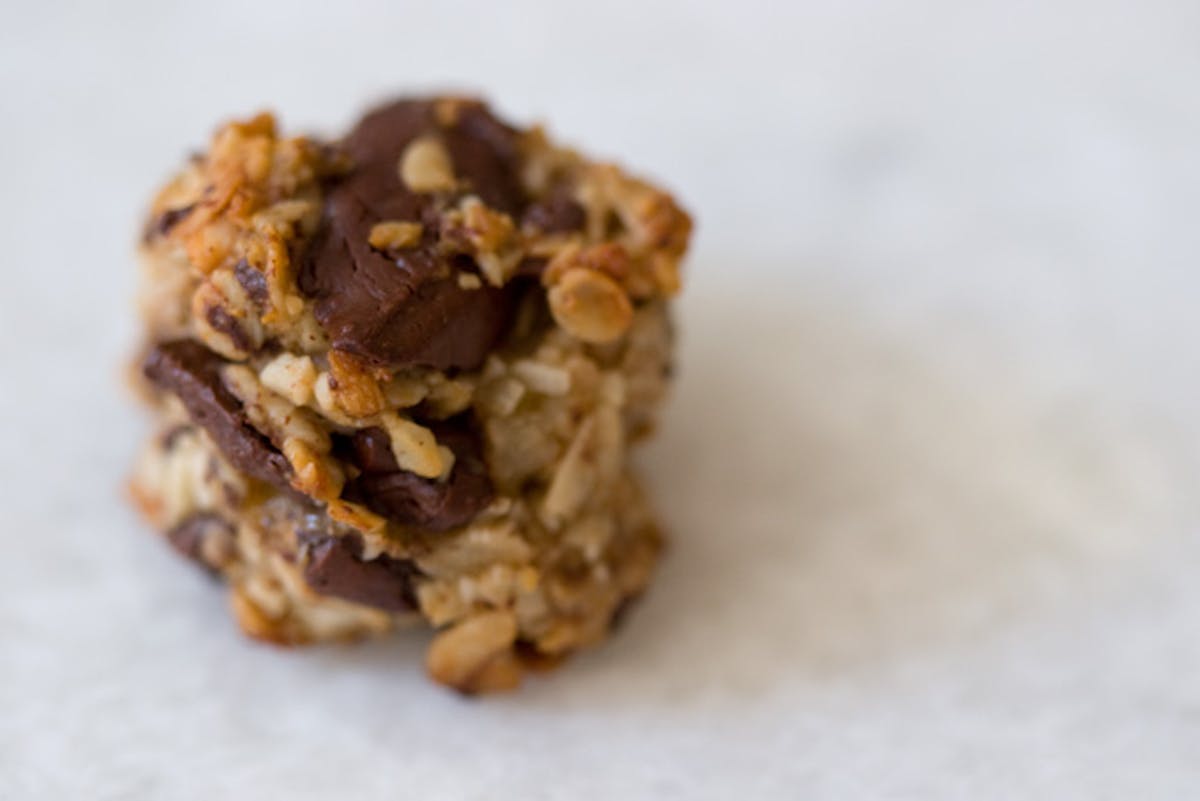 If you're skeptical that healthy cookies can be delicious, this recipe will convince you otherwise. I keep in touch with one of my best friends from high school. Her name is Nikki and she lives in rural Pennsylvania with her husband and four kids. Four! She's an inspired cook who can throw a meal together on a whim from a refrigerator she keeps packed with all manner of whole, natural foods. She's an enthusiastic supporter of local growers and producers and regularly sends me emails highlighting recent cooking triumphs and trials. A few months back she emailed me her healthy cookie recipe. Butter-less, flour-less, egg-less, and potentially sugar-less cookies, I promptly filed it under "can't possibly be good." How wrong I was.
A Healthy Cookie Recipe that Doesn't Disappoint
When I made a trip to Philadelphia a few weeks back and spent the day with Nikki the topic of the "healthy cookies" was revisited. Nikki mounted a compelling argument for these banana-battered treats, and I quickly bumped them to the top of my to-do list. My only regret is that I didn't try them sooner. The shredded coconut gives each cookie a hint of macaroon-esque texture, the oats lend heartiness, and melted chocolate chunks deliver bursts of dark, intense richness. You get just enough golden crustiness where the cookies touch the pan to play off the tender coconut-flecked center of the rest of the cookie.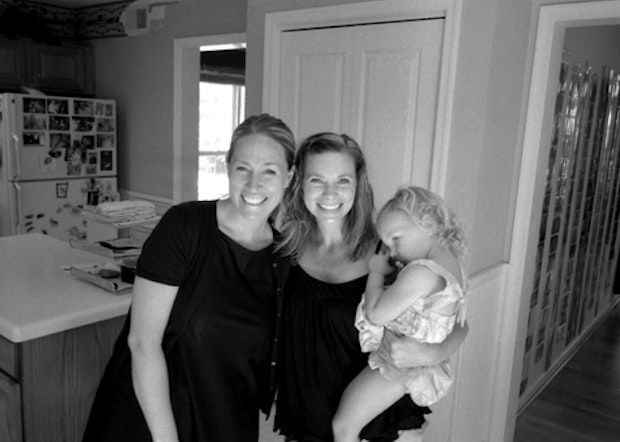 Wayne and his brother Greg drove me out to see Nikki in Kennett Square, and for those of you who find yourself in the area I'll list off a few of the places Nikki took me to visit that day. First thing in the morning, on the drive out, we stopped off at Terrain at Styers. I bought enough that my suitcase barely squeaked under the fifty pound mark on the flight home - I should also thank Terrain for stocking my book! With Nikki we made the short drive from her house to Va La Vineyards, and then onto an organic mushroom grower to pick up a case of portobellos (which we would throw on the grill later). We hit "downtown" Kennett Square and I got a coconut popsicle at La Michoacana before hitting up their wonderful farmers' market (more on this later), on to Talula's Table, and then back to Nikki's house for an impromptu feast with the kids and a few of Nikki's wonderful friends.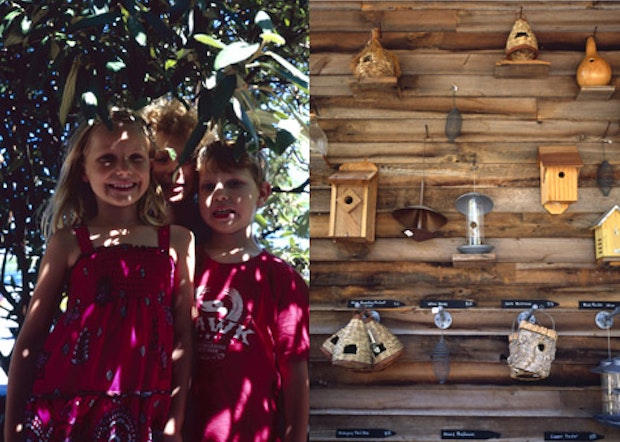 Three of Nikki's four kids in a tree at the Kennett Square Farmers' Market, and a collection of birdhouses at Terrain at Styers
Give the cookies a try and let me know if you like them as much as I did.
Nikki's Healthy Cookie Recipe
You can use unsweetened carob, or grain sweetened chocolate chips, or do what I did and chop up 2/3 of a bar of Scharffen berger 70%. I sort-of shaved half the bar with a knife and then cut the rest into bigger chip-sized chunks. You can make your own almond meal by pulsing almonds in a food processor until it is the texture of sand - don't go too far or you'll end up with almond butter. And lastly, the coconut oil works beautifully here, just be sure to warm it a bit - enough that it is no longer solid, which makes it easier to incorporate into the bananas. If you have gluten allergies, seek out GF oats.
Ingredients
3

large

ripe bananas, well mashed (about 1 1/2 cups)

1

teaspoon

vanilla extract

1/4

cup

coconut oil

barely warm - so it isn't solid (or alternately, olive oil)

2

cups

rolled oats

2/3

cup

almond meal

1/3

cup

coconut

finely shredded & unsweetened

1/2

teaspoon

cinnamon

1/2

teaspoon

fine grain sea salt

1

teaspoon

baking powder

6 - 7

ounces

chocolate chips or dark chocolate bar chopped
Instructions
Preheat oven to 350F. In a large bowl combine the bananas, vanilla extract, and coconut oil. Set aside. In another bowl whisk together the oats, almond meal, shredded coconut, cinnamon, salt, and baking powder. Add the dry ingredients to the wet ingredients and stir until combined. Fold in the chocolate chunks/chips. The dough is a bit looser than a standard cookie dough, don't worry about it.

Drop dollops of the dough, each about 2 teaspoons in size, an inch apart, onto a parchment (or Silpat) lined baking sheet. Bake for 12 - 14 minutes. I baked these as long as possible without burning the bottoms and they were perfect - just shy of 15 minutes seems to be about right in my oven.
Related Recipes
More Recipes
Popular Ingredients