Instant Pot Mushroom Stroganoff with Vodka
Make this stroganoff your dinner tonight, seriously! Made with caraway-spiked vodka, and a hearty mushroom base, you get all of what you love about mushroom stroganoff, without the all the butter and cream.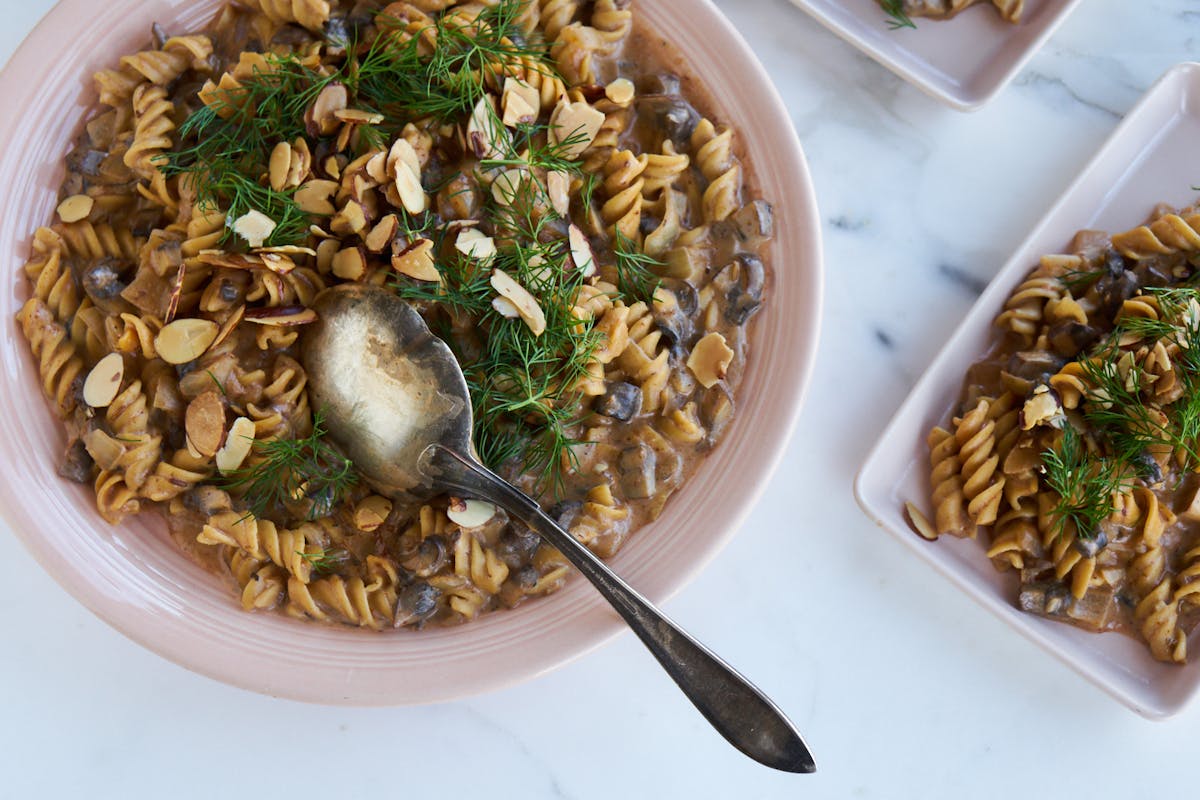 If you have an Instant Pot, please make this. Please. Pasta fans especially, this one is for you. It is an Instant Pot Mushroom Stroganoff. And, as many of you know, within the Instant Pot community, mushroom stroganoff is quite popular. You see many versions of it highlighted. Some are over-the-top decadent, others are quite healthy and hearty. This is my take, trying to land squarely in the later camp.
My rogue move? Infuse a bit of vodka with crushed caraway seeds. Use it to spike your mushroom base as it cooks. So, a bit like penne alla vodka, but the mushroom stroganoff version. You can use whatever pasta you like (whole-grain, gluten free, chickpea, rice, etc.), I use creamy nut milk in place of actual cream, and a splash of olive oil to kick things off to start, in place of slabs of butter. You won't miss any of it. This version is vegan, vegetarian, cozy, comforting, simple, and adaptable.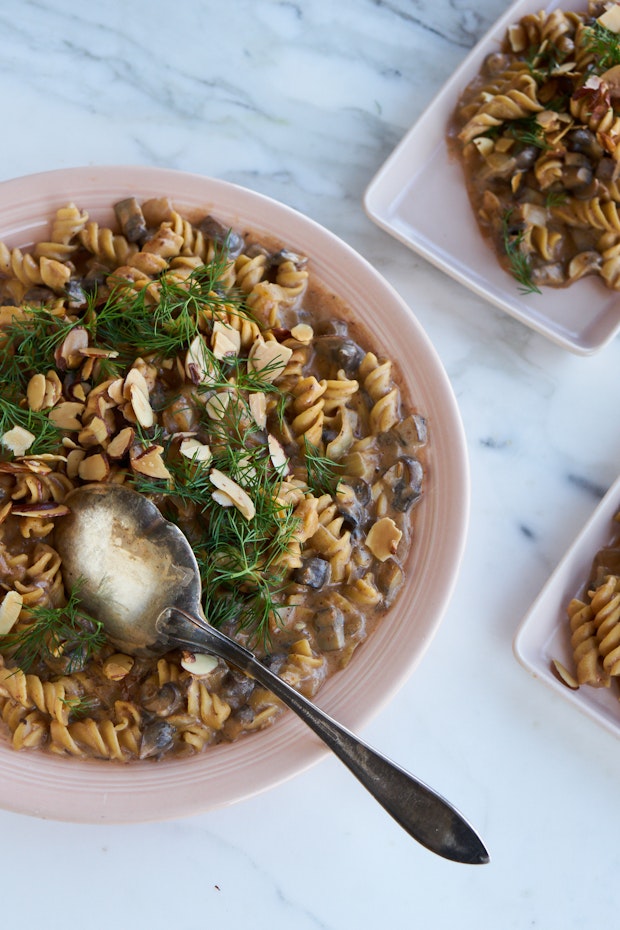 Here's a quick video where you can see how this comes together. There are also more videos here if you're interested:
Serving Suggestions
I'm going to argue that you need to counter all of this brown with a good amount of green. I enjoy this with a sizable green salad, or stir some chopped kale directly into the stroganoff, as it completes cooking. I make note of the specifics down below.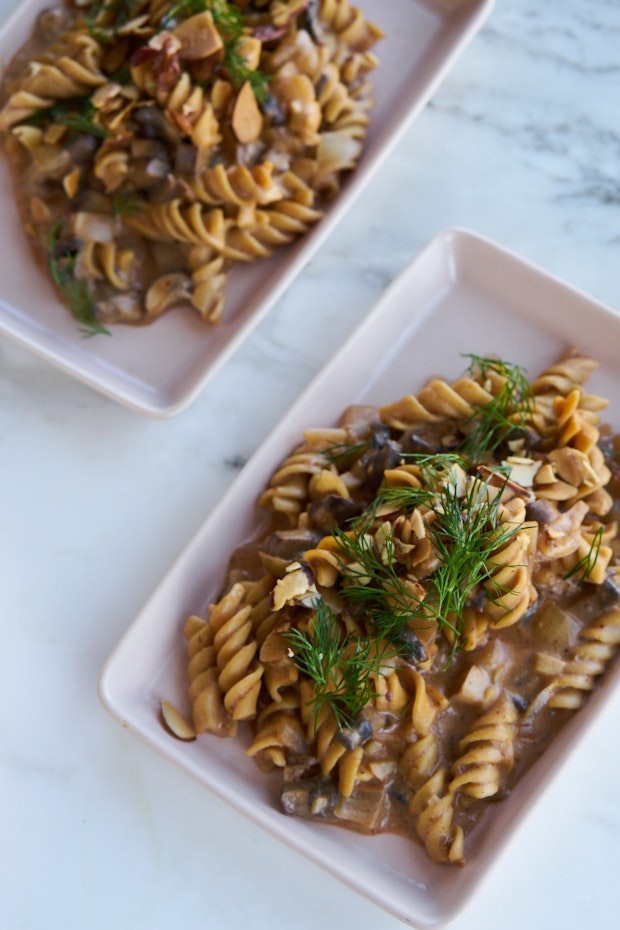 Pasta Selection
One of the great things about this recipe is that you can use whatever pasta you like, and you can experiment with favorite shapes. I've had success with penne, and rotini, but you can absolutely use whatever you (or your family) really likes. I often reach for one of the legume/bean based pastas for weeknight pastas, and play around with more traditional (and homemade wheat noodles) on the weekends. Mix it up some, this recipe is perfect for it.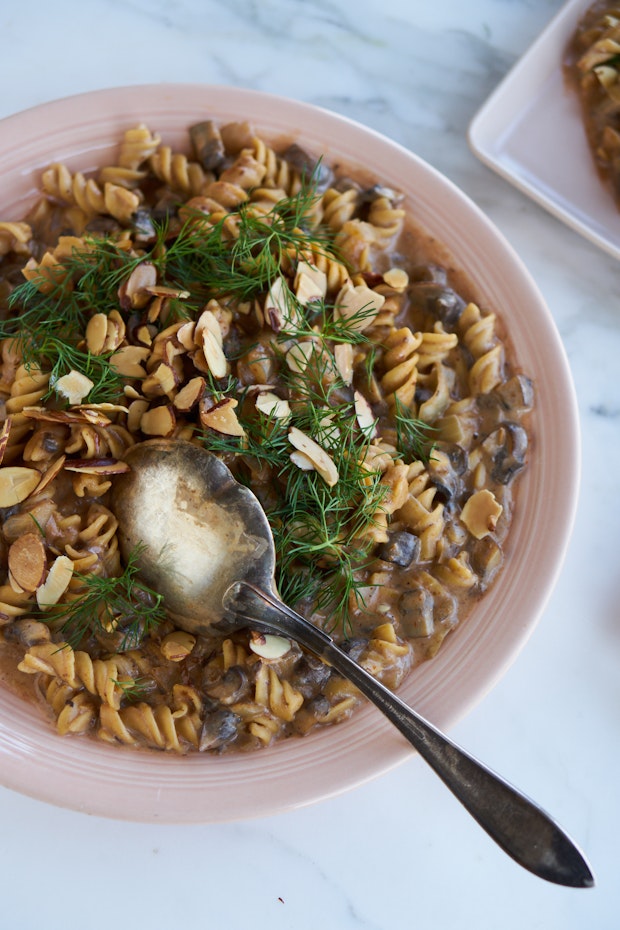 Instant Pot Mushroom Stroganoff with Vodka
If your mushrooms look dirty or dusty, wipe them with a damp cloth or paper towel. I used chickpea pasta here, and it works great! (Banza). If vodka is inconvenient, substitute a craft beer (bourbon stout was delicious), or white wine.
Ingredients
1

teaspoon

caraway seeds, crushed

1/3

cup

vodka

1

tablespoon

extra virgin olive oil

1

medium yellow onion, chopped

3

garlic cloves, peeled and chopped

1

pound

brown mushrooms, stemmed, chopped 1/2-inch

2

tablespoons

tomato paste

1

tablespoon

flour

2

tablespoons

Dijon mustard

3/4

teaspoon

fine grain sea salt, plus more to taste

1/4 - 1/2

teaspoon

freshly ground pepper, or to taste

1 3/4

cup

mushroom broth (or vegetable broth)

2

cups

dried pasta (see headnotes)

1/2

cup

homemade cashew cream*, or almond milk

to serve:

lots of dill, or chives and some toasted almonds
Instructions
In a small bowl combine the caraway seeds and the vodka, set aside. Sauté the olive oil and onions in the Instant Pot on the highest SAUTE setting for a minute or two. Stir in the garlic and mushrooms, and cook for a few minutes more, until everything softens up a bit. Stir in the tomato paste, and then the flour, and cook, stirring gently, but constantly for another few minutes, to toast the flour a bit. Add the mustard, salt, and pepper, broth, and pasta. Give one last stir to distribute the pasta evenly, and press CANCEL to stop the SAUTE.

Close the pot, and secure the lid. SEAL the valve. Select PRESSURE COOK (or MANUAL) and calculate your cooking time. To do this, refer to your pasta package, the time will be half of the shortest recommended cooking time, rounded down to nearest minute. For example my pasta package recommended 7 - 9 minutes. Take the smaller number (7), cut in half (3.5), round down to nearest whole number (3). SET/ADJUST TIME - in my case, to 3 minutes. When finished, carefully QUICK RELEASE pressure by shifting the valve to VENTING. Gently shake or tap the pressure cooker, and then carefully open away from you. Stir in the vodka-caraway mixture, simmer for a few more minutes, and stir in cashew milk. Taste and adjust seasoning, serve topped with lots of dill and almonds.
Notes
*Puree 1 cup of cashews, and 2 cups of water in a high-speed blender for a full minute or two. If you don't have a high-speed blender, please soak the cashews in water for at least an hour before blending for smoothest consistency.
Stovetop Version: Follow the instructions, up to the point of adding the pasta, cooking in a large skillet (instead of the Instant Pot). Cook the pasta separately in a pot of salted water, and stir it into the mushroom mixture. Finish with the cashew milk, and toppings.
Kale-boosted Variation: Stir a few big handfuls of well-chopped kale into the mushroom stroganoff just after it finishes cooking. Let it collapse a bit over a couple of minutes, and stir in the cashew cream before serving.
For reference, this is the Instant Pot I used for this recipe: Instant Pot DUO Plus 6 Qt 9-in-1
Related Recipes
More Recipes
Popular Ingredients