Instant Pot Herbed Chickpea Plov
If you love robust one-pot rice dishes, and you own an Instant Pot, this recipe is for you. It has rice, and chickpeas, fragrant spices, spinach, herbs, saffron, garlic, and olives.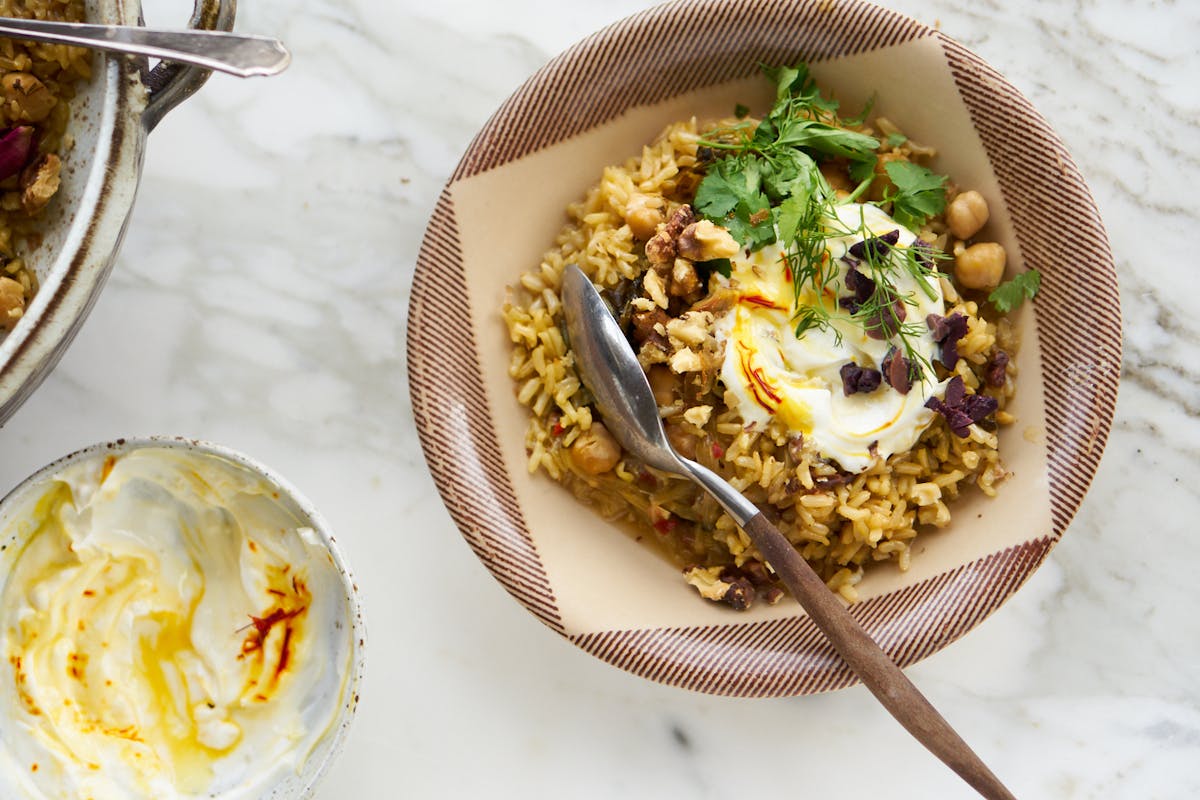 Plovs. I started cooking them last year pretty regularly, locking onto one in particular early in my exploration. It was the Green-herbed Plov with Chickpeas in the
Samarkand
cookbook by Caroline Eden and Eleanor Ford. It is the lone vegetarian plov recipe they included in that book, because, as noted, it's hard to find a plov in Central Asia without meat as its central component. If you love robust one-pot rice dishes, and you own an
Instant Pot
, you're going to want to dig in here, this plov recipe is for you.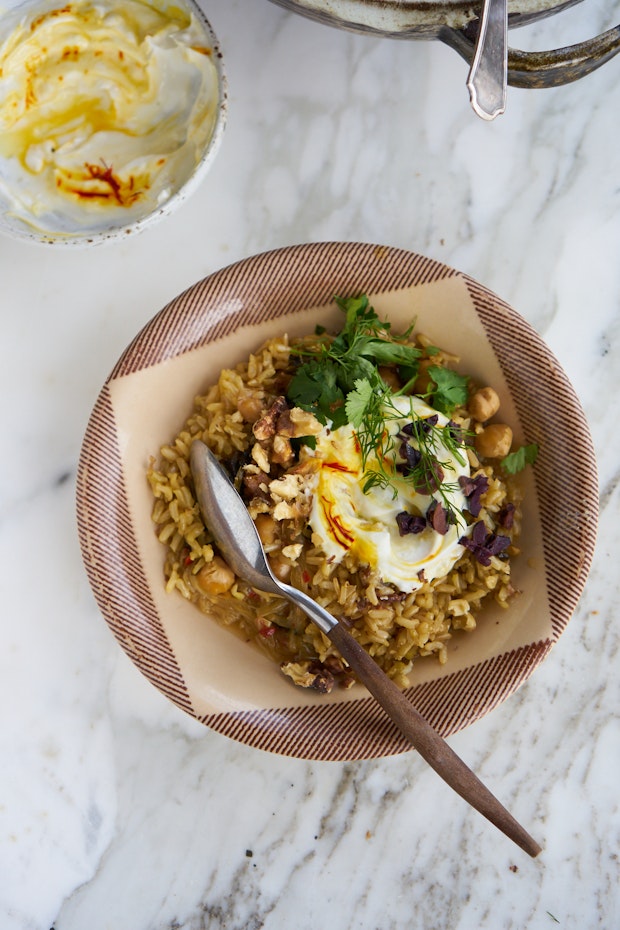 If you've never experienced a plov, its heralded as "the undisputed king" of Uzbek cuisine, a steaming pilaf cooked in layers, served everywhere in Central Asia. Think of plovs as the perfect all-in-one-pot preparation, and this is the version you'll want to start with if you're vegetarian or vegan. It has rice, and chickpeas, fragrant spices, spinach, herbs, saffron, garlic, and olives. It's the epitome of family style - served on platters, for visitors, for celebrations, for holidays.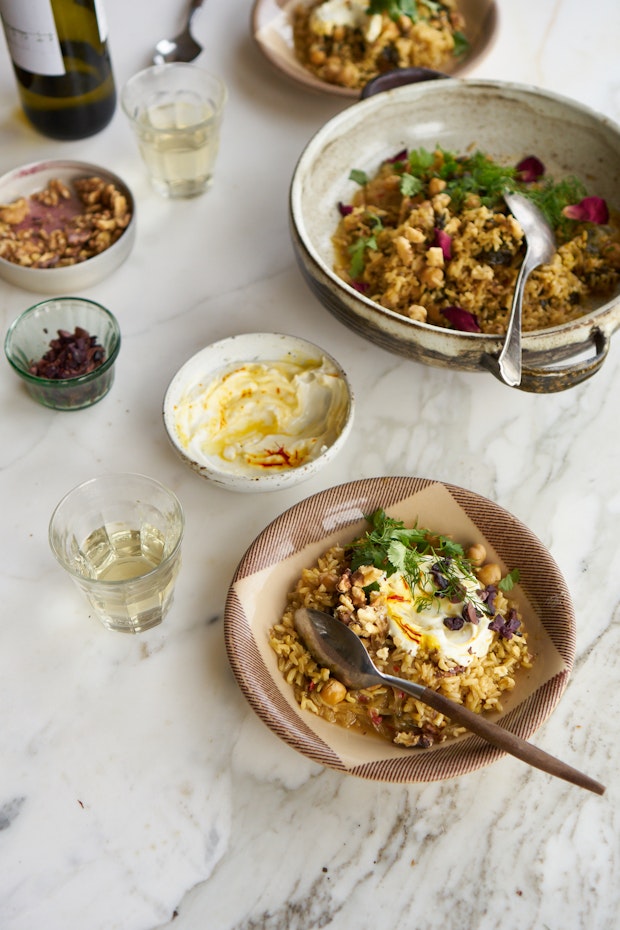 In the beginning I was cooking my plovs in a big cast iron Dutch oven, but quickly moved on to a
kamado-san rice cooker donabe
. I won't do the donabe deep-dive here, but nailing a plov in a kamado-san donabe, consistently (keyword), is master class stuff. Which is why I thought this recipe would never make it onto the site, it was one for the personal collection ;). To cook plovs in the donabe isn't for the faint of heart, and for every three times I nailed it, there was one time I really didn't. And then(!)....then I bought the
Instant Pot
, and decided to try my plov in that. Guess what? SO much more consistent, likely because there's no variation in temperature and heat from one attempt to the next in the IP. The results are great, and relatively predictable. So here we are - an Instant Pot Plov. Give it a go! It's great day after as well.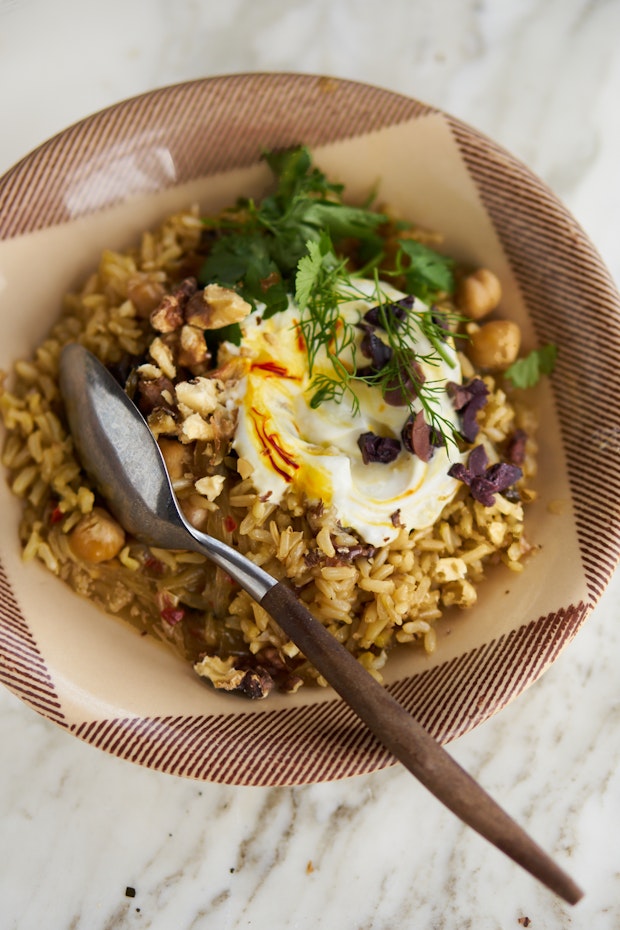 For reference, this is the Instant Pot I used for this recipe:
Instant Pot DUO Plus 6 Qt 9-in-1
Instant Pot Herbed Chickpea Plov
A couple of notes. First, when I say to layer, I mean like you would layer a taco dip or a lasagna. Spinach, note that I've tested with fresh and frozen spinach - both work great, and the frozen allows you to always have it on hand, pre-prepped and ready to go.
Ingredients
3

tablespoons

extra virgin olive oil

2

medium yellow onions, thinly sliced

1

teaspoon

red chile flakes

1 14-

ounce

can of chickpeas, drained, rinsed (or equivalent)

3

garlic cloves, peeled and chopped

1/3

cup

black olives, chopped

2

cups

boiling water with 1/2 teaspoon salt added, divided

6

ounces

kale or spinach, chopped (frozen is ok)

a couple handfuls chopped herbs (cilantro, dill, celery leaves)

1 1/2

cups

brown basmati rice, well rinsed

a big pinch of saffron, (optional)

to serve (some or all of the following): salted yogurt with saffron, toasted walnuts, chopped olives, herbs, lemon wedges
Instructions
Sauté the olive oil and onions in the Instant Pot on the highest SAUTE setting until softened and starting to brown just a bit, about 5 - 7 minutes. Stir in the chile flakes. Working quickly, scatter the chickpeas, garlic, and black olives on top of the onions in a layer, without stirring, and add 1/2 cup of the salted water.

Layer the spinach and herbs over the chickpea layer, again, not stirring. Smooth the greens into a layer with the back of a spoon (if you're using fresh spinach, do this as it begins to collapse). Add the rice in an even layer, sprinkle with saffron, and add enough salted water to just cover the rice - ~1 1/2 cups. Press Cancel to stop the saute.

PRESSURE cook for 25 minutes, and then allow to NATURALLY RELEASE for 15 minutes. Then you can carefully QUICK RELEASE PRESSURE. Gently shake or tap the pressure cooker, and then carefully open away from you. Serve toped with any/all of the suggested toppings.
Related Recipes
More Recipes
Popular Ingredients