A Lesson in Juicing
I inherited a professional juicer, juiced everything in sight, and learned some things in the process.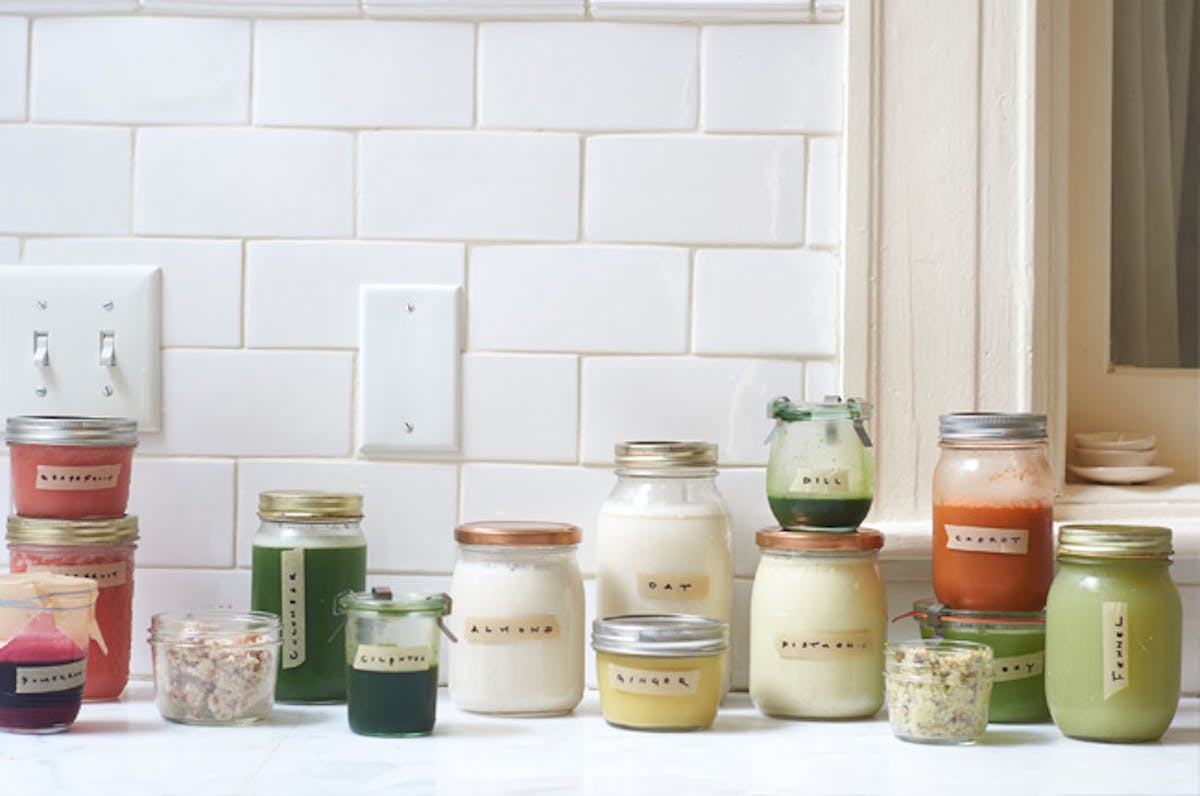 Let's take a deep dive into all things juicing. I quite like my juicer(!), and I love the possibilities it lends to expanding the culinary palette. I enjoy the way it makes me think about ingredients in new ways. Fresh juice is invigorating - straight up, blended, or as part of whatever I'm making. That said, I've learned somethings over the years and will share some of that here.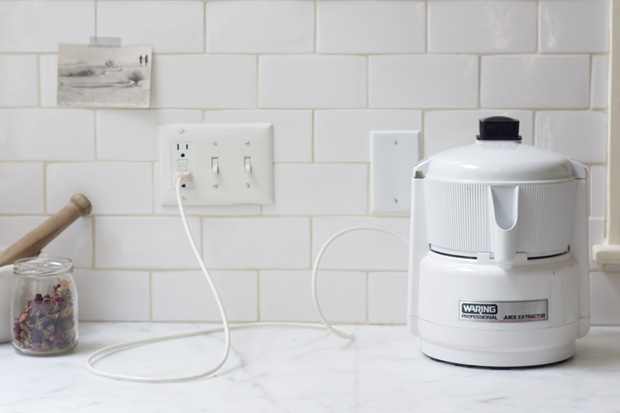 My dad gave me this centrifugal juicer forever ago. It's a workhorse and although I've had my eye on one of the macerating juicers for a while now - I haven't made the move (yet!). We'll talk about the different types of juices down below.
The Foundation of Good Juicing
There are a couple keys to getting great juice out of your kitchen. The first (and most important) thing is to use vibrant, healthy produce. Use the best quality produce you can get. It's important to seek out organic or sustainably grown fruits and vegetables. If that's not happening, wash it gently, but thoroughly. The second is to get your hands on a decent juicer. We'll get into the different types and considerations down below.
And while were on the topic, a blender and a juicer are entirely different beasts. I know this seems obvious, but the blender does chop-chop, and the juicer separates all the fibers and solids from the juices. The juicer produces essences that are incredibly intense, alive, and bright. The flavor is main-lined. In both cases beyond fruits and vegetables, you can experiment with grains and nuts (see below).
My perception is that nearly everyone seems to think using a juicer is a royal pain. Primarily the clean-up part. And that is partially true. It seems most convenient to juice in batches, set aside what you might use in the immediate future as well as the forthcoming day or two, and then freeze any juice beyond that immediately. Not as perfect as freshly juiced, but still better than no juice.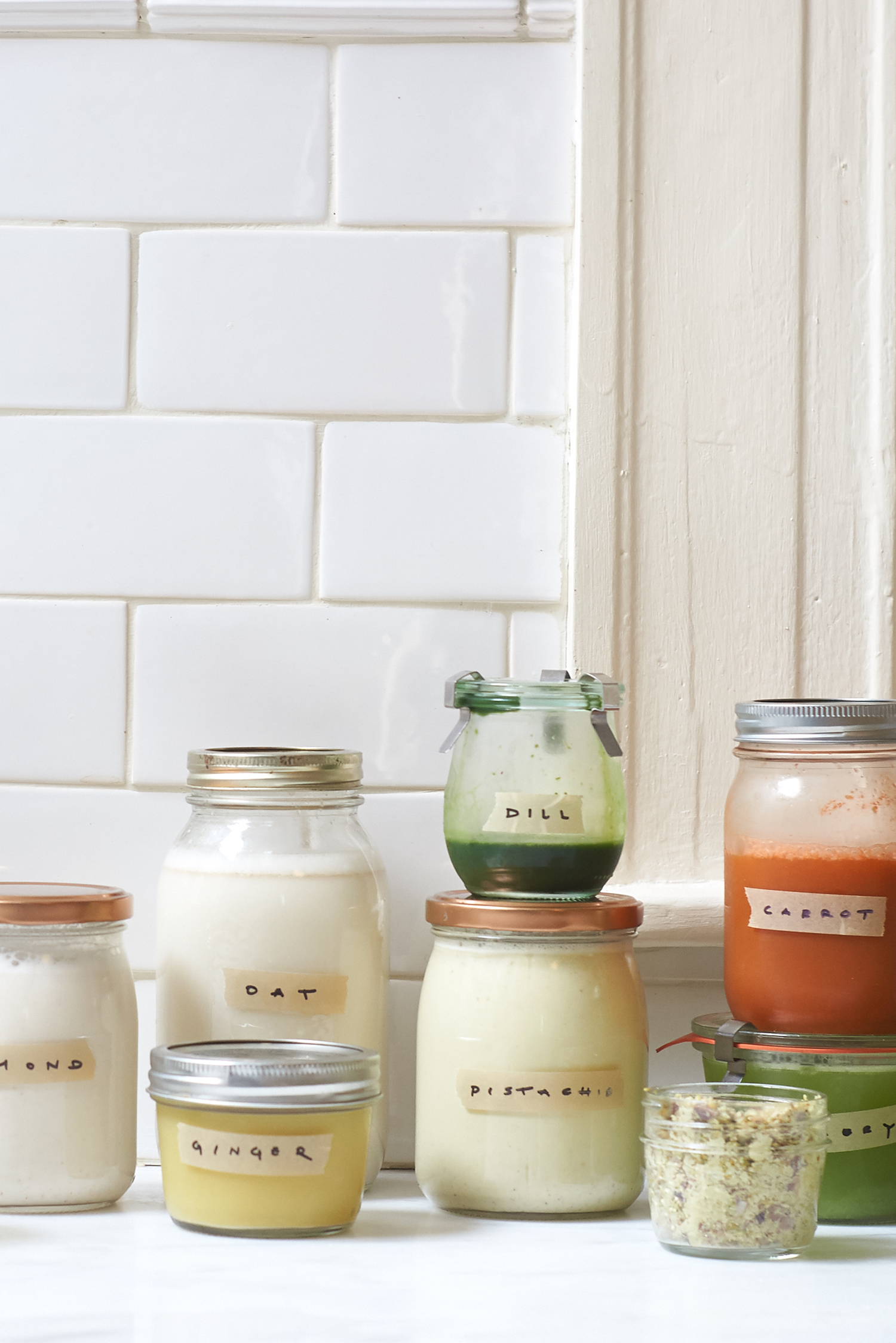 A Juicer Can Work With Lots of Ingredients!
Before I dive into all the things I've used my juicer for, one thing I'll add is this: read your juicer's instructions before diving in. What works in mine might not work in your model. There are a range of different types of juicers, and a range of ways they extract juice.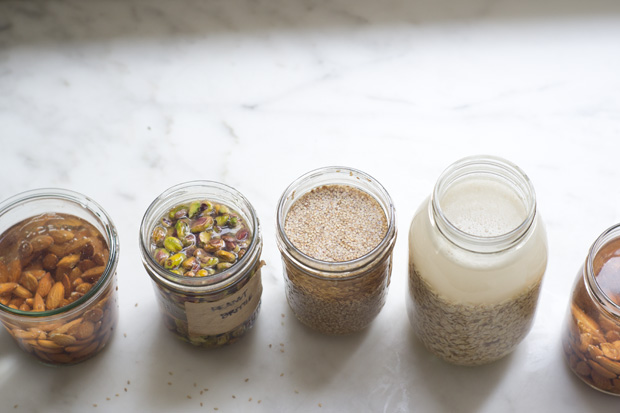 Juicing Nuts & Seeds


Almond Milk: Soak 1 cup / 5 oz almonds overnight, covered, in filtered water. Drain. Add three cups water, and ladle into juicer. This produces a full-bodied almond milk. If you like it a bit thinner, go with 4 cups water. The flavor really sings when you season it with a touch of salt and sugar. Just go with your taste buds, until it tastes good to you. Makes about 3 1/2 cups. Also, be sure to keep the meaty by-product of making the almond milk, just scrape it out of the juicer. Salt it a bit, and it's a great homemade almond butter.
Oat Milk

: Soak 1 cup / 3 oz rolled oats (not instant) overnight, covered, in filtered water. Drain, add 3 cups water, and ladle into juicer. Makes about 4 cups. Note to self to try a version with toasted oats. I could imagine experimenting with it as and ingredient in custards, puddings, french toast, and the like.

Pistachio Milk

: Soak 1 cup pistachios / 5 oz overnight, covered, in filtered water. Drain, combine with 3 cups water, and ladle into juicer. This was my favorite non-fruit juice by a stretch. Really nice. I kept trying to combine it with little accents like orange blossom water, or citrus zest, but in the end I liked it best straight. Makes about 3 1/2 - 4 cups. And like the almond milk be sure to keep the meaty by-product of making the pistachio milk, just scrape it out of the juicer. Salt it a bit, and it's a great pistachio butter.

Sesame Milk

: Had high hopes for this one but it really didn't work. The un-hulled seeds never broke down in the juicer.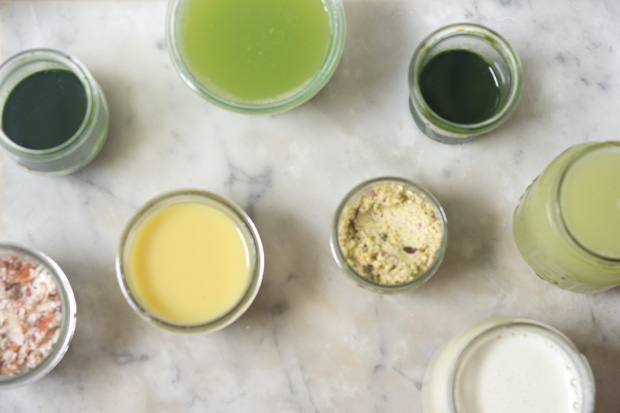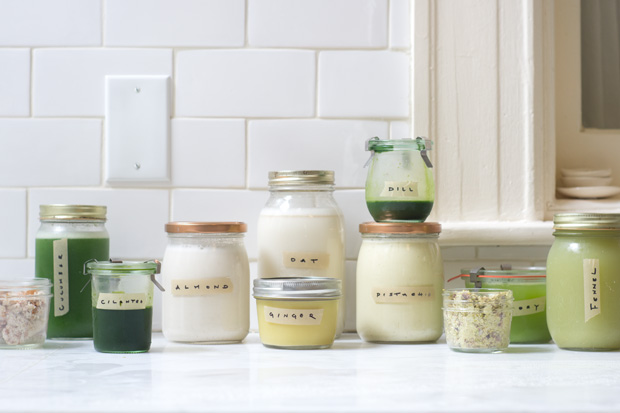 Juicing Fruits  & Vegetables
Fennel Juice: Trim the root end, but use all the rest of it. 1 large bulb = ~1 cup juice.

Carrots: 1 lb = 1 cup juice. You know, it's just occurring to me as I'm typing this to try a carrot soup with pure juiced carrot. Use it to make the silkiest, brothy carrot soup ever.
Celery: Lob off the root end and use the rest. And I didn't bother stringing. 1 medium bunch = 1 1/2 - 2 cups juice. I'm enjoying using the celery juice as a component in all things brothy. The fennel juice as well, but to a lesser extent.
Cucumber: Juice it all. And leave the skin on, it lends a nice color. 1 large (8 oz) cucumber yields about 1 cup of juice. Super cooling.
Cilantro: 1 big bunch, leaves and stems = 1/3 cup juice. I threw a couple serranos (deveined and deseeded) into the juicer here as well for a spicy version. You just know it's going to be good swirled into yogurt or creme fraiche and spooned into a bowl of roasted tomato soup!
Dill: 1 large bunch (stems and fronds) yields about 3 tablespoons juice. Equal parts dill juice + olive oil and a pinch of salt has been great over greens, savory pancakes, and eggs this week. I imagine like the other intense herb juices, it would be welcome as a vinaigrette component, drizzled over gratins, and tarts as well.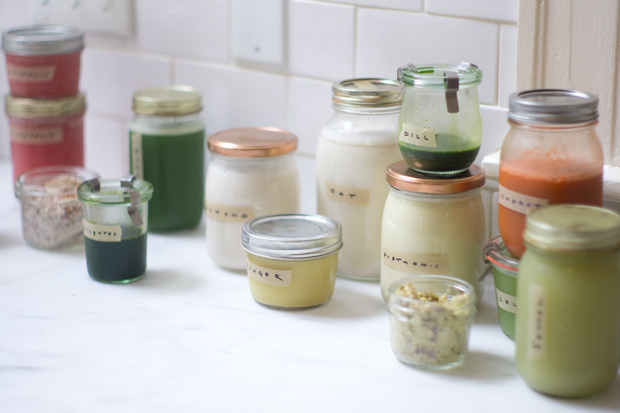 Ginger: 8 ounces unpeeled yields about 3/4 cup ginger juice. Freezes quite well. I've been using in teas, broths, citrus juice (grapefruit-ginger is my favorite), dipping sauces, etc.
Grapefruit: 1 large = 1 cup juice. I could live on this during the winter.
Pomegranate: I'm not sure I'd recommend using a juicer here. Mine definitely wasn't happy. That said, the resulting juice is electric - straight-up incredible. Juice the seeds only, but review your juicer's guidelines before an attempt. 1 large pomegranate = ~ 1 cup of seeds = 1/3 cup fresh juice.
Sidebar: Pomegranate Juicing Tips
In the comments Elise weighed in about juicing pomegranates, "…regarding pomegranate juicing, my parents have a huge pomegranate tree which produces a gazillion poms every fall. My mom juices most of them. The fastest way is to cut them in half horizontally, and put them in an orange press. This is what we do when we are overwhelmed with the number of pomegranates to juice. What my mom usually does however, is to carefully extract the seeds from the pomegranate, and place them in a blender. Pulse a couple times, just enough to break through the arils, but not enough to pulverize the hard tips of them. Those harder pieces tend to sink to the bottom of the blender. She pours out the juice through a strainer to catch any remaining hard bits. Works great!" Thanks Elise!
Jane also has this insight, "Gently squeeze and massage the whole pom until it feels softened. Avoid breaking the skin. Cut a 1″ hole in the blossom end and just suck out the juice. I grew up in Florida also doing this with oranges."
Juice Combinations
Here are a few juice combinations I love. I'm also going to include a bunch of the amazing juicing recipes you posted to the comments. I'll put those in the recipe section down below. 
Pistachio Milk: 1/2 cup pistachio milk, 3/4 teaspoon honey or sugar, 1/8 teaspoon sea salt, tiny pinch of ground clove. But like I said up above, this is really good straight.
Spicy Carrot: 1/4 cup carrot juice + 1/4 cup almond milk + 1/16 teaspoon cayenne + 1/2 teaspoon ginger juice + 1/8 teaspoon fine grain sea salt + 2 tablespoons celery juice.
Pomegranate Almond: 1/4 cup pomegranate juice + 1/4 cup almond juice + 2 drop rose water + pinch of salt, 1 teaspoon lemon juice + sweeten to taste.
Cucumber Celery: 1/4 cup cucumber + 1/4 cup celery + 1/16 cayenne + pinch of salt.
More Juicing Recipes
What To Do With Juicing Pulp?
Juicing leaves you with a lot of pulpy, fiber-rich, by product. A lot of people like to mix this into their muffin and quick bread batter. I'll add that you can freeze it until you're ready to use it. There were also some great suggestions in the comments.
Rita shares,"…I was also wary of the waste of all the pulp. But you can use it as a filling for wraps, etc. if you add a little nut mayo and seasonings. You can wrap it in a raw cabbage or collard leaf. It's delicious!"

Jonc says,"

I use the pulp from the Omega 8006 to make baby food."

"

My sister has an actual juicer and saves all her "pulp" to make to most amazing veggie burger patties! they are sooo good and nothing goes to waste. I guess if you have chickens or a great compost those are perfect uses for the pulp too." Love these ideas shared by Kari.
What Kind of Juicer To Buy?
Broadly speaking. There are a number of considerations when deciding which juicer to buy. There are juicers that are centrifugal (like mine, pictured at the top) and others that are macerating. And then there are the high-powered blenders (for example: Vitamix). Blenders turn whole fruits and vegetables into milks and smoothies - different thing from the juicers altogether. The macerating juicers are able to really get an amazing amount of juice from ingredients, leaving you with a dry-ish pulp. Each option comes with a range of price points, but broadly speaking masticating juicers seem to be larger and more spendy. A lot of you have juicing opinions -here's a list of some that might be helpful.
A lot of people love the Brevile. Brittany cites, "I'm obsessed with my breville juicer." Julia weighs in with, "

received a Breville as an engagement gift and fell in love! The clean up is easy peasy and the combo of pink grapefruit, lemon, lime and orange is heaven in the winter."

Daniella weighs in, "I love our juicer! We just got the Breville one over the holidays and we're obsessed. Ours is really quite easy to clean up as well. I don't mind it at all! I'm really liking juice better than smoothies… no seeds and no jammed blender anymore!"
A counter point from Jonc, "

I have an Omega 8006 juicer. Love it to death. We also have a Vitamix 5200. Love it to death. Had a breville. Don't use it anymore."

Then there is the Vitamix camp. This is a bit of a different beast because you're blending, not really juicing perse. Eadie states, "

I'm in the vitamix camp, love my vitamix for all the nutritional reasons (fibre, extra nutrients otherwise lost in the pulp) and generally begin my day with a veggie based smoothie."

Angela says, "After spending some time with my VitaMix, I "moved up" to an Omega juicer and really love it – love making nut milks as well as fruit and vegetable juices. I mostly use it for green juices to drink, but have made some really exquisite compound vegetable sauces by cooking any particularly succulent, seasonal vegetable in it's own juice and then pureeing."
Sun mentions the Nutri-bullet, "

Nutri-bullet, which creates 'smoothies' – not "juice" specifically. This gadget is about 1/2 the size & we use about 1/3 of the quantity of fruits/veggies. I still miss some of our "juice" blends but for those wanting a quicker option, here ya go."

Jack LaLane represent in the comments as well. Julie shares,"I have a Jack LaLane juicer that will juice a "rock" Love it!"
Ellen says, "I love my Hurom Slow Juicer. It does an excellent job of extracting juice from fruits and veggies, leaving behind very dry pulp, especially compared to the Jack LaLanne juicer that I had prior to investing in the Hurom."
Rita, "I have an Omega VRT and I love it. It's very much like the Hurom juicer. Super easy to clean, I leave it on the counter and use it at least once or twice a day."
Related, Josh G says, "My wife and I use the Hurom slow juicer and it is amazing. It has approximately 5 parts and is super easy to clean. From chopping to cleaning its altogether 15-20 mins. It has become part of our day and a great energy shot in the mornings."

I love this note from SA, "…next time you're in Turkey, or anywhere in the Middle East, find a hand cranked heavy duty juicer at the flea markets. They work absolutely best with pomegranates. By the way, by juicing only the seeds of a pomegranate, you lose most of the nutrition they carry. Like an orange, all the good stuff is in the bitter peel. So actually juicing like an orange is the way to go anyway."
So, as you can see, people are passionate about their juicers! If you're in the market really dive in and research how you imagine using it. I've read good things about the Nama J2. If I was looking to purchase something on a budget, I'd have a closer look at the Tribest Shine. I've also noticed the Hurom Slow Juicer has a new "easy clean" model (2023). So, set a budget, think about how it will work within your lifestyle, and go from there! You can keep en eye out for refurbished models at a discount or wait for sales that seem to come around a few times per year.
Lastly. if you're a juicer, this is a plea to let me know what you use yours for the most. You've already proven to me that a good chunk of you don't allow your juicer to collect dust! Adding a note here (years after the initial post!) - your hundreds of suggestions in the comments are amazing. I've threaded some back up into the post, but keep them coming!
Ten Juicing Recipes from The Community
Ingredients
1

assortment of fresh fresh fruits, vegetables, and spices
Instructions
Sandy says, "I use a Breville every morning. 4 carrots, 1/2 bunch kale, 1/2 lemon, 1 nub ginger, two small beets or whte turnips, 1 apple. I clean juicer before drinking, and my 10- oz glass of juice is my reward."

Julia mentioned, "…I also have used it for a detox post holiday and actually loved a red cabbage and apply + ginger cocktail (which sounds scary but is such a beautiful purple). " Similar in spirit, Stine's personal favorite is, "…1 part carrots, 1 part apples and 1 part red cabbage. The color is stunning and it is a true energizer."

Maxine has a go-to that is in line with one of my favorites, "I use 2 ruby red grapefruit, 2-3 carrots, and an inch of ginger. When I first heard of this combo, I wasn't at all intrigued, but honestly, it is a wakeup call for your tastebuds."

Chaya-Ryvka, "Yesterday I made an Orange/Parsley combination that was pure HEAVEN. I'm not talking mostly orange with a dash of parsley, but mainly parsley juice with orange to sweeten. It was aromatic, fresh, tart and really energizing not to mention delicious. A new favorite for me and my 2.5 year old son. He doesn't love all my green juice combo's but this one he did!"

Ann steps in with the first mention I've read here about juicing melon, "I've been into juicing for about 3 months and right now my favorite juice combo is carrot, orange, cantaloupe. I use 3-4 carrots depending on size, 1 large orange, and 1/4 of a cantaloupe. Bright orange goodness!" Sounds amazing.

And then this one from Jen M, "…my favorite is Melonaide – juice watermelon and lemons. Usually 1/4 watermelon with a few lemons is good. To me it tastes just like lemonade without all the white sugar."

Terri says, "My dad and I have been "juicing" for the past couple of months. We make two cups every morning. We usually use about 7 carrots (peeled), 5 pieces of celery, 2 applies, 2-3 oranges, and a couple pieces of pineapple. It tastes great, and along with a simple breakfast keeps us really full all morning."

This is a fantastic idea mentioned by Nicole,"Have you tried replacing the water component in homemade bread with fresh juice? Jim Lahey has a fantastic recipe in "My Bread" for a Carrot Cumin bread using fresh carrot juice. I believe he's adapted it to make a Fennel Anise bread as well."

Benjamin shows up with this gem, "One of my favorite uses for my juicer is juicing mire poix, then cooking lentils in that juice."

And let's finish this section off with an enthusiastic recipe from Tamara, "…my personal fave. I call it a digestive cocktail. It tastes like heaven.

– Half pineapple – peeled and chopped

– 1 Fennel bulb – cut into large pieces

– 1 organic green apple – large pieces

– 1 handful mint (from my garden)

– 1 bag of spinach or 3-4 large handfuls

– 2 large cucumbers (organic & unpeeled)

Makes 32 ounces of emerald-green deliciousness."
Related Recipes
More Recipes
Popular Ingredients