Ten+ Most Popular Noodle Recipes
I've posted a lot of noodle recipes in the past decade. This is an ongoing list of the most popular.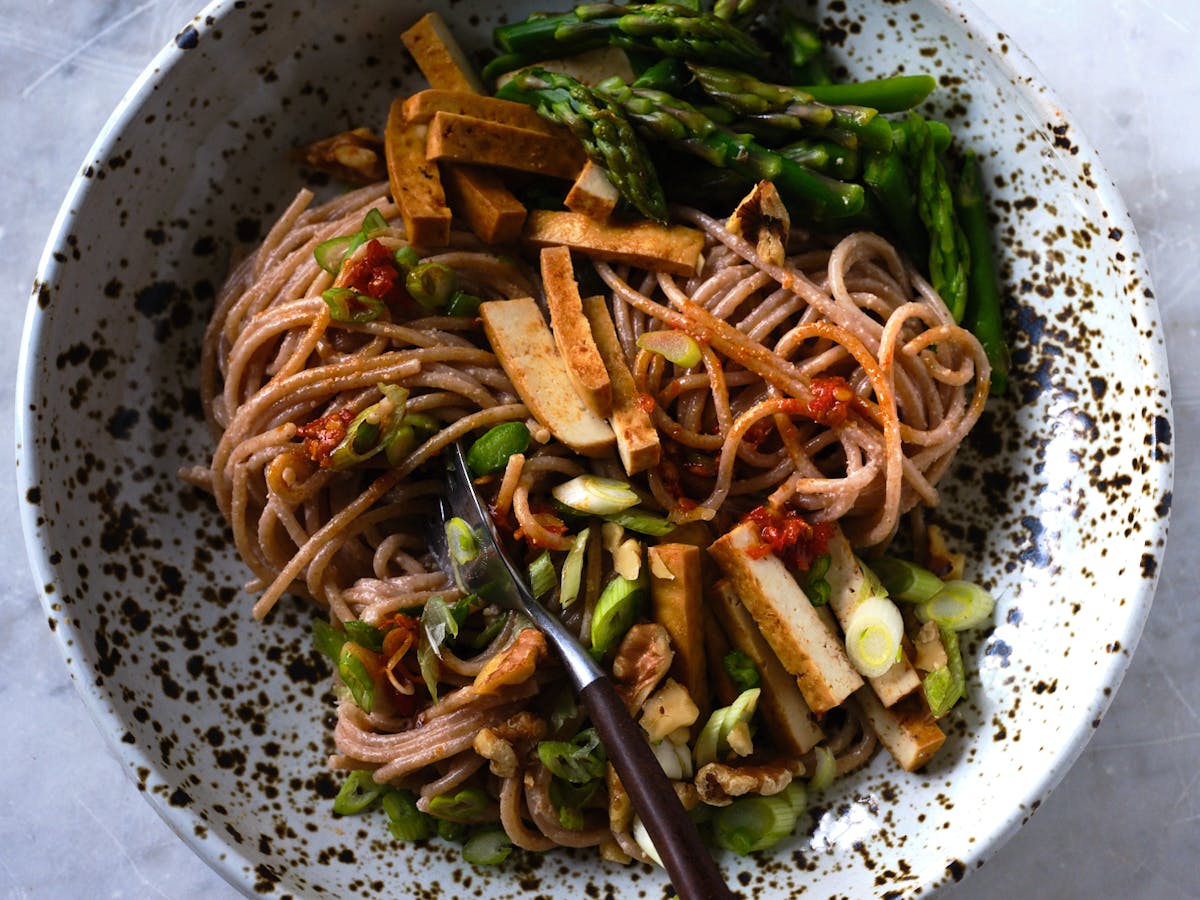 1. Walnut Miso Noodles - This is so good! Whole grain noodles and asparagus are tossed with a creamy, walnut-miso dressing plus a dollop of chile paste. A hearty noodle bowl recipe. Get the recipe here.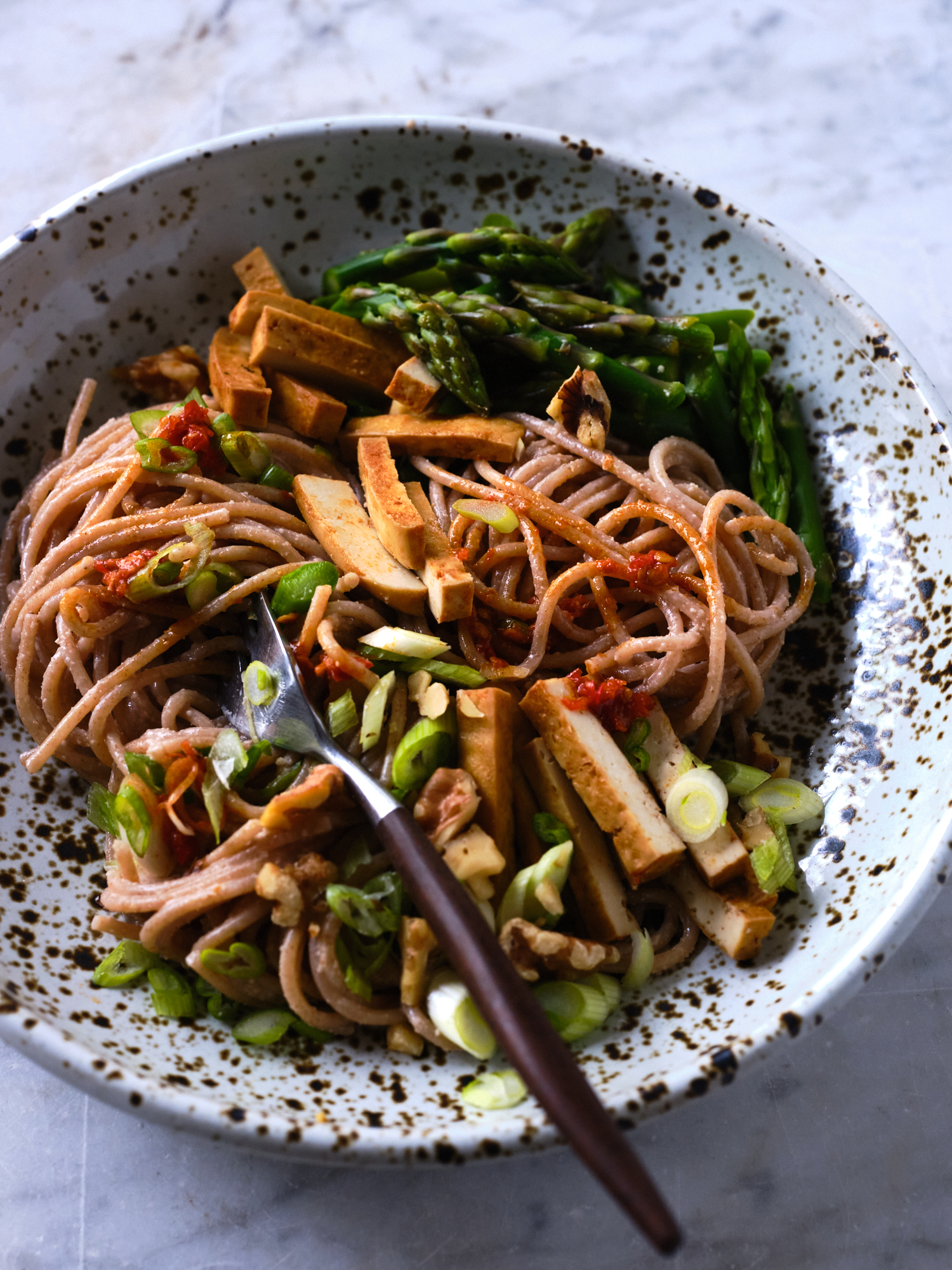 2. Sriracha Rainbow Noodle Salad - This is a salad you'll crave every day. A radiant, color-flecked tangle of noodles, cabbage, shredded carrots, pickled sushi ginger, and an abundance of cilantro, basil, and scallions. It has tofu and peanuts, coconut, ginger, avocado, and hemp seeds. The dressing(!) - it's simple but strong, and steps in with an assertive spicy sriracha-lime punch. Get the recipe here.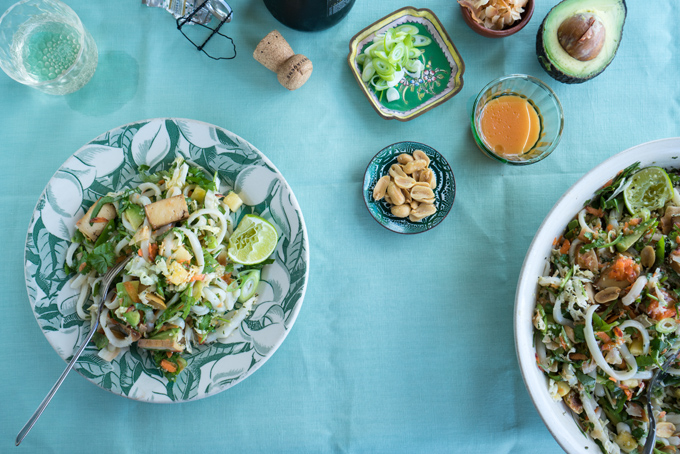 3. My Favorite Vegan Ramen - My attempt at tackling a great veg ramen. Introduce your favorite noodles to a rich, miso-scallion nut-milk broth. Add a blitz of seasonal toppings, and spicy turmeric oil to finish. Also included - lots of suggestions for seasonal adaptations. Get the recipe here.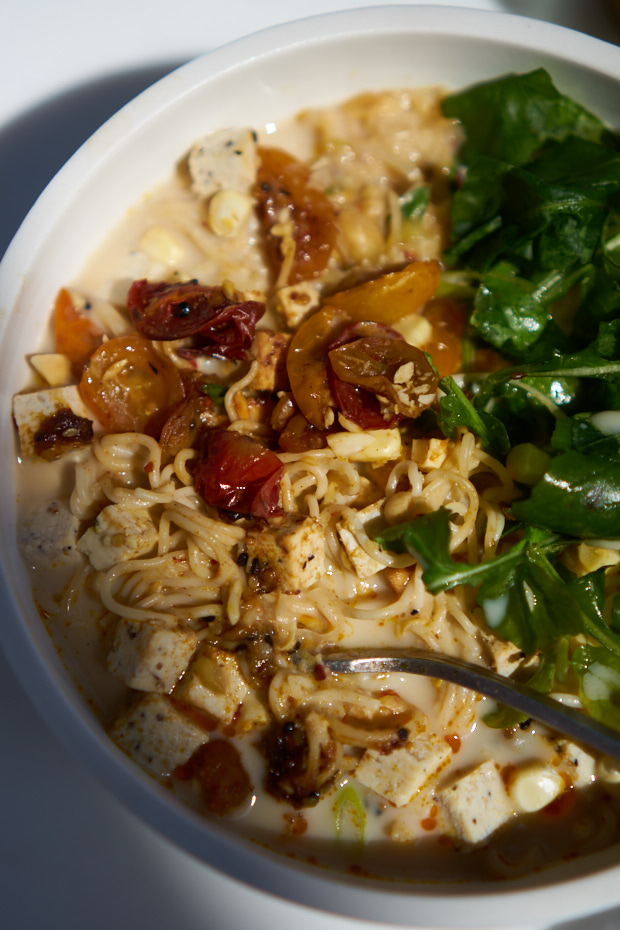 4. Spicy Tahini Noodles with Roasted Vegetables - This is my favorite kind of weeknight meal. Noodles tossed with a quick sauce, topped with an abundance of vegetables, and kissed with chile feistiness courtesy of the condiment shelf. Get the recipe here.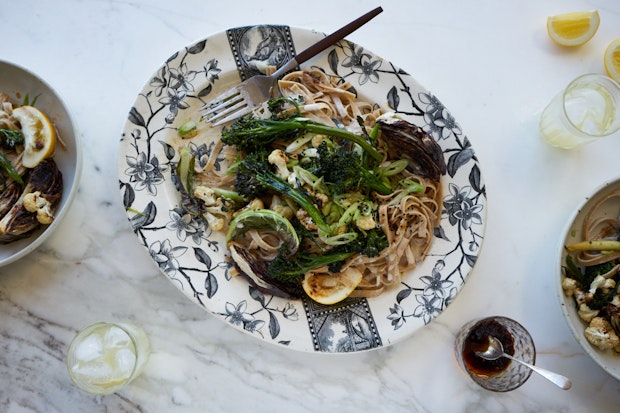 5. Sunshine Pad Thai - My favorite pad Thai to make at home. This version combines a Thai heart with a California spirit. Hot water is traditionally used to soften the rice noodles. I boost that water with lots of turmeric and the noodles drink it up until they glow a hot yellow. Get the recipe here.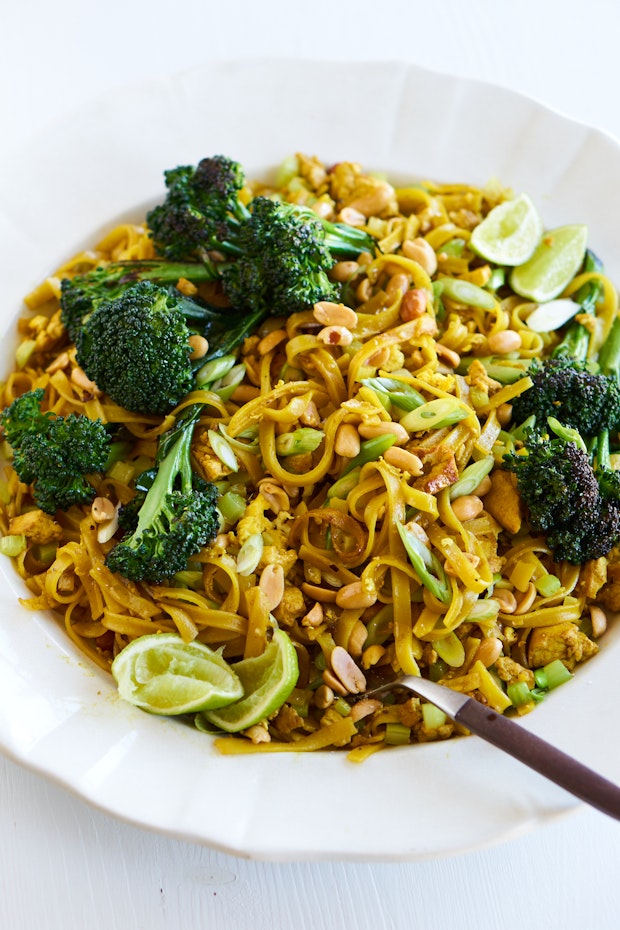 6. Slurp-tastic Herb Noodles - A big, slurpy bowl of whisper-thin spinach noodles draped in a spicy curry and herb broth - inspired by a beautiful box of noodles I picked up in Mill Valley, Ca. Get the recipe here.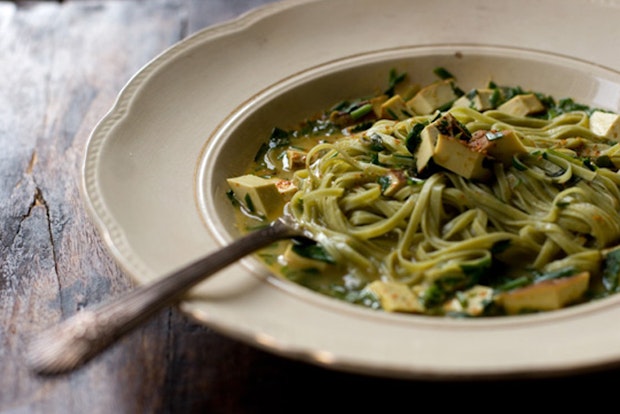 7. Spicy Coconut Curry Noodles - Just add water and a splash of coconut milk to make this fragrant curry noodle pot. A dynamic and feisty broth is bolstered with cayenne, ginger, cinnamon, and turmeric enveloping egg noodles and whatever seasonal vegetables you have on hand. This meal in a jar is perfect for camping or easy weeknight meals. Get the recipe here.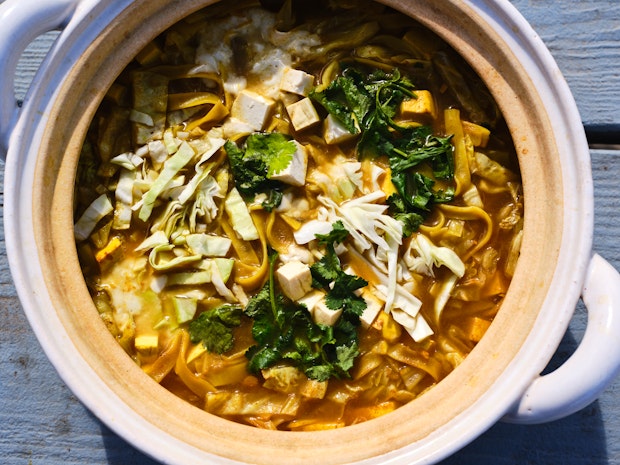 8. Black Sesame Otsu - This is a forever favorite - a Black Sesame Otsu recipe from Super Natural Every Day. Soba noodles and tofu slathered in a thinned-out, salty-sweet black sesame paste, then topped with lots of sliced green onions. Get the recipe here.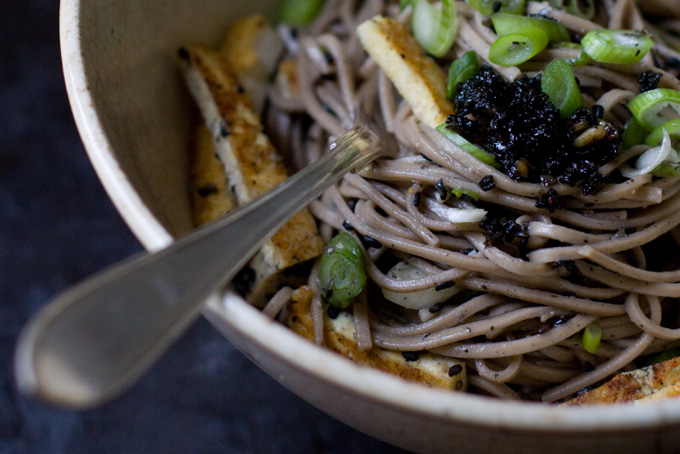 9. New Year Noodle Soup - Ash-e-Reshteh - An amazing Persian New Year Noodle Soup from Greg & Lucy Malouf's beautiful book, Saraban. It's a bean and noodle soup at its core featuring thin egg noodles swimming in a fragrant broth spiced with turmeric, cumin, chiles, and black pepper. You use a medley of lentils, chickpeas, and borlotti beans which makes the soup heart and filling without being heavy. You add spinach, dill, and cilantro. You add lime juice for a bit of sour at the end. And then you've got a number of toppings to add when you serve the soup - chopped walnuts, caramelized onions, and sour cream. It's amazing. Get the recipe here.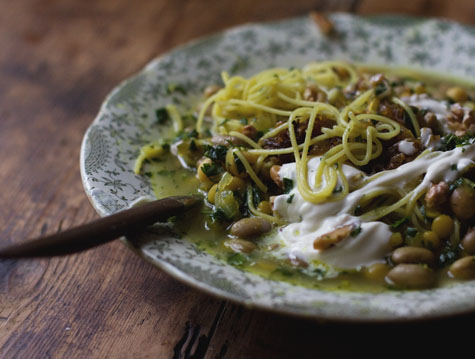 10. Last Minute Everything Bagel Noodle Bowl - A perfect one-pot meal. Noodles, tofu, and broccoli boiled in one pot, drained, tossed with splashes of olive oil and ponzu, plus a generous showering of everything bagel seasoning to finish it all off. Get the recipe here.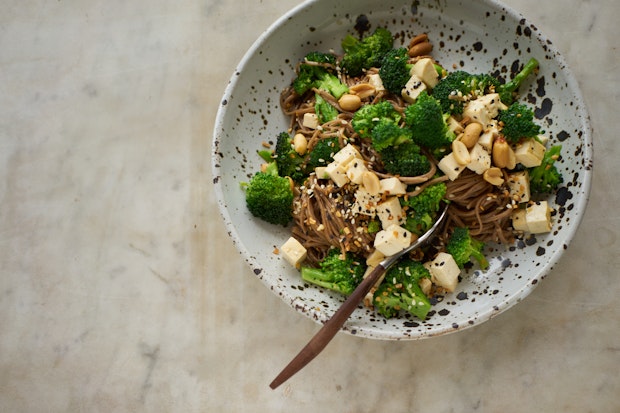 11. Fire Broth Noodle Soup - Loaded with good things like beans, greens, and pasta , this is amazing. The broth is spicy and invigorating with lots of pepper, garlic, ginger, and chiles. Get the recipe here.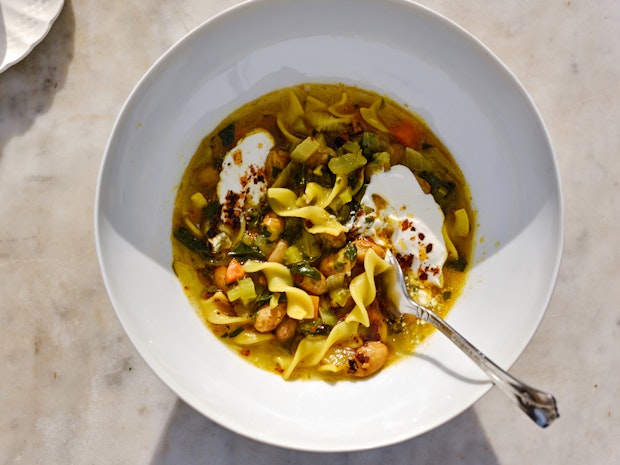 12. Rice Noodle Stir-fry - A favorite noodle-based stir fry with silky rice noodles, bright and crunchy broccoli, toasted cashews, quick-marinated crumbled tofu, and pan-seared onions tossed in a feisty chile-boosted soy sauce. Get the recipe here.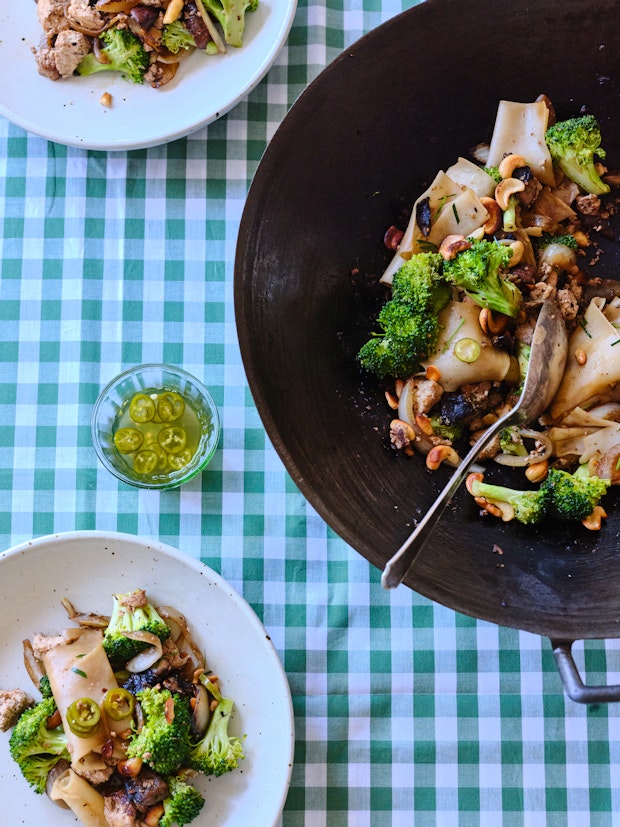 13. Ottolenghi Soba Noodles with Aubergine and Mango - Spicy brown sugar and lime-sauced soba noodles with tofu, eggplant, mango and lots of herbs. Inspired by a rare mango find, and a recipe in Yotam Ottolenghi's cookbook, Plenty. Get the recipe here.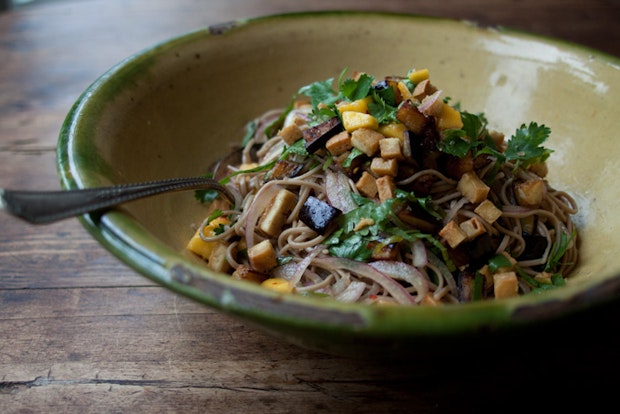 14. Winter Green Miso Noodles - A sloppy, delicious noodle bowl made with an herbaceous, green miso paste. It has some garlic bite, rounded out with lots of scallions, cilantro, ginger, and rosemary. This page shows you how to make the miso paste and then ten ways to use it, including this noodle bowl. Get the recipe here.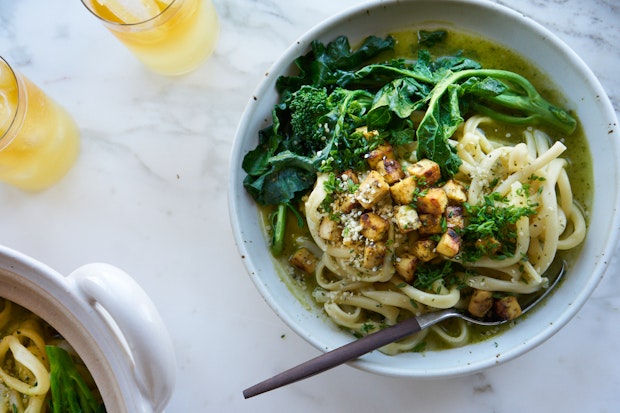 If this looks good to you, have a look at these 20+ fantastic noodle soups!