Okonomiyaki Recipe
Known in some circles as Japanese pizza, this is my take on okonomiyaki. Plenty of egg-battered cabbage is pressed into a skillet and cooked until deeply golden on both sides. It is served cut into wedges and sprinkled with toasted almonds and chives.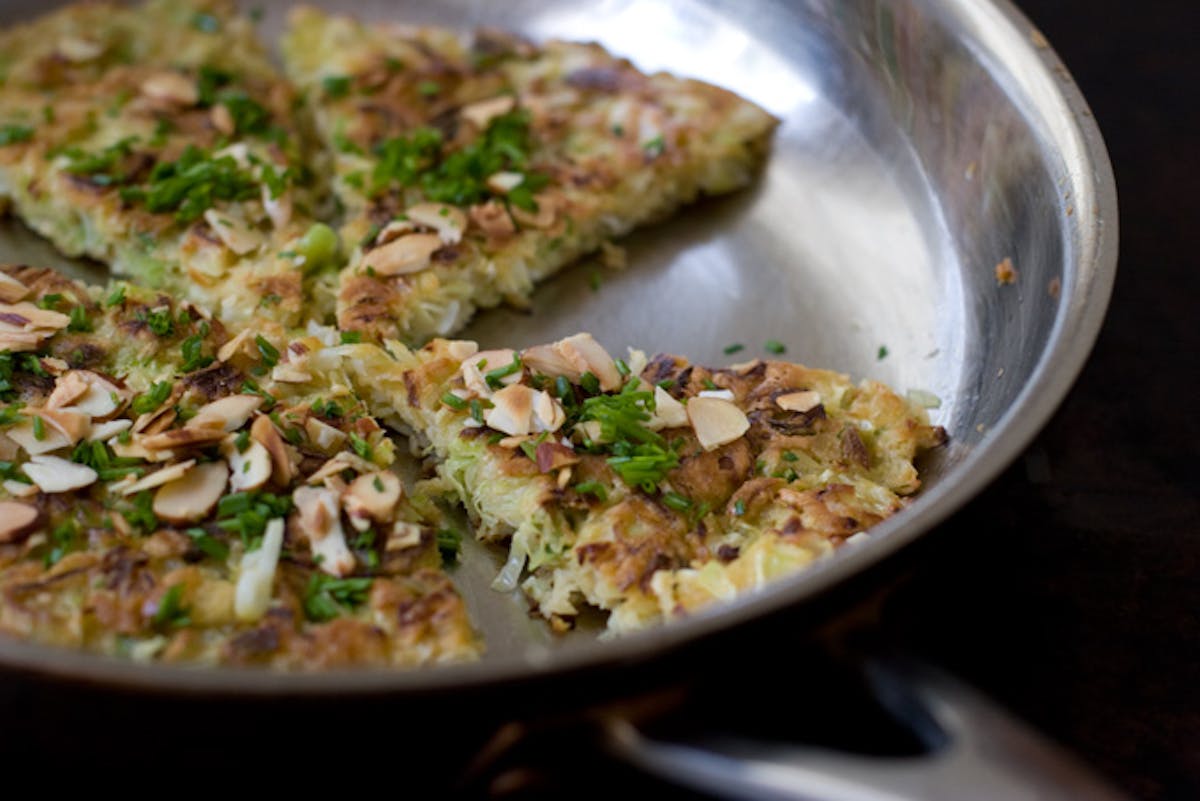 One afternoon near Kyoto I found myself looking through a pane of glass at a man standing over a large, flat, hot griddle. He held a large spatula in one hand, and would reach for various ingredients flanking his workstation with the other. I stood watching him for a few minutes as he turned out egg-battered cabbage on to the hot grill, formed the mixture into flattened cakes, and cooked each side until golden. An older Japanese man walked up beside me, probably noticed the perplexed look on my face, smiled and said to me, "Japanese Pizza."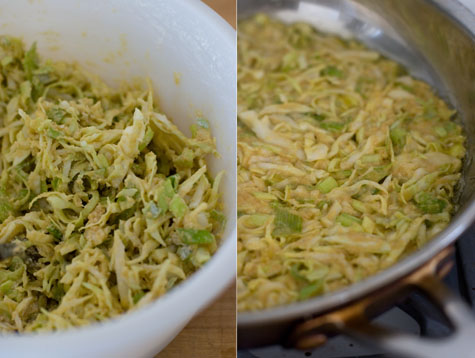 Later, after asking around and doing a bit of reading, I realized I was watching the man make okonomiyaki. Not at all like pizza at first glance, it does have many things in common - namely shape, the ability to easily customize each one, and affordability. Okonomi means something along the lines of as you like it, or what you like or what you want. It is street food made to order. And if you're asking me, the type I ended up making is more like a thin frittata than a pizza. Whatever you want to call it - it's satisfying, nutritious (particularly if you don't load it up with endless toppings, sauces, and mayo), and endlessly adaptable to what is in season or on hand. It's also quick to make at home.
There are various regional styles of okonomiyaki that I'm not going to get into, but the recipe you see here today is my Cali-interpretation of Osaka-style okonomiyaki made with the cabbage I had left-over from Bryant Terry's Jamaican Veggie Patties, some toasted almonds for crunch, and fresh chives. My pal Harris writes about Funchu-style okonomiyaki on his site. A hefty layered creation starting with a thin layer of crepe/pancake batter.
I encourage you to give this a go - even if you think you don't like cabbage. I think it's good enough to convert people into cabbage fans. And if you end up with leftover cabbage, there are a number of other cabbage recipes in the archives: a rustic cabbage soup, a zesty lime and peanut coleslaw, and this cabbage salad with a simple miso dressing are all favorite ways I like to use it.
Okonomiyaki (Japanese Pizza) Recipe
Leeks are notoriously gritty. To clean them well I typically slice them lengthwise and then submerge them in a big bowl of water - where I rinse and swish them to loosen up any dirt. Drain and repeat if needed. Then chop/slice.
2 cups cabbage, finely shredded
1 cup leeks, well washed and chopped (see head notes)
2/3 cup whole wheat pastry flour (or apf flour)
a couple pinches of fine grain sea salt
2 eggs, beaten
1+ tablespoon olive oil

Garnish: toasted slivered almonds, chives/ herbs
Combine the cabbage, leeks, flour, and salt in a bowl. Toss until everything is coated with a dusting of flour. Stir in the eggs and mix until everything is evenly coated.
Heat a large skillet over medium heat and add a generous splash of olive oil. Scoop the cabbage mixture into the pan, and using a metal spatula press it into a round pancake shape, flat as you can get it. Cook for 4-5 minutes, or until the bottom is golden. To flip the okonomiyaki, slide it out of the skillet onto a plate. Place another plate on top and flip both (together) over. If you need a bit more oil in your skillet, add it now, before sliding the okonomiyaki back into the skillet. Again press down a bit with a spatula and cook until golden on this side - another 3 -5 minutes.
When you are finished cooking, sprinkle with toasted almonds and chives, and slide it onto a cutting board to cut into wedges. Enjoy immediately.
Serves 1 - 2.