Pappardelle with Spiced Butter
A top-notch pasta made with pappardelle, spiced butter and seasonal veg. Inspired by a great recipe from Yotam Ottolenghi's cookbook, Plenty.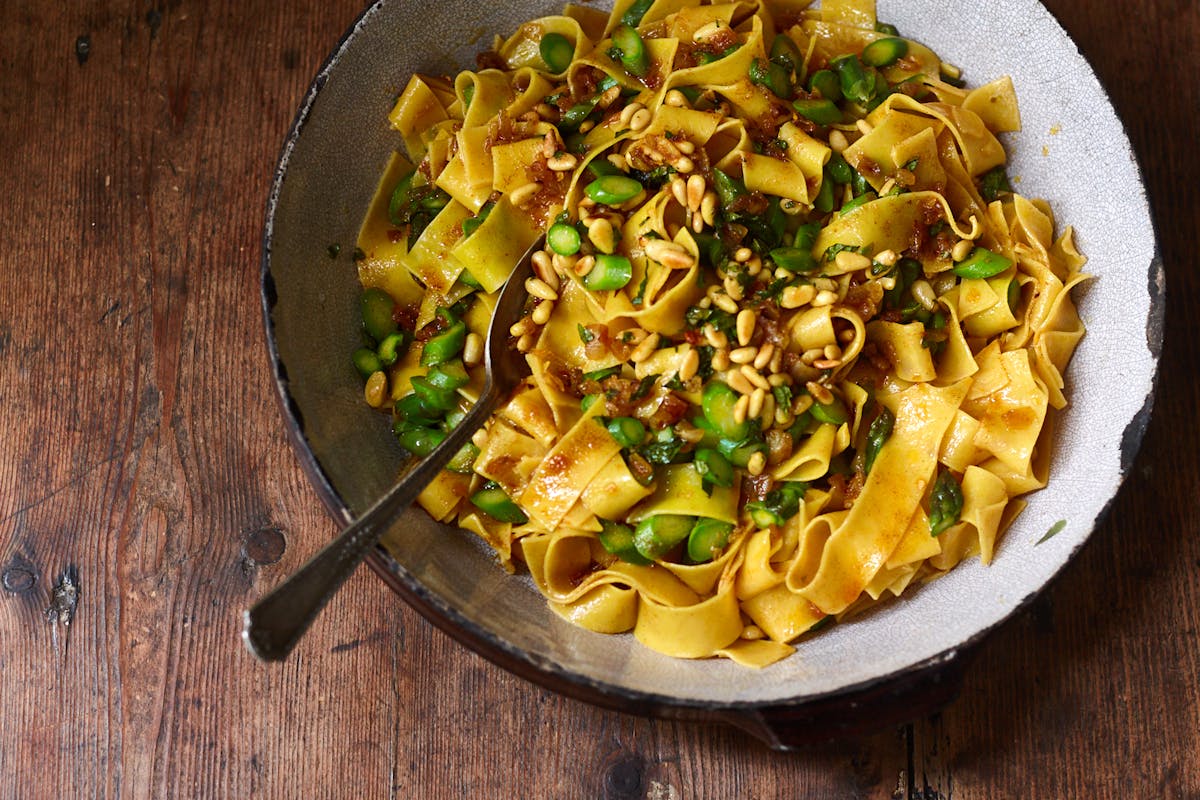 I spent the better part of the afternoon paging through Yotam Ottolenghi's cookbook, Plenty. I've been a regular reader of his New Vegetarian column in the guardian.co.uk, and discovered the first Ottolenghi cookbook published by Ebury (2008) while traveling years ago. It has been a love affair with these recipes from the start.
Pappardelle with Spiced Butter
I decided to do a riff on Yotam's Saffron Tagliatelle with Spiced Butter. It's a pasta dish tossed with vibrant Moroccan-inspired spice butter made from a blend of eight spices - ginger, sweet paprika, cinnamon, coriander, turmeric, black pepper, and chile pepper two ways. I do a version here adding asparagus to the mix to work a seasonal vegetable onto the plate. Later in the year, broccoli, sautéed cabbage, and/or roasted winter squash could all be great alternatives.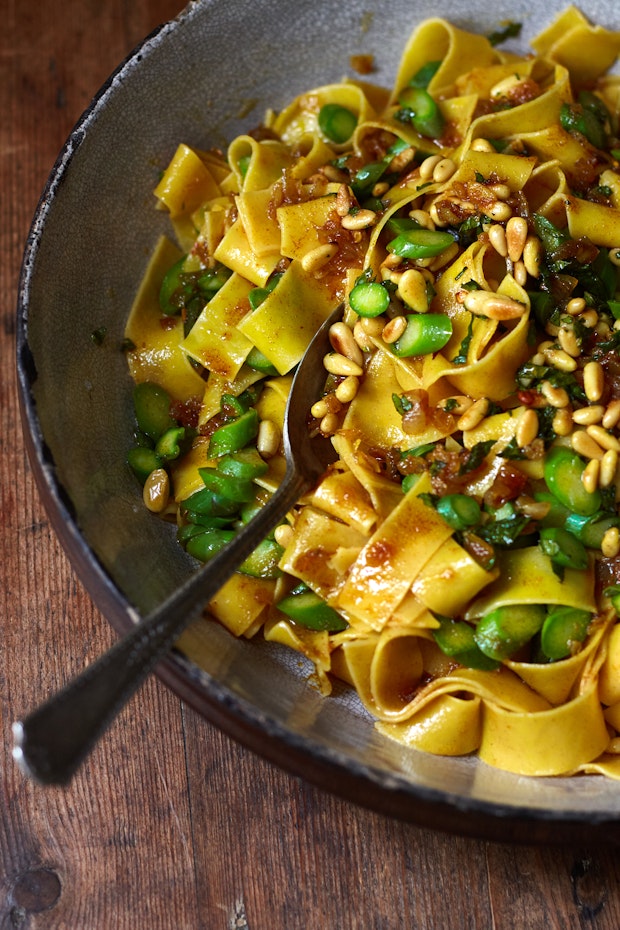 Fresh vs. Dried Pasta
Yotam uses fresh, home-made saffron tagliatelle. Wanting to throw together something quick, I opted for a good-quality dried pappardelle I had on hand. You can go either way. Making this with homemade pappardelle would be an absolute treat.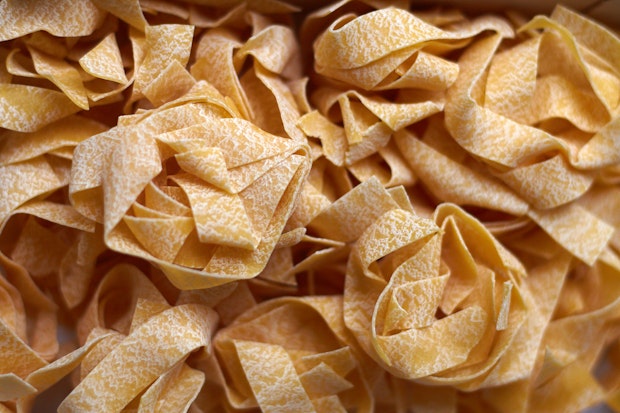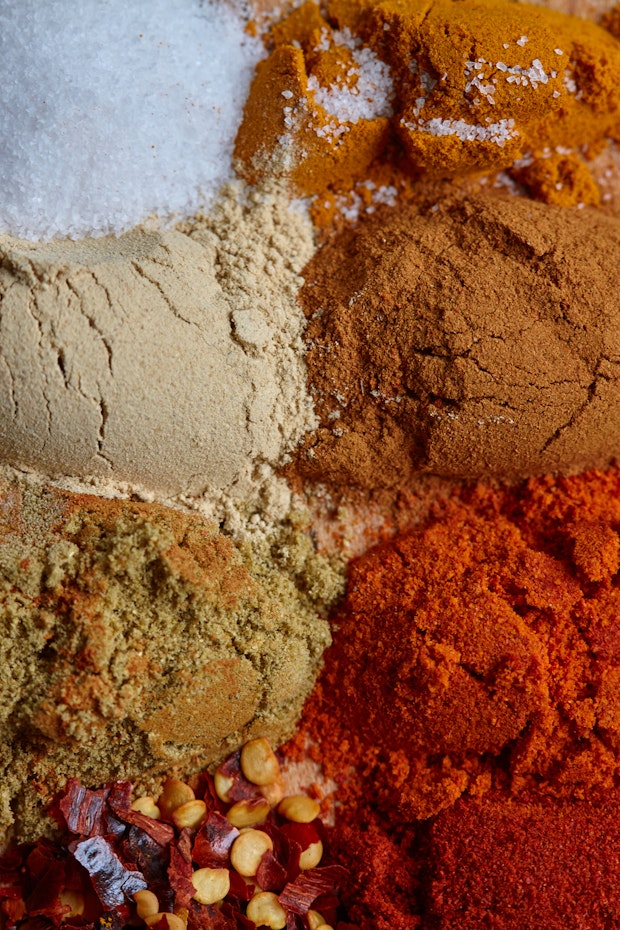 Let's talk spices...
On the spice front, you definitely get a good amount of heat from the cayenne pepper. If you tend to be sensitive scale back a bit, and then add more to your liking as you get on with the recipe. Pro-tip: double up on the spice blend. I've been using the extra in all sorts of things - from eggs to vinaigrettes. This recipe makes quite a good amount of the spiced butter. Use as much or as little of it as you like. You can always reserve any leftover for drizzling on potatoes, crepes, vegetables, etc. later in the week.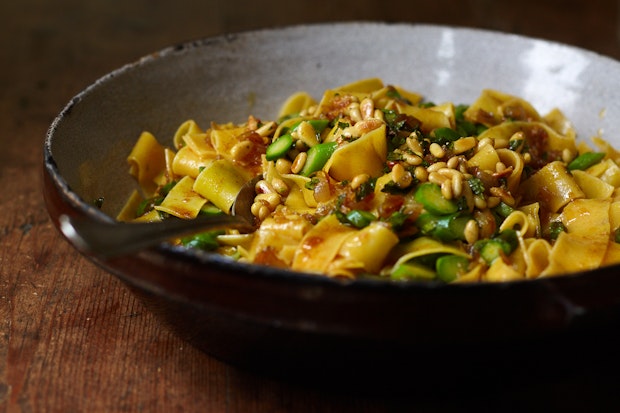 Pappardelle with Spiced Butter: Variations
A good number of you have enjoyed this recipe and left notes for future cooks suggesting successful variations. Here are a few that caught my attention.
Rosalind noted, "my boyfriend and I just made this with green peas instead of asparagus and toasted sunflower seeds instead of pine nuts and it WORKED. Wonderful!"

Francoise

cooked it on Friday evening. "It was beautiful, very satisfying and something different! I adopted it a little and it worked very well: used broccoli instead of asparagus, fresh ginger instead of powder, did not have turmeric and instead of buying the powder stuff simply omitted it. Found some beautiful fresh pappardelle from a good shop. Used a little cream cheese instead of cream, and somehow the combination of flavors were spot on."

And for anytime you're feeling cost-conscious, Kristina mentions, "

I made an inexpensive version of this dish tonight. Pine nuts were $8, asparagus expensive and woody-so I subbed in slivered almonds toasted and 10 oz. baby spinach wilted in. Everything else kept the same. I ended up using almost all of the spiced butter to get the dish as spicy as I prefer so next time I'd use 1/2 stick of butter with the current amounts of spice and use it all! The saffron salt and the mint and parsley added just the right touch!"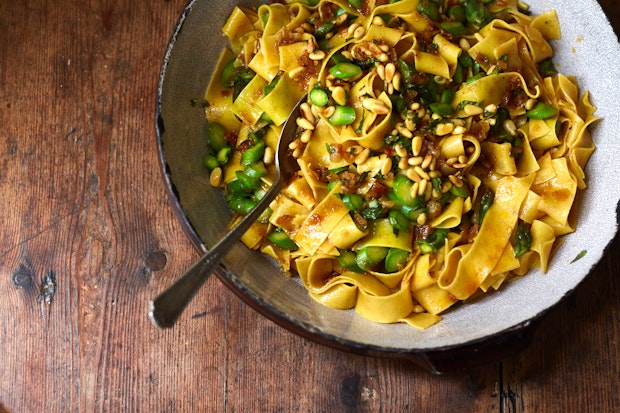 More Pasta Recipes
Pappardelle with Spiced Butter
You can make this pasta dish with dried pasta or homemade pappardelle. As I mention in the post up above, if you are sensitive to spicy, start by using less cayenne in the spiced butter, adding more to your liking.
Ingredients
1/4

teaspoon

saffron threads

pinch

of salt
Spiced Butter:
1

stick / 4 oz / 100 g butter

2

tablespoons

extra virgin olive oil

6

medium shallots, chopped

1/2

teaspoon

ground ginger

1/2

teaspoon

sweet paprika

1/2

teaspoon

ground coriander

1/2

teaspoon

ground cinnamon

scant 1/2 teaspoon cayenne pepper

1/4

teaspoon

red chile flakes

1/4

teaspoon

ground turmeric

1/4

teaspoon+ fine grain sea salt

black pepper
1/2

pound

/ 8 oz / 225 g dried pappardelle egg pasta

1/2

pound

/ 8 oz / 225 g asparagus, sliced into 1/4-inch rounds

splash of cream or pasta water

1/2

cup

/ 2 oz / 60 g pine nuts, toasted and chopped

2

tablespoons

roughly chopped mint

2

tablespoons

roughly chopped parsley
Instructions
Place a large pot of water over high heat and bring to a boil. In the meantime, use a mortar and pestle to crush the saffron and salt into a fine powder. Set aside.
Make the spiced butter:
Place the butter and olive oil in a frying pan and cook the shallots gently for about 10 minutes, or until they soften and the butter browns just a bit. Stir in all the spices, the salt, and a bit of freshly ground black pepper, remove from heat (but keep warm).

Salt the water generously and cook the pasta per the package instructions, or until al dente. Barely thirty seconds before the pasta has finished cooking, add the asparagus. Drain, reserving a bit of pasta water, and return the pasta and asparagus to the pot. Stir in the saffron salt. Pour about half of the spiced butter over the pasta, add a small splash of cream (or pasta water), and toss well. Taste, then ask yourself if you need to add more spiced butter or salt. I suggest adding more butter until it is to your liking, then reserve any leftover for later use.

Serve the pasta in a large bowl, or divided across plates, sprinkle with pine nuts and herbs.
Notes
Serves 4 - 6.
Inspired by the Saffron Tagliatelle with Spiced Butter in Plenty by Yotam Ottolenghi. Ebury Press, May 2010.
Related Recipes
More Recipes
Popular Ingredients