Roasted Delicata Squash
One of the best ways to make roasted delicata squash, inspired by my friend Molly Watson. This recipe uses the pretty, scalloped-edged cross-cuts of the delicata squash, a few small potatoes, chopped kale, radishes, almonds and a bold miso harissa dressing.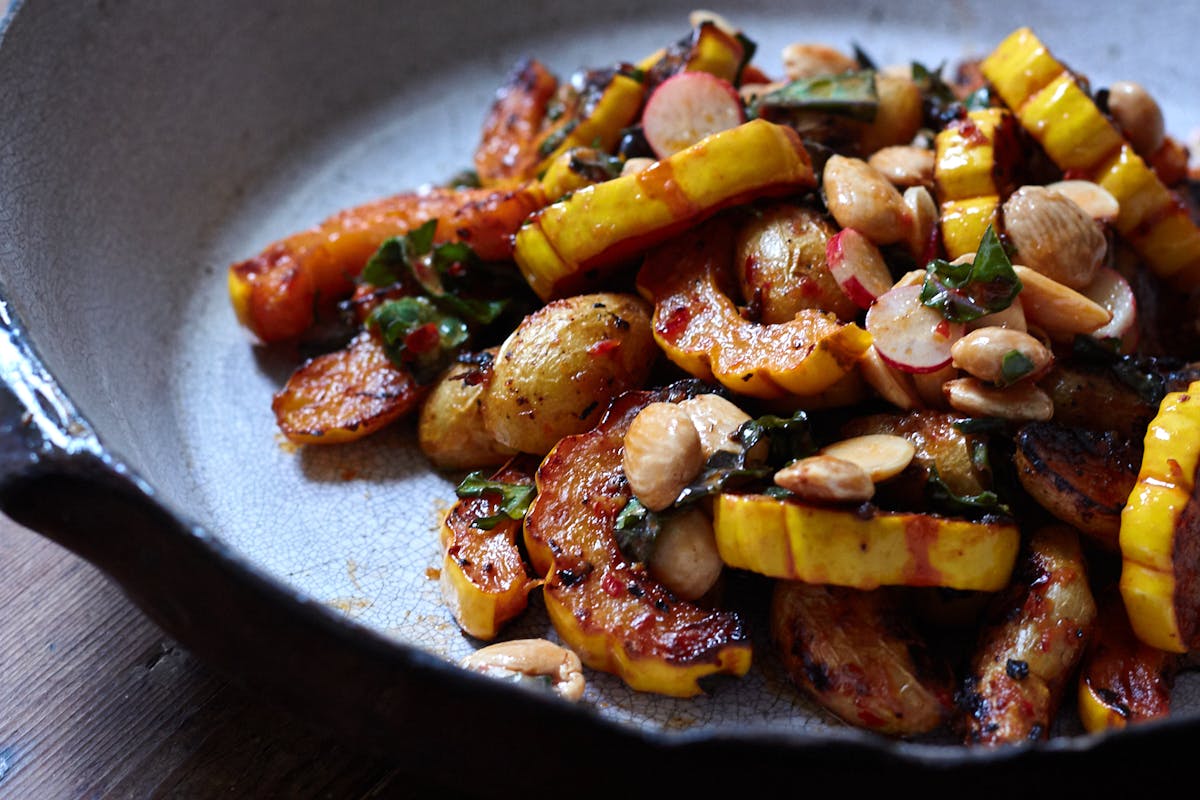 I have Molly Watson to thank for the inspiration here. Years ago she created a miso-harissa slather she used on roasted delicata squash. This was a combination of ingredients that had never crossed my mind, but sounded fan-tas-tic. Building on her idea, I decided to do a roasted delicata squash platter of sorts. I used the pretty, scalloped-edged cross-cuts of the delicata squash, a few small potatoes, chopped kale, radishes, Marcona almonds and her miso + harissa idea. You know it was good, right? It really was.
The flavor was bold and vibrant and it was a breeze to make - no need to peel this type of squash. The vibrant yellow-rimmed slices along with pink-skinned radishes and flecks of green kale were a nice way to bring some color to the winter table.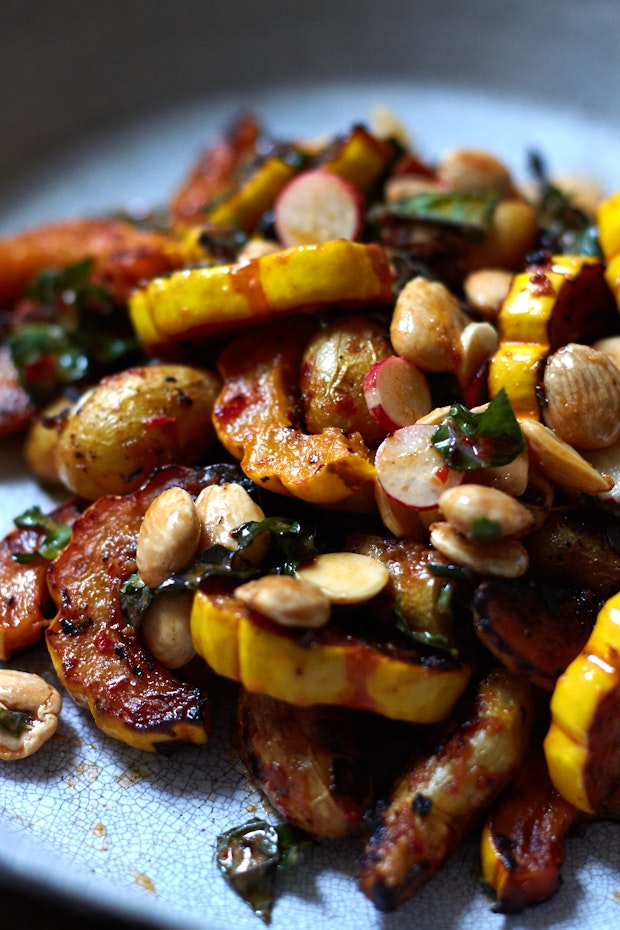 Roasted Delicata Squash: Variations
You can do endless riffs on this depending on what you have on hand, or what is in season. Here, I reached for kale to get some green in the mix, and the nuts for their texture and crunch, but feel free to play around with general idea. here are a few ideas people have mentioned in the comments!
Sweet & salty: Sagan comments about a related recipe she loves, "

I had a recipe on the menu a few years back that had roasted squash, sliced like yours, with pickled red onions, peanuts, and salad greens. the dressing mostly from the pickled onion juice, so a little sweet and salty."

Wild style: Kate got a little wild! "

I improvised wildly based on what was in my kitchen, and got this: acorn squash with red potatoes, tossed in a mixture of golden miso, pickapeppa sauce, sriracha, and black olive paste. Swiss chard, tossed with the lemon juice and my version of the miso sauce, with radishes and regular toasted almonds. I thought it was going to be weird but it was great!"

Sweet potato:

Esther struck out on the delicata front, but reports back, "I couldn't find delicata so made this with sweet potato instead – which was delicious!"
More delicata squash recipes
Roasted Delicata Squash with Harissa Miso
Have a look at the post up above if you have trouble sourcing delicata squash. There are people who have done versions with other winter squash as well as sweet potato.
Ingredients
1/2

pound

/ 8 oz / 230 g small fingerling potatoes, washed and dried

3/4

pound

/ 12 oz / 340 g delicata squash

1/4

cup

/ 60 ml extra virgin olive oil

scant 1/4 cup / 50 ml white miso

scant 1 tablespoon harissa paste

3

tablespoons

freshly squeezed lemon juice

1 1/2

ounce

/ 45 g kale, de-stemmed and finely chopped

4

radishes, very thinly sliced

1 1/2

ounces

/ 45g Marcona almonds, toasted pepitas, or other toasted nuts
Instructions
Preheat the oven to 400°F / 200°C degrees. If the potatoes aren't tiny, slice them into pieces no larger than your thumb. Cut the delicata squash in half length-wise, and use a spoon to clear out all the seeds. Cut into 1/2-inch wide half-moons. You can leave the peel on these squash.

In a small bowl whisk together olive oil, miso, harissa. Place the potatoes and squash in a large bowl with 1/3 cup / 80 ml of the miso-harissa oil. Use your hands to toss well, then turn everything out onto a baking sheet. Bake until everything is baked through and browned, about 25-30 minutes. Toss once or twice along the way after things start to brown a bit. Keep an eye on things though, you can go from browned to burned in a flash.

In the meantime, whisk the lemon juice into the remaining miso-harissa oil. Taste, it should be intensely flavorful, but if yours is too spicy or salty, you can dilute it with a bit more olive oil or lemon juice. Stir the kale into the leftover dressing and set aside.

Place the warm roasted vegetables in a bowl and toss with the kale mixture, radishes, and almonds.
Related Recipes
More Recipes
Popular Ingredients