Shaved Fennel Salad
This could very well be my favorite salad recipe from Super Natural Every Day - shaved fennel, arugula, zucchini coins, feta, toasted almonds.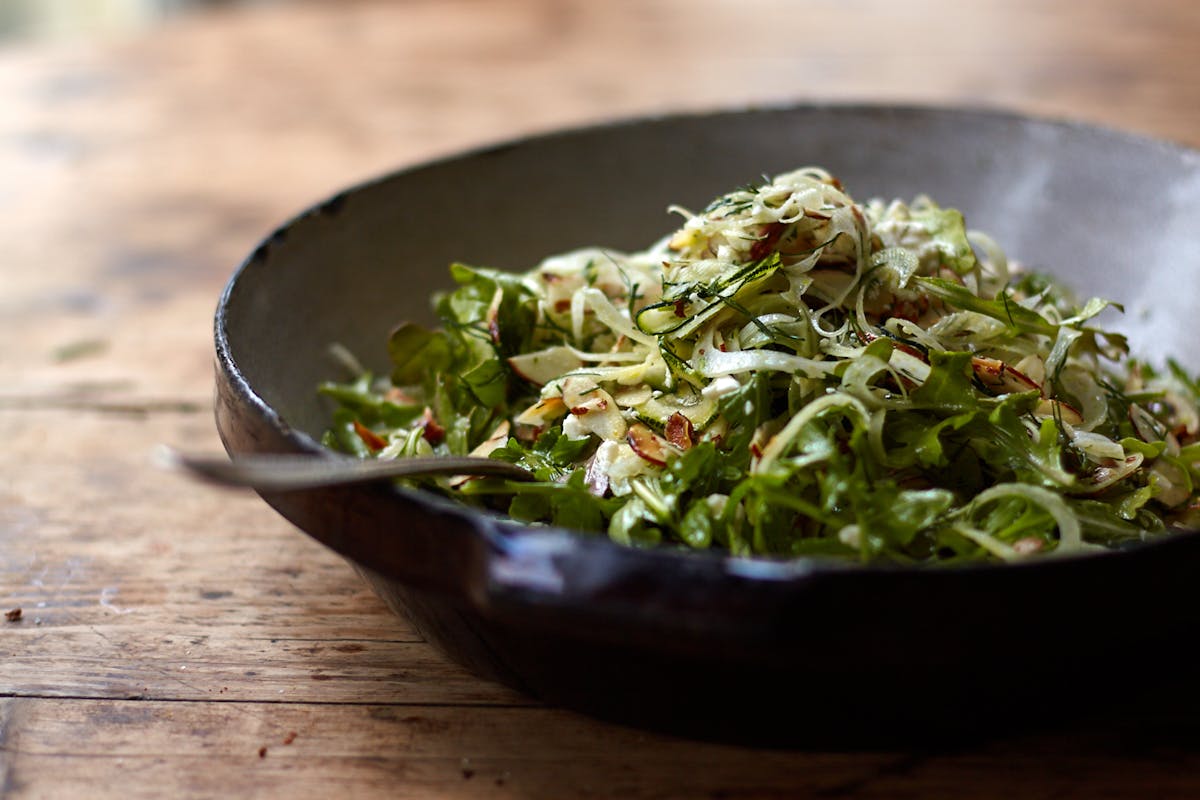 I have a couple regrets related to Super Natural Every Day. Nothing too major, but one is related to photography. I'll start by saying it's not always feasible to have a photo with every recipe in a cookbook. This is especially the case if you want other types of photos in your book, like I did. Here's the problem - recipes with photos get *all* the love. No photo, the recipe runs the risk of getting glazed over. And in this case, one of my very favorite recipes from the book, this simple shaved fennel salad, doesn't have a photo. So, here's my attempt to remedy that.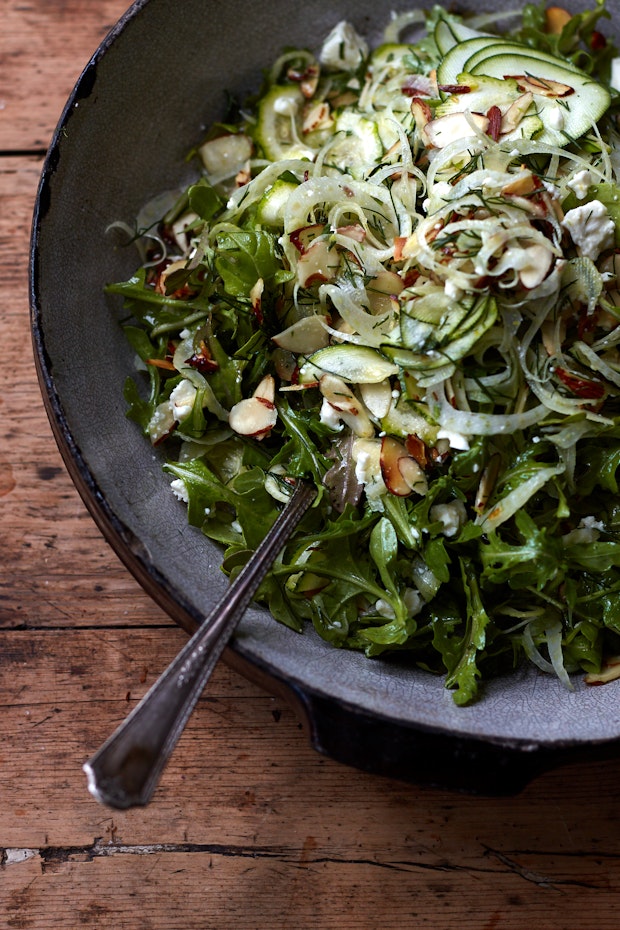 I think I made this salad a dozen times or more during the time I was working on the book. And prior to that, I had it a number of times at my friend Malinda's house, which is where I initially fell for it. It is a compelling combination of a short list of ingredients that don't sound particularly exciting on the page, but come together into something more than the sum of their parts. Shaved fennel, thin zucchini coins, arugula, dill, nuts, and feta are tossed with fresh lemon juice, olive oil, and salt. That's it, really. Dead simple.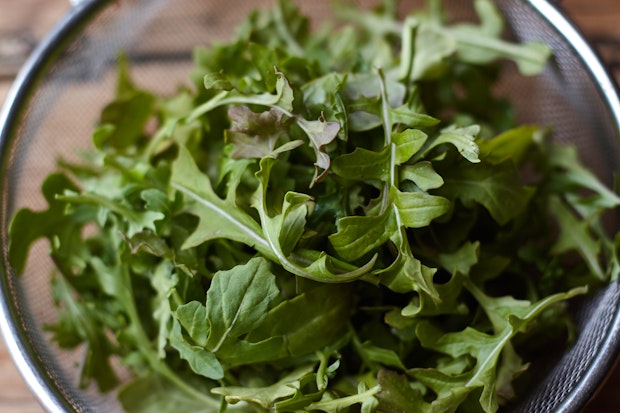 I use this mandoline to make feathery whispers of fennel, but if a knife is what you've got, that'll work too. If you use a mandoline just be extra careful. Like many cooks, my worst kitchen incident involved a mandoline.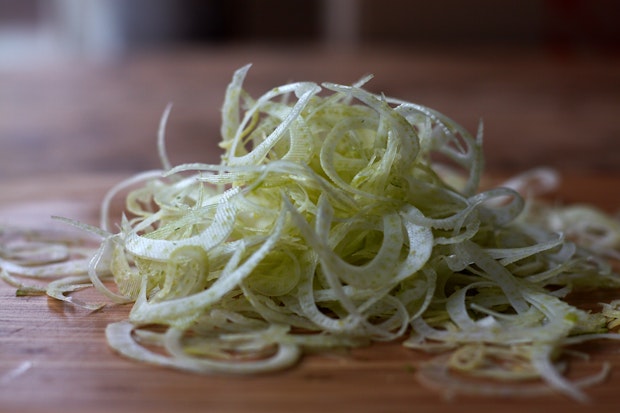 The version in my book calls for pine nuts, but I had sliced almonds on hand today, so that's what I used instead. Either way. Helene shot a beautiful version of it on her site as well. Give it a go the next time you're looking for salad inspiration!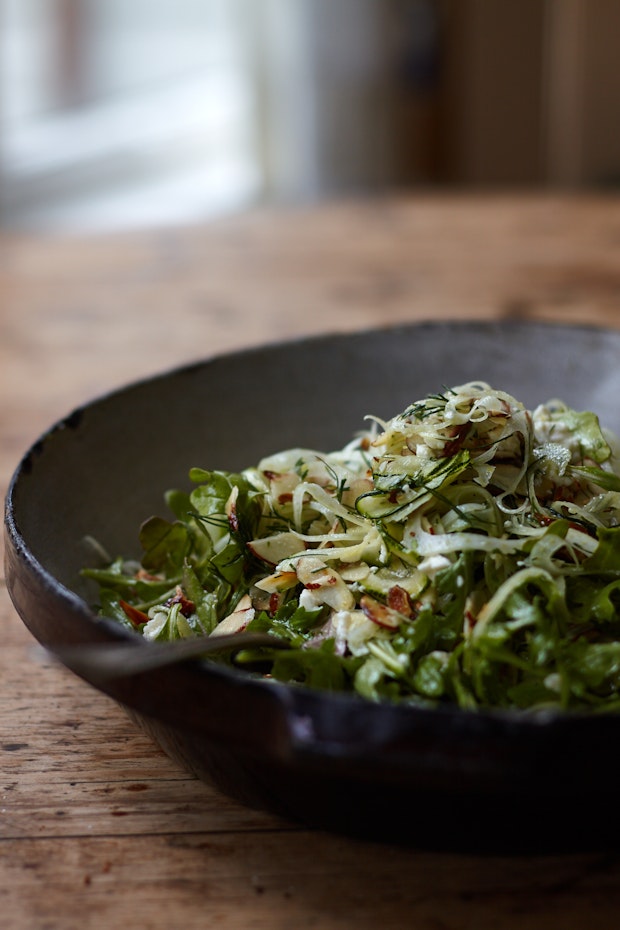 More Salad Recipes
Shaved Fennel Salad
If you're using a knife to prep here, do your best to slice things very, very thinly - not quite see through thin, but close.
Ingredients
1

medium-large zucchini, sliced into paper thin coins

2

small fennel bulbs, trimmed and shaved paper-thin

2/3

cup

/ .5oz/ 15g loosely chopped fresh dill

1/3

cup

/ 80ml fresh lemon juice, plus more if needed

1/3

cup

/ 80ml extra virgin olive oil, plus more if needed

fine grain sea salt

4

or 5 generous handfuls arugula

Honey, if needed

1/2

cup

/ 2 oz/ 60g pine nuts, toasted (I used almonds)

1/3

cup

/ 2 oz / 60g / feta cheese, crumbled
Instructions
Combine the zucchini, fennel and dill in a bowl and toss with the lemon juice, olive oil and 1/4 teaspoon salt. Set aside and marinate for 20 minutes, or up to an hour.

When you are ready to serve the salad, put the arugula in a large bowl. Scoop all of the zucchini and fennel onto the arugula, and pour most of the lemon juice dressing on top of that. Toss gently but thoroughly. Taste and adjust with more of the dressing, olive oil, lemon juice, or salt if needed. If the lemons were particularly tart, you may need to counter the pucker-factor by adding a tiny drizzle of honey into the salad at this point.

Let your taste buds guide you. Serve topped with pine nuts and feta.
Related Recipes
More Recipes
Popular Ingredients