A Simple Asparagus Soup
A simple asparagus soup - fresh asparagus, new potatoes, a bit of green curry paste, and coconut milk are pureed to make this spring favorite.
It is asparagus soup season. The markets here have shifted from yellow and orange orbs of citrus to banks of green asparagus, baskets of artichokes, bouquets of green garlic, and tiny favas the size of my ring finger. There are massive tangles of purple lilac and eggs for sale in shades of cream, pale blue, and soft mocha. I've braised baby artichokes every night this week, and made this simple asparagus soup twice.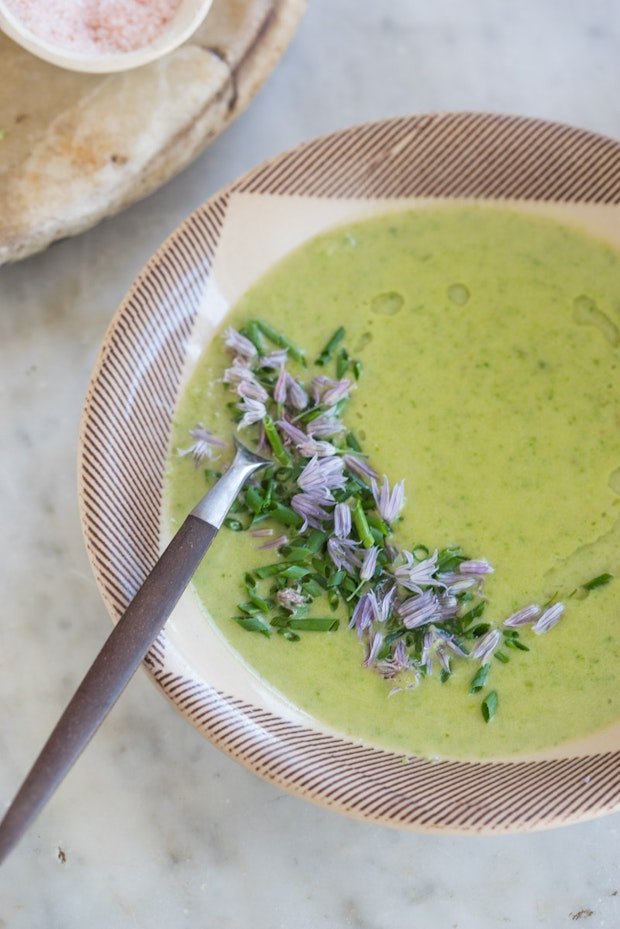 Do you remember the simple carrot soup I highlighted a while back? Well, this is the asparagus soup version. I trade in asparagus for the carrots, then tweak a bit depending on what I have in the kitchen. But, really, it just goes to show how you can evolve your favorite recipes as the seasons change. For lunch I might reheat it, grab one of the hard-boiled eggs I try to keep on hand in the refrigerator (pictured below), and then root around for something crunchy - nuts, crackers, seeds. Alternately, you might keep it simple (video version) and opt for chives and a drizzle of shallot or lemon oil. Give it a go!
The version just above is pictured with grated hard-boiled egg, crackers, and a dollop of creme fraiche. The video version is chopped chives with a few of their blossoms, and a finishing drizzle of shallot oil. Or, to take things in another direction, lemon oil, or just nice extra-virgin olive oil would also be good choices.
A Simple Asparagus Soup
Ingredients
2

tablespoons

unsalted butter or extra-virgin coconut oil

1

small onion, chopped

1/2

pound

new potatoes, tiny cubes

1

tablespoon

green curry paste, or to taste (optional)

1

pound

asparagus, trimmed and cut into 1/2-inch segments

1 14-

ounce

can full-fat coconut milk

1 1/2

teaspoons

sea salt, or to taste

1 1/4

cups

of water, or to cover

1

lemon or lime

to serve (topping ideas): chopped chives, shallot, lemon, or olive oil; or grated hard-boiled egg, herbs, crumbled whole-grain crackers or croutons, crème fraiche
Instructions
In a large soup pan over medium-high heat add the butter and onion. Stir until the onion is well coated, and allow to sauté until translucent, a few minutes. Stir in the potatoes, and cook until completely tender, about 10 minutes - you can add a splash of water to the pan if it seems like a bit of moisture will help. Stir in the curry paste, allow to cook another minute or two, and then add the coconut milk, salt, and water. Bring to a simmer, and add the asparagus. Cook until the asparagus is tender, 2-3 minutes, and then puree using a blender or hand blender until the soup is completely silky smooth.

This next part is important (with any soup) - make any needed adjustments. Add more water if the consistency needs to be thinned out a bit. After that taste for salt, adding more if needed. I also like to season this soup with a great big squeeze or lemon or lime juice. Serve topped with whatever you have on hand - I made it this time around with chopped chives and a drizzle of shallot oil, but you can also see a version with grated hard-boiled egg, herbs, crackers, and a touch of crème fraiche. You could just sprinkle a few chopped almonds on top and call it a day.
Related Recipes
More Recipes
Popular Ingredients