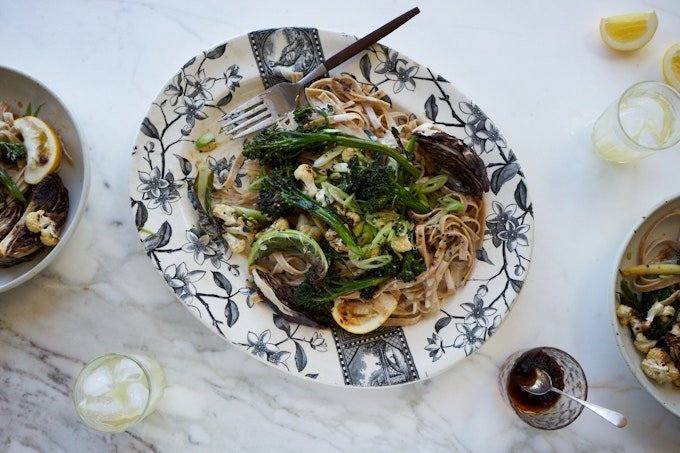 Spicy Tahini Noodles with Roasted Vegetables
This is my favorite kind of weeknight meal. Noodles tossed with a quick sauce, topped with an abundance of vegetables, and kissed with chile feistiness courtesy of the condiment shelf. Spicy tahini noodles. It's in high-rotation around here at the moment, and I'll mention some variations down below. The gist: make a simple, thinned-out tahini sauce, roast the vegetables while your pasta water is coming to a boil, toss and serve on one platter. If you like those old-school Chinese restaurant spicy peanut noodles, these are sort-of their tahini slathered distant cousins.
A couple things worth noting. I've made this with fresh udon noodles (delicious!), you see it pictured here made with whole wheat fettuccini (thumbs up), and I'm also convinced thick, wide rice noodles would be good. Feel free to experiment. I think the key is a substantial noodle - skip the angel hair, and soba for this round.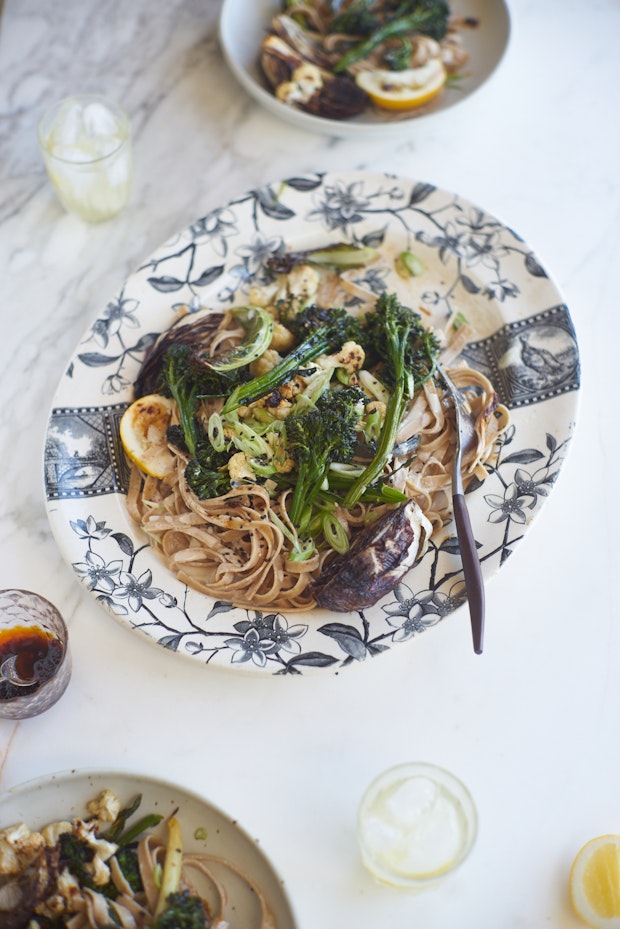 On the vegetable front, literally clean out your crisper, and play around with the different vegetables you use here. Just group them in neighborhoods. This way if some of the vegetables cook more quickly than others, you can just move them off the sheet pan.
Spicy Tahini Noodles with Roasted Vegetables
You can make this gluten-free by using one of the GF pastas available. I also think it might be good if you make it with wide, rice noodles! I call for broccoli, cauliflower, and green beans. But I also throw whatever I have in the vegetable crisper onto the roasting pans here-you also see wedges of radicchio, and I also like leeks.
Ingredients
1

pound

of mixed vegetables,

broccoli, cauliflower, green beans

1

tablespoon

olive oil

salt and pepper

1/4

cup

tahini

one lemon

8

ounces

dried whole wheat fettuccini

sesame chile sauce*
Bonus:
sesame seeds, sliced green onions, lemon wedges
Instructions
Preheat the oven to 450F. Toss the vegetables with the olive oil, and season with salt and pepper. Arrange in a single layer across two baking sheets, and roast until deeply golden, about 15-20 minutes. Flip with a spatula once or twice along the way. Remove and set aside.

While your vegetables are roasting, whisk the tahini with 1/2 cup warm water. Season generously with salt, pepper, and a big squeeze of lemon juice. It should taste delicious. Set aside while you cook your noodles in a large pot of well-salted water, per package instructions. Drain the noodles, and toss on a large platter with the tahini sauce.

Serve topped with the roasted vegetables, a drizzle of the sesame-chile oil, and any of the bonus ingredients you might have on hand.
Notes
*Two options here: 1) Add a small splash of toasted sesame oil to your favorite chile sauce. 2) Use something like the Spicy Turmeric Oil at the based of my veg ramen recipe. You're just looking for some sesame-kissed kick to counter the creaminess of the tahini.
Related Recipes
More Recipes
Popular Ingredients