Chocolate Cherry Brownies Recipe
Dense, gooey chocolate brownies packed with boozy, port-soaked dried cherries. Made with Muscovado sugar, chocolate chunks, and crème fraiche.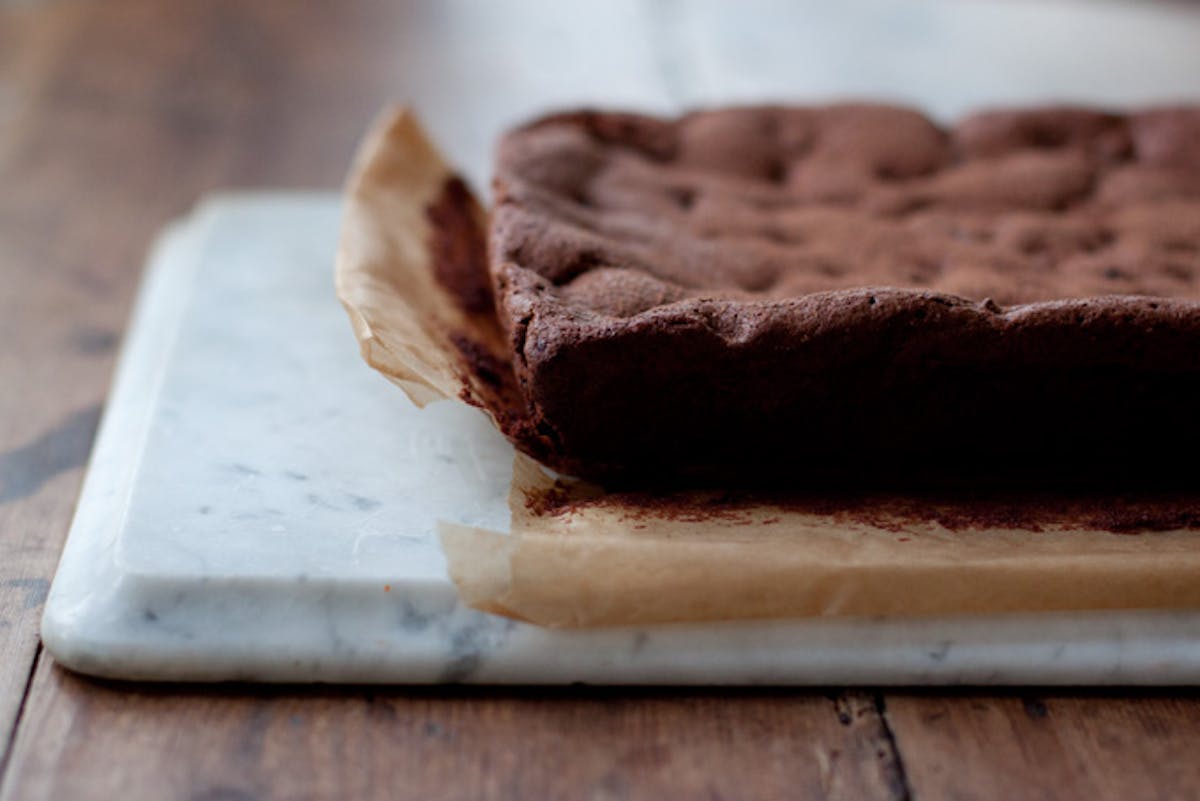 I've been going back and forth about what to call these. Brownies that have the texture of a fallen chocolate souffle cake. Dense, ooey-gooey chocolate-y on the inside, well-set around the edges - you know the cakes. I thought I'd try to work soufflé into the title, but at the same time, these brownies are completely packed with boozy, port-soaked dried cherries, and doesn't that warrant a mention? I like recipe names to be short enough that the titles don't wrap (when possible), so that was a consideration as well. Port Souffle Brownies? Boozy Brownies? I settled on (small yawn) Chocolate Cherry Brownies and made a batch of them for my sister and brother-in-law. They spent last Saturday working on a Habitat for Humanity project, and early that morning I traded a plate of the brownies for an adorable 1-year old, who spent the day with us.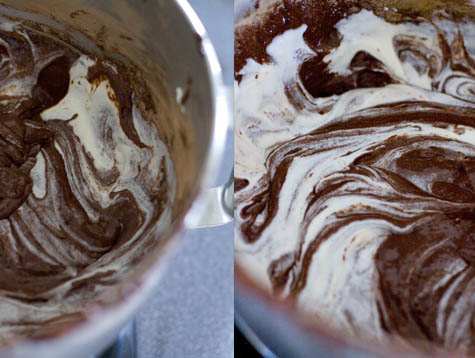 Here's what you need to know about these brownies. They could very well be the richest, most decadent brownies you've ever tried. They're off-the-charts delicious. They're also off-the-charts messy, and a bit of a pain to slice - particularly if you want to slice them small. Next time, I'm going to chill and slice them, then let them return to room temperature to serve. I'd also recommend slicing them in the pan. The pan lends a good amount of structure.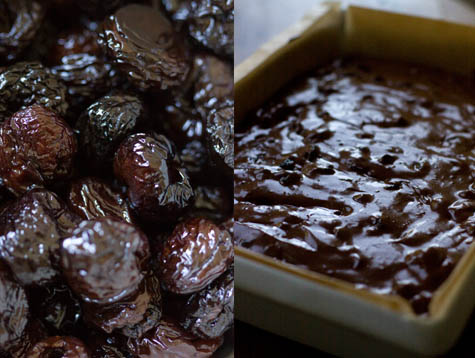 You can take this general idea and run with it in a thousand different ways. If boozy cherries aren't your thing, I can imagine adding chopped toasted nuts, baking them plain (in a smaller pan), making individual cakes/brownies in ramekins, trying other fruit/alcohol combinations, etc. The original inspiration for these was a recipe I came across in the Bourke Street Bakery cookbook - their version used pitted prunes and brandy. I decided to try cherries, port, muscovado sugar, and creme fraiche. I soaked my cherries for two days, but suspect I could have done fine with a one day soak - all the port had been absorbed by then.

Chocolate Cherry Brownies
I used just shy of a pound of Guitard 55% chocolate chips in this recipe. You could go darker if you like, and shave or chop the chocolate from bars, which is what I typically do. I used Dagoba unsweetened cocoa powder. And I used a mix of light and dark Muscovado sugars - half and half. If all you have is regular brown sugar, or even fine-grain white sugar, those should work as substitutes. I left the cherries whole, but I suspect a version with chopped cherries would be good too, and different texturally.
butter for greasing pan
2 cups / 10.5 oz / 300 g dried cherries
scant cup / 200 ml / 7 fl oz port wine
1/2 cup / 2 oz / 55g / whole wheat pastry flour
1/3 cup / 1.5 oz / 40 g unsweetened cocoa powder
1/2 teaspoon fine grain sea salt
2 teaspoons baking powder

10.5 oz / 300g 55% dark chocolate chips/chunks
5 1/2 tablespoons / 2 3/4 oz / 80g unsalted butter
2 cups / 10.5 oz / sifted muscovado sugar

4 large eggs
scant 1/2 cup / 3.5 oz / 100 g creme fraiche or sour cream
1 cup / 5 oz / 145 g chocolate chips/ chunks

more cocoa powder, for dusting
A day or two before you want to bake the brownies, place the cherries in a medium bowl and pour over the port. Cover and set aside. Stir every twelve hours until ready to use.
Preheat the oven to 325F / 170C and place a rack in the top third. Butter and line a 13 x 9 x 2-inch rectangular baking dish with parchment paper. An important step if you want to eventually get these brownies out of the pan. Sift the flour, cocoa powder, salt, and baking powder into a bowl and set aside.
Make a double boiler by placing a stainless steel bowl over a small pan of gently simmering water - the bottom of the bowl should not touch the water. Place the 10.5 oz / 300g of chocolate into this bowl along with the butter and sugar. Stir just until the chocolate has melted and the ingredients come together into a mass. Transfer to the bowl of an electric mixer and allow to cool (cool enough that it won't cook the eggs when you add them). Mix on slow and add the eggs, one at a time, letting each get incorporated before adding the next. Scrape down the sides of the bowl with a spatula a couple times along the way. Add the flour mixture and stir by hand until combined, then add the creme fraiche, remaining chocolate chips, and the cherries with the port. Stir until just combined.
Spoon the mixture into the prepared pan and bake for about an hour, or until just set. The center of the brownie should be set and not at all wobbly. Allow to cool completely in the pan. You can cover the pan tightly with plastic wrap at this point and the brownies will keep for a couple days. I recommend chilling before slicing if you want small, precise squares. Also keep a tall glass of warm water on hand to wash your knife between each cut. Enjoy at room temperature dusted with a bit of cocoa powder.
Makes one large pan of brownies.
Prep time: 900 minutes - Cook time: 60 minutes