12+ Camping Recipes to Make Camping Meals No Big Deal
If you're looking for quick, easy and inspired camping recipes to deploy on your next camping trip, you're in the right place.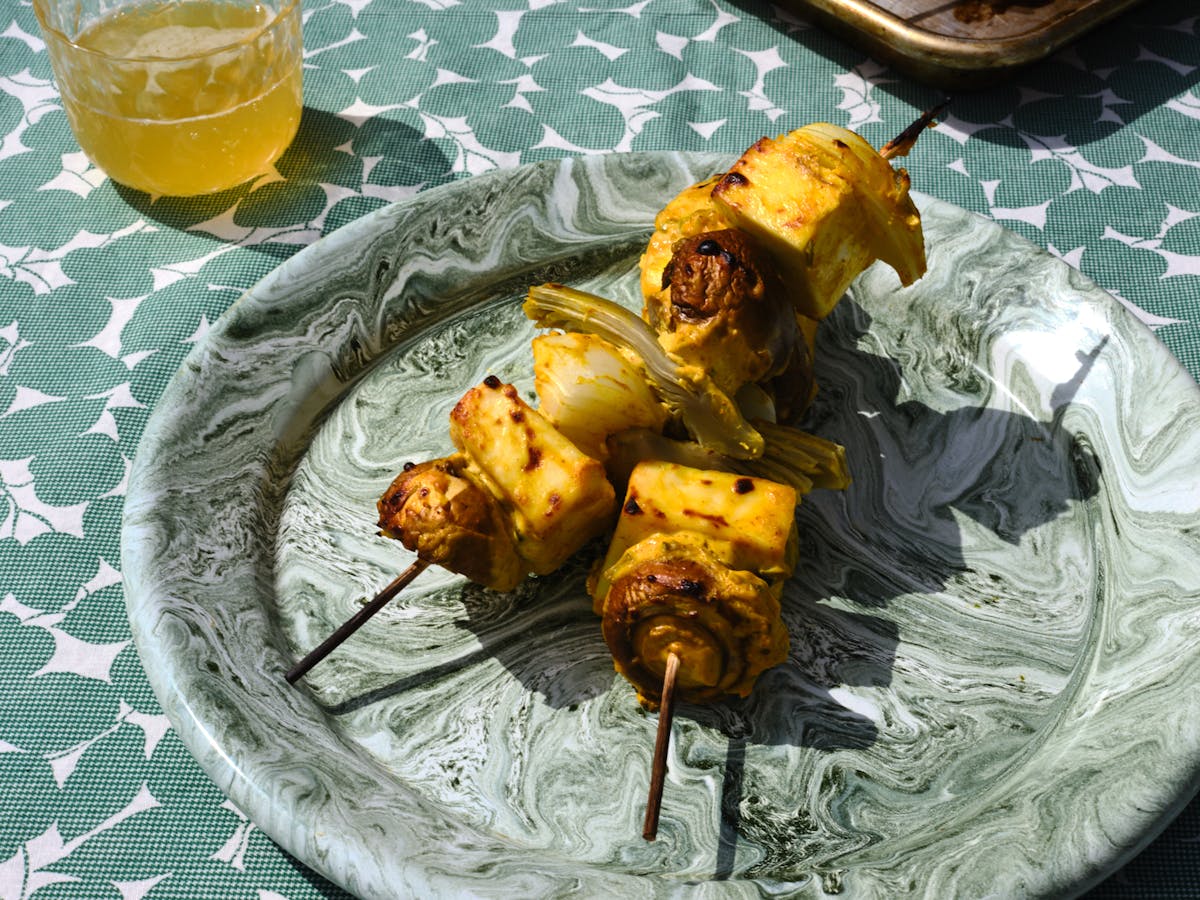 If you're looking for camping meal ideas and camping recipes to deploy on your next camping trip, you're in the right place. Over the years we've done plenty of camping in tents, in cars, and in our Airstream. On the food front the goal is always the same - delicious camping meals without a lot of fuss, gear, or clean up. Quick and easy is the name of the game. Bonus points are earned for being able to prep components ahead of time. I went through the archives to select all my favorite camping recipes. Most can be cooked with a single piece of cookware - favorites include a pot, a skillet, or a griddle. Let's start by talking about your camp cooking gear.
Essential Camp Cooking Gear
Whether car camping or traveling with the Airstream, the bones of our basic culinary camping kit is generally the same. Camping gear on the cooking front can get out of hand fast, so I've tried to wrangle what we bring down to a reasonable amount that still allows a range of deliciousness while we are out enjoying new places! This is ever-evolving, I'm always experimenting with difference camp-friendly combinations, but here's how it stands now.
A good cooler

: Great for loading bricks of frozen sauces, marinades, and other ingredients along with perishables.

A propane burner

: Even when we have the trailer I prefer to cook outdoors. I tend to use a single burner and swap in whatever pot, pan, griddle, tava, or comal on top of that. It's super flexible and enables a lot of options.

A large pot

: Crucial for one-pot soups, stews, curries, and chili.

Grill

: If the weather is nice when you're camping, you're going to want to grill. Many campsites have charcoal grills permanently built into each site, but we often bring a small grill with us.

A griddle of some sort

: This is a highly personal choice. I talk to a lot of campers about their cooking set-up and in the past few years the Blackstone has really taken camp cooking by storm. My sister has one, they camp a lot, and she says they basically cook every meal on it - from pancakes to stir-fries. I still like to use a cast iron skillet for pancakes and an Indian tava for stir-fries, they are items I already use at home and they work with a basic propane burner. Basically, either way, you're after a large, flat, hot metal expanse that you can cook a range of recipes on. The skottle systems (like this and this) are similar to my current set-up. 

A knife & cutting board

: I like a good-sized cutting board.

Ooni Pizza Oven

: This is a real wildcard, and a bit of a pain if I'm being honest. On occasion, we load up the Ooni and bring it camping, especially if the weather is set to be beautiful. We have the Ooni 16, the one powered by propane, so it collapses down flat-ish. It's great for cooking camp pizzas, roasting veggies, bean dishes, a range of flat breads, and I love it for paneer veggie kebabs (down below). It takes some time to get to know, but it's pretty amazing once you stop burning things in it. If you bring the pizza oven, you also need to bring a peel, tongs, extra flour/cornmeal, and a plan for dough (here's my go-to pizza dough recipe). Pro-tip: if you bring a large enough cutting board you can use it as a second peel.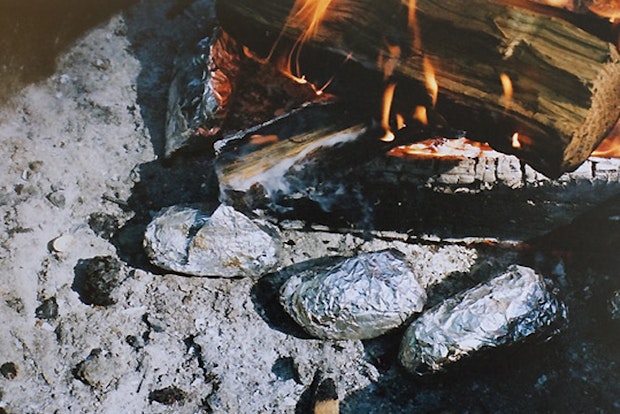 Best Camping Recipes to Make Camping Meals No Big Deal
I've organized these recipes based on the type of cooking you might be doing. One of the things we've noticed over the years is the prohibition of campfires allowed at campsites. It might be different in other regions, but on the West Coast of the United States, because of the fire danger, open campfires are becoming increasingly rare. So cooking meals in foil packets (and the like) isn't an option in many of the places we've been recently. I'll add a bunch of links and resources down below related to campfire cooking and hopefully we'll be able to revisit open-fire cooking more reliable in future years. I'll add and photograph a dutch oven section at that point!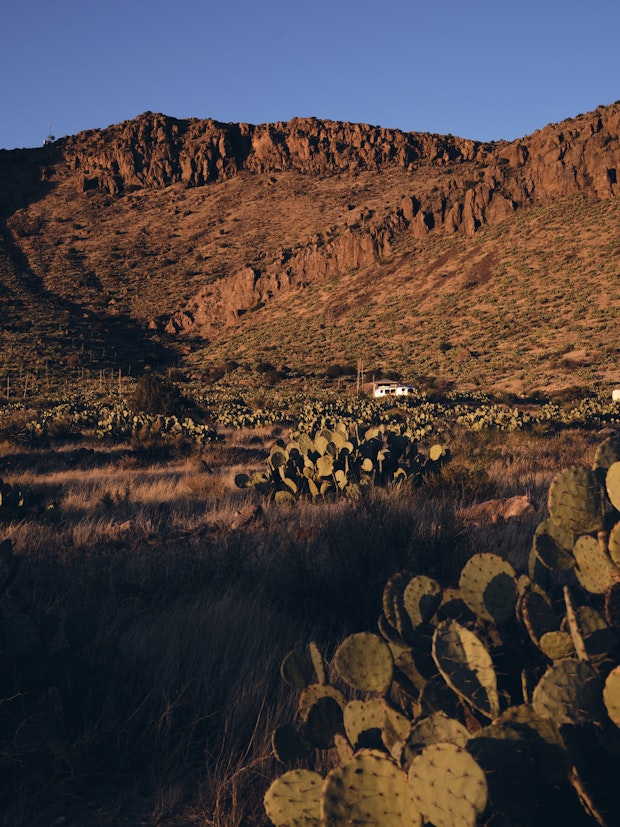 Grill Camping Recipes
On the grill front, we often prep a few components in advance. For example, I'll pre-make the mixture for the tofu burgers, or any special sauces. If at all possible I love to hit up local farmers markets to find more grill-friendly ingredients.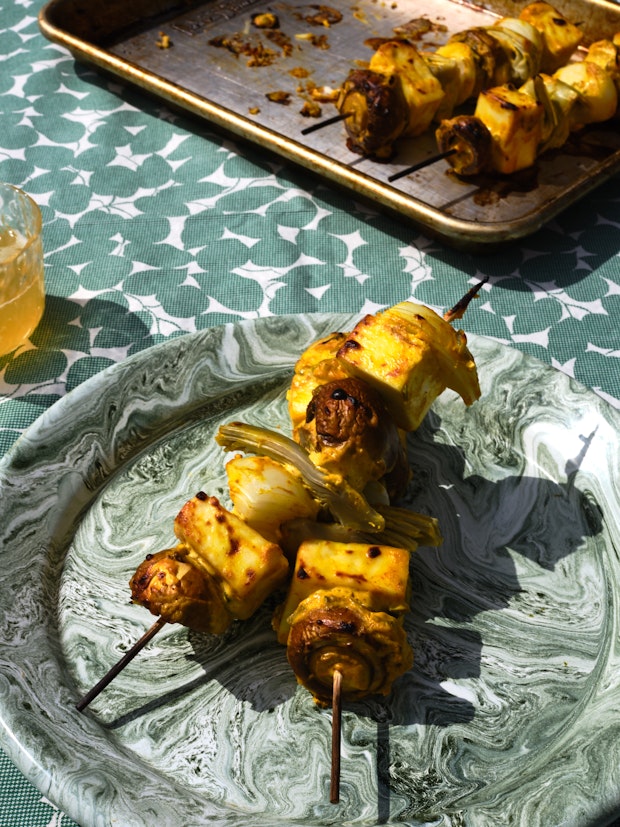 You can marinade the ingredients for these kebabs before leaving on a camping trip. Kept cold they can be used up to 4-5 days later. Spicy grilled veggie kebabs made with a flavor-packed yogurt marinade and mix of vegetables with paneer cheese. A favorite that you can make ahead, and grill or bake year-round. We most often make these on the grill, but they're great in the pizza oven as well.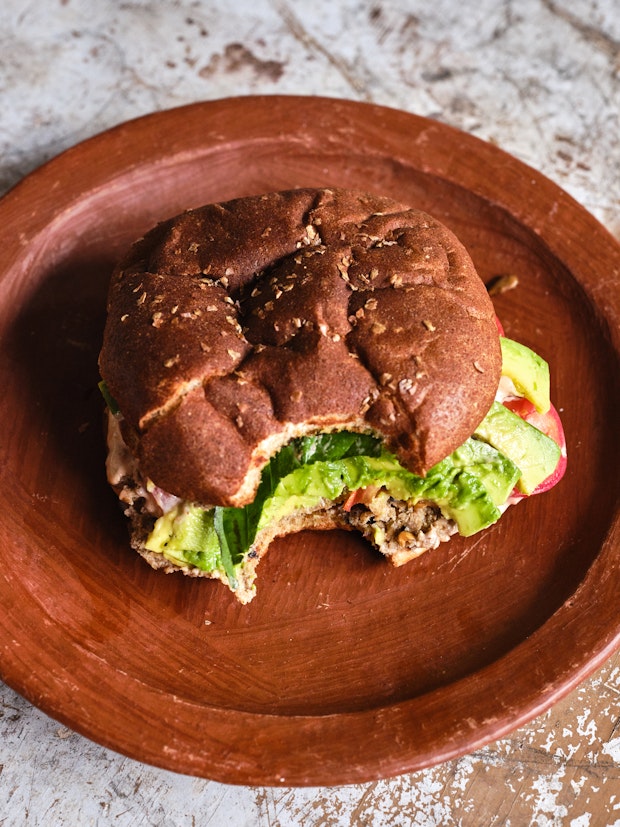 Seasoned with a good amount of cumin, cayenne and mustard, these are hearty, filling, easy to make, dump-everything-in-the-food processor grillable tofu burgers. Pre-make the burger mixture and flat-pack in a baggie, then shape at the campsite prior to grilling. Kept cool, the mixture is good for 4-5 days.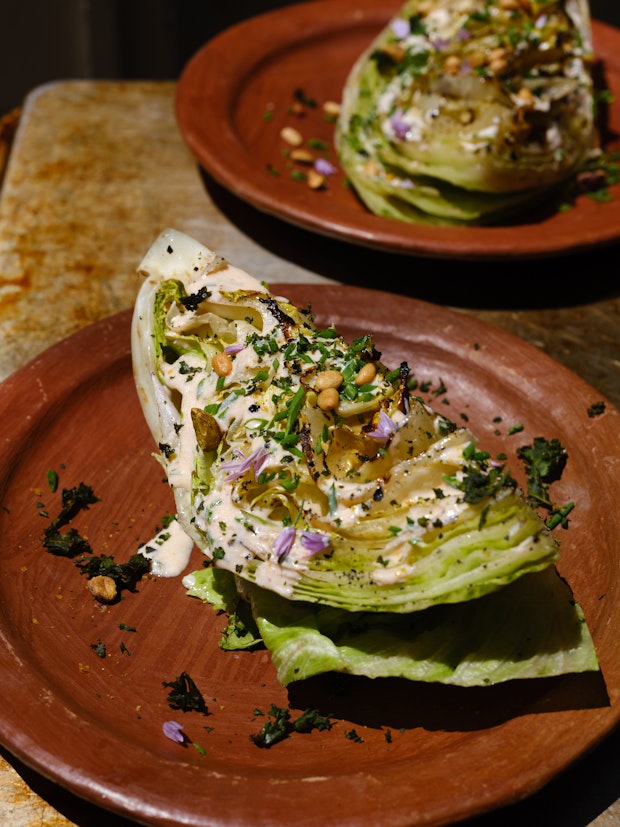 With the best spicy ranch dressing! So easy, especially if you pre-make the dressing. A delicious, crisp grilled wedge salad topped with a spicy ranch dressing, chives, and nuts.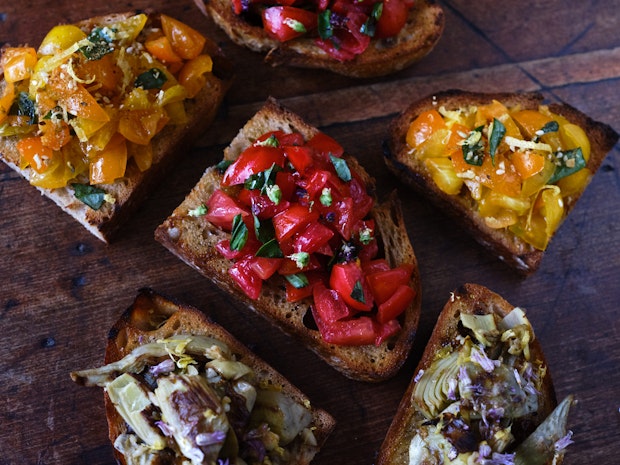 Bring a loaf of good sourdough and some olive oil on your camping adventures and you're half way to amazing bruschetta. The ideas for toppings are vast, and can range from beautiful tomatoes to other vegetables you can toss on the grill -mushrooms, spring onions, grilled corn, artichokes hearts, etc. You can cook the toppings, if appropriate, on the grill along with the slabs of bread.
Skillet Camping Recipes
Few items in my camping kitchen get more use than my classic cast iron skillet. It can be used over a fire, over a burner, and in an oven.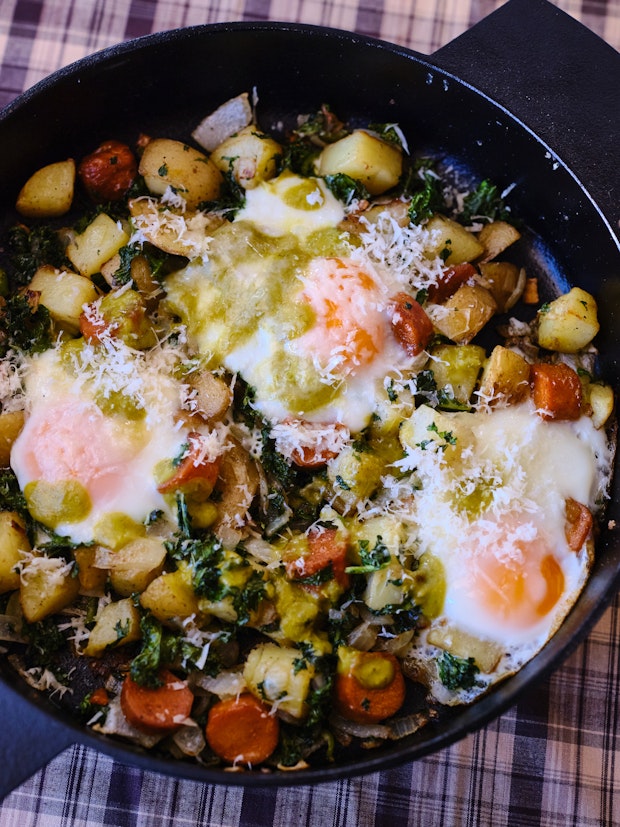 A favorite way to use up leftovers when camping. This Camp Breakfast Hash is peppered with plant-based hot dogs, potatoes, serrano chiles, and finished with salsa and a dusting of grated cheese. It's a flexible, one-skillet go-to that can be made on a griddle, flat top, or in a skillet.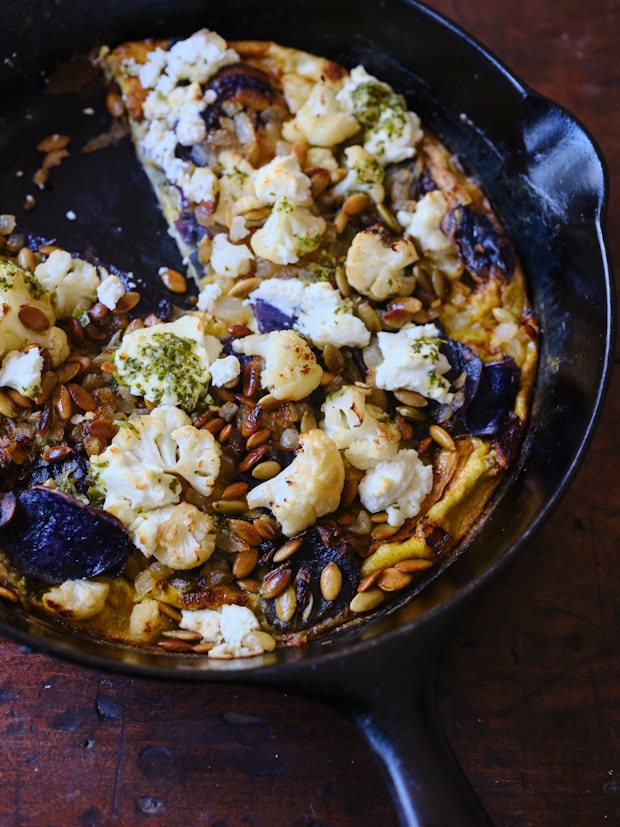 The tastiest, super adaptable frittata recipe. Made with potatoes, onions, and eggs drizzled with a cilantro chile sauce. You can flat-freeze the chile sauce and bring it in your cooler.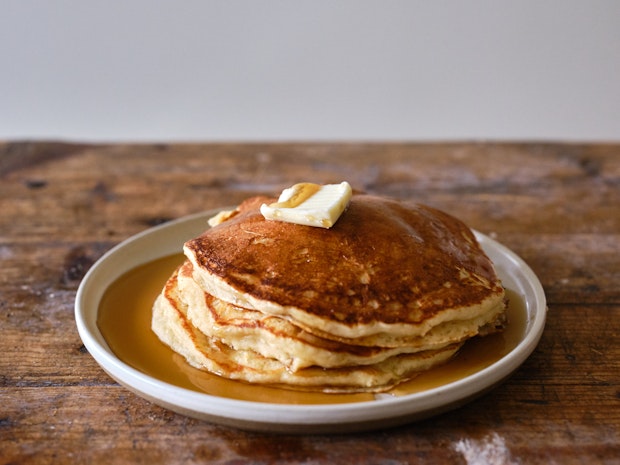 If you're after classic pancakes, this is your recipe. For camping, I often pre-measure the pancake ingredients into a mason jar for easy packing. Add the liquid ingredients just before you're ready to put them on the griddle. This is a pancake recipe that delivers a beautiful, classic stack with impossibly tender crumb and golden edges. The pancakes have lightness and lift (especially if you fold in the whipped egg whites), and good color. If you want the Adventure Pancake Mix recipe (loaded with chia, flax, whole grain flours - its SO good), it is part of this collection.
Flat-top, griddle, or Blackstone Camping Recipes
Many of the recipes in this category can also be made in a large skillet.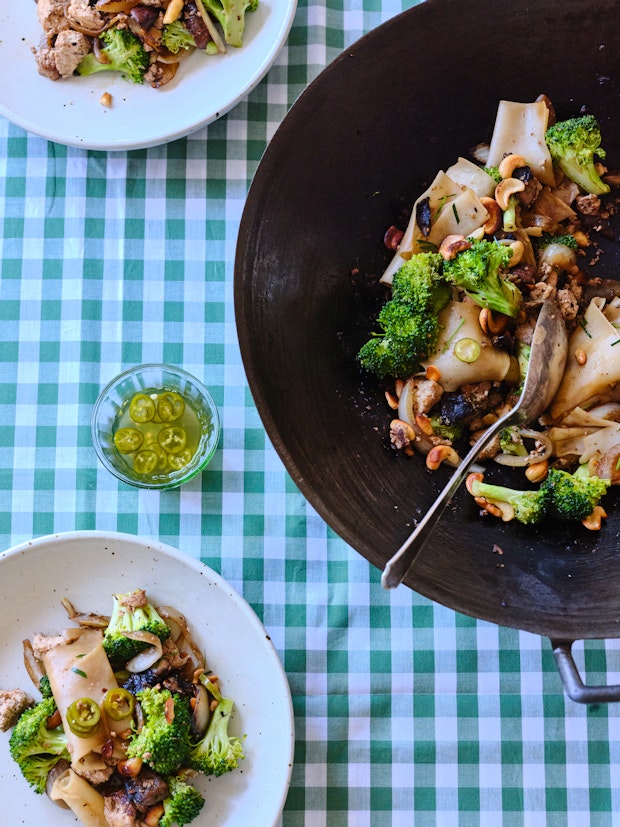 I like to do a stir-fry when we're out camping. Usually, some variation on a stir-fry like this. A favorite noodle-based stir fry with silky rice noodles, bright and crunchy broccoli, toasted cashews, quick-marinated crumbled tofu, and pan-seared onions tossed in a feisty chile-boosted soy sauce. It works on everything from a large skillet to a Blackstone.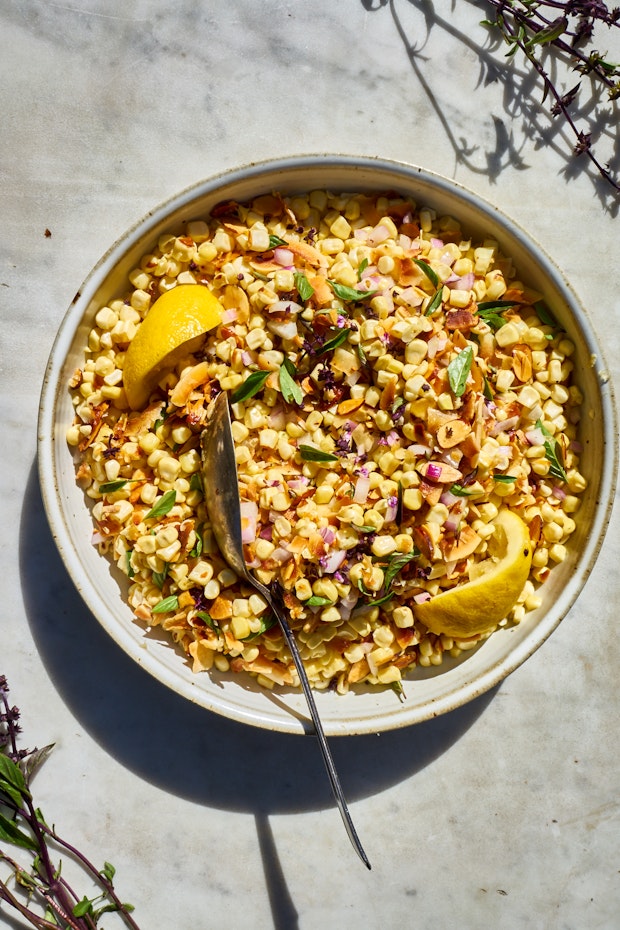 Butter a griddle, skillet, or flattop and add corn, fresh thyme, red onions, toasted almonds and coconut. Finish with a squeeze of lemon or lime juice. So simple, so tasty!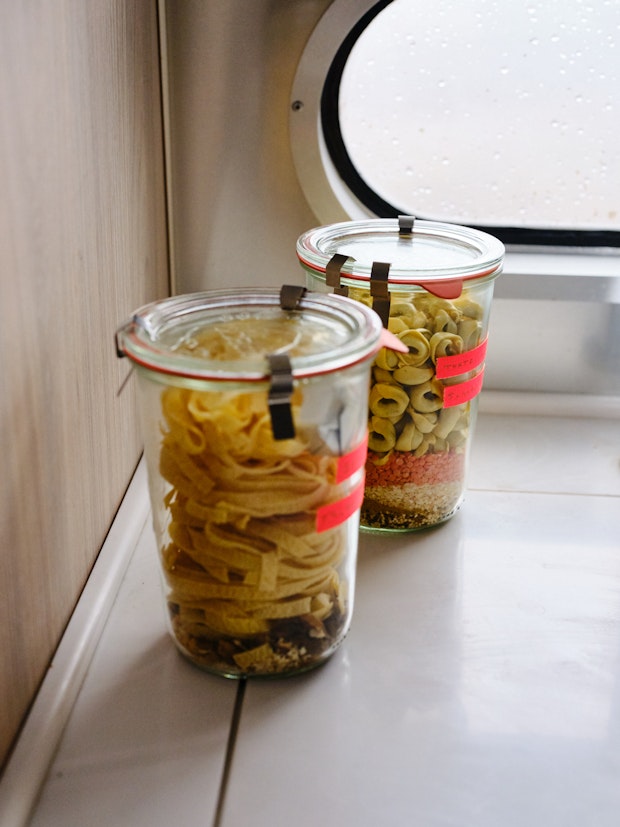 Meal in a Jar Camping Recipes
Making a few of these "meals in a jar" is the best thing I do when preparing camping meals for a trip. I always make up 2-3 of these and then it's simply just add water (and perhaps another common pantry item or two), and you've got a great meal. Perfect for travel days, or any camping days when you're short on cooking time. Try some of the recipes I've linked to below and if you like them have a look at this - Recipes for the Road: A Small, Useful Collection of Meal-In-Jar & Just-Add-Water Recipes for Road Trips, Camping & Everyday Life.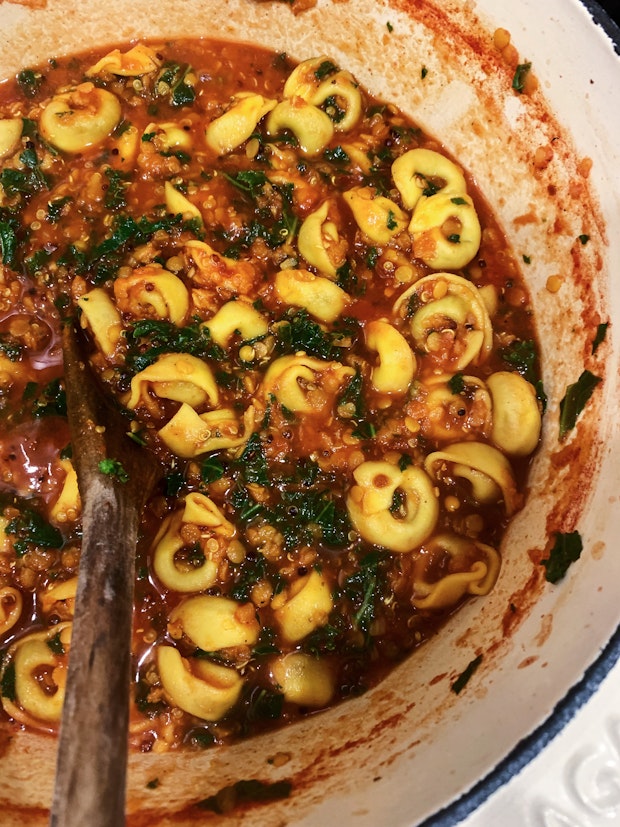 Just add water and a can of crushed tomatoes. It's so simple and so good! A one-pot lentil and tomato-based stew, dotted with plump, tender tortellini, spiked with a range of spices. Perfect for one-pot camping or weeknight meals.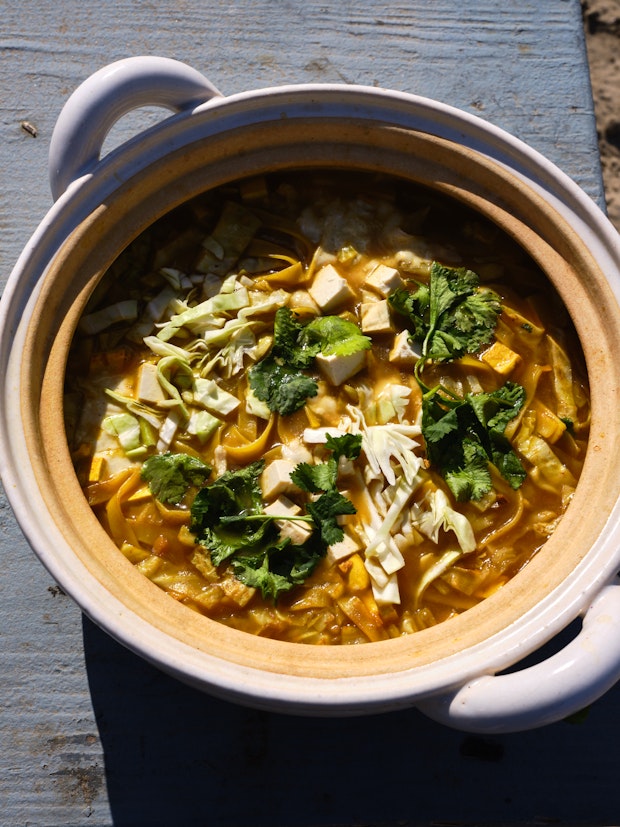 Just add water and a splash of coconut milk to make this fragrant curry noodle pot. A dynamic and feisty broth is bolstered with cayenne, ginger, cinnamon, and turmeric enveloping egg noodles and whatever seasonal vegetables you have on hand.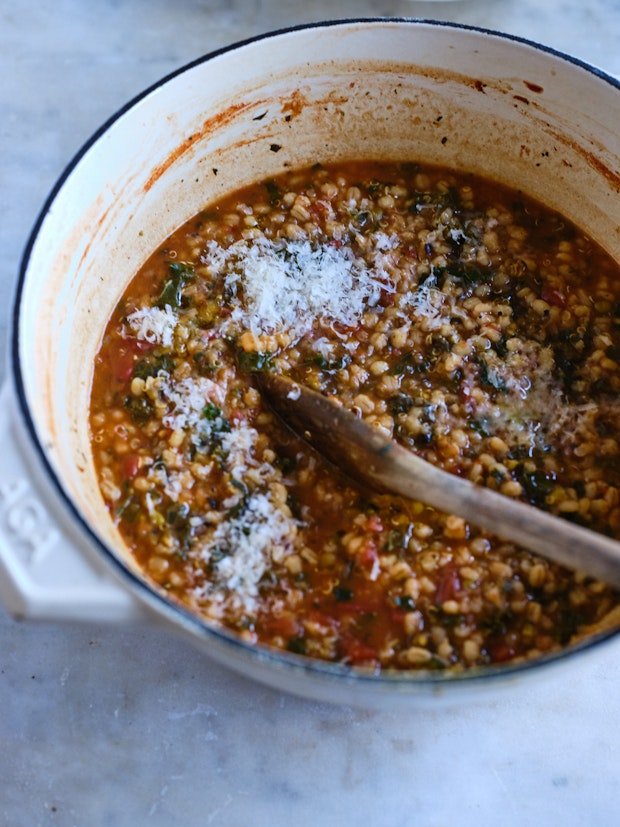 This is a favorite flavor-packed meal in a jar - an herb-flecked, hearty, Italian Barley Soup with a bit of a hippie twist. Just add water and a can of crushed tomatoes and you're on your way to a really great pot of soup.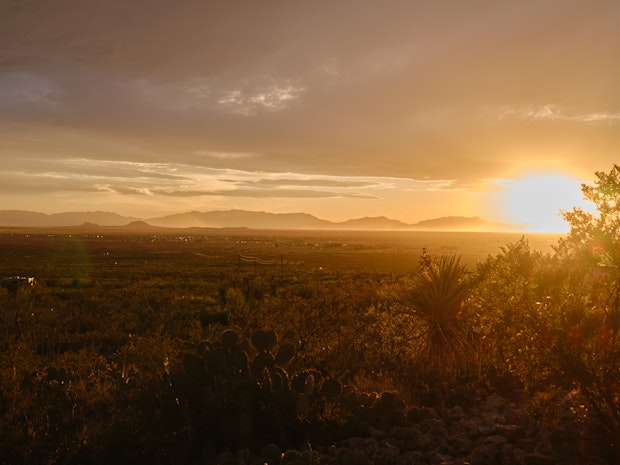 Other Helpful Camping Recipe Links
If you are serious about open-flame cooking, seek out William Rubel's The Magic of Fire: One Hundred Recipes for the Fireplace or Campfire. Published by Ten Speed Press in 2002, this is a beautiful, large-format, hardback volume I stumbled across years back while browsing the stacks at the San Francisco Library. It immediately sparked fantastic visions of fire-baked breads and ember-roasted Russets. Alternately, you can visit William's website here. You'll notice he mentions the Joy of Cooking: 75th Anniversary Edition as having "the best introduction to hearth cooking of any book that I know of anywhere." He contributed that section to the book.
- Wikipedia: Campfire Cooking. Check out the photo of the oven made from scraps!
- This is Camino: This is another favorite cookbook focused on fire-based cooking by Russ Moore and Allison Hopelain. Camino was a brilliant Oakland-based restaurant centered around a beautiful open hearth and seasonal ingredients - the book will push your imagination in directions related to what's possible with great ingredients, an open flame, and a bit of know-how.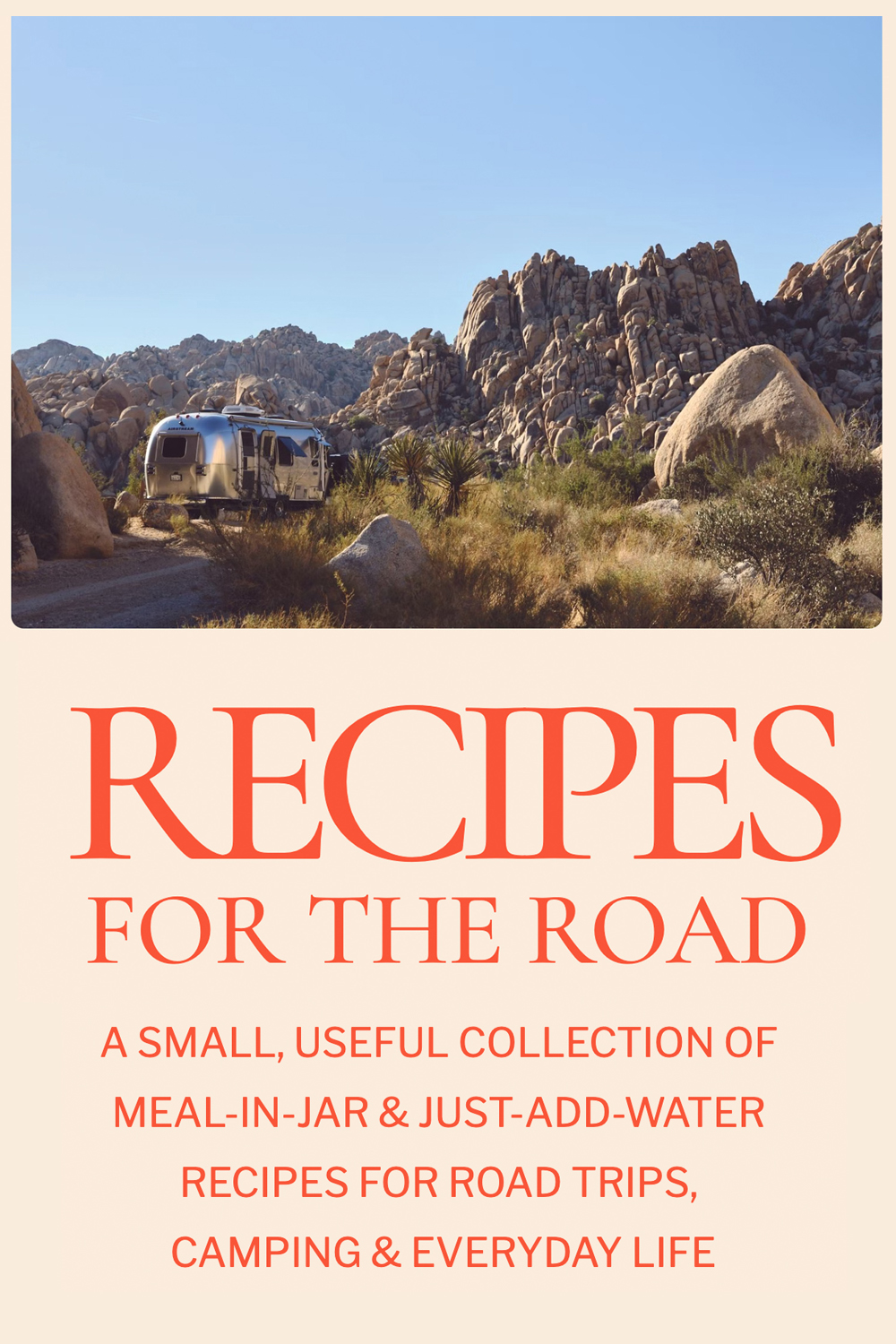 - Recipes For The Road: If you'd like more of these types of recipes, I've pulled together a collection of my favorites. It includes my favorite adventure pancake mix recipe, a bunch of soup mixes,  and an A+ recipe for packets of instant oatmeal. You can get a preview of it here.
Ok, that's it for now. This will be a regularly updated page! Let me know your favorite camping recipes down in the comments!