How To Cook Quinoa (and 20 Quinoa Recipes)
How to cook quinoa perfectly, every time. You can use it in everything from salads and bowls, stews and sourdough, or any of my 20 favorite quinoa recipes highlighted below.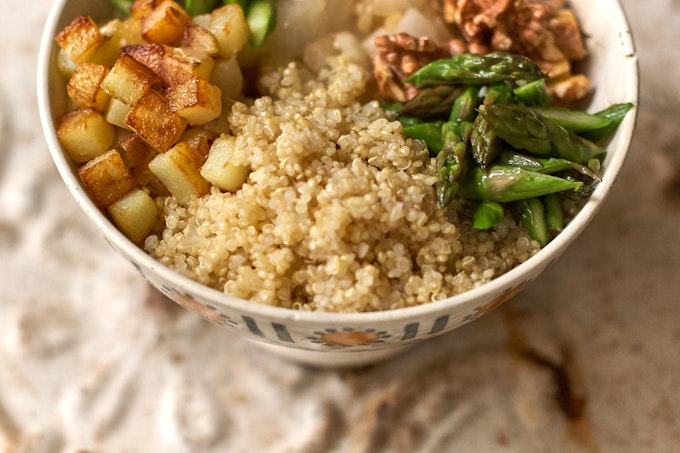 If you know how to cook quinoa perfectly, you're on your way to a wide range of amazing meals. It's a fantastic adventure to cook your way through the world's wonderful heirloom grains (and grain-like seeds), and quinoa is one of them. The trick to nailing the perfect fluffy pot of quinoa is using the right ratio of water to quinoa and knowing a few little tricks. While I initially purchased quinoa for its nutritional perks (of which there are many) I kept purchasing it for its grassy taste and fluffed up, creamy-while-crunchy texture.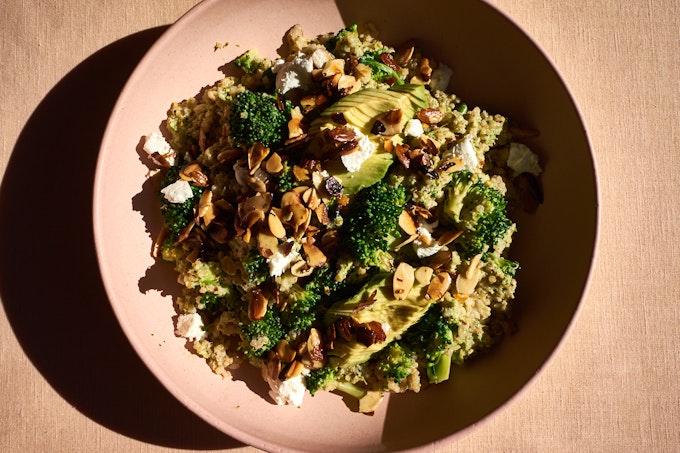 What is Quinoa?
Quinoa [Keen-wah] is a fantastic grain to utilize in year-round cooking. It has long been celebrated as a nutritional powerhouse – protein-rich, delicious, and charmingly versatile. Technically not a true grain, it is related botanically to Swiss chard and beets, but it is grain-like in spirit when it comes to cooking.
Which Color Quinoa is Best?
Quinoa grows in a wide range of colors. The most commonly available in the U.S. are red, brown, black, and ivory. You can also buy tri-color blends of quinoas. Most quinoa tastes very similar to me. White often cooks up fluffiest. The colors have very similar nutritional profiles, although I suspect red and black quinoa have increased phytonutrients. Black can also take a few extra minutes to cook. The biggest difference to me is visual impact. I tend to go with the ivory quinoa if making a meal for someone who might not be a very adventurous eater, or picky kids. The light colored quinoa tends to blend or bake right into things seamlessly. That said, I love the visual punch colored quinoa delivers to pizza crusts, muffins, grain bowls, and the like. So that's usually my choice.
Why Do I Need to Rinse Quinoa?
This is a thing. Always rinse quinoa before using to remove bitter saponin coating (which the plant produces to deter  birds and insects).
Quinoa Cooking Basics
What kind of quinoa should I buy? Consider sourcing fair-trade and organic quinoa. This supports local farm communities, and helps preserve the health and integrity of the land and farming communities.
Can I use a rice cooker to cook quinoa? Yes, absolutely. Use the following water (or broth) to quinoa ratio and follow the manufacturer's instructions.
Can I use a donabe to cook quinoa? Yes! I use my clay pot donabe to cook quinoa often. Use gentle heat, the ratio below, and the same technique you would use to cook rice.
How much water to quinoa should I use? This has been an ever-evolving issue for me over the years. And I've landed on 1 cup quinoa to 1 2/3 cups liquid. A steady, gentle simmer for about 20 minutes, covered, will result in a beautiful pot of quinoa. Just fluff with a fork and enjoy.
Get Creative! Cook Your Quinoa with Flavor
Nearly every basic quinoa recipe will instruct you to use water to cook your quinoa. I think this is great advice your first few times through. You can get a real sense of the flavor of quinoa by keeping it simple. Just know, there is a world of flavor to explore beyond that! I love to cook my quinoa with strong broths. A dollop of curry paste is always welcome for a jolt of flavor. Or you can experiment with spices like turmeric, powdered chiles, or seaweeds, or mushroom powders. Chopped garlic? Yes! Miso? So good. The realm of possibilities is endless. 
How Can I Add Quinoa to My Baking?
Stir leftover quinoa into all your favorite baked goods for more interesting flavor, texture, and nutritional punch. The key here is experimenting. Stir a cup of cooked, room-temperature quinoa into your favorite muffin mix. Or cut it into your best pie crust, or biscuit dough. This amount is usually a good place to start until you get a feel for things. Make notes! Then, add more or less quinoa the next time through. This is one of my favorite baking pro-tips. Once you start adding things like quinoa or millet to your baking, all-white flour baking gets less and less interesting. 
How to Store Cooked Quinoa
Store leftover quinoa in the refrigerator for up to a few days, beyond that, transfer it to the freezer. It freezes beautifully. When you're ready to use it, bring to room temperature and then transfer to a bowl. Use a fork to break up clumps and make uniform. My motto here is: Fridge, freeze, fluff.
Twenty Favorite Quinoa Recipes
If you're looking for great quinoa recipes, you're in the right place! 
Broccoli lovers delight, with a broccoli pesto, quinoa, sliced avocado and a drizzle of feisty chile pepper oil.
Simply mung beans and quinoa with deeply sautéed and spiced celery.

A hearty melding of beans, and corn, and taco spices, and quinoa.

Vegan burritos packed with all the good stuff - quinoa, mung beans, and lots of kale.

 



Double up on broccoli through a coconut green curry pesto and florets, then toss with a quinoa base.
The perfect on-the-go snack or mini meal.

A one pot, effortless, green, nutrient-packed twist on one of my favorite things to eat.
Vegan sushi made with sweet potato fries, seasoned tofu, avocado, kale chips, and a quinoa-sushi rice blend.
The crust of this tart deploys a favorite baking trinity of mine - rye, cooked quinoa, and all-purpose (or bread) flour.
A berry-studded breakfast quinoa with pecans and blackberries, sweetened with agave nectar or honey.
The next time you have leftover quinoa (other other favorite grain) give it a try - coconut, garlic, almonds, kale, topped with salted yogurt and avocado.
A rustic, minimally structured, custard-topped, crusty-edged, herb-scented corn-quinoa skillet bread.
A one-skillet quinoa recipe - quinoa, corn, chopped kale and pan-toasted tofu tossed with a big dollop of pesto and finished off with a few roasted cherry tomatoes.
A quick way to get quinoa, hemp seeds, chia, and coconut into one naturally sweetened, no-bake snack. 
Deeply chocolate-flavored with dark black cocoa and cocoa nibs, this granola is packed with heart-healthy oats, quinoa crispies and seeds. 
An impromptu quinoa salad recipe made by tossing a quick tahini dressing with chickpeas, red onion, and cilantro.
This quinoa and grilled zucchini recipe is tossed with a pretty, pale green cilantro-flecked avocado dressing.
Cookies made from toasted quinoa and wheat flours, flecked with chocolate shavings, rolled and stamped into cloud shapes. 
A quinoa salad made from a quirky combination of quinoa, dill, shredded zucchini, and currants. 
A colorful grain blend inspired by a trip to Japan. 
Have fun cooking with quinoa! Use it in soups, on salads, as a base for all sorts of quinoa bowls, and as a nutrient-packed alternative to white rice or pasta. Stir it into your batters and fold it into your bread and pizza doughs. If you find you enjoy recipes featuring whole quinoa, there are also other forms of quinoa available. Keep an eye out for quinoa flakes, popped/puffed quinoa as well as quinoa flour. All are delicious, interesting, and easy to incorporate into your cooking. Have fun!
How to Cook Quinoa
Quick and easy, quinoa is great on its own, as well as the basis of many fantastic recipes!
Ingredients
2

cups

quinoa

well-rinsed and drained

3 1/3

cups

water

1/2

tsp

fine grain sea salt
Instructions
To cook quinoa combine the quinoa with water and salt in a medium saucepan.

Bring to a boil, cover, decrease the heat, and simmer for 20-ish minutes, covered, or until the quinoa is tender and you can see the little quinoa curlicues. Fluff with a fork and enjoy!
Related Recipes
More Recipes
Popular Ingredients