How To Cook Quinoa (and 20 Quinoa Recipes)
How to cook quinoa perfectly, every time. You can use it in everything from salads and bowls, stews and sourdough, or any of my 20 favorite quinoa recipes highlighted below.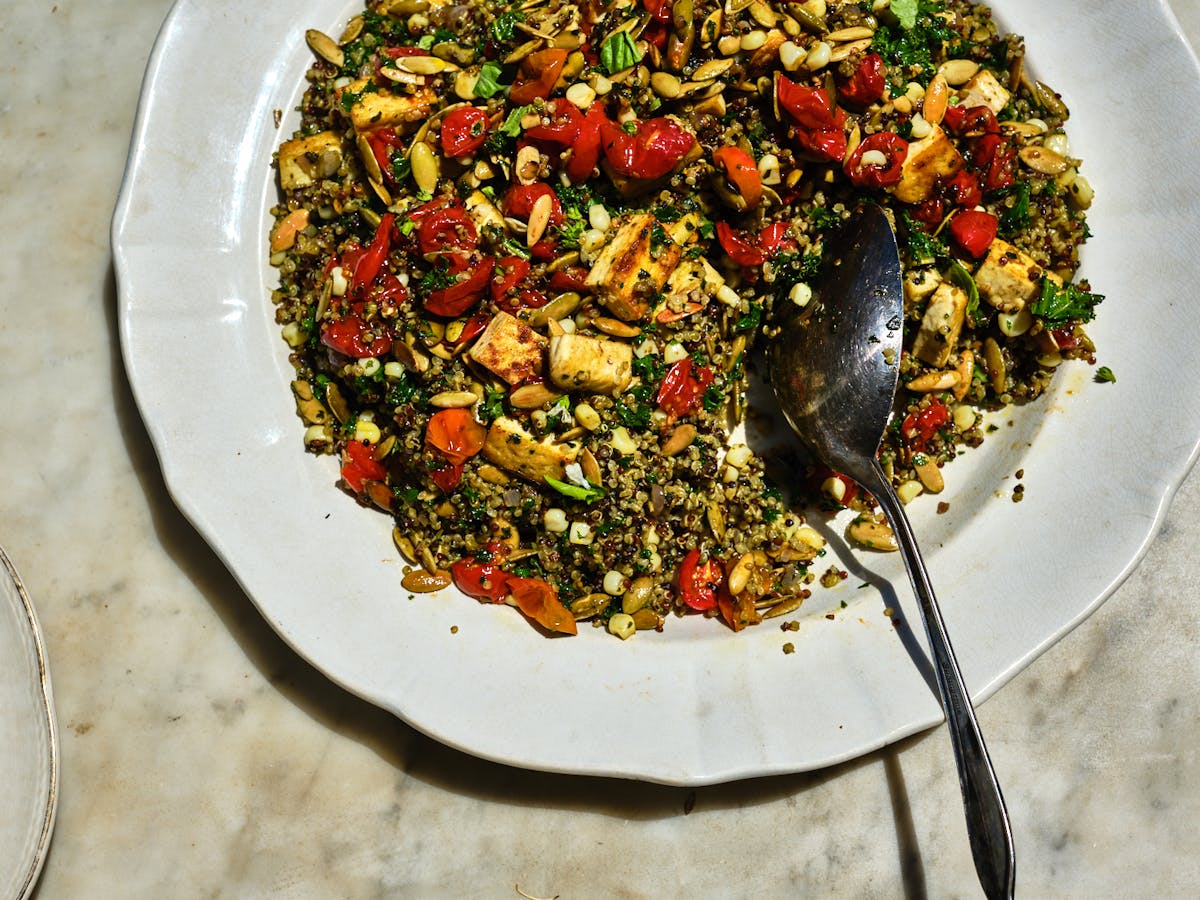 If you know how to cook quinoa perfectly, you're on your way to a wide range of amazing meals. It's a fantastic adventure to cook your way through the world's wonderful heirloom grains (and grain-like seeds), and quinoa is one of them. The trick to nailing the perfect fluffy pot of is using the right ratio of water to quinoa and knowing a few little tricks. While I initially purchased quinoa for its nutritional perks (of which there are many) I kept purchasing it for its grassy taste and fluffed up, creamy-while-crunchy texture.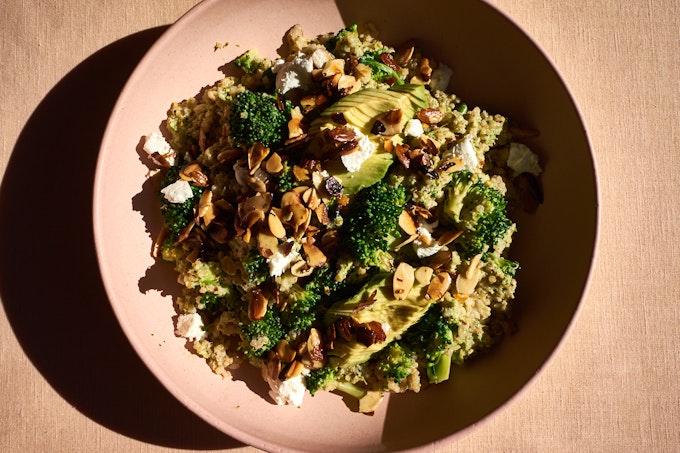 What is Quinoa?
Quinoa [Keen-wah] is a fantastic grain to utilize in year-round cooking. It has long been celebrated as a nutritional powerhouse from South America. Because it is protein-rich, delicious, and charmingly versatile has become an increasingly popular ingredient. Technically not a true grain, it is related botanically to Swiss chard and beets, but it is grain-like in spirit when it comes to cooking.
Which Color is Best?
There are many different types of quinoa and it grows in a wide range of colors. The most commonly available in the U.S. are red, brown, black, and ivory. You can also buy tri-color blends. Most quinoa tastes very similar to me. White often cooks up fluffiest. The colors have very similar nutritional profiles, although I suspect red and black have increased phytonutrients. Black can also take a few extra minutes to cook. The biggest difference to me is visual impact. I tend to go with the ivory quinoa if making a meal for someone who might not be a very adventurous eater, or picky kids. The light colored quinoa tends to blend or bake right into things seamlessly. That said, I love the visual punch the colored varietal deliver to pizza crusts, muffins, grain bowls, and the like. So that's usually my choice.
Why Do I Need to Rinse Quinoa?
This is a thing. It's all about something called saponins. Always rinse before using to remove bitter saponin coating (which the plant produces to deter birds and insects). If you buy pre-rinsed packages, there is no need to rinse.
Quinoa Cooking Basics
What kind should I buy

? Consider sourcing fair-trade and organic quinoa. This supports local farm communities, and helps preserve the health and integrity of the land and farming communities.

Can I use a rice cooker to cook quinoa

? Yes, absolutely. Use the following water (or broth) to quinoa ratio and follow the manufacturer's instructions.

Can I use a donabe to cook quinoa

? Yes! I use my clay pot donabe to cook it often. Use gentle heat, the ratio below, and the same technique you would use to cook rice.

How much water to quinoa should I use

? This has been an ever-evolving issue for me over the years. Water ratios are important! I've landed on 1 cup quinoa to 1 2/3 cups liquid. A steady, gentle simmer for about 20 minutes, covered, will result in a beautiful pot of quinoa. Just fluff with a fork and enjoy.
Get Creative! Cook Your Quinoa with Flavor
Nearly every basic quinoa recipe will instruct you to use water as your base. I think this is great advice your first few times through. You can get a real sense of the flavor by keeping it simple. Just know, there is a world of flavor to explore beyond that! I love to cook quinoa with strong broths. A dollop of curry paste is always welcome for a jolt of flavor. Or you can experiment with spices like turmeric, powdered chiles, or seaweeds, or mushroom powders. Chopped garlic? Yes! Miso? So good. The realm of possibilities is endless.
How Can I Add Quinoa to My Baking?
Stir leftover cooked quinoa into all your favorite baked goods for more interesting flavor, texture, and nutritional punch. The key here is experimenting. Stir a cup of cooked, room-temperature quinoa into your favorite muffin mix. Or cut it into your best pie crust, or biscuit dough. This amount is usually a good place to start until you get a feel for things. Make notes! Then, add more or less the next time through. This is one of my favorite baking pro-tips. Once you start adding things like whole grains to your baking, all-white flour baking gets less and less interesting.
How to Store Cooked Quinoa
Store and leftovers in the refrigerator for up to a few days, beyond that, transfer it to the freezer. It freezes beautifully. When you're ready to use it, bring to room temperature and then transfer to a bowl. Use a fork to break up clumps and make uniform. My motto here is: Fridge, freeze, fluff.
The Nutritional Benefits of Quinoa
Nutrient-rich quinoa is often considered a whole grain, but it actually a seed! And it has a lot going for it. Quinoa is a wonderful source of plant-based fiber and protein. And added bonus is that quinoa is that it is a complete protein, meaning it contains all the essential amino acids our bodies aren't able to produce on their own. It is naturally gluten-free and can be enjoyed by people who follow a gluten-free diet and more rich in protein and antioxidants than some of the alternatives. It is also a source of magnesium, folate, thiamine, and calcium. The health benefits of quinoa are something worth exploring. Well worth incorporating into your meals. 
Is Quinoa Better than Rice?
I'm occasionally asked if quinoa is better than rice. It's a great question. One of the nice things about quinoa is it has a low glycemic index when compared to many rices. It clearly stands out in this regard. It beats out brown rice in many other regards as well - more protein, and more amino acids. They're neck and neck on the fiber front. That said, I love rice (there's an amazing range available), and one of the things I like to do is add a percentage of quinoa to my rice when cooking. Or stir in cooked quinoa to rice for some added nutritional boost. It's generally agreed that quinoa has significantly more micro-nutrients than brown rice.

Easy Ways to Incorporate Quinoa Into Your Diet
I list my favorite recipes below, but I thought it might be helpful to list off easy "non-recipe" ways I like to incorporate quinoa into my meals and snacks. I often cook a pot of at the start of the week, and then add it to a wide range of things.
Add some, cooked and cooled, to your favorite cookie dough. Start with 1/3 of a cup and see how you like it. You can always increase or decrease the amount of in future batches.

I love adding a few tablespoons of cooked quinoa to any tart or pizza dough I'm making.

Sprinkle cooked quinoa into your favorite potato salad, green salad, egg salad, or even macaroni salad.

 

Stir some quinoa into whatever other grain you're cooking for a bit of nutritional diversity.
Twenty Favorite Quinoa Recipes
If you're looking for great quinoa recipes, you're in the right place!
Have fun cooking with quinoa! Use it in soups, on salads, as a base for all sorts of bowls and as a nutrient-packed alternative to white rice or pasta. Stir it into your batters and fold it into your bread and pizza doughs. If you find you enjoy recipes featuring whole quinoa, there are also other forms available. Keep an eye out for quinoa flakes, popped/puffed quinoa as well as quinoa flour. All are delicious, interesting, and easy to incorporate into your cooking.
How to Cook Fluffy Quinoa
Quick and easy, quinoa is great on its own, as well as the basis of many fantastic recipes!
Ingredients
2

cups

quinoa

well-rinsed and drained

3 1/3

cups

water

1/2

tsp

fine grain sea salt
Instructions
To cook quinoa combine the quinoa with water and salt in a medium saucepan.

Bring to a boil, cover, decrease the heat, and simmer for about 15 minutes, covered, or until the quinoa is tender and you can see the little quinoa curlicues. Fluff with a fork and enjoy!
Related Recipes
More Recipes
Popular Ingredients