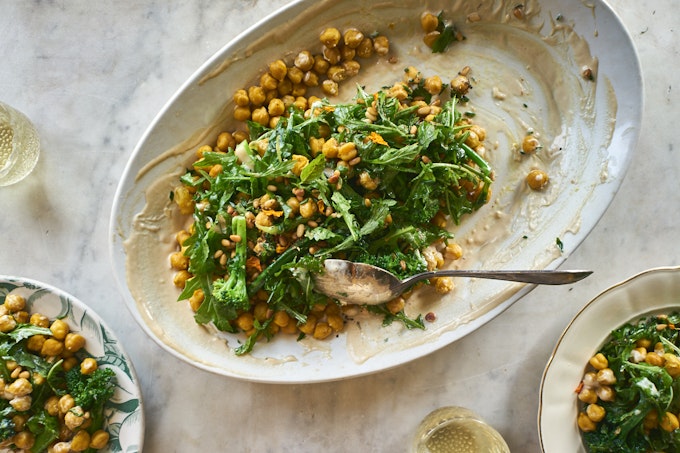 Great vegan recipes are like gold. Especially when they feature whole foods, and lots of plants. This type of cooking supports your health and overall well-being in important ways. No meat? No dairy? No eggs? Don't sweat it. There are many other ingredients to get excited about when you're cooking and eating.
Mains
Soups
Vegetable noodle soup is as simple, direct, and delicious as it gets. If you're vegetarian or vegan looking for an alternative to chicken noodle soup, try this!
A simple, everyday broccoli soup made special with crusty, mustardy croutons and cheddar cheese.
White pepper with jolts of ginger, and stabs of garlic - clear and strong topped with tofu, mushrooms, watermelon radish, and lots of green onions.
A simple asparagus soup - fresh asparagus, new potatoes, a bit of green curry paste, and coconut milk are pureed to make this spring favorite.
This is the simplest cauliflower soup.
Ribollita is a thick Tuscan stew - dark greens, lots of beans, vegetables, olive oil, thickened with day-old bread.
Salads
Tempeh taco salad - crushed tortilla chips bring the crunch, black beans and crumbled tempeh coated with taco seasoning brings the substance, and a strong, smoked paprika-apple cider dressing pulls everything together.
A radiant, color-flecked tangle of noodles, cabbage, shredded carrots, pickled sushi ginger, and an abundance of cilantro, basil, and scallions.
Whole-grain pasta, baby kale, basil, and the best tomatoes you can get your hands on, with a generous drizzle of strong harissa dressing.
Dips, Snacks and Appetizers
Billowy and smooth, it's a boosted hummus for everyday, all-day w/ golden beets, turmeric, and chickpeas.
Turmeric Cashews tossed with cayenne, nori, and sesame.
Avocado smeared across toasted day-old slabs of sesame bread, layered with arugula and garlicky caraway asparagus + toasted pepitas.
Deep, caramelized flavors of roasted tomatoes and onions alongside the smokiness of the chipotles equals the best salsa.
Packed with beneficial spices, cashews, garlic, and grated sweet potatoes, and lasts up to a week refrigerated.
Savory power bars with toasted walnuts, crumbled kale chips, and oil-cured olives.
Traditional red pepper spread originating from Syria made with a fascinating blend of red peppers, walnuts, olive oil, pomegranate molasses.
For creamy hummus, without the extra effort, I use mung beans instead. They work beautifully. Top the hummus with shallot oil, fresh chives
Drinks and Desserts
My hope is you'll find many ideas here to inspire more vegan meals in your home and life. The recipes listed here are vegan, or easily made vegan (with a minor tweak or two). I only list them here if I've actually mentioned how to make the recipe vegan in the recipe or in the head notes of the recipe. Here's a favorite vegan recipe to start!
Turmeric Chickpeas with Garlic Tahini
Ingredients
1/4

cup

tahini

2

cloves

garlic, peeled and crushed into a paste

big squeeze of fresh lemon juice

5

T

water, or more

salt to taste

1

bunch of broccoli, trimmed

2

cups

turmeric chickpeas

1

bunch of chives, minced

1/4

cup

toasted pinenuts

4-5

big handfuls of arugula

1 - 2

tablespoons

extra virgin olive oil
Instructions
Whisk the tahini, garlic, lemon, and water together in a small bowl. Keep whisking until the mixture really thickens. Set aside.

Bring a medium saucepan of water to a boil, salt well, and cook the broccoli until it brightens and becomes a bit tender, just a minute or two. Drain.

In a large bowl gently toss the broccoli, chives, pinenuts, and arugula with the olive oil. Season with salt, to taste. Slather the tahini mixture across a large platter, and serve the chickpea and broccoli mixture spread out on top of it.
More Recipes
Popular Ingredients