20 Best Zucchini Recipes
A list of favorite zucchini recipes sure to put a dent in your summer squash supply.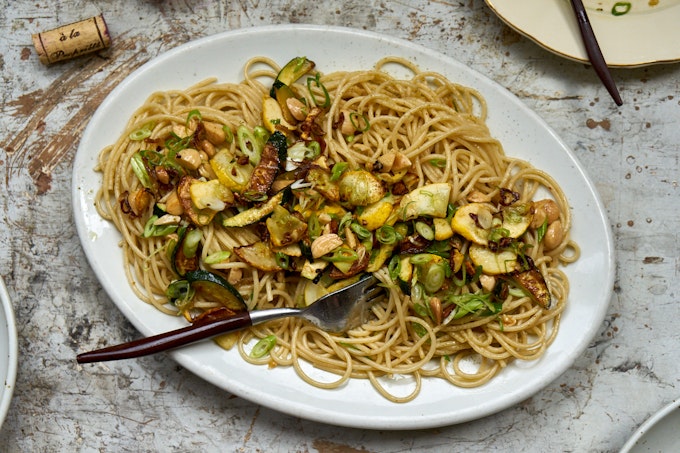 A page for those of us with bumper crops of zucchini. For any of you who don't often use zucchini, I'm hoping this will give you a change of heart! It's an incredibly versatile ingredient in season throughout the summer, from June to late August.
The Many Ways to Use Zucchini
You can shave zucchini into salads, puree it into delicious soups, spiralize it into noodles, bake it into cakes and breads, or even grate it along with other ingredients into a slaw of sorts. It's great with pasta, wonderful grilled, and welcome in many soups and stews. I'm including recipes below for my favorite ways to use zucchini.
How to Store Zucchini
Any zucchini you aren't using immediately, can be preserved, pickled or frozen for later (instructions below). Because, unfortunately, with zucchini the deal is use it or lose it. When you're faced with a crop that produces a lot of squash at once, it can feel like a part-time job to use it. The good news is you have options. 
Twenty Favorite Zucchini Recipes
If you're looking for great zucchini recipes, you're in the right place! These are some tried and true recipes we revisit often. The Pasta with Smashed Zucchini Cream and Zucchini Bread are especially popular.
Put a 2-pound dent in your zucchini supply with this bread salad made with torn pieces of toasted multi-grain bread, grilled zucchini, chickpeas, and a simple, garlic-forward ponzu dressing.
A single beautiful loaf of walnut-studded, sugar crusted zucchini bread. It's popular every year!

A summer favorite. This simple, garlic-boosted pasta uses two pounds of zucchini, and is endlessly adaptable.

Coins of zucchini are browned in a pan with toasted gold slivers of garlic combined with lots of fresh dill or scallions. Finish with a sprinkling of almonds for a bit of crunch.

They're quick to make and great to have on hand. Delicious on crusty, goat-cheese slathered grilled bread (or just about anything cheesy or crunchy) and simple salads.

Farro with shaved radishes, zucchini, and fennel tossed with a tangy herbed buttermilk vinaigrette.

A decadent, crunchy-topped summer squash gratin made from thinly sliced summer squash, potatoes, oregano pesto, and brown-buttered breadcrumbs. 
A pureed summer squash soup with a buttermilk twist. 
Made from a quirky combination of quinoa, dill, shredded zucchini, and currants - a quinoa salad from Maria Speck's book, Ancient Grains for Modern Meals. 
A favorite salad recipe from Super Natural Every Day - shaved fennel, arugula, zucchini coins, feta, toasted almonds. 
Shredded zucchini doused with a garlic infused agrodolce splash of vinegar, honey, and olive oil.
Sweet corn, zucchini and peas are off-set by a spike of green chile, a finishing dollop of creme fraiche, and generous squeeze of lime. 
A savory, summertime ricotta cheesecake recipe made with shredded zucchini, dill, garlic, and Parmesan cheese. Perfect picnic or brunch fare. 
Quinoa and grilled zucchini recipe is tossed with a pretty, pale green cilantro-flecked avocado dressing.
Vibrant green spinach and zucchini soup, it's light-and-healthy, but still creamy textured and plenty tasty.
The prettiest, tastiest, frittata recipe. Made with potatoes, onions, zucchini and eggs drizzled with a cilantro chile sauce. 
A quinoa salad made from a quirky combination of quinoa, dill, shredded zucchini, and currants. 
A vibrant, colorful Campagnian summer stew from the A16: Food + Wine cookbook. It features zucchini, eggplant, cherry tomatoes, fennel, and other ingredients braised in olive oil. 
A noodle-free lasagna baked in a pie crust - layers of zucchini, ricotta, and tomato sauce. 
An easy stir-fry featuring golden crusted, pan-fried chickpeas, chopped kale, summer squash, tofu, and a bit of lemon zest.
Have fun cooking with zucchini and all the wonderful summer squash this time of your! Experiment with different varietals and ask your neighboring shoppers at local farmers' markets to share their favorite ways to cook it. I hope this inspires you. Enjoy!
How to Freeze Zucchini
When you've used all the zucchini you can stand, and there's still more coming, freezing is a quick and easy way to store it.
Ingredients
2

pounds

zucchini or summer squash

water
Instructions
Start by slicing zucchini into 1/2 inch coins, or4-inch batons along the length. This way you maintain skin on each piece, which provide structure.

Bring a large pot of water to a boil. While the water is coming to a boil, prepare a large ice bath - the bowl of a salad spinner works well for this. Line a baking sheet thick with paper towels or, even better, a clean dish towel.

When the water boils, add the zucchini and cook for just a minute or so. The hold bright up but remain firm. Definitely avoid over-cooking.

Use a strainer or slotted spoon to quickly transfer to the ice bath. Cool well, drain well, and then Arrange the zucchini in on the towel. Blot the tops to remove any residual water.

Freeze until solid in a single layer on a parchment-lined baking sheet. Transfer to freezer bags and keep for up to a few months.

When you're ready to use it, thaw your zucchini and proceed with your favorite recipe.
Related Recipes
More Recipes
Popular Ingredients