Pineapple Rice Recipe
A nice platter of greens and brown rice doused in a spicy-salty-sweet pineapple dressing flecked with seitan. It's good hot or at room temperature.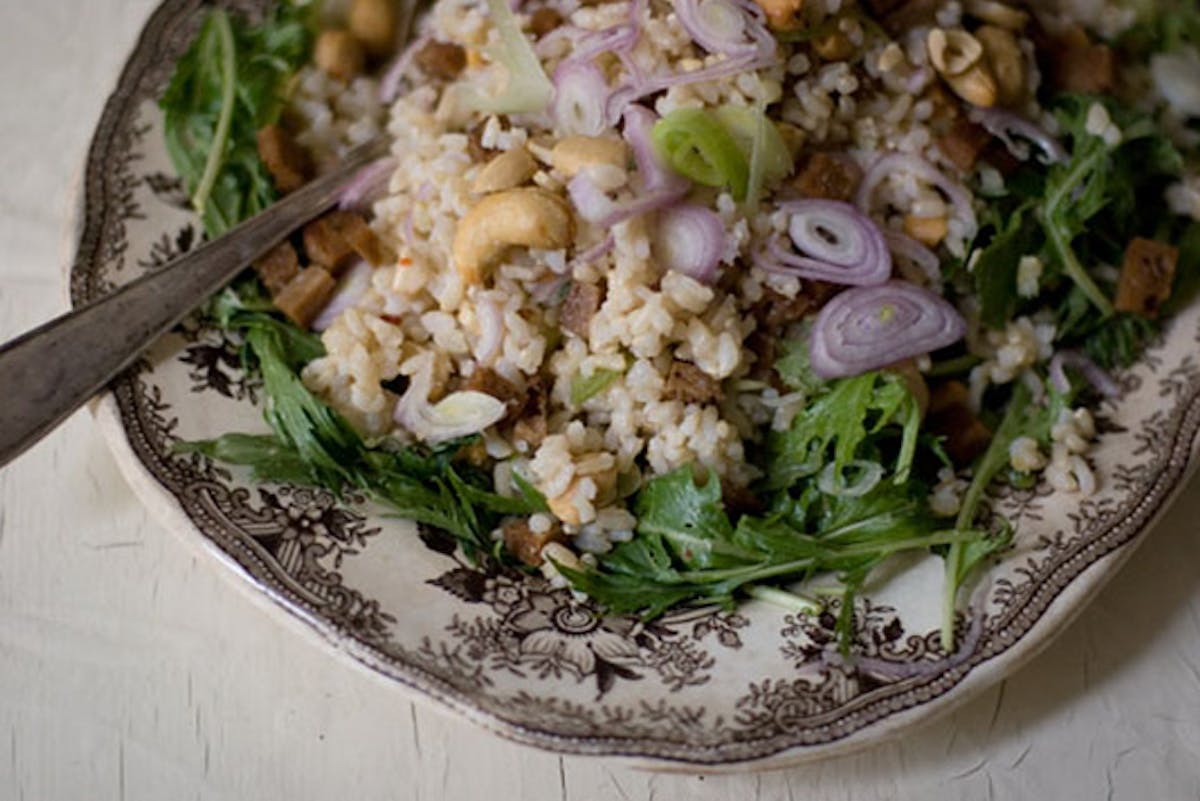 I've been to Hawaii two times. Once when I was sixteen, and again when I was twenty. Once to Maui, once to Kona. I remember it being lush and vibrant, achingly beautiful. The more miles you put between yourself and the resort areas, the better it got. I think I'd like to go back at some point, so when I realized there was an Edible Hawaiian Islands publication I subscribed to it with the hope that I'd discover farms, producers, markets and restaurants to seek out when we finally get around to going. The latest issue arrived in the mail the other night, and while flipping through it, I came across a recipe for a pineapple rice salad. I rarely cook with Hawaiian flavor profiles, but this looked too good to pass up. I had a good number of the ingredients on-hand, and ended up building on the basic concept to make a meal of it. No canned water chestnuts or peas, but I had a single can of organic canned pineapple at the back of one of my cupboards - I must have bought it with some baking endeavor in mind? Not sure. Anyhow, I'm glad I had it. In the end I had a nice platter of spicy greens and brown rice doused in a spicy-salty-sweet pineapple dressing flecked with seitan. It's good hot or at room temperature.
I used canned pineapple here along with the juice from the can, if you have access to good, fresh pineapple I encourage you to use that in the dressing. Like all fruit, pineapples have varying degrees of sweetness, so keep that in mind as you are making the dressing. Tweak it a bit here and there until it is to your liking. I like dressings for starchy salads to have a bit of strength and assertiveness - they get absorbed, and you don't want their flavors to get lost in the rice (or say, pasta).
If you're looking for alternate ways to play with these ingredients, I should also mention I did an egg-fried rice version of this with the leftovers that really hit the spot. Whipped up an extra thin two-egg omelette, chopped and added it to the skillet of pineapple rice that was re-heating. My kind of lunch.

Pineapple Rice Recipe
You can use extra-virgin coconut oil in the dressing instead of the macadamia, olive or sunflower oils if you like. In fact, it's a great choice, particularly if you'll be serving the rice hot. It solidifies at room temperature. Follow the same instructions, just don't be alarmed by the white flecks in the dressing after you puree it. They will disappear upon heating.
1/3 cup macadamia oil, olive oil, or sunflower oil
2 teaspoons toasted sesame oil
1/4 cup (fresh or canned) all-natural 100% pineapple juice
1 garlic clove
1/4 teaspoon red pepper flakes
2 tablespoons soy sauce (or shoyu)
1 cup pineapple, cut into chunks
2 teaspoons freshly grated ginger
1/4 teaspoon fine grain sea salt

4 handfuls of mizuna, watercress, or arugula

2 1/2 cups cooked brown rice, room temperature
4 green onions, thinly sliced
3 shallots, peeled and thinly sliced
1 cup cashews, roasted/toasted and chopped
1/2 small serrano chile, seeded and deveined, and minced (optional)
4 ounces seitan, cut into little bits and pan-fried (optional)
Start by making the dressing. Combine the oil, sesame oil, pineapple juice, garlic, red pepper flakes, soy sauce, fresh pineapple, ginger, and salt in a blender or food processor. Puree until smooth. Transfer to a small saucepan, and gently warm just before serving, don't simmer or boil.
In an extra-large bowl toss the mizuna with a generous splash of the dressing. Arrange it on a platter (as a bed for the rice)
You can serve the rice portion of this recipe room temperature or hot - Wayne really loved the hot version, and so did I. In the same bowl you used to toss the greens, or in an extra large skillet over medium heat, combine the rice, most of the onions, shallots, cashews and serrano chile, and seitan. Add about half of the dressing and toss well. If you are serving the rice hot, saute it in the pan until it is heated throughout. Taste, and adjust with more dressing if needed. Spoon the rice over the greens and finish with any remaining onions, shallots, cashews, and seitan.
Serves 2- 4, main vs. side.
Inspired by and (heavily) adapted from a recipe in the Summer 2009 Edible Hawaiian Islands publication.
Prep time: 15 minutes - Cook time: 5 minutes