Whole Wheat Blackberry Ricotta Scones Recipe
Whole Wheat Raspberry Ricotta Scones - golden-crusted, tender, moist, barely sweet, and streaked with violet swaths and chunks of blackberry. They're beautiful.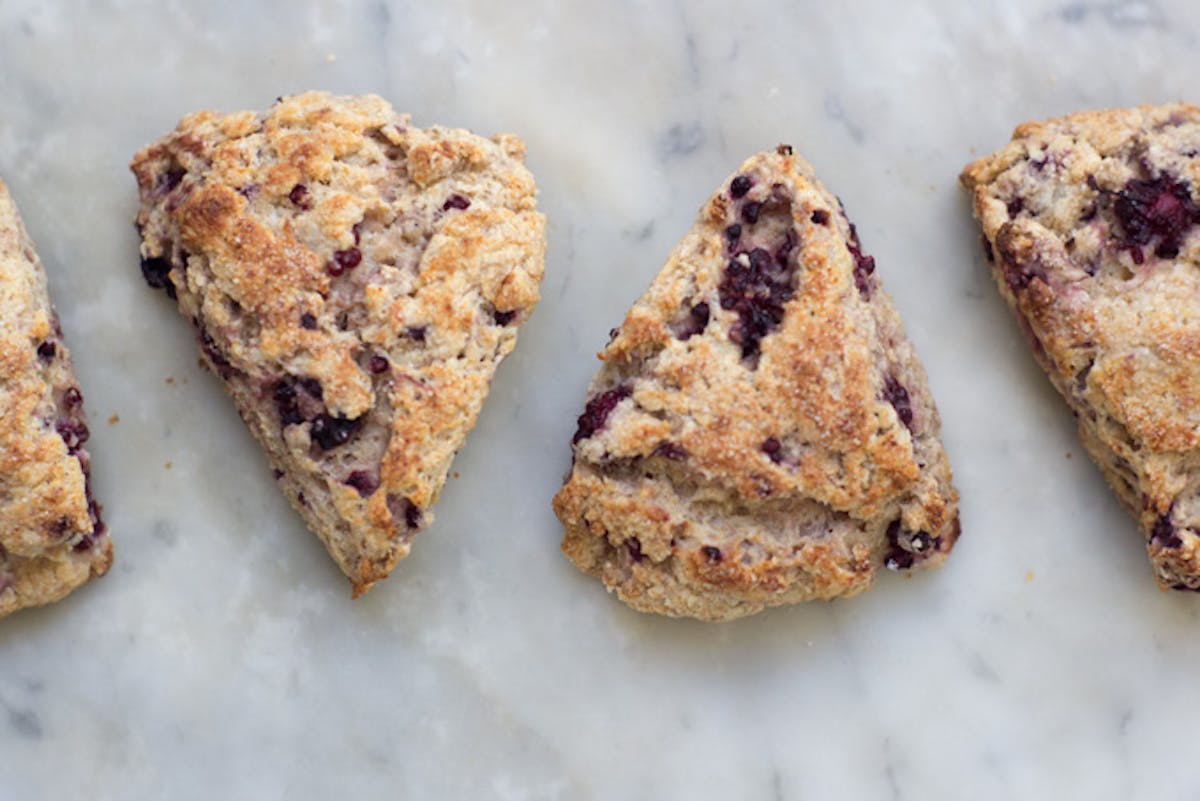 You might not think you need another scone recipe, but you do. And, although I would like to think that this is the sort of recipe I might come up with, I didn't. Deb did, it's brilliant, and it was the first recipe I tackled from her blockbuster new cookbook. I did a blackberry twist on her Whole Wheat Raspberry Ricotta Scones, and might never look back - these scones are golden-crusted, tender, moist, barely sweet, and streaked with violet swaths and chunks of blackberry. They're beautiful.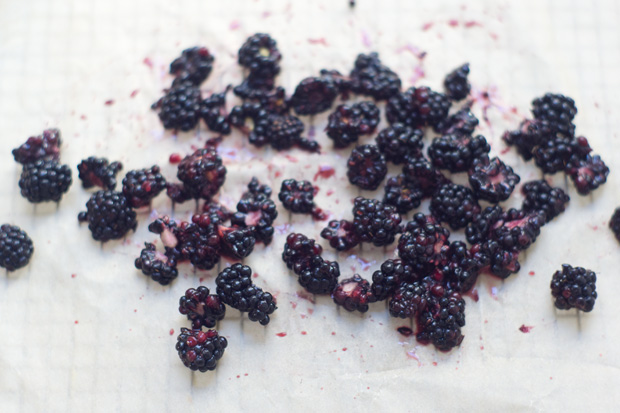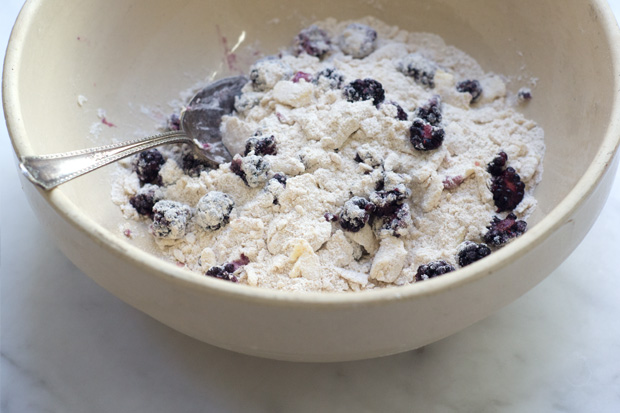 I feel like I've been waiting for Deb's book for-ev-er - in a good way. Eager anticipation. I had a bit of a sneak peek a few months ago, but that's never as good as holding the fresh-off-the-presses, crisply-bound, heavy-in-hand volume in your actual hands. Aside from the recipes, one of my favorite things about it is the secret cover, under the paper-wrap, I had my copy for days before I discovered it.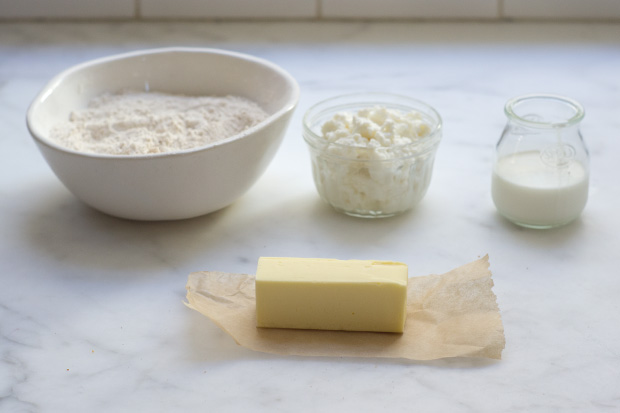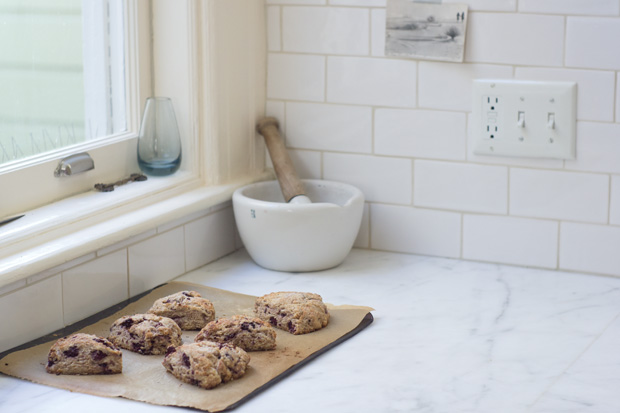 Great Scones
The scones come together in a flash, and because they bake at a high temperature, they're out of the oven before you know it. You might not think you can "throw together" scones at the last minute, but as long as you have the ingredients on-hand, you absolutely can. Deb featured these scones in her book with confetti-like flecks of pink, from chopped raspberries. They were the most charming scones I'd seen. The pink! But the blackberries at the weekend market were plump and juicy, and too good to pass up - so, I made a simple swap.

Deb uses a blend of whole wheat and all-purpose flours, which, in combination with the ricotta, keeps these scones from being dense. The one thing I think we would both emphasize is that these are particularly great served warm, after allowing a bit of time to cool and set after baking. They'll lose their magic if you let them sit around all day. If you need to revitalize them, pop them in the oven again for a few minutes.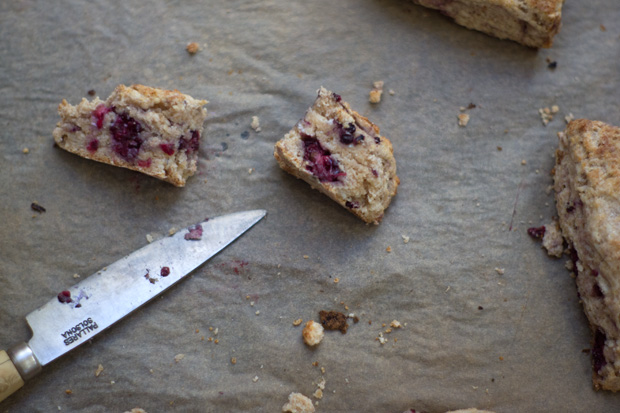 Huge congrats Deb, I would have loved to have you here to bake these with me last weekend. At the very least, having your book out on the counter felt like you were here in spirit. xo-h
Whole Wheat Blackberry Ricotta Scones
Deb uses raspberries in her recipe, but I saw some fantastically sweet, beautiful blackberries at my market this weekend, and swapped in an equal amount of those. I imagine blueberries would be a lovely substitute, or strawberries as well! Also, Deb shapes her dough into a square before cutting into individual scones, my dough wanted to go circular, so I went with it - I ended up cutting the disc shape into six large wedges. Either way!
Ingredients
1

cup

(120 grams) whole-wheat flour

1

cup

(125 grams) all-purpose flour

1

tablespoon

(15 grams) baking powder, preferably aluminum-free

1/4

cup

(50 grams) sugar

1/2

teaspoon

fine grain sea salt

6

tablespoons

(3 ounces or 85 grams) unsalted butter, chilled

1

cup

(4 3/4 ounces or 135 grams) fresh blackberries

3/4

cup

(190 grams) whole-milk ricotta

1/3

cup

(80 ml) heavy cream
Instructions
Preheat your oven to 425F / 220C degrees. Line a large baking sheet with parchment paper.

In the bottom of a large widish bowl, whisk flours, baking powder, sugar, and salt together.

With a pastry blender: Add the butter (no need to chop it first if your blender is sturdy), and use the blender to cut the butter into the flour mixture until the biggest pieces are the size of small peas. Toss in the blackberries, and use the blender again to break them into half-and quarter-berry-sized chunks.

Without a pastry blender: Cut the butter into small pieces with a knife, and work the butter into the flour mixture with your fingertips until the mixture resembles coarse meal. Roughly chop the blackberries on a cutting board, and stir them into the butter-flour mixture.

Both methods: Using a flexible spatula, add the ricotta and heavy cream to the butter mixture and stir them in to form a dough. Then use your hands to knead the dough gently into an even mass, right in the bottom of the bowl. Don't fret if the raspberries get muddled and smudge up the dough.

With as few movements as possible, transfer the dough to a well-floured counter or surface, flour the top of the dough, and pat it into a circular disk about 1-inch high. With a large knife slice into six equal wedges. Transfer the scones to the prepared baking sheet with a spatula. Bake the scones for about 15 minutes, until they are golden at the edges (hs: I couldn't help but give them a little sprinkle of sugar and a quick kiss of with the broiler for a bit of color on top). Cool on the pan for a couple minutes before transferring to a cooking rack. Allow to set and cool a bit before eating.

Makes six extra-large scones.
Related Recipes
More Recipes
Popular Ingredients