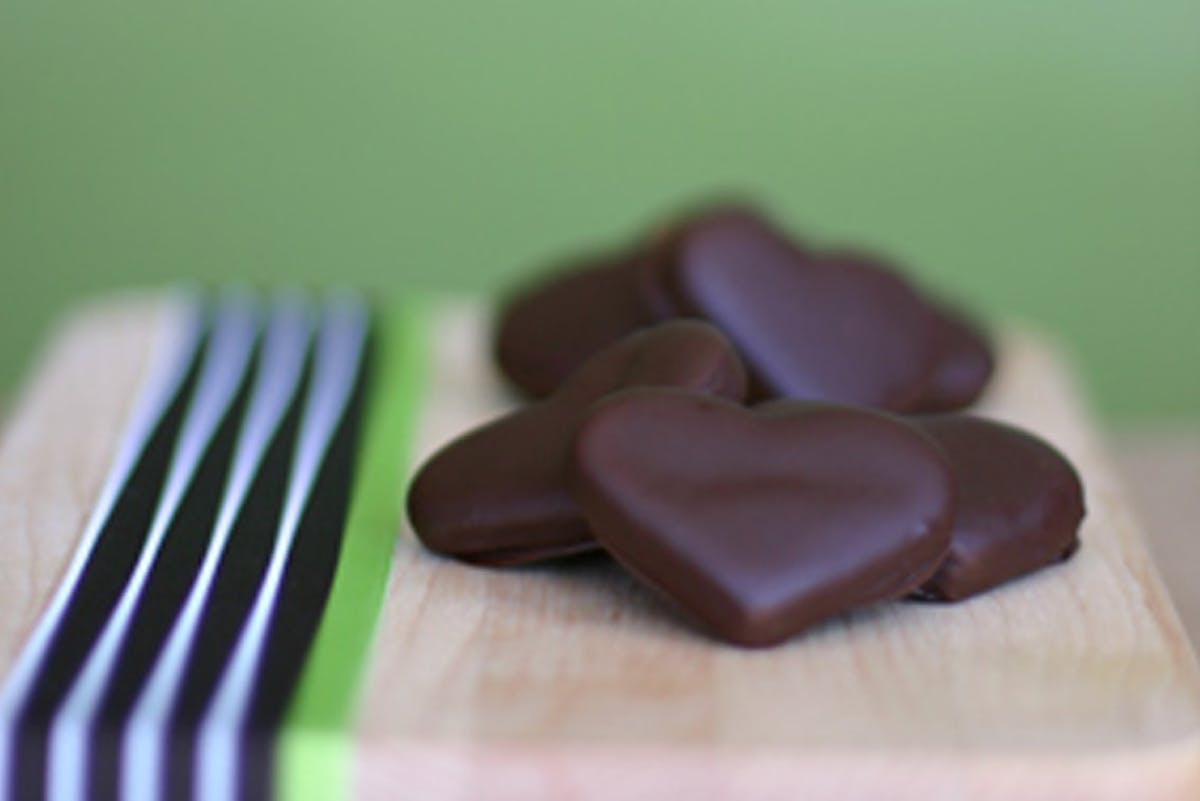 Update: I eventually did my own remix of Thin Mints (homemade and all-natural), you can get the recipe here.
It's Girl Scout cookie time of year. Tagalongs, Samosas, Do-si-dos, Trefoils, and my all-time favorite -- the Thin Mint. For $3.50 I bought a single box of Thin Mints last weekend from the enterprising Scouts who set up a card table in front of my local market. According to an article about cookies being sold on eBay in last weeks New York Times, the price of a box of Girl Scout cookies can range anywhere from$2.50 - $4.00+ per box depending on the city you live in -- Cincinatti on the cheap end, Tucson on the pricier front.
On my walk home from the store I started reading the box. When you eat 4 Thin Mint Cookies you are consuming 7 grams of fat and 140 calories*. The horror. Who can stop at just 4? Thin Mints are so small! There are roughly 63 grams of fat in a box. Ingredients include; enriched flour, sugar, partially hydrogenated vegetable oil (soybean, cottonseed oil, coconut and/or palm kernal), cocoa, invert sugar, whey, leavening, cornstarch, salt, soy lecithin, artificial flavors, oil of peppermint. I still ate some of them (well, I actually ate more than a few of them), but felt particularly bad about it. I don't eat that much processed food, and try to avoid it when possible--but childhood nostalgia is a powerful seductress even when she comes cloaked in transfats. Compare the above modern list of ingredients with an early Girl Scout cookie recipe found on their website (link has since been disabled, but here is a link to their nutritional FAQ).
Notice that the ingredient list consists of ingredients I can actually find in my own refrigerator; butter sugar, eggs, milk, flour.
According to the New York Times article, Thin Mints were the third best-selling cookie in the United States last year behind Oreos and Chips Ahoy. The spectrum of Girl Scout cookies accounted for over 200 million boxes sold. Gasp. Great article, it also goes into an explanation about how Boy Scouts keep 35% of the purchase price of their popcorn and peanuts, while Girl Scouts only take home 17%.
So it is clear there is some room for improvement on a few fronts here. I started wondering if you could make a homemade Thin Mint that could really capture the flavor, bite, and texture of the original -- and then as an added bonus, could you make it healthier?
Someone mailed me a link to this 'Top Secret Recipe'...I figured it was as good a place as any to start and so I tested it last night. Yes I was lukewarm about using boxed cake mix, and using shortening was almost a deal breaker, but I figured if this recipe worked well I could start gradually substituting and testing alternative non-processed, 'whole', ingredients. I _really_ love Thin Mints.
The Top Secret recipe is a bit unconventional, you use the cake mix to make a thick dough, roll it out, and bake off the little chocolate wafers. You then dip the wafers in a mix of chocolate, peppermint extract, and shortening.
The cookies were a smash hit, especially after half spent the night in the refrigerator, and the other half spent the night in the freezer. I gave some to a friend today and she thought they were the real deal. At room temp they lacked the signature crunch and firmness of the original Thin Mint and the chocolate coating melted onto my fingers too fast.
So, the next time around, I'm going to try and mix up my own cake mix to use as the base, Top Secret calls for a box of Chocolate Fudge Cake Mix. Betty Crocker also seems to use many hard to pronounce ingredients with lots of letters. After that, I'll tackle the shortening issue, and see where that gets us. It may take a few months.
Also, enough sweets for a while. I promise to branch out a bit, and have some suprises coming up in the next couple of months.
*For you fact checkers out there I also noticed that the information on my box of Thin Mints does not synch up with the nutritional information provided on the Girl Scout website.
Hard to imagine but the stats on their site are even more grim. In that version 4 cookies contain 9 grams of fat and 160 calories, and has a different ingredient list that includes shortening and high fructose corn syrup.
Update: I eventually did my own remix of Thin Mints (homemade and all-natural), you can get the recipe here.