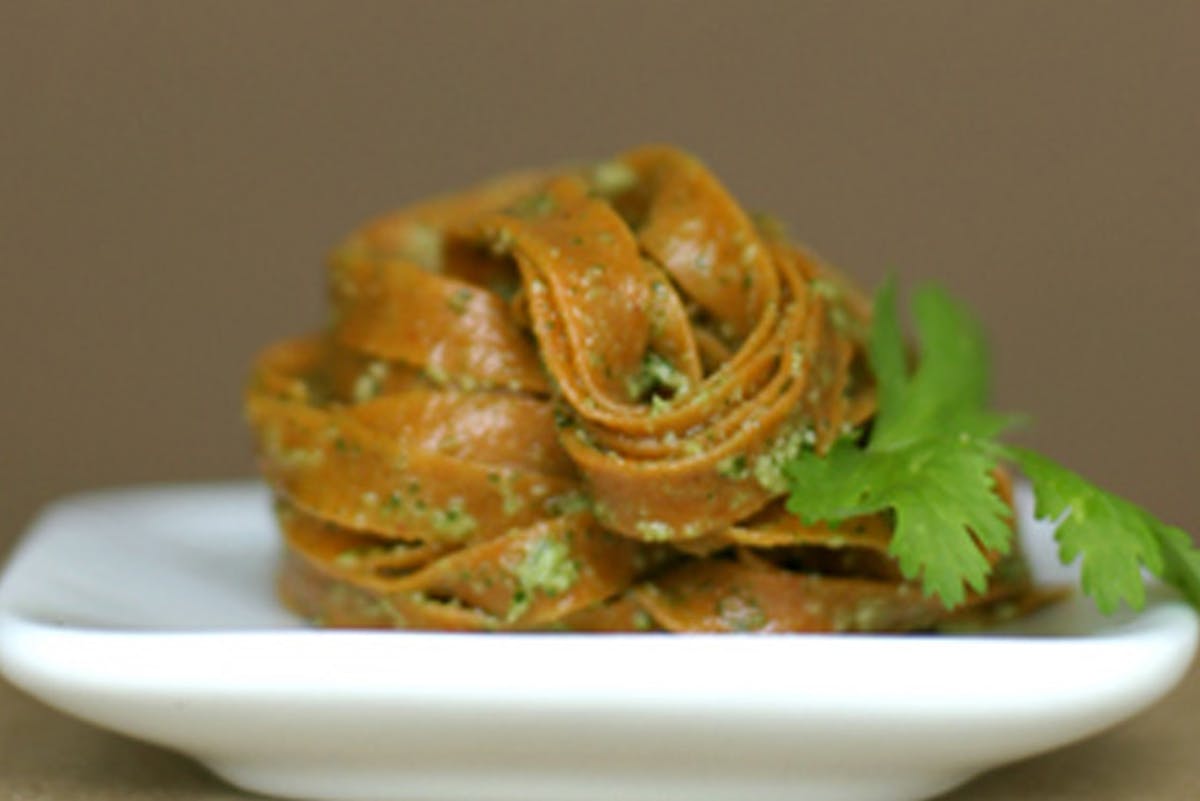 Red Chile Linguine with Pumpkin Seed Pesto Recipe
When I'm feeling particularly ambitious, I reach for this Stephan Pyles cookbook -- it is one of my favorites. Imagine a vegetarian cookbook written by a fifth-generation Texan entrenched in a region of America where there is no disputing -- cattle is king. He also happens to be a world-renowned chef. Needless to say, I was thrilled to encounter this beautiful book a few years back, filled with his take on big, hearty, flavorful Texas vegetarian cuisine.
One of the things I think people enjoy most about traveling throughout the Southwest is that you come across new interpretations of traditional dishes everywhere you go -- for better or for worse. This book embodies an experimental spirit, and all the deliciousness that can come from it. Stephan takes traditional dishes like risottos, gratins, cassoulets, pancakes, and compotes and then infuses them with the bounty of the Southwest -- chiles, beans, corn, fruits, and squashes. He covers everything from condiments to main courses, sweets to baked goods. Other recipes I have tagged to try in his book include (they all have painfully long names): Morel and Dried Cherry Empanadas with Cilantro-Walnut Pesto, Apple-Almond Chutney, Wild Mushroom-Chipotle Consomme, and Twice-Baked Sweet Potatoes with Candied Ginger and Orange.
For last night I choose to try out the Red Chile Linguine with Pumpkin Seed Pesto. If you couldn't tell by the title, I will tell you now -- making it was an all day affair. As I hinted at above, to even crack the spine on this book you have to feel ambitious because many of the recipes have substantial ingredient lists and lots of 'sub-recipes' embedded within the main recipes. I started early on the fresh Red Chile Linguine pasta, and after pumping up the pasta dough with a frightening amount of sweet paprika and some of the hot cayenne I brought back from New Mexico, I couldn't wait to taste the goods. The pesto came together in no time, toasting the nuts took longer than then time it took to prep all of the rest of the ingredients combined. I was really worried that the pasta was going to been super strong, spicy, and overpowering -- and that it would clash with the strong, distinctive flavor of the cilantro. By the time I was two hours into rolling out pasta sheets and my sinuses were cleared from the heat coming off the sheets, I was worried I would hate it.
It turns out that my worries were unfounded, the pasta was subtly spicy with the kind of heat that just sort of slowly sneaks up on you. The pesto was a fantastic, refreshing contrast to the mild, consistent base heat of the pasta. Even all you cilantro haters out there might want to try this one, as the cilantro flavor is very subtle. I think a tiny teaser plate of this linguine would be an amazing starter or appetizer and I can't wait to share it with my friends. Bonus points for it being just as delicious cold! I know becasue I keep snacking on the container of leftovers I put in the refrigerator.
Some tips for those of you who end up trying this one out:
-Make a double batch -- it is worth the extra effort, and you will have enough for a few meals.

-Don't knead the red pasta dough on a wood countertop, it will stain.

-I had good results by drying my pasta overnight. I just tossed the linguine (immediately after cutting it) in a big bowl filled with a couple inches of fine semolina flour after coating -- so the noodles don't stick to each other.Then I hung it to dry overnight.

-When it came down to the moment of truth, I only cooked the pasta for about 40 seconds and it came our perfect. I tossed it immediately with the pumpkin seed pesto and had none of the clumping problems I've encountered in the past.
Enjoy!
In some of the early entries on this site I didn't request permission to run the recipe I was writing about from the publisher so it won't appear here. The majority of entries on 101 Cookbooks will have the recipes attached, this just happens to be one of the ones that doesn't.
From: Southwestern Vegetarian Page: 119