Herb Jam with Olives and Lemon Recipe
A Paula Wolfert recipe - this is a fantastic Moroccan spread made of a thick mash of herbs and greens, accented with smokey spices, chopped olives, and lemon.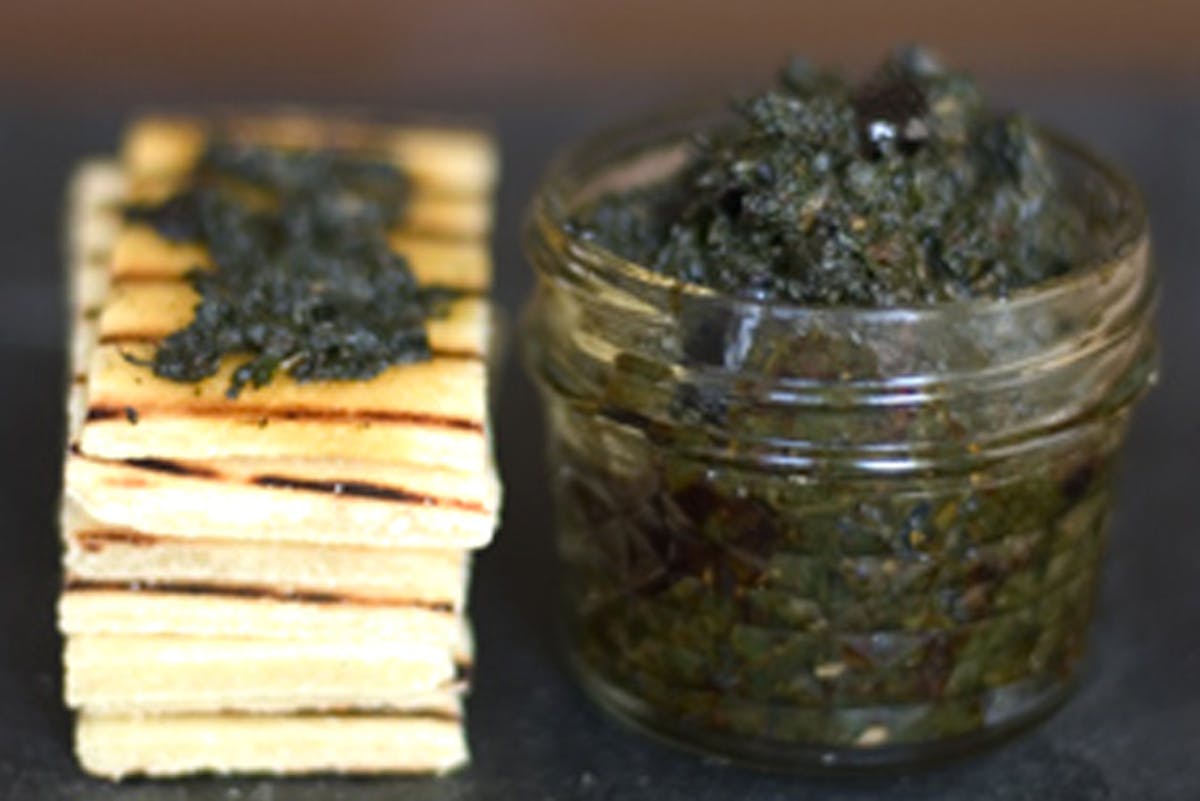 Paula Wolfert first caught my attention in the car one day, it must have been 5 or 6 years ago -- I heard her on NPR talking about finding and preserving recipes. I confess I was a bit of a late bloomer when it comes to Paula's body of work. Thinking back to all the cookbooks in our house when I was a kid, my dad always liked volumes that focused on American Midwest comfort food, straight off the farm table-type recipes (meat, potatoes, homemade breads) and of course being the 80's, we had the Silver Palate books.
I was immediately enthralled by Paula's stories of visiting villages and towns around the Mediterranean, knocking on back doors, tracking down the best local cooks, the best versions of regional dishes - she diligently recorded their approach, methods, ingredients and recipes. I loved the idea of local people inviting her into their kitchens to teach her their specialty - and not by handing her a printout or sending a fax - they would cook together. As I was driving to my office park cubicle, I decided she had the best job in the world.
I earmarked the Herb Jam with Olives and Lemon as one of the recipes I wanted to try from The Slow Mediterranean Kitchen. It is a Moroccan spread made of a thick mash of herbs and greens, accented with smokey spices, chopped olives, and lemon. In Morocco it is made with a local mallow leaf called baqqula - Paula's equivalent is a mix of spinach, celery leaves, cilantro, and parsley, all readily available in U.S. markets. I strongly suggest making the Semolina Griddle Breads (page 41) to go with it - they are easy to make - warm, buttery, and delicious.
These recipes offered up an amazing spectrum of smells. Different at every stage - the grassy smell of the olive oil as it hit the hot skillet morphed into a heady, rich, smokiness as I toasted the sweet paprika and spices. As I was making the semolina dough for the griddle breads - the nutty scent of the melted butter hitting the semolina flour let me know loud-and-clear that I was definitely onto something good here.
The Herb Jam is delicious and savory - make a double batch of it while you are at it and take it to a party or share a jar with a friend - It is that good. Season it well with the salt and lemon or the flavor with be flat and you won't like it.
A couple side notes - I didn't have a large enough basket to steam my greens in, so I just used a standard $4 double-decker Chinese dumpling steamer, and steamed the greens in two batches. Turned out fine. Paula also mentioned to me that if you cut the greens into small pieces, toss with salt, and leave in a colander for about 1 hour - then rinse and squeeze dry - you will have ample room to stir and cook all the greens at once. This is what the Greek women do to make their famous greens pies. Also, most of the celery leaves at the grocer I went to yesterday had already been lobbed off. So I poked around the celery section, and systematically picked the remaining leaves off all the bunches - was able to accumulate the 1/2 cup needed, no problem. Lastly, if you have leftover griddle breads cut them into wedges - they make a great alternative to croutons for your next salad.
Herb Jam with Olives and Lemon Recipe
4 large cloves garlic, halved
1 pound baby spinach leaves
1 large bunch flat-leaf parsley, stems discarded
1/2 cup celery leaves, coarsely chopped
1/2 cup cilantro leaves , stemmed
1/4 cup extra-virgin olive oil
12 oil-cured black olives, pitted, rinsed, coarsely chopped
1 1/4 teaspoons Spanish sweet smoked paprika (pimenton de la Vera)
Pinch of cayenne
Pinch of ground cumin
1 tablespoon lemon juice, or more to taste
Salt and freshly ground pepper
Serve with crackers or semolina bread (I made the delicious, and simple! semolina griddle breads to go with the herb jam) --The recipe can be found on page 41 of The Slow Mediterranean Kitchen.
Put the garlic in a large steamer basket set over a pan of simmering
water and top with spinach, parsley, celery, and cilantro. Cover and steam until the garlic is soft and the greens very tender, about 15 minutes. Let cool, then squeeze the greens dry, finely chop, and set aside. Using the back of a fork, mash the garlic cloves.
In a medium cazuela set over a flame-tamer or in a heavy-bottomed skillet, heat 1 tablespoon of the olive oil until shimmering. Add the mashed garlic, olives, paprika, cayenne, and cumin and stir over moderately high heat for 30 seconds, or until fragrant. Add the greens and cook, mashing and stirring, until soft and dry and somewhat smooth, about 15 minutes.
Remove from the heat and let cool to room temperature. Mash in the remaining olive oil. Refrigerate, closely covered, for at least 1 day and up to 4 days.
To serve, return to room temperature. Stir in the lemon juice and season with salt and pepper. Pack in a serving dish and serve with crackers of semolina bread.
Serves 6; Makes about 1 1/2 cups
From The Slow Mediterranean Kitchen by Paula Wolfert (Wiley, 2003) - reprinted with permission