Best School Lunch: Sicilian Broccoli and Cauliflower Pasta Recipe
This healthy, colorful Sicilian broccoli and cauliflower pasta recipe comes from chef Tracy Bates at The Oxbow School in Napa - the students there love it.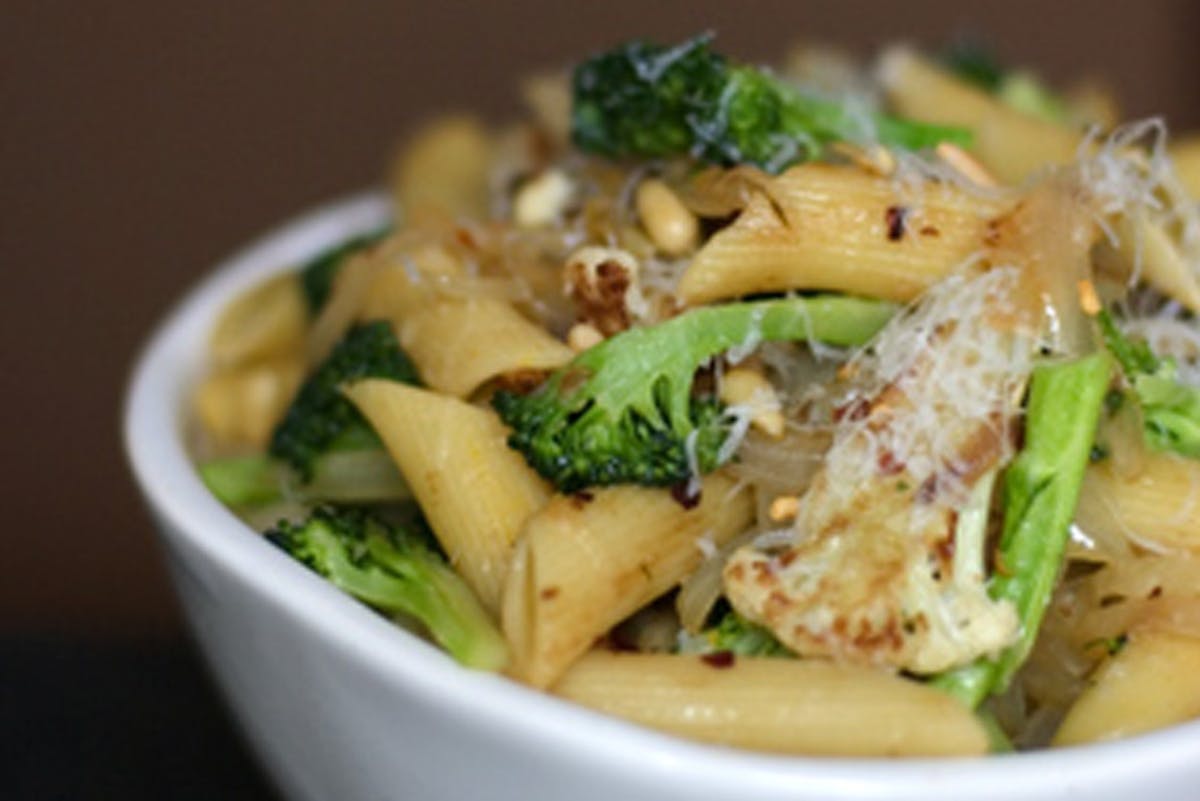 2005 Independent Food Festival Award - Best School Lunch
My favorite place in Napa, California isn't a twenty-star restaurant, it isn't an artisan olive oil producer, and it isn't a tasting room with a penchant for terroir-specific local wines. My favorite place in Napa is The Oxbow School. It is a small, semester-long boarding program for high school students combining hard-core interdisciplinary academics with the study of visual arts. In addition to top-flight academics, the school nourishes creativity through a kitchen, headed by chef Tracy Bates, that prepares food to rival many of the schools pedigreed Napa neighbors.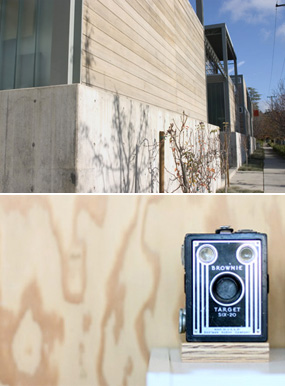 I stumbled onto the Oxbow School (just before their first class arrived) five or so years ago and have been peripherally involved with it ever since. In my mid-twenties, I worked on quite a few projects in the teen publishing space and and wanted to stay involved with teens (even if it wasn't on a professional level) moving forward. So, in regards to the school - I help out whenever I can - photography, tech support, fundraisers, whatever. One of the perks of visiting the school is that I get to share lunch or dinner with the staff and students, prepared by Tracy and her hard-working kitchen staff.
I've been itching to write about Oxbow for a long time and was waiting for the perfect opportunity. When I was contacted about giving an Independent Food Festival Award this year, I figured there would be no better time to recognize Tracy and the Oxbow School for: Best School Lunch. I'll also take this opportunity to tell you a little bit more about the school, the food, the philosophy, and how it all ties together into one unique and progressive place.
The Oxbow School sits at a bend in the Napa River - a short walk from downtown Napa, and a stone's throw from the COPIA center. Not only does Oxbow have one of the most progressive and demanding curriculums I've seen, it really tries to look at students as individuals and whole people - and a nutritious, delicious, and varied meal plan is a big part of that.
The chef: Tracy is a woman close to my own heart. Not every school is blessed with a chef coming from Chez Panisse. Tracy made the jump from the restaurant industry to Oxbow and has used her skills from the start to develop ways to expose and teach each class of students about the importance of good, simple, and thoughtfully-prepared food. Her kitchen embodies the philosophy that there are delicious alternatives to fast food. Her offerings are constantly exploring the idea that eating fresh, seasonal food doesn't mean brown rice, blah steamed vegetables, bark and twigs. There is always a vegetarian (or vegan) option, and they like to mix things up a bit with crowd-pleasing favorites interspersed with a few more exotic offerings thoughout the course of a semester. For example: Mac+Cheese and Aloo Gobi, just not at the same meal. She and I are in agreement that hands-down, there is no better way to change minds or eating habits than to feed someone a delicious alternative to fast or over-processed foods.
What I love about the food at Oxbow is that it is fresh, seasonal, unfussy, and family-style. The newly restored dining hall is bright and casual with big tall ceilings, amazing art on the walls, and it is a perfect place to enjoy a meal whether you are a student or adult - it's just a nice environment to be in.
The Oxbow garden, just outside the kitchen window supplies fresh produce and ingredients for meals. The students can participate in planting, weeding, and harvesting each week - if they are interested. The garden is able to supply everything from greens (both cooking and salad), potatoes, and tomatoes to herbs, garlic, and the last time I was up I noticed a variety of freshly planted citrus trees.
The students can also participate in the kitchen as a co-curricular activity twice a week, where they might do things like: work on knife skills, make marinara sauce (learn to work without a recipe), make ginger cake (learn how to work WITH a recipe), comparative tastings (i.e. olive oils). All activities working towards instilling a sense of respect for the food they are preparing, knowing what they are eating and where it comes from, and kitchen safety and sanitation.
The Oxbow School is a rare and unique place. Unfortunately there aren't more schools out there like it. If you are interested in getting more information about the school, or know a young person who might enjoy and benefit from a semester at Oxbow, take a look at their website.
Tracy was nice enough to give me this favorite Oxbow recipe. She says it is surprising because you would think it is a dish that students might not like - but they do. Its got savory, spicy, sweet, and earthy going on all at once. They serve it with a side of pan-fried chicken, but it makes a great entree on its own for the vegetarians. A word of caution, this is a BIG batch. We enjoyed leftovers for days - but for smaller households you might consider cutting the recipe in half. Thanks to Tracy and the Oxbow kitchen staff for a tasty recipe. I would love to see a cookbook of all the favorite Oxbow recipes sometime down the line - I would be the first one to buy it.
Sicilian Broccoli and Cauliflower Pasta Recipe
1 bunch broccoli, trimmed of tough ends
1 head cauliflower, quartered, core removed
2 medium yellow onions, sliced 1/4 inch, lengthwise
4 cloves garlic, finely chopped
A generous pinch of saffron threads
A generous pinch of red pepper flakes, more to taste
1 teaspoon fresh rosemary, finely chopped
olive oil as needed
2 tablespoons golden raisins, plumped in warm water, drained
1/2 cup lightly toasted pine nuts
1/4 cup fresh chopped parsley for garnish
Freshly grated Parmesan, to taste, about 1 cup
kosher salt, to taste
1 pound dried pasta, sturdy variety such as Penne Rigate (cooked al dente, according to package directions)
1 cup pasta water, reserved from cooking (may or may not get used, but very handy to have when putting the pasta together).
Slice the broccoli stems crosswise into 1/4 inch slices. Slice the florets lengthwise, also 1/4 inch thick. Start by slicing from the stem-end up towards the floret and when you get to about an inch and a half from the top, turn it lengthwise to slice the floret. The florets tend to fall apart, that's ok, this is a rustic dish.
Cut cauliflower into similar sized pieces as the broccoli.
Heat a large heavy saute pan or skillet over moderate heat. (The pan should be large enough to hold the broccoli in a couple of layers, but not heaping/spilling out of the pan.) When the pan is hot add a generous splash of olive oil and all the broccoli. Turn the heat up to high and add a generous amount of salt. It's important to get the seasoning in the broccoli from the start, otherwise it will be bland, taste broccoli about halfway through cooking. Stir-fry the broccoli until it is tender and browned in spots, adding more oil if needed and taste for salt. This can take about 10 minutes. Set aside broccoli (drain off excess oil if you wish)
Cook the cauliflower in the same pan, in the same manner. If the pan isn't too brown, just go straight ahead and add some oil and throw in the cauliflower. If it is too brown, rinse the pan and proceed with the recipe. Again, initial seasoning is important, so taste for salt about halfway through cooking. Add the cauliflower to the broccoli.
Using the same pan (rinse if needed), cook the onions in olive oil over moderate heat. When the onions begin to soften add the garlic, saffron, hot pepper flakes, and a pinch of salt. Be careful not to let the garlic burn. Cook mixture until the onions are tender but not brown, about 5 minutes. The onions will turn a vivid yellow from the saffron. Set aside.
To assemble the pasta:
Warm a large pasta bowl. Drain the pasta, reserving some of the water.
Toss hot pasta back into its pot and put it back on the stove on very low heat, add the broccoli, cauliflower, saffron, onions, rosemary, raisins and half of the pine nuts, and parsley. Stir to combine, adding some pasta water to the mixture. Raise the heat a bit to bring it all together. Taste for seasoning.
Turn into the warm pasta bowl and top with remaining parsley, pine nuts and a generous handful of Parmesan. Serve immediately with more Parmesan on the side. Whew!
Serves 8-10.