Heirloom Tomato Tart in a Parmesan Crust Recipe
A knock-out tomato tart recipe - it highlights the flavor and vibrancy of the tomatoes while remaining mush-free.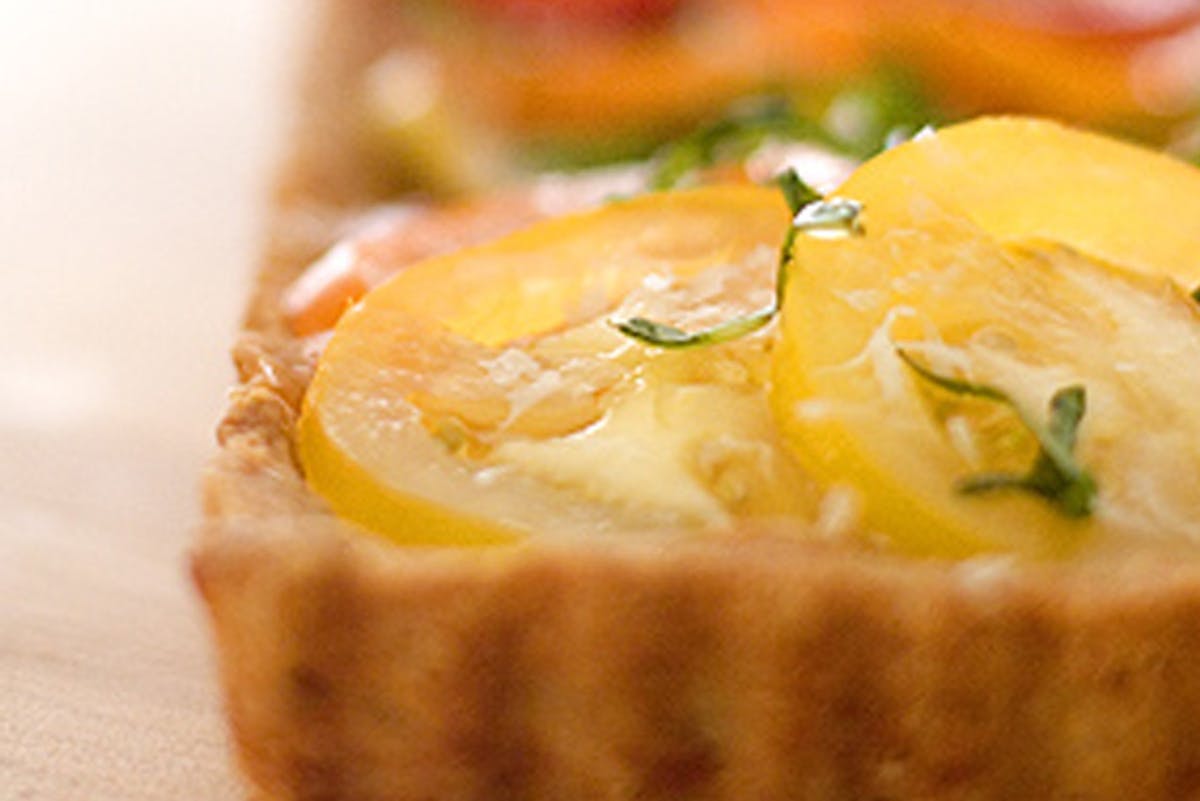 Admit it. The last time you tried to make a tomato tart you ended up with a sad, soggy crust. After being sliced, tomatoes have a tendency to seep liquids and turn the flour in your crust into a pasty sludge. If that wasn't enough - after cooking, a tomato-heavy tart can morph from looking pretty good in the oven into a pile of steaming tomato mush on your counter before you can say Brandywine.
We get an amazing range of heirloom tomatoes in San Francisco this time of year, and though it took me some time (and quite a few failed attempts) I've finally worked out the bugs and now have a recipe for a knock-out tart. It highlights the flavor and vibrancy of the tomatoes - while remaining structurally sound and mush-free.
The crust in this recipe is a mix of equal parts flour, butter, and cheese. I use Parmesan, but you could also play around with other hard, grated cheeses (asiago, aged gouda, etc). You pre-bake it and the smell of golden toasted cheese permeates the entire house. It is a simple platform for the tomatoes, but the spike of cheese flavor is just enough to compliment perfect tomatoes.
I leave the tomatoes uncooked. You could certainly suspend the tomatoes in some sort of quiche-type filling and cook them - but that is no way to push the tomatoes to the forefront. So I leave my tomatoes rinsed, sliced, and raw. The key is to salt and let them drain on paper towels for a few minutes before using them. Then assemble the tart just before serving as you would a salad.
Heirloom Tomato Tart in a Parmesan Crust
This recipe will make one 9 or 10-inch tart OR five 4 1/2-inch tarts.
6 perfect, colorful, medium-sized heirloom tomatoes - washed and sliced 1/6-inch thick

1 t. fine-grain sea salt
1/2 cup unbleached all-purpose flour
1/2 cup whole wheat flour

1/2 cup unsalted organic butter, well chilled + cut into 1/4-inch cubes

4-ounce chunk of good fresh Parmesan, microplane-grated (you should end up with about 2 cups loosely packed grated cheese. Save any leftover grated cheese for sprinkling on the crusts when they come out of the oven.

2 T. ice cold water
2T. best quality extra virgin olive oil
1/4 cup slivered basil

Special equipment: tart pan(s), pie weights, paper towels
Preheat the oven to 350˚F.
Prep the tomatoes:
To avoid a soggy crust later on, you need to rid the tomatoes of some of their liquid. Clear a space on your counter and put down a double layer of absorbent paper towels. Place the tomatoes in a single layer on the paper towels and sprinkle them with about 1 teaspoon fine-grained sea salt. Top the tomatoes with another layer of paper towels and press gently. Let the tomatoes sit here until you are ready to use them.
Make the tart crust(s):
Place both flours, butter, and Parmesan in a food processor and pulse quickly about 25 times. You are looking for a sandy textured blend, punctuated with pea-sized pieces of butter. With a few more pulses, blend in the 2T of ice water. The dough should stick together when your pinch it between two fingers. Pour the dough into the tart pan. Working quickly, press the dough uniformly into the pan by pressing across the bottom and working towards the sides and up to form a rim. Place in the refrigerator and chill for 15 minutes.
Bake the tart crust:
Pull the tarts out of the refrigerator and poke each a few times with the tongs of a fork. Cover the tart with a square of aluminum foil and fill generously with pie weights. Place on a baking sheet and slide the tart onto the middle rack in the oven. Bake for 15 minutes, pull the shell out of the oven and very gently peel back and remove the tinfoil containing the pie weights. Place the uncovered tart back in the oven, weight free, and allow to cook for another 10 minutes, or until it is a deep golden brown in color. Remove from the oven and sprinkle with a little shredded Parmesan (this will act as another barrier to the tomato liquid). Let cool to room temperature before filling.
Assembling the tart: Just before serving, arrange tomato slices in a concentric pattern inside the tart shell. Drizzle with your best quality extra-virgin olive oil, and sprinkle with the slivered basil. Serve at room temperature.