Tip Top Melon Sherbet Recipe
This melon sherbet recipe is all-natural, and refreshing. The addition of honey gives it a richness and depth of flavor that you don't normally get when you use refined white sugar.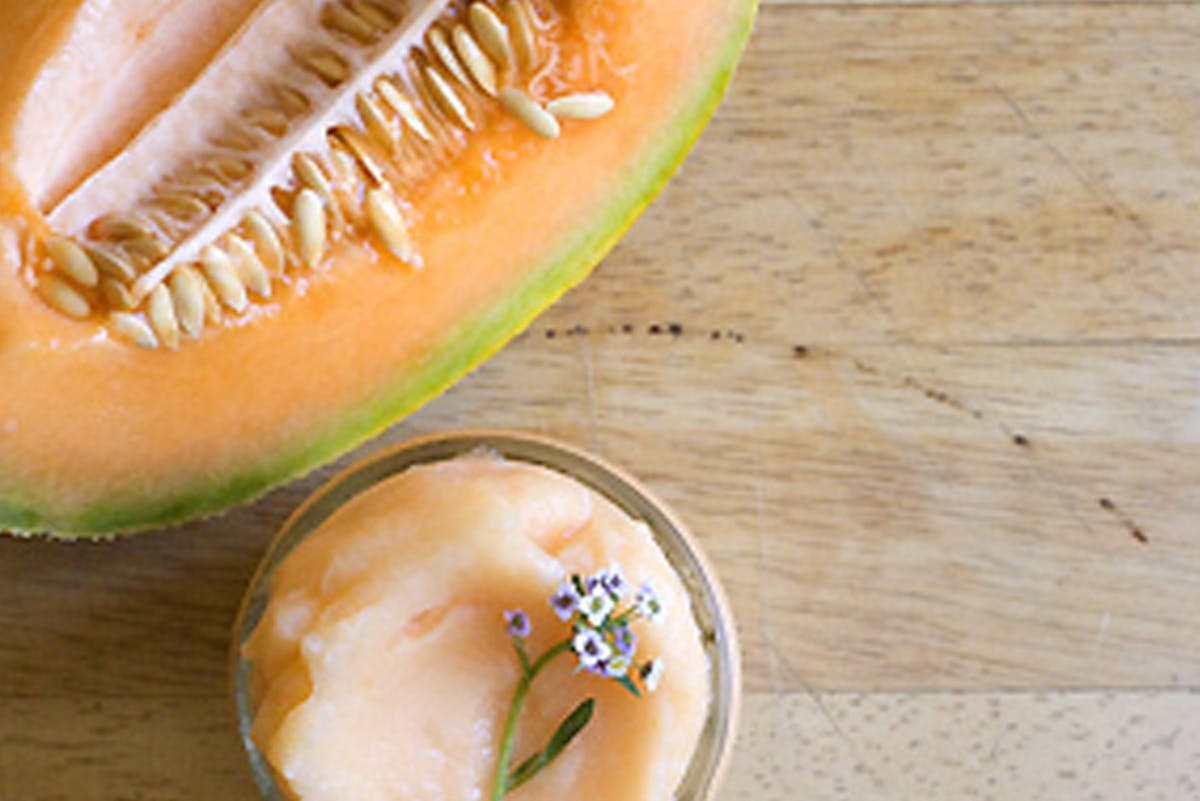 My dad showed up to brunch at my house on Saturday morning with a 50-pound commercial gelato maker in tow. My sister showed up with a 5-pound Bernese Mountain puppy. I supplied the crepes and they supplied the entertainment (peeing puppies) and living-room product demonstrations.
My dad purchased the "Simac Il Gelataio Electric Ice Cream Man Maker" off eBay. He said he paid $123 plus $35 dollars shipping. To call this a countertop ice cream maker would be a stretch to say the least. It has the footprint of a medium sized microwave oven. The slightly beige plastic indicated to me that this might be an older model, and the knobs look like something off a child's toy. I stopped making fun of him after I took a bite of his rum-raisin gelato. Record scratch. This was some of the richest, creamiest gelato I've ever had. He whipped up his base ingredients at home and shuttled them to my place gingerly placed in an igloo cooler box - the rum soaked raisins bathed in their own little container for the ride into the city.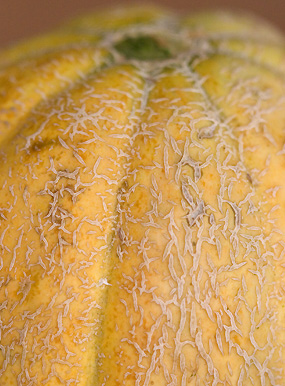 I told my dad I would send him more freezer-friendly recipes to keep the Simac dust-free. This one was inspired by a trip to the Marin/San Rafael Farmer's market on Sunday where I tracked down two beautifully ripe and sweet orange-fleshed melons. I asked the farmer to give me melons that were just on the verge of being overly ripe - with the hope that they would be perfect for making sherbet. With melons like these I always let my nose tell me which one to take home, they should be intoxicatingly aromatic. I opened my favorite melon book, and tried to decipher exactly what I had. While any juicy orange or green-fleshed melon will work with this recipe, based on the distinctly ribbed rind, and sporadic netting, it looks like I had two Tip Tops - known for their juicy, sweet flavor and flesh that is edible nearly all the way to the rind. This sherbet is all-natural, and refreshing - the addition of honey gives it a richness and depth of flavor that you don't normally get when you use refined white sugar.
Tip Top Melon Sherbet Recipe
1 pound of juicy, extra-ripe, orange-fleshed melon
1/4 cup mild flavored honey (needs to be fluid, and you might use a bit less depending on the sweetness of the melon)
1/2 cup organic whole milk
generous pinch of salt
Cut the melon flesh from its rind into a medium bowl and puree with a hand blender. You will need 2 cups of puree.
Add the milk, and salt. Now you want to sweeten to taste. If your honey is in a solid or crystallized state you need to dunk the jar in a bowl of warm water until it is liquid again. This way it will mix easily with the rest of the ingredients. Start by blending in 2T. of the honey and taste. If you think the mixture needs to be sweeter, add more honey. Keep in mind you want the honey to bring out and complement the flavor of the melon, not overpower it.
Pour into an ice-cream maker, and freeze according to the manufacturer's instructions.
Serves 4 to 6.