Liquid Nitrogen Ice Cream Recipe
A liquid nitrogen ice cream recipe - it uses a vanilla base, and makes a wonderfully creamy ice cream.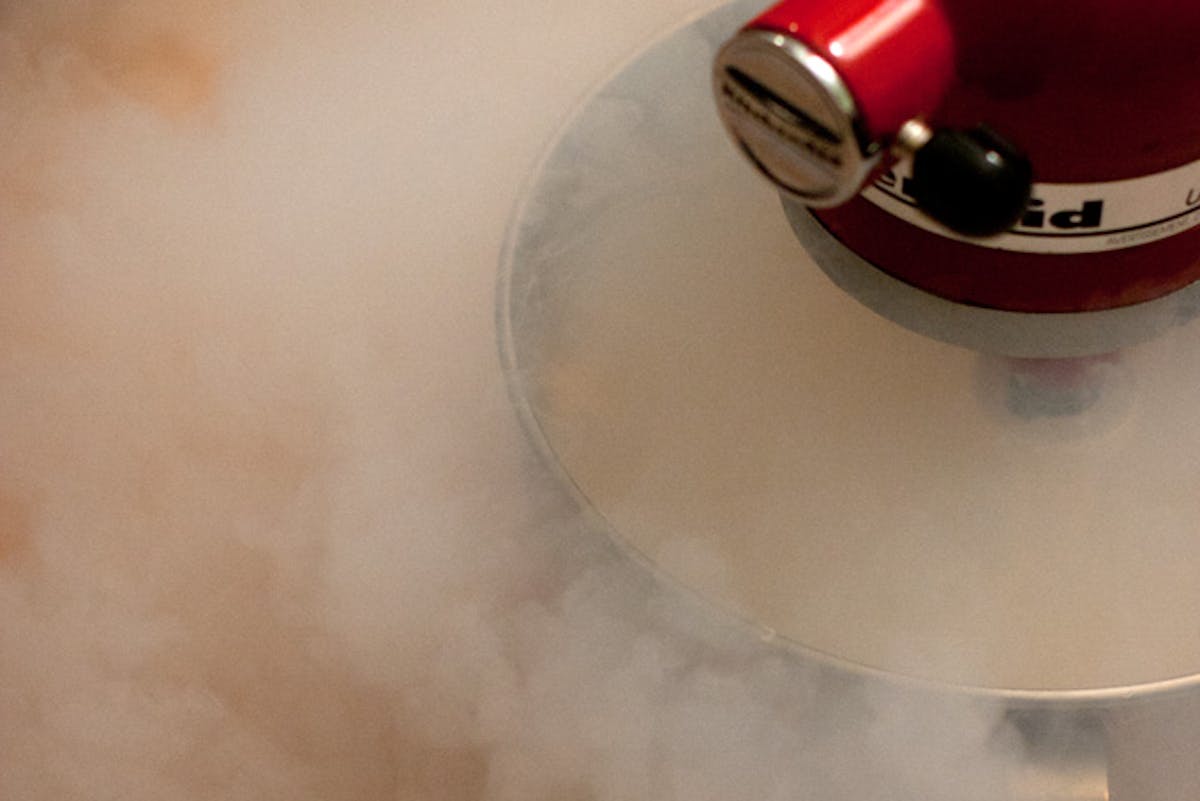 This liquid nitrogen ice cream recipe is a bit of a departure for me - as anyone who reads this site regularly will recognize. I wasn't much of a science geek in college. At the time I was more interested in apertures than atoms, cyanotypes over cryogenics, and vignetting before viscosity. My interest in chemistry pretty much started and stopped in the photography lab. So, it is with a bit of wide-eyed wonderment and curiosity that I observe the molecular gastronomy movement. Watching what is going on is both exciting and intimidating - the laboratory is melding with the kitchen and vice versa. A whole new vocabulary of textures, tastes, and techniques is emerging and evolving.
A friend of a friend showed up at a recent cooking night with a hardcore, four foot tank of liquid nitrogen. What might one do with a giant tank of liquid nitrogen? LN2, for those in the know, btw. Make liquid nitrogen ice cream, of course.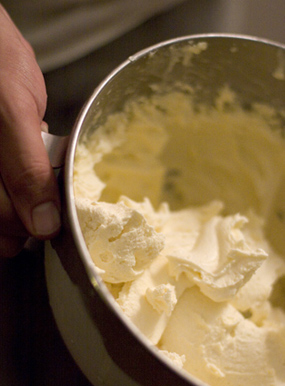 Liquid Nitrogen Ice Cream - creamy!
I needed a play-by-play explanation. Apparently many school-aged kids make liquid nitrogen ice cream as part of elementary-school science lessons. My school however, never made it beyond shaking cream in a jar with a marble to make butter - the year after that we sprouted lima beans.
To make liquid nitrogen ice cream you start with an ice cream base in a metal mixing bowl. Fire up the mixer (Kitchen-Aid was in use here) at low-med speed. Pour the liquid nitrogen into the bowl a bit at a time as the mixer is running. It freezes up ever so creamy and beautifully.
Will I die if I eat it? I asked that. I also asked a host of other questions. Are those plumes of Halloween-looking smoke coming off the bowl going to gobble up all the oxygen in the room? Are we all going to go to sleep and never wake up? You really, really, need to be careful with this stuff - do your homework and really get up to speed on the proper way to handle it (some starter links below). You need to treat it as seriously as you would a deep fryer filled with hot oil and the like. You like your fingers, right? LN2 can cause them to shatter. Imagine what it could go if you got it in your eyes. Survival instincts aside, I savored every bite of the ice cream.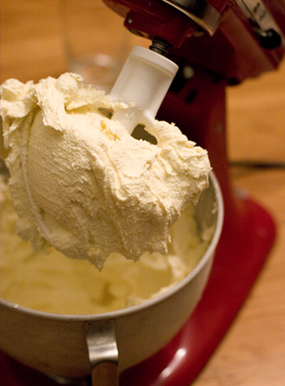 Liquid Nitrogen Ice Cream Recipe
There are lots of chefs playing around with LN2 in the kitchen. If jumping into the molecular gastronomy pond is something that piques your interest, liquid nitrogen ice cream seems like a good gateway recipe. Not sure if I see myself going down to the local welding supply shop to stock up on it, but I understand the allure.
There is an great eGullet thread on cooking with liquid nitrogen. It covers safety considerations, LN2 experiences, and input from people using it in their own kitchens. Also, be sure to read this materials sheet on liquid nitrogen.
One of the things I'm curious about and don't have a good (or well-founded) sense of, is how these "extreme" culinary techniques impact the nutritional or beneficial properties found in food. When I say extreme I mean the extreme fast freeze brought on by liquid nitrogen, or the chefs using lasers - that sort of thing. My sense is that these types of techniques are tough on (natural) ingredients. I have a good sense of what high temps can do to beneficial essential fatty acids (like those found in nuts or unrefined nut oils), or to the phyto-nutrients in fruits and vegetables - and it's not always pretty. I'd love to open this up for discussion.
I'll include the base recipe for my favorite vanilla bean gelato below, I suspect it would pair quite nicely with a tank of the cold stuff. Let me know.
Need more? Here are some links:
Material Safety Data Sheet for Liquid Nitrogen
- Mark Powell's Food Hacking site is. the. best. Super inspired and inspirational.
Keep an eye on Miss Louisa Chu, she is always posting great first-hand accounts from the food science front. Have fun poking around her archives.
- Molecular Gastronomy Resource List courtesy of A La Cuisine.
- Molecular Gastronomy through the Wikipedia lens
- For the cook that really has everything - the anti-griddle
Liquid Nitrogen Ice Cream Recipe
heidi notes: This is a nice, creamy gelato-type base. Infuse it, add stuff, get creative. I wrote this recipe a few years back - I tend to use arrowroot instead of cornstarch as a thickener in recipes that need it (it is usually less-processed than cornstarch). But because I haven't tested arrowroot in this base, I'll give you the cornstarch version. If you use this as a base for liquid nitrogen ice cream, please read up on the safety precautions that must be observed when handling LN2.
4 cups whole organic milk
1 vanilla bean, split
1 cup sugar
3 tablespoons plus 2 teaspoons cornstarch
1 teaspoon vanilla extract
Place three cups of the milk in a saucepan with the vanilla bean over medium-low heat.
Meanwhile, pour the remaining 1 cup milk into a large glass measuring cup. Add the sugar and the cornstarch. Mix well.
When the milk starts to simmer, remove it from the heat and pour in the cornstarch mixture, stirring the whole time. Return the saucepan to medium-low and stir, stir, stir, until things start thickening up, 10 to 12 minutes. It should end up thicker than, say, a runny milkshake, but thinner than a frosty one.
Pour the mixture through a strainer into a mixing bowl, whisk in the vanilla extract, and let it cool on the counter for 20 minutes or so. I like to then chill it in the refrigerator for a few hours or overnight until it is completely chilled.
Now you are ready to place this mixture in a metal-bowl mixer and do the liquid nitrogen thing (see above links and do your safety reading and research first), or you can just freeze this using the manufacturer's instructions on a standard ice-cream maker.
Serves 6.