Whipped Chickpea Hummus Recipe
Actually two different takes on hummus. One with an Italian twist, and one a lovely shade of green from the incorporation of a bit of sauteed spinach.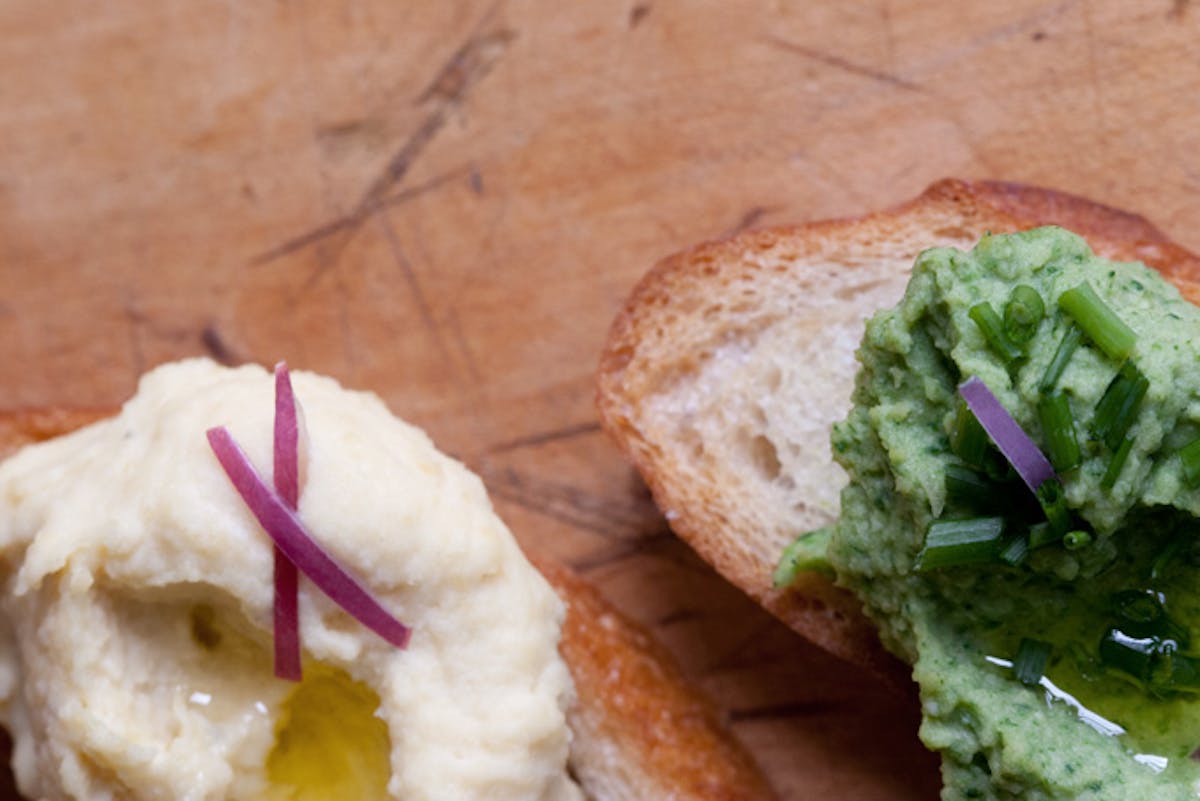 Dipping your toe into the vast culinary pond can be intimidating. People start by testing the waters with easy, party-type fare like salsas, spreads, and simple-to-prepare dips like hummus. Along with being easy to make, hummus is also a great example of what I'll call a gateway recipe. Gateway recipes can lead to an intense desire to tackle other recipes - each more hard-core than the last. Start making hummus, and before you know it you're neck-deep in tagines and Paula Wolfert cookbooks.
The foundation for hummus is the pug-looking, nutty-tasting chickpea. Add tahini, lemon juice, olive oil, fresh garlic, salt, and a few hundred laps around the inside of a blender - you've got a batch of this middle-eastern classic. I love hummus. I love garbanzo beans -but I can't help but look for fresh twists on both.
My friend gave me a copy of Judith Barrett's Fagioli cookbook. For those of you who have witnessed my bean buying patterns in person, you know this addition to my library is long overdue. The book focuses on the bean cuisine of Italy and delves into Ital-centric preparations of fava, cannellini, borlotti, and chickpeas (ceci), among others. There are some great recipes, and techniques in this book - one recipe in particular caught my attention - Whipped Chickpea and Potato Spread for Crostini - a whipped chickpea 'hummus' of sorts.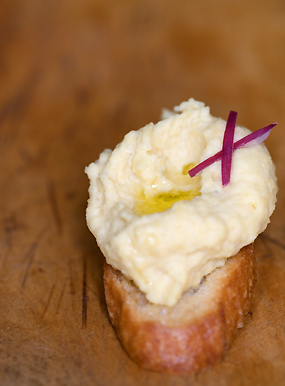 Judith Barrett's Whipped Chickpea Hummus
Judith purees chickpeas with a cooked new potato, a bit of red onion, olive oil, and seasonings. Think of it as Italian-style hummus. Sounds good, right?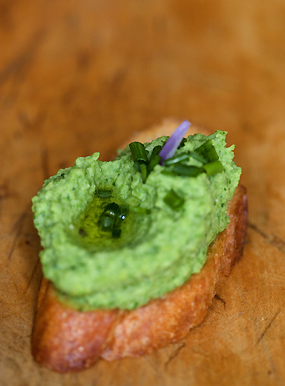 Spinach and Whipped Chickpea Hummus
I made her version and decided to build on it for my second batch. I added lemon zest, a spike of lemon juice, and a generous dose of one of my favorite power greens, Spinach. I also kissed the crostini with a bit of garlic. The green chives got a bit lost on top of the spinach chickpea whip. Next time I'll go back to garnishing with pretty slivers of red onions.
If you can make hummus, you can make these. Give them a shot at your next party.
Whipped Chickpea Hummus Recipe
A remix of Judith Barrett's version - Fagioli, page 36. hs note:I like the taste and texture of beans cooked from scratch, but I don't see why you couldn't make this using canned chickpeas. Start with two 14-ounce cans, drained and rinsed. Cook the potato on its own. This should get you in the ballpark.
Crostini:
1 sweet baguette, cut into 1/4-inch thick slices
3 tablespoons olive oil
a couple pinches of salt
1 large garlic clove, peeled.

Chickpea spread:
1 cup dried chickpeas, rinsed and picked over
1 small new potato (Yukon Gold, Yellow Fin, etc), peeled and quartered
5-6 handfuls of spinach, washed well

1 small red onion, chopped
zest of one lemon
juice of 1/2 lemon, approx.
salt and pepper
1/4 cup extra virgin olive oil
warm water
chives for garnish (opt)
Prepare beans and potato:
Soak the garbanzos overnight. Drain soaking liquid, and refill with enough water to cover the beans by about an inch. Bring water to a boil, reduce heat, and allow to simmer until beans are tender. Add the potato to the pot (or cook it in another water-filled) until tender, another 10 minutes or so. Drain any extra water at this point and set beans/potato aside.
Make crostini:
Preheat oven to 350. In a large bowl toss the baguette slices with the olive oil and salt. Arrange in a single layer on a baking sheet and place in the oven until golden, about 10 minutes. Remove from oven, let cool for a couple minutes and rub each crostini with the clove of garlic - don't go overbboard, raw garlic is strong!
Add a splash of olive oil to a hot skillet, and throw in the spinach. It should collapse within 10 or 20 seconds. Immediately remove from heat and salt to taste.
Combine the chickpeas, potato, spinach, 1/4 cup red onions, lemon zest and juice, and a few big pinches of salt in a food processor. With the machine running drizzle in the olive oil. Chances are your mixture is on the dry side at this point and you may need to add warm water a few tablespoons at a time until the spread is a rich, creamy consistency. Season carefully, if you under salt the flavor will be flat. If you need more acidity, and a bit more lemon juice.
Put a spoonful of the spread on each crostini. Finish with a drizzle of good-quality extra-virgin olive oil, and a sprinkling of the red onions.
Serves many.