Cheesy, Heirloom, Panini Batons Recipe
One-inch wide slabs of toasted, cheesy, heirloom tomato filled deliciousness slathered with a basil-chive ricotta spread.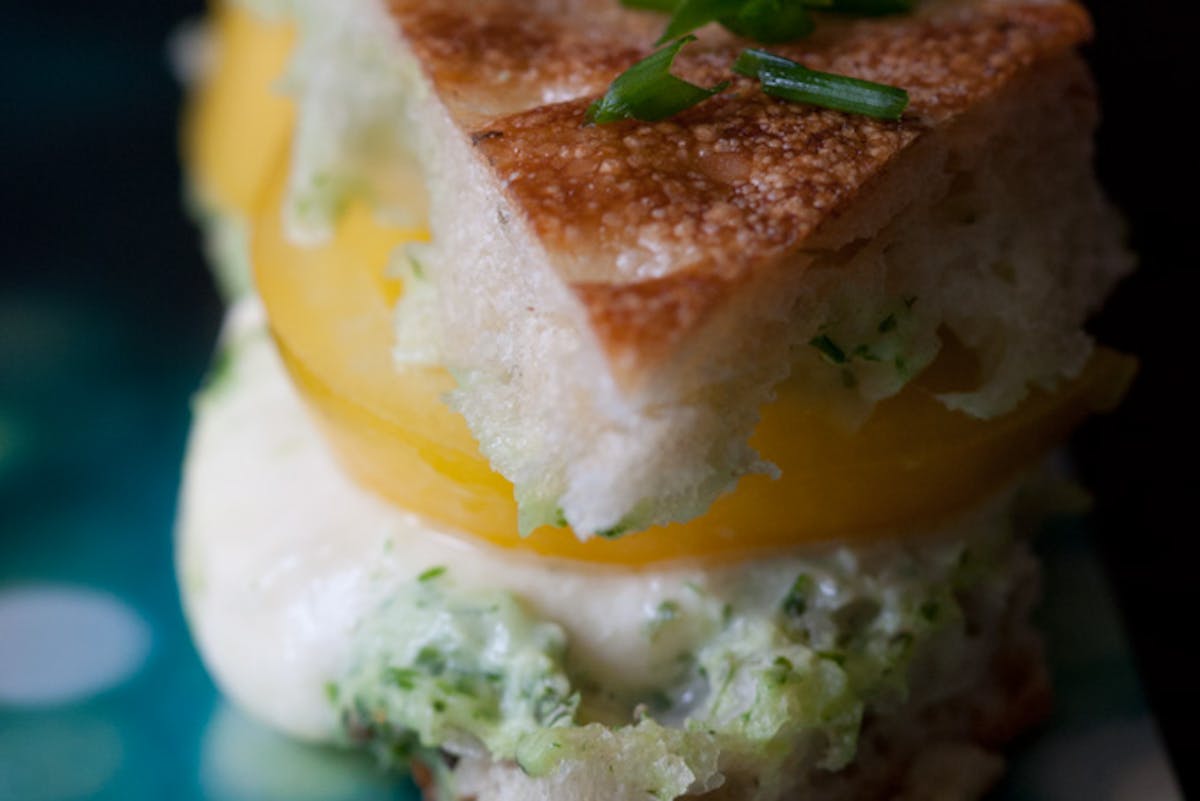 Today for lunch instead of making a regular panini I decided to try making panini batons. One-inch wide slabs of toasted, cheesy, heirloom tomato filled deliciousness slathered with a basil-chive ricotta spread. I figured by cutting them just one-inch wide they would be easier to eat (one handed!) and maybe they could make a nice addition to an appetizer plate at some point. If you were wondering where the inspiration came from, here's the story...
Over the past year, as I've been developing recipes for my next cookbook, a couple themes have emerged. One involves the way you cut ingredients. I've found that one of the ways you can breathe new life into an ingredient you've grown tired of is to think about new ways to approach it with a knife. It's sort of stating the obvious but I'll say it anyway - by changing the cut and shape of an ingredient you impact its cooking time, texture, mouth feel, and appearance.
You can do it on the ingredient level. Choose an ingredient that you like but are perhaps bored with and then make a list of ten ways (or more) that you can take a knife or sharp object to it. Here are a few ideas to get the juices flowing - mince, chop, dice, slice, sliver, grate, snip, score, or shred. Then think about what you can do with it the ingredient in that form. Ever shred a cherry on a box grater? I haven't, but now I'm thinking about it.
Cross-section of panini.
You can also do it at the serving and plating level. Change up shapes, use cutters, play with varying sizes and take traditional, everyday preparations out of the realm of the obvious and expected. Have fun!

Cheesy, Heirloom, Panini Batons
Headnotes: Add and egg or two to the ricotta spread (make a double batch) and you have a delicious addition to your next lasagne on your hands. As is, it makes a nice cracker or crostini spread or ravioli filling as well. You can make the ricotta spread ahead of time.
Also, I've retired the panini maker for now and have recently been putting sandwiches in my big skillet and weighing them down with the lid from my heaviest Le Creuset pot. The pressure goes straight down so you don't end up with the tops pushed off the panini - this always happens to me with my panini machine. Lastly, I don't cook the tomatoes along with the rest of the sandwich because I like them to keep their structure.
1 clove of garlic
2 tablespoons of extra-virgin olive oil
1 cup ricotta cheese
1/2 cup fresh basil
1 bunch of chives
1/2 teaspoon fine grain sea salt

Mozzarella (preferably water-packed)
Small heirloom tomatoes, sliced 1/4-inch thick
1 flat slab of ciabatta, sturdy foccacia bread, or comparable
Salt and pepper
Make the basil-chive ricotta spread by combining the garlic, olive oil, ricotta, basil, chives, and salt in a food processor until mixture turns pale green, about 15-20 seconds. Set aside.
Cut the slab of bread into one-inch thick strips and then in half horizontally so that each strip can be made into a sandwich baton. Sometimes there is too much bread going on in the middle and I'll thin it out by trimming it closer to the crust on both sides.
Drain the mozzerella on a paper towel and season with a few pinches of salt and freshly ground pepper. Slice into 1/4-inch thick rounds. The mozzerella should go on the bread without much overhang, so cut each round in half if needed.
Drizzle the tomato slices with a bit of olive oil.
To assemble each panini, slather both the tops and bottoms of each bread baton with the basil-chive spread and then add a few pieces of mozzerella. Put the tops on and place in a skillet (see above) over medium heat or in your panini maker. Cook until the cheese is nice and oozy.
Remove from the pan open each baton and add a few sliced tomatoes. Close up and enjoy.