Lemon-scented Quinoa Salad Recipe
An impromptu quinoa salad recipe made by tossing a quick tahini dressing with chickpeas, red onion, and cilantro.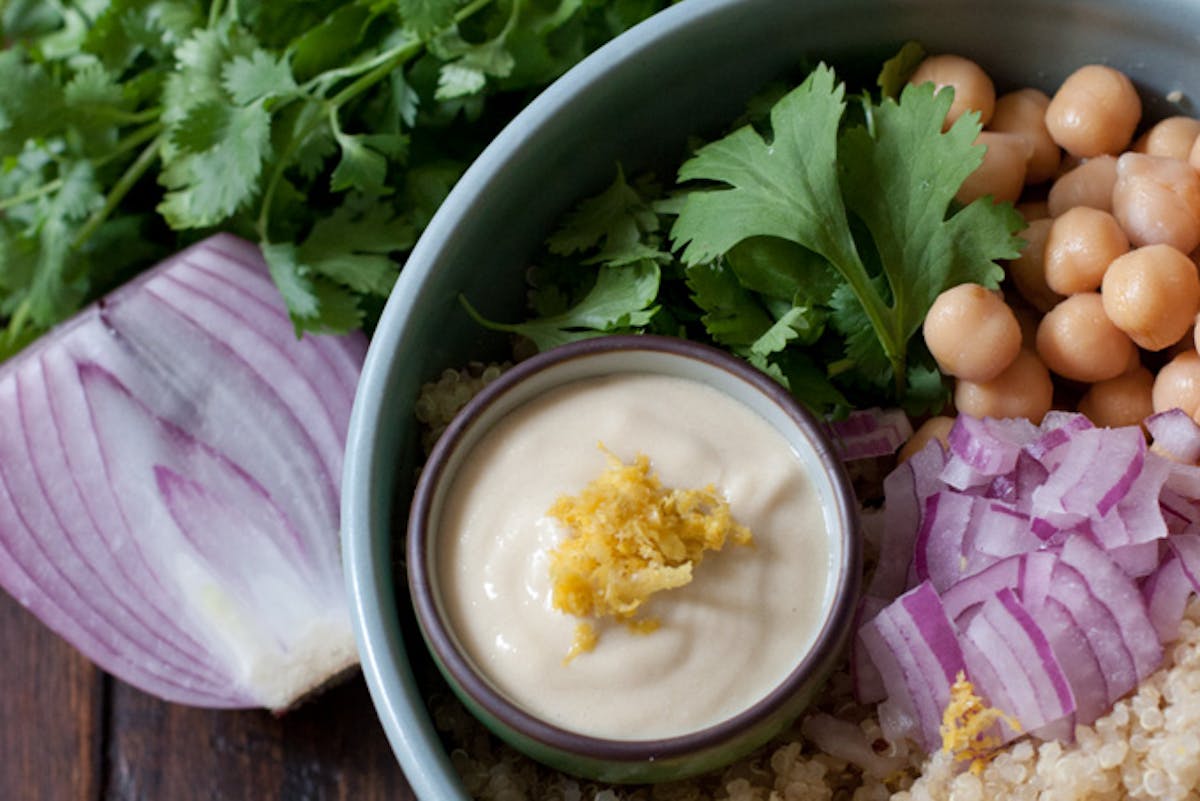 This quinoa salad recipe has become a favorite of mine. And I know many of you are looking for interesting ways to prepare quinoa, so I though I'd share. Chances are you've heard of quinoa. It's one of the nutritional darlings featured in the media regularly. The good news is it's an easy ingredient to work with and once you get to know this curious little grain (er, seed) there are endless ways to incorporate it into your repertoire.
Instead of going on about the nutritional benefits of quinoa (which you can read about just about elsewhere) I'll throw out a few words/phrases that come to mind: Seed not grain. Cute curlicue. Grain-like. Ancient. Pretty colors. Underutilized. Superfood. Quick cooking. Incan gold. Complete protein. Whole. Rinse and cook. Tiny. Fluffy yet crunchy. Breakfast. Lunch. Dinner. Keen-wah.
I've seen a rash of orzo salads lately (!?). I'm not sure what that's all about, but if you're partial to orzo (the rice-shaped pasta) salads why not explore wheat berries, quinoa, or any of the other grains to use in place of the pasta? An easy whole grain substitution.
Here's what I threw together for lunch with some leftover plain quinoa that was in my refrigerator. Took less than five minutes to throw the tahini dressing together and to comb the cupboards and pantry for a few tasty and colorful add-ins.

Browse this page for more quinoa recipes!
Lemon-scented Quinoa Salad Recipe
1 cup quinoa
2 cups water
1/2 teaspoon fine grain sea salt
1 can garbanzo beans, or dried equivalent
1/2 cup cilantro, chopped
1/2 red onion, chopped

Tahini Dressing:
1 garlic clove, smashed and chopped
1/4 cup tahini
Zest of one lemon
scant 1/4 cup fresh lemon juice
2 tablespoons olive oil
2 tablespoons hot water
scant 1/2 teaspoon fine grain sea salt
Rinse the quinoa in a fine-meshed strainer. In a medium saucepan heat the quinoa and water until boiling. Reduce heat and simmer until water is absorbed and quinoa fluffs up, about 15- 20 minutes. Quinoa is done when you can see the curlique in each grain, and it is tender with a bit of pop to each bite. Drain any extra water and set aside.
While the quinoa is cooking make the dressing. Whisk together the garlic, tahini, lemon zest and juice, and olive oil. Add the hot water to thin a bit and then the salt.
Toss the cooked quinoa, beans, cilantro, red onion, and half of the dressing. Add more dressing if you like and season with more salt to taste. Serve garnished with a bit of cilantro.
Serves 4.