A Good Winter Salad Recipe
A simple salad made with crunchy lettuces, a garlicky, melted lemon butter dressing, and shaved endives, delicata squash, avocados, and pepitas.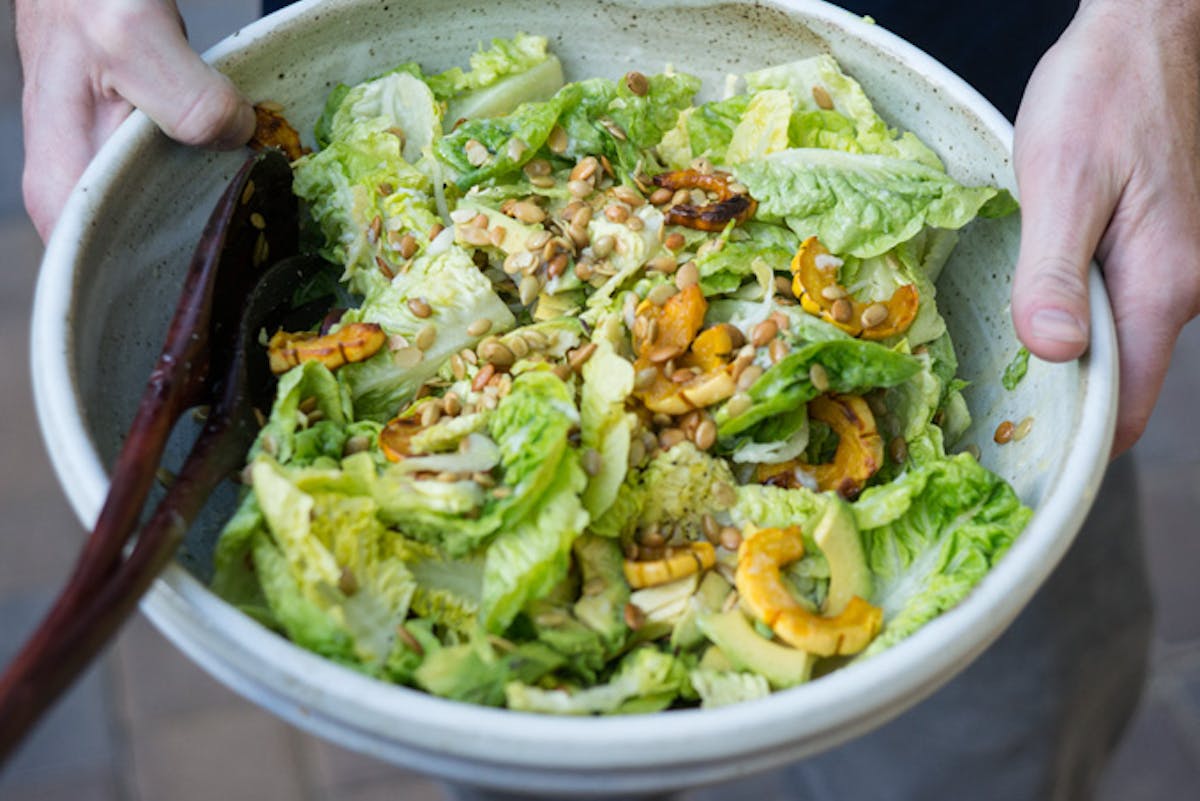 This is the salad I made on Thursday. My intent was to assemble a big, green salad. It would be the sea of green on the Thanksgiving table. There was no real plan aside from that. No real intent to feature it here. It should be said, I'm terrible about photographing or documenting recipes if I'm cooking or helping out in a social setting (like Thanksgiving). I like to chat with people, and hang out, and sit around doing not a lot, and it's hard to do any of that if I'm jotting notes, measuring ingredients, swapping lenses, moving dishes around, and standing on chairs. This salad, it started as a simple arrangement of beautiful little gem lettuces, shaved endives, and an assortment of ingredients - delicata squash, avocados, pepitas, garlic, butter - that were on my counter in San Francisco at 8 a.m. Thanksgiving morning. Into a bag it all went, for the drive to my parents' house, a hour south, in Los Gatos. Flash forward a few hours, and I'm in the salad zone. As I was tossing the little gems, I kept getting more and more excited about the way the garlickly lemon butter drizzled across the top was perfect on their crunchy, little ruffled edges. There was the tender avocados, and roasted squash...Before I knew it, as everyone was filling their plates and sitting at the dinner table, I grabbed my camera, pushed Wayne out the back door into the remaining natural light, and popped off a few frames.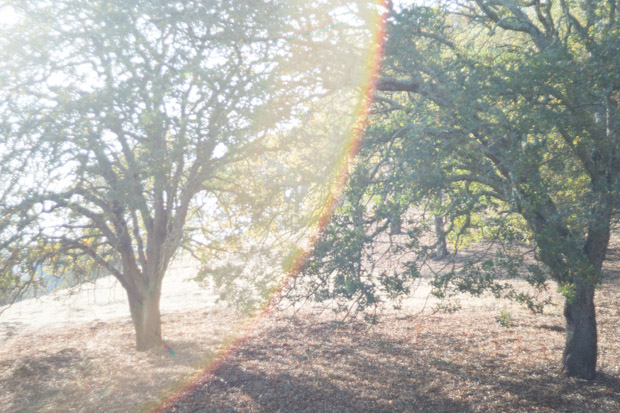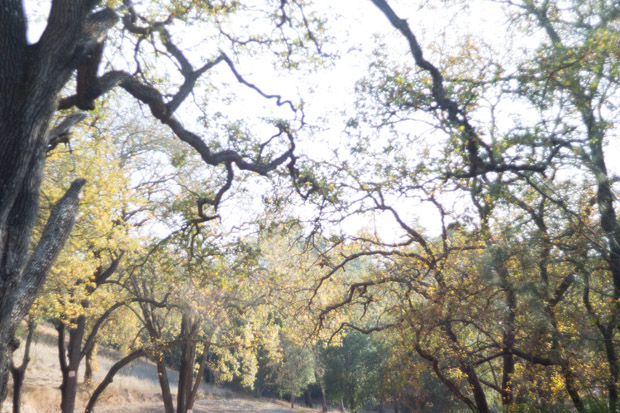 These were the old oak trees (top) I'd see every morning when I looked out my bedroom window. The grass at their feet is green in the spring, but I love it when it goes pale gold like this later in the year.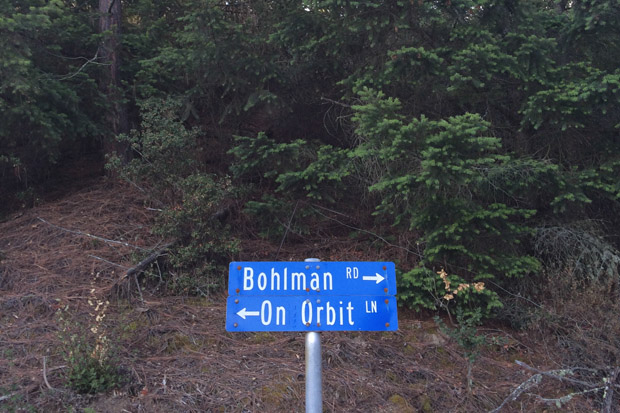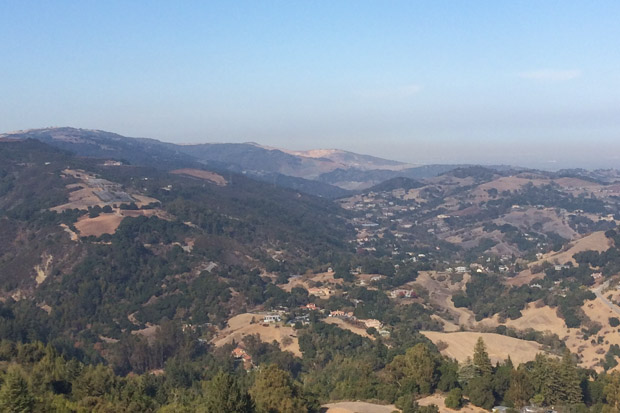 On the drive down we took a bit of a detour, and drove up, up, up into the foothills above Los Gatos. If you keep driving, and winding, and climbing you eventually have a view of the entire Silicon Valley. We would come up here at night when I was a teenager. You can see from San Francisco to Gilroy and watch the planes in a line on approach to SFO. The night of the Loma Prieta earthquake we drove up and I remember seeing the dramatic swaths of black, revealing the areas with no power. In the shot above, you can see north-west nearly to the ocean here, and as you look to the right (beyond the frame) the valley unfolds north to the city.
If you try the salad, use whatever looks best at your market. My original idea was to do little gems and raw, tender brussels sprout leaves. But the sprouts looked mange, so I moved on to endives. I imagine you could trade in baby romaine here, or shredded kale, or shredded endives and roasted mushrooms...The general idea was to treat the lettuce more as a vegetable than anything else. Salting generously, and drizzling with the garlicky melted butter. Hope you like. xo -h
A Good Winter Salad
1 delicata squash, seeded and sliced into thin crescents

6-8 heads little gem lettuces, leaves separated
2 endives, shredded

2 medium cloves of garlic
1/8+ teaspoon fine grain sea salt
5 tablespoons melted butter
big squeeze of lemon juice

1/2 cups toasted pepitas
2 ripe avocados, slivered
Heat the oven to 375F, toss the squash crescents with a splash of olive oil, and roast until deeply golden. Remove from oven and set aside.
Crush the garlic with the salt into a paste with a mortar and pestle. Work the melted butter into the garlic paste, and finish with a generous squeeze of fresh lemon juice. Taste and add more salt if needed.
When you're ready to serve the salad, arrange the little gems and endives in a large bowl. Drizzle with half of the butter and give a good toss. Add the pepitas, avocados, and squash, and more dressing, and give another gentle toss. Taste, and add more salt, and more dressing if needed.
Serves 4-6.
Prep time: 10 minutes - Cook time: 20 minutes