Amazing Black Bean Brownies Recipe
This quirky, yet amazing black bean brownie recipe delivers deliciously dense, bite-sized squares of melt-in-your-mouth fudge-textured brownies.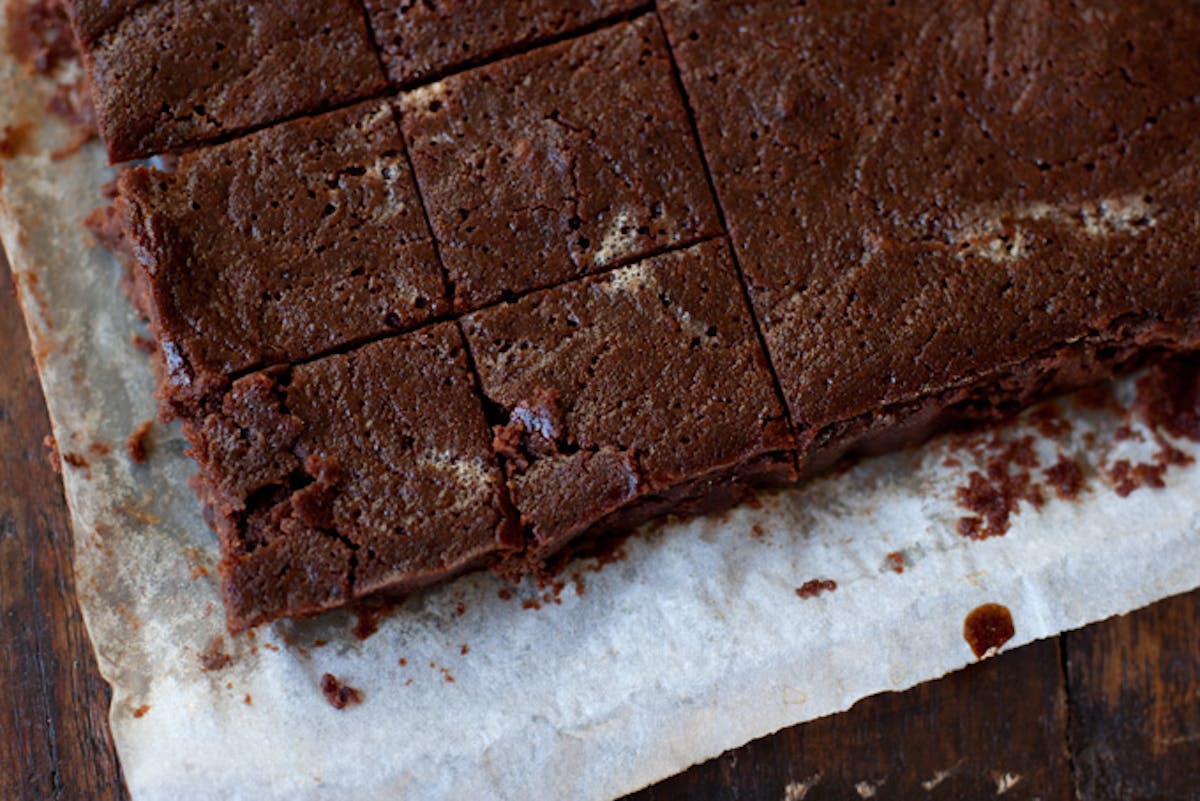 It kills me that I can't take credit for today's black bean brownies. As strange as it sounds (we're talking about brownies packed with pureed black beans), this recipe from a new book by Ania Catalano delivers deliciously dense, bite-sized squares of melt-in-your-mouth fudge-textured brownies. Keep in mind I'm someone who comes across hundreds of brownie recipes a year, it wasn't high on my to-do list to feature yet another brownie recipe. But the quirky ingredient list piqued my curiosity, and in the end the proof was in the pan. Ania mentions that this flourless brownie was the most sought-after recipe at her restaurant and bakery.
Ania's new book is called Baking with Agave Nectar. I was lucky enough to spend some time with a preview copy of it, and even wrote a blurb for the back cover. There are many reasons people are looking to alternative sweeteners. I wrote (and used) agave nectar in Super Natural Cooking for a number of recipes, but you might also try date syrup, coconut nectar, or maple syrup. People looking for sweeteners lower on the glycemic index explore agave nectar, as do many hypoglycemics, diabetics, and people with certain allergies. That being said, don't make the mistake of dismissing it as some sort of "health" or "diet" ingredient. The real reason for chef and home cooks alike to try it (if you haven't already) is because it tastes amazing - it really has its own thing going on. I won't get into all the specifics here, but I encourage you to give it a try. Ania's book is a great starting point for those of you who want to learn to bake with agave nectar in place of the typical white refined sugar called for in so many baking recipes. I also get into many of the specific characteristics of it in the "Use Natural Sweeteners" chapter of SNC with a few recipes that highlight it.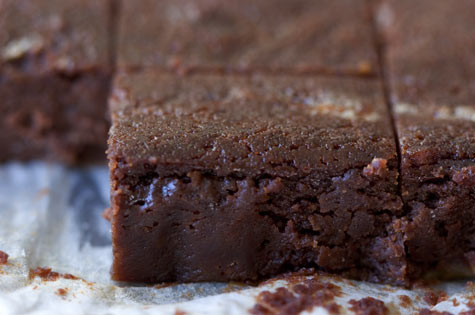 So, like I said - there are some quirky facets to this particular brownie recipe. Black bean brownies, really? Yes! And now I'm totally enamored with the use of the black bean batter, it really worked, not even a hint of beany flavor. Consequently, my head is now spinning with all sorts of thoughts about how I might use other pulses in future baking adventures.

Amazing Black Bean Brownie Recipe
For those of you who have a hard time tracking down agave nectar (which is becoming much more readily available) substitute honey 1:1 for the agave nectar. Ania's head notes encourage you to keep these brownies in the refrigerator, they will slice much better if refrigerated several hours or preferably overnight. I used instant coffee this time around, but you can find natural coffee substitute at many natural food stores.
4 ounces unsweetened chocolate
1 cup unsalted butter
2 cups soft-cooked black beans, drained well (hs: canned is fine)
1 cup walnuts, chopped
1 tablespoon vanilla extract
¼ cup (granulated) natural coffee substitute (or instant coffee, for gluten-sensitive)
¼ teaspoon sea salt
4 large eggs
1½ cups light agave nectar
Preheat the oven to 325°F. Line an 11- by 18-inch (rimmed) baking pan (hs note: or jellyroll pan) with parchment paper and lightly oil with canola oil spray.

Melt the chocolate and butter in a glass bowl in the microwave for 1 1/2 to 2 minutes on high. Stir with a spoon to melt the chocolate completely. Place the beans, 1/2 cup of the walnuts, the vanilla extract, and a couple of spoonfuls of the melted chocolate mixture into the bowl of a food processor. Blend about 2 minutes, or until smooth. The batter should be thick and the beans smooth. Set aside.

In a large bowl, mix together the remaining 1/2 cup walnuts, remaining melted chocolate mixture, coffee substitute, and salt. Mix well and set aside.

In a separate bowl, with an electric mixer beat the eggs until light and creamy, about 1 minute. Add the agave nectar and beat well. Set aside.

Add the bean/chocolate mixture to the coffee/chocolate mixture. Stir until blended well.

Add the egg mixture, reserving about 1/2 cup. Mix well. Pour the batter into the prepared pan. Using an electric mixer, beat the remaining 1/2 cup egg mixture until light and fluffy. Drizzle over the brownie batter. Use a wooden toothpick to pull the egg mixture through the batter, creating a marbled effect. Bake for 30 to 40 minutes, until the brownies are set. Let cool in the pan completely before cutting into squares. (They will be soft until refrigerated.)
Makes 45 (2-inch) brownies.
Reprinted with permission from Baking With Agave Nectar: Over 100 Recipes Using Nature's Ultimate Sweetener by Ania Catalano. (Ten Speed Press 2008)