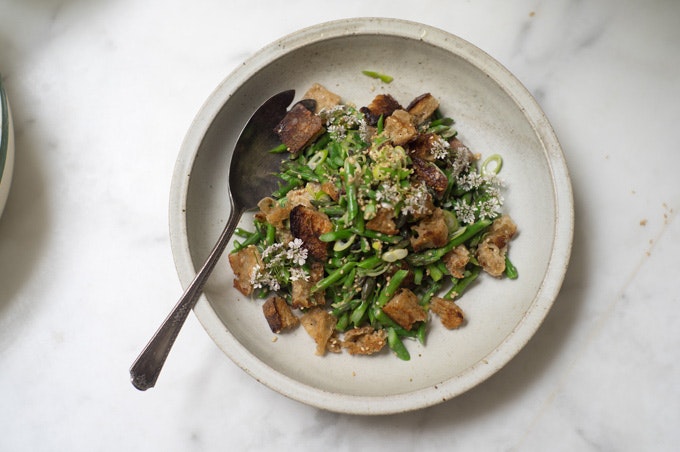 Asparagus Panzanella Recipe
There is quite a lot going on here. I'm putting the finishing touches on this little bear of a project. The photos are shot, the cover is set, and the files are locked down. It's the stretch of time between creating the content of a book, and when it goes to the printer. When things get a bit quiet. You're past the point of being able to tweak or change things, and you're waiting for your turn on press. Having a bit of a lull has been nice. I've been photographing beautiful California-made ceramics for a Spring update here, and getting all Marie Kondo on the house. Also, I've been cooking as much as ever. I think that's in part because I've moved on from the recipes in Near & Far, at least for the time being. I've lived with those recipes for the past few years, and they're ready to have a life in kitchens that aren't mine. This is exciting, but it also means there is a space cleared on my counter for other people's books. I can pick and choose from all those recipes I've had earmarked for months, or just play around in the kitchen a bit more freely. This is an example of something I pulled together for lunch & couldn't resist taking a few photos. It's a simple asparagus panzanella made with whatever was in reach. A quick, mustard buttermilk dressing accents good asparagus, alongside crusty shards of toasted bread, and a dusting of sesame seeds. Shred a hard boiled egg over the top and you've got an even more substantial meal.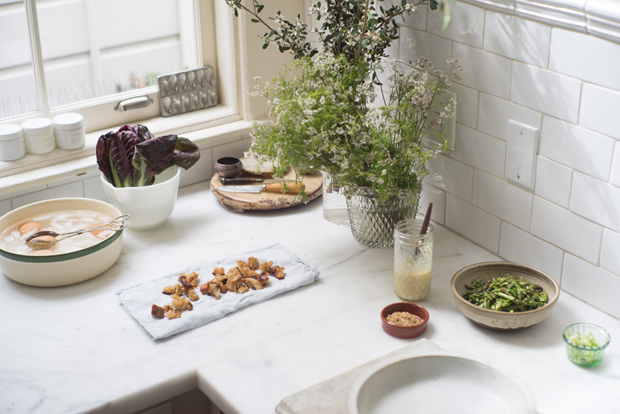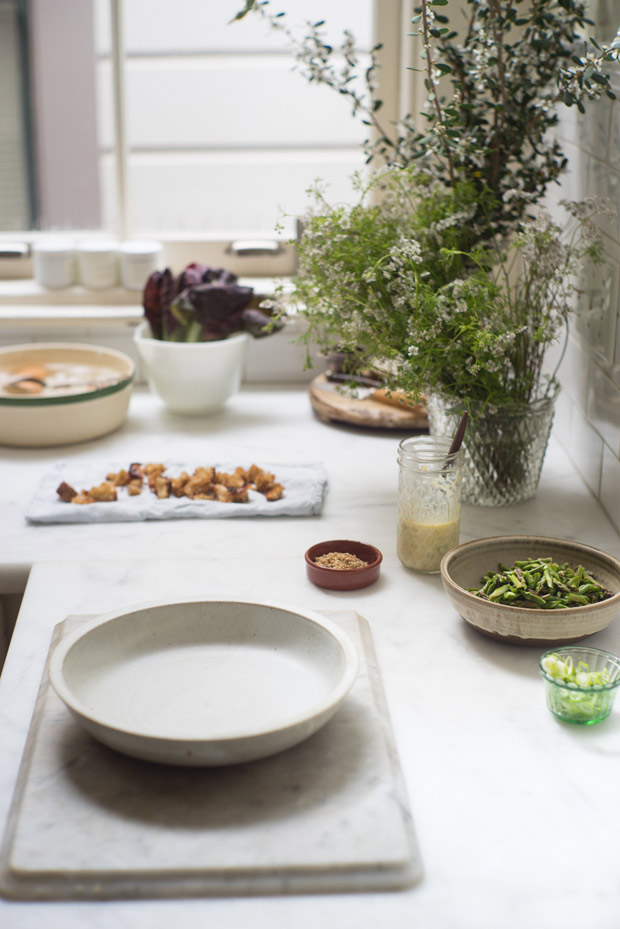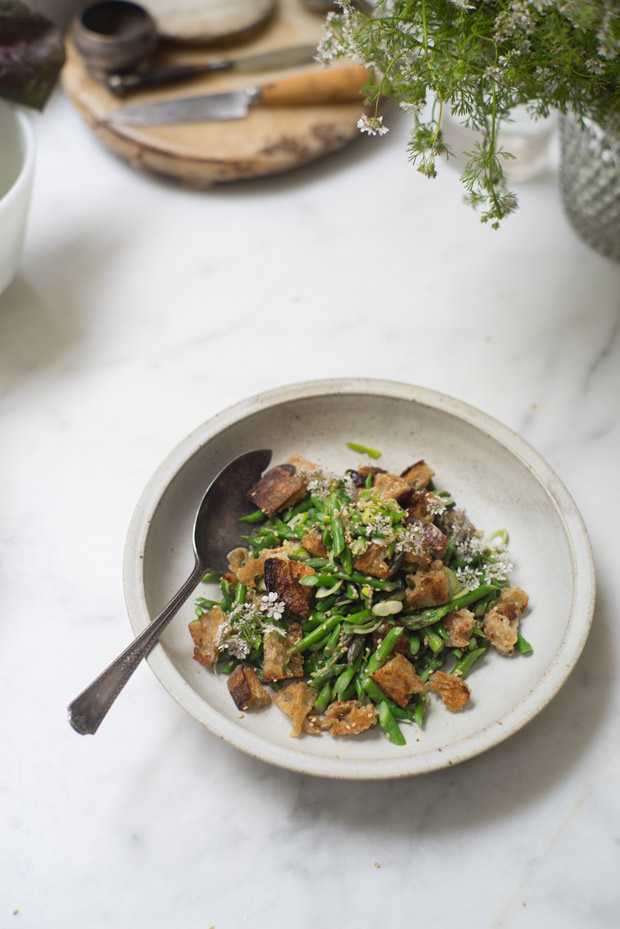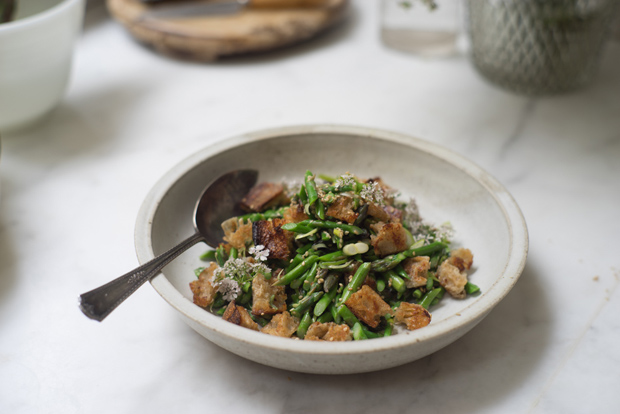 I'm finishing up a good favorites list I hope to finish before the weekend. In the meantime, enjoy the panzanella.
Asparagus Panzanella
1/3 cup / 80 ml buttermilk
2 tablespoons extra virgin olive oil
1 tablespoon Dijon mustard
1 tablespoon white wine vinegar
2-3 scallions, thinly sliced
fine grain sea salt

1 bunch of asparagus
2 tablespoons unsalted butter
1 large handful of torn bread
2-3 tablespoons toasted sesame seeds
edible herb flowers (optional)
Start by making the dressing. Whisk together the buttermilk, olive oil, mustard, vinegar, half of the scallions, and a couple of pinches of salt. Taste and adjust if needed, before setting aside.
Trim the tough ends from the asparagus, and cut into ½-inch segments, on a bias.
Melt the butter in a large skillet, add the bread, toss until well coated, then toast, tossing now and then, until golden. Transfer to a paper or clean linen towel.
Bring a saucepan of water to a boil, salt generously, and blanch the asparagus until just tender - 20 seconds or so if your asparagus is thin, a bit longer depending on thickness. Drain, and rinse under cold water to stop the cooking if you'd like to serve this cold. Alternately, transfer the asparagus directly to the serving bowl without the cold water rinse, if you'd like it warm. Add the remaining scallions, a good splash of the dressing, toss well, and decide if you'd like more dressing. Finish with the sesame seeds, toasted bread, and a sprinkling of herb blossoms if you have them.
Serves 2-4.