Baked Eggs Recipe
Baked eggs in edible cups with cherry tomatoes, garlic, olive oil and lots of vibrant spices.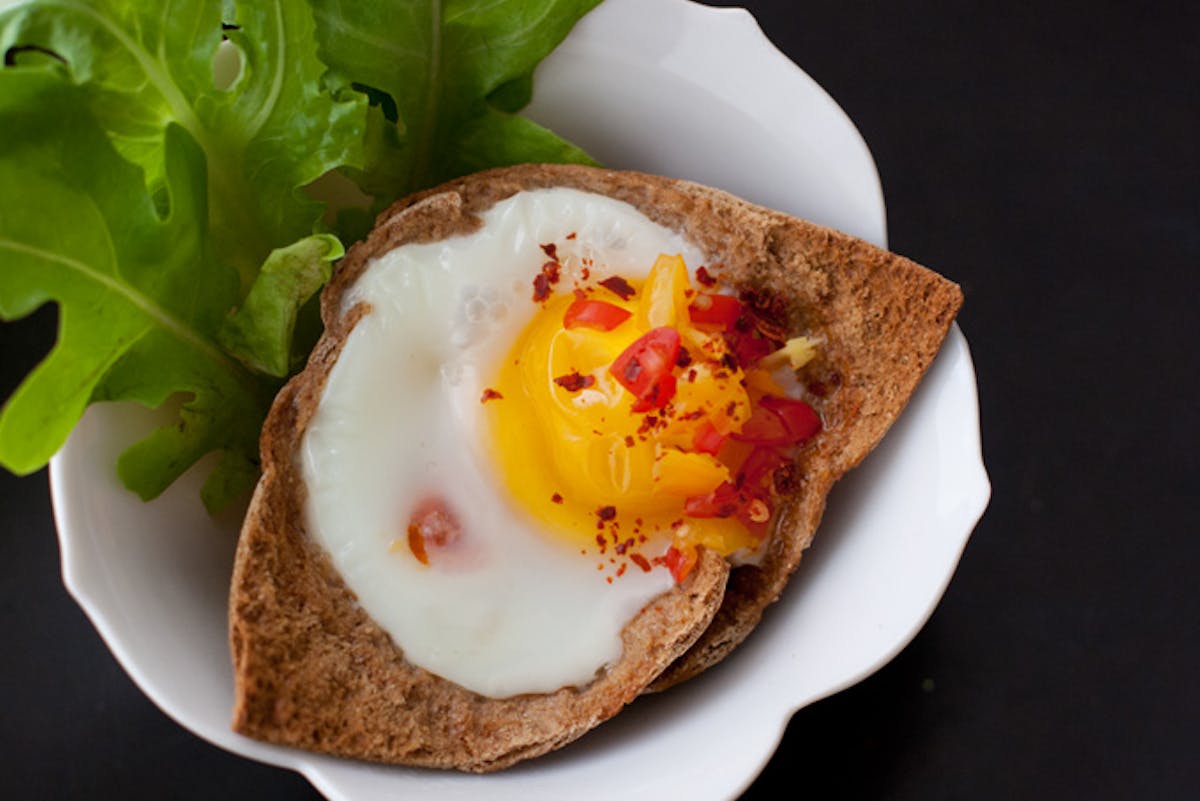 Much of my current enthusiasm about cooking eggs stems from a simple fact, if I eat an egg (or two) for breakfast I'm satisfied until lunch. The same can't be said about bagels. I mention bagels because they are one of the few non-pastry items available at most cafes in the morning. All the cafes in my neighborhood serve whole wheat bagels, which being completely honest here, I tolerate more than I enjoy. Some of you might cite the breakfast bagel as a viable and satisfying breakfast choice and you aren't alone, one of the local spots does a brisk business in these egg-and-cheese topped creations. But I'm going to argue that the bread (bagel) to egg ratio is a bit out of balance for my tastes - they should serve these open-faced with no top. No?
So, this got me thinking about a better breakfast. A better egg breakfast to be specific. Omelettes, boiled eggs, fried eggs, and scrambles are all old hat for me - I wanted to explore territory I wasn't as comfortable with. What about baked eggs? Bingo. What about baked eggs in edible cups? Even better.
I knew I wanted these to be individual egg cups (maybe tart is a better word?), so I suspected standard muffin tins would work well as molds. I would tuck some pita, or thin lavash bread, or a tortilla, or two very thin, long criss-crossed slices of potatoes into alternating muffin slots. Add a bit of filling, crack an egg on top of each cup, and bake.
I needed to work out the filling and decide what other ingredients I wanted to pair with the eggs - what other flavors I wanted to introduce. I love Spanish tortillas (with eggs and potatoes) served with romesco sauce, so I thought that might serve as inspiration. Unfortunately it was also going to require a special trip to the store. Instead, I raided my spice drawer for smoked paprika, chile flakes, and cumin. Hit up the refrigerator for a couple handfuls of tiny cherry tomatoes, and chopped up a spring onion. The idea was: make filling, crack egg, bake, and serve on pretty plate with simply dressed salad on the side. the cool thing I'm not realizing is that you could do your little sauteed filling the night before, and have six of these in the oven the next morning in under two minutes for a brunch or even breakfast before work (bake while blow drying).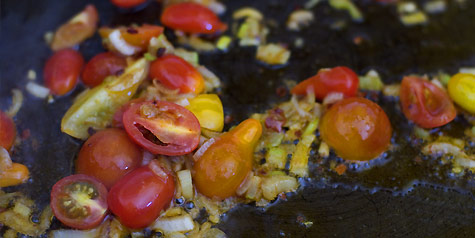 So here is is the my baked egg recipe plus a couple other variations I'd like to try in the future. Let me know your ideas as well!
Thin tortilla cups + spicy bean base + egg + avocado & salsa on top
Pita cups + goat cheese and herb base + egg + creme fraiche on top
Or what about a maple-kissed version with something savory to bridge and temper the sweetness?
Baked Egg Recipe
2-3 tablespoons extra virgin olive oil
3 big pinches ground cumin
2 big pinches chili flakes
2 big pinches smoked paprika
2 big pinches fine sea salt
1 cup spring (or regular) onion, chopped
1 clove garlic, chopped
1 cup cherry tomatoes, halved or quartered

2 pieces of pita bread, cut into quarters

6 large organic eggs
Garnish: finely chopped tomatoes, chile flakes, cilantro (optional)

Special equipment: standard 12 muffin tin
Preheat oven to 350F degrees. Add the olive oil to a large skillet over medium-high heat. Stir in the cumin, chile flakes, paprika, salt, onion, and garlic. Cook until onions soften, just a minute or two. Stir in the chopped tomatoes and cook until the tomatoes soften up a bit, another two or three minutes. Set aside.
Take six pieces (quarters) of the pita bread, gently open each of them and tuck them into the muffin tin - every other slot. If the pita splits, no worries, just criss-cross the bread into a nest or tart shell of sorts so there is coverage across the bottom so the egg and filling won't run out.
Spoon a bit of the tomato filling into each pita cup, dividing it amongst the six cups. Now crack a single egg into each pita cup. You don't want the cups to overflow, hold back a bit of the egg white if you need to. Also, you don't want the egg yolk to jet up toward the sky, try to ensure it is level with the whites or the yolks can dry out while baking.
Carefully place in the oven (racks in the center) and bake for about 15 minutes. Until the whites have set and become opaque. Serve hot garnished with a sprinkling of chopped tomatoes, chile flakes, and/or a bit cilantro.
Makes six egg cups.