Baked Sweet Potato Falafel Recipe
Baked Sweet Potato Falafel recipe from the Leon cookbook -made from mashed sweet potatoes, chickpea flour, spices, a nice amount of garlic and plenty of chopped cilantro.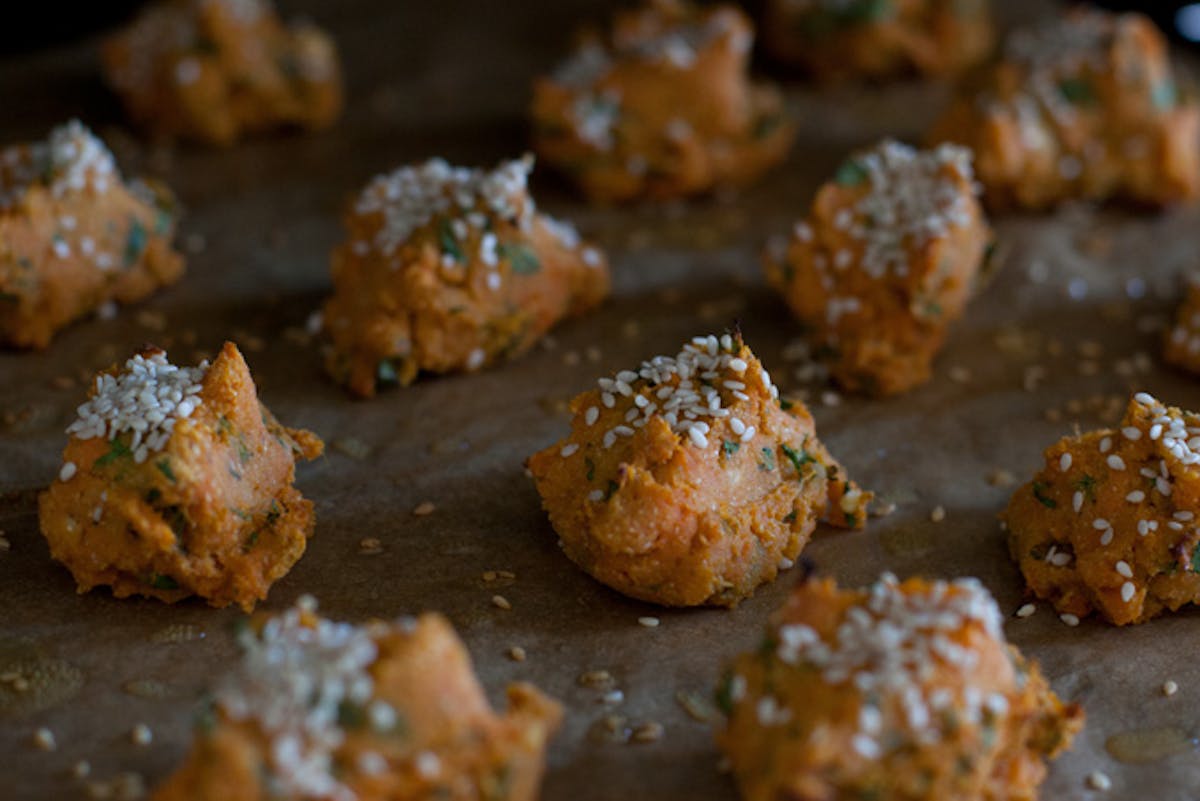 Do all you U.K. based readers know the Leon restaurants? I bet many of you do. I'm feeling a bit in the dark here. I learned of the fantastically successful Leon destinations while flipping through an Aussie food magazine the other day and ended up ordering the newly released Leon cookbook on the spot. I think we can all agree, it's a challenge to find natural food cookbooks that are full of great content and exceptionally well designed. Wait until you get a glimpse of this book. Written by chef/owner Allegra McEvedy, it's quirky, fantastic, fun, and takes all sorts of liberties with traditional book design. I'm highlighting the baked sweet potato falafel recipe here today, but it was hard for me to settle on a single recipe. The 300+ page book is full of the big-hearted, bold-flavored, seasonal, gutsy food the cafes are known for.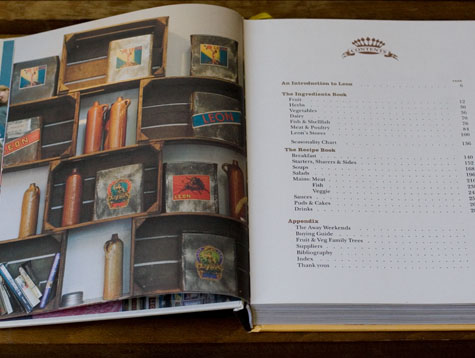 Leon covers a lot of ground. It is divided into two major sections - ingredients and recipes. Essentially, you learn how to source great ingredients in the first part, and how to put them to use in the second part. The book includes a tear-out seasonality chart, an endearing fold-out European cheese map, all sorts of icons, funky fonts, and info-graphics throughout. You can have a glance at their menu to get a sense of the kind of recipes you'll find in the book - plenty for vegetarians and non-vegetarians alike. Lots of whole grains, an emphasis on minimally processed ingredients. Really great.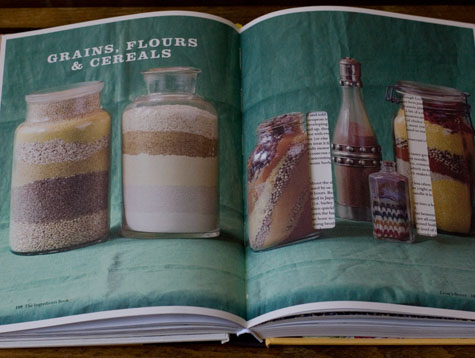 I feel like this is a cookbook that will resonate with many, not only as a reference, but also as an object that was thoughtfully made by people who care about what they are doing. It would be a great gift to give to young people as they are going off to college, or striking out on their own. If I had this book when I was twenty-two it may not have taken me as long as it did to find a culinary realm I love exploring - mindful food that is full of flavor and fun and friendship.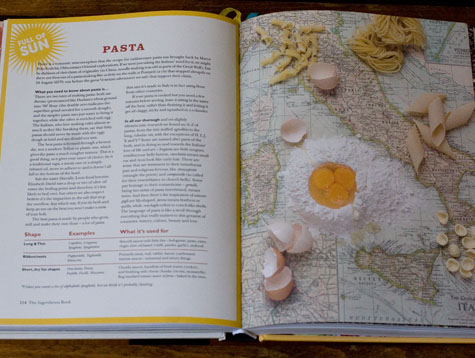 I'll finish up with a few notes about the baked sweet potato falafel recipe. These aren't your typical falafel, nor were they intended to be, just keep that in mind before you write in. These falafel are made with a mashed sweet potato and chickpea flour base, accented with a generous punch of spices, a nice amount of garlic and plenty of chopped cilantro. If you're looking for that crunchy, fried, falafel experience, this isn't it. But these are delicious in their own way. And the sesame seed sprinkle gives each one a little bit of crunch. The next time around I might actually give each falafel a dunk in some sort of egg bath, and then in the seeds for a bit more crunch and coverage. At Leon they are served as a mezze along with chopped tomatoes, pickles, and aioli.
Baked Sweet Potato Falafel Recipe
These falafel are Leon's most popular veggie dish to date. They knew they wanted falafel on the menu, but chose not to have deep fryers. After some experimenting, this sweet potato and chickpea flour version was developed.
2 medium sweet potatoes (orange inside), around 700g or 1 1/2 pounds in total
1 1/2 teaspoons ground cumin
2 small cloves of garlic, chopped
1 1/2 teaspoons ground coriander
2 big handfuls of fresh cilantro/coriander, chopped
Juice of half a lemon
a scant cup (120g) gram /chickpea flour
a splash of olive oil
a sprinkling of sesame seeds
salt and pepper
Preheat the oven to 425F degrees (220C) and roast the sweet potatoes whole until just tender - 45 minutes to 1 hour. Turn off the oven, leave the potatoes to cool, then peel.
Put the sweet potatoes, cumin, garlic, ground and fresh coriander, lemon juice and gram/chickpea flour into a large bowl. Season well, and mash until smooth with no large chunks. Stick in the fridge to firm up for an hour, or the freezer for 20-30 minutes. When you take it out, your mix should be sticky rather than really wet. You can add a tablespoon or so more of chickpea flour if necessary (the water content of sweet potatoes varies enormously).
Reheat the oven to 400F/200C. Using a couple of soup spoons (put a well-heaped spoonful of mix in one spoon and use the concave side of the other to shape the sides) or a falafel scoop if you have one, make the mixture into falafelly looking things and put them on an oiled tray. Sprinkle sesame seeds on top and bake in the oven for around 15 minutes, until the bases are golden brown.
Makes about 18 falafel, enough for 4 - 6.
Reprinted with permission from Leon: Ingredients and Recipes by Allegra McEvedy. (Conran Octopus Ltd. 2008)