Broccoli Pesto & Fusilli Pasta Recipe
A simple pasta bowl made by tossing a whole wheat fusilli pasta, shredded spinach, and with a delicious walnut & broccoli pesto sauce.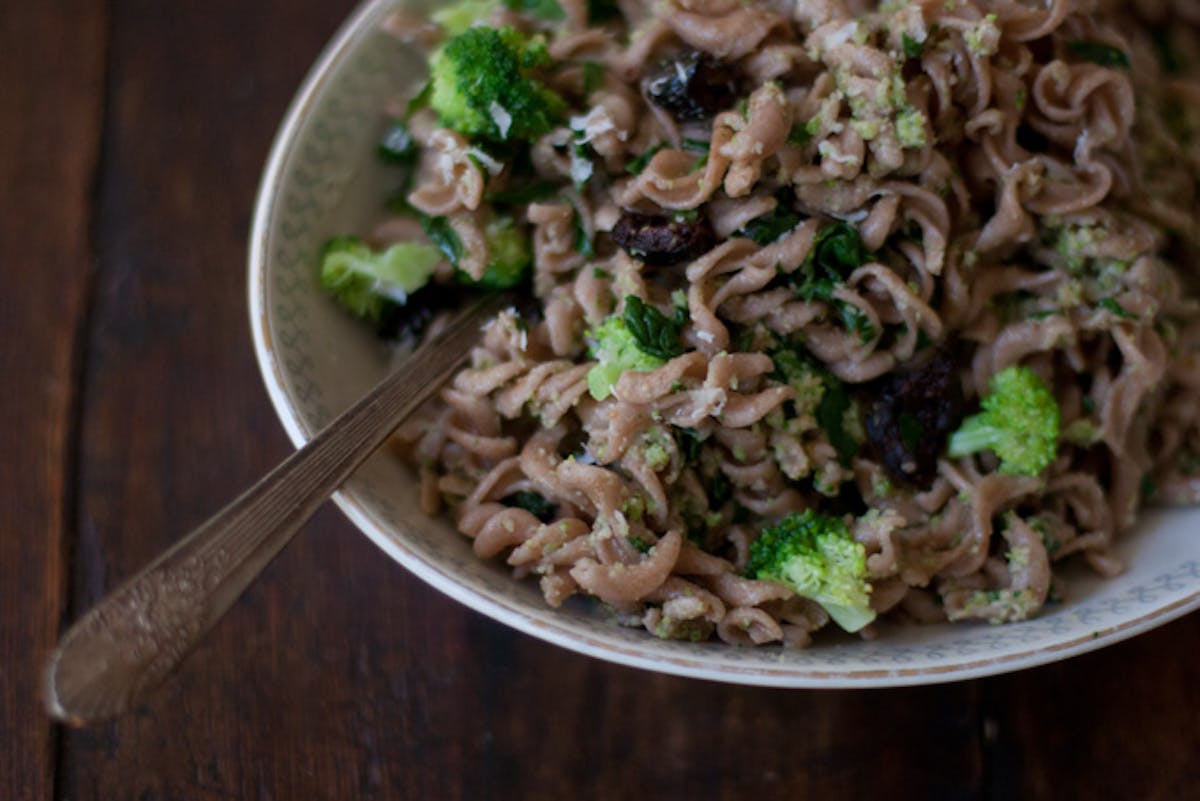 I opened my refrigerator the other night to find a lone head of broccoli staring back at me. I stared, it stared back - neither of us blinked. I suspect he knew that if I were to ignore him for another night or two there was a trip to the compost heap on the horizon. What to do? What should I make? I've been turning just about anything puree-able in my kitchen into a pesto lately, so I thought bingo! broccoli pesto it is. While I've dabbled in a broad spectrum of pestos over the years - basil, cilantro, asparagus, artichoke, green garlic, and even a scape pesto (these are just the green ones!), broccoli pesto was a first for me. And allow me to save you some reading - the key to good, broccoli pesto is to resist the urge to overcook the broccoli. Get that right, and you're well on your way to a unique, vibrant, and tasty meal. I used a toasted walnut nuts alongside the broccoli in the pesto and served it with whole wheat pasta, a bit of spinach, a few oily black olives, and some shaved Parmesan. A reasonably-sized serving topped with two poached eggs is a new favorite, nutritious, go-to meal for me - perfect for lunch.
A bit more about pesto before we move on to the recipe itself. I love the way pestos pack an intense amount of flavor into every spoonful. They typically require a small list of ingredients, tolerate quite a bit of time in the refrigerator and, if needed, often make the jump to freezer without much trouble. In addition to using spoonfuls here and there on pastas or grains, I thin them out out to make a dressings, swirl them into soups, and stir them into yogurts or fresh cheeses. Hope you like this one :)
Broccoli Pesto & Fusilli Pasta Recipe
You can certainly add a handful of basil to this for more traditional flavor - you'd still get the added nutritional perks from the broccoli. And by all means, feel free to cook your broccoli in a skillet with a bit of salt, olive oil, and water. This way you won't lose as many nutrients in the cooking process - the boil and drain method takes more nutrients out of the final dish. I did the boil out of convenience this time around.
1 medium head of broccoli (about 3 cups), cut into very small florets
1/2 cup walnuts, toasted
1/3 cup Parmesan, freshly grated
1 clove of garlic
juice of 1/2 a lemon
1/4 teaspoon + fine grain sea salt
1/3 cup extra-virgin olive oil
1/2 pound (8 ounces) dried whole wheat pasta (bite-sized - fusilli, penne, etc)
3 handfuls of spinach or chard, well chopped
handful of oily black olives, pitted

more Parmesan for serving
Bring two pots of water to a boil, one large, one medium. In the medium pot you'll cook the broccoli, the large can be used for the pasta.
To cook the broccoli, salt the boiling water and add the broccoli. Cook for just twelve seconds. Drain immediately and run cold water over the broccoli to stop the cooking. Reserve a few of the small broccoli trees and puree the rest in a food processor along with the walnuts, Parmesan, garlic, lemon juice and salt. Drizzle in the olive oil while still blending. Taste, adjust with more salt or lemon juice if needed and set aside.
To cook the pasta, salt the boiling water generously and add the pasta. Boil until just barely tender. Drain, transfer the hot pasta to a large bowl and stir in the spinach, it should wilt. Gently stir in about half of the pesto. Taste, add more pesto to your liking. Served topped with olives, the reserved broccoli florets, and a dusting of Parmesan cheese.
Makes about 6 side servings.