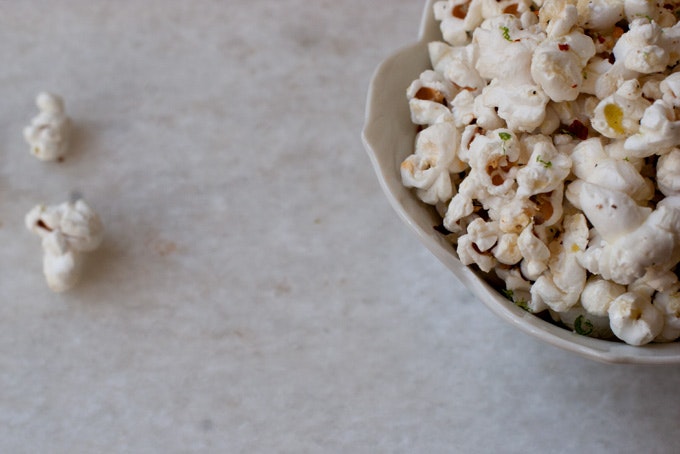 Chile Lime Tequila Popcorn Recipe
I tucked a bag of this chile lime tequila popcorn into my luggage as I was packing for a trip to Santa Fe, New Mexico a few weeks back. The recipe came from a new single-subject book, Popcorn, which caught my attention because it was photographed by my talented friend Lara Ferroni. To choose one recipe to try from sixty popcorn-centric creations was a bit of a challenge, but my love for lime-spritzed savory treats led me to page 39. Fresh popcorn is tossed with melted butter, lime juice, jalapeno peppers, red pepper flakes, cumin and a splash of tequila. I threw in a couple handfuls of toasted peanuts for good measure before securing the bag with a bit of twine.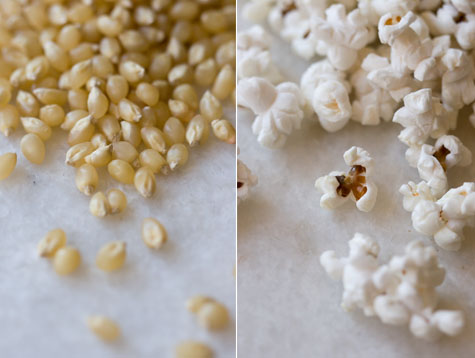 Popcorn enthusiasts will find plenty to inspire here. Dozens of toppings are suggested - from herbes de Provence to chai spices, za'atar to Chinese five spice. There are plenty of sweet ideas too, for those of you who find yourself solidly in the kettle corn camp.
There was also a Spanish smoked paprika popcorn that just about won out - and I think I'll try that one next. Unless one of you can trump that by suggestion a favorite topping of your own for me to try. -h
Chile Lime Tequila Popcorn Recipe
4 quarts freshly popped popcorn*
1/3 cup butter, melted
2 teaspoons freshly squeezed lime juice
1/2 teaspoon lime zest
1 teaspoon tequila
1/2 small jalapeno, seeds and membrane removes, minced
1/2 teaspoon freshly ground black pepper
1 1/2 teaspoons salt
1 teaspoon red pepper flakes
1 teaspoon ground cumin
Preheat the oven to 300F degrees. Line a baking sheet with foil or a silicone baking mat (hs note: or unbleached parchment paper). Set aside.
Put the popcorn in a large, clean paper bag or a washable muslin bag. In a medium-size bowl whisk together the butter, lime juice and zest, and tequila. Add the jalapeno. In a small bowl combine the black pepper, salt, red pepper, and cumin.
Drizzle half of the butter mixture over the popcorn, fold over the top of the bag, and shake until the popcorn is coated and moist. Taste. Add more of the butter mixture if you like, and give a second shake. Sprinkle (most of) the pepper mixture over the popcorn, fold over the top of the bag, and shake a few times to coat. Taste, and if you'd like more pepper flavor add the rest of it.
Spread the popcorn evenly over the baking sheet and bake until the popcorn is dry, five to seven minutes.
*To pop 4 quarts of popcorn, heat 1/4 cup clarified butter, coconut oil, or olive oil in a deep pot over medium heat. Add a few kernels to the pot. Once they pop, add 3/4 cup popcorn kernels and shake the pot until they cover the pot evenly. Cover the pot and shake intermittently until the popping slows to 5 seconds between pops. Remove the popcorn from heat and transfer it to whatever bag you are going to use for tossing.
Make 4 quarts of popcorn.
Reprinted with permission from Popcorn by Patrick Evans-Hylton. (Sasquatch Books 2008)