Coco Choco Clusters Recipe
Toasted coconut, almonds, ground coffee, and good chocolate dropped into little bite-sized chocolate clusters.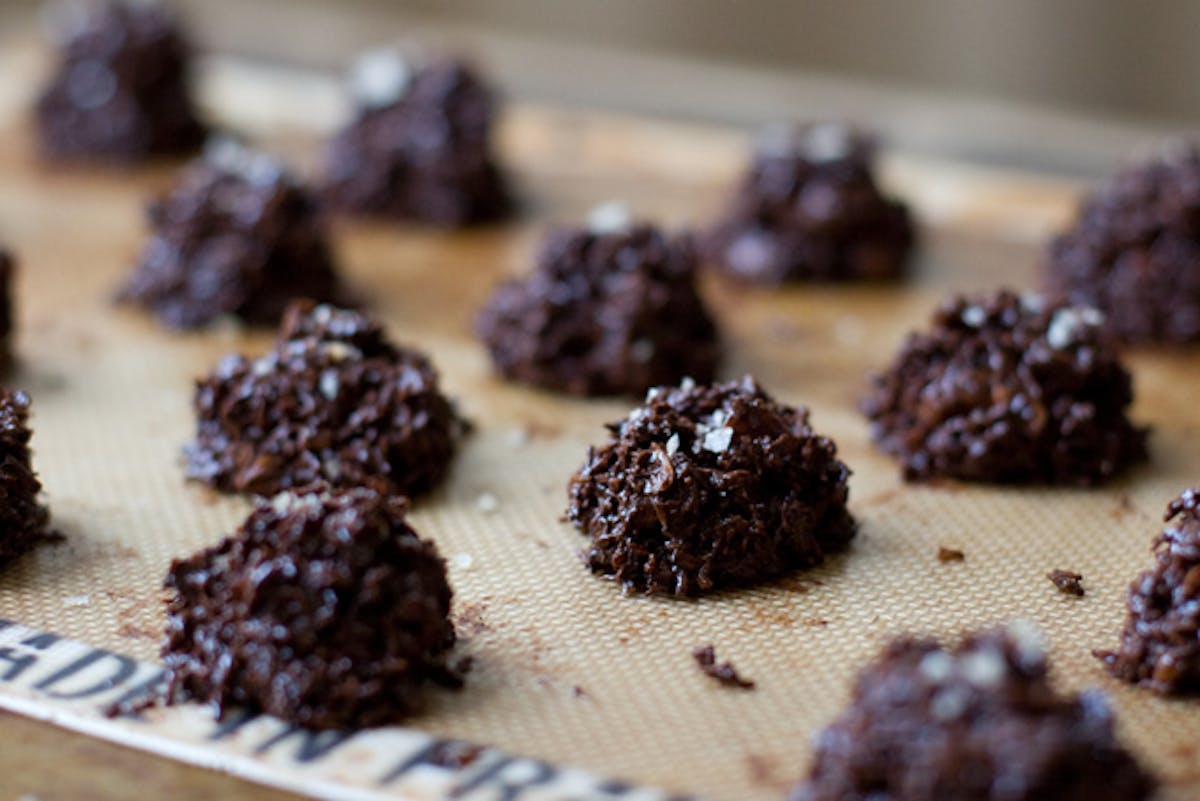 I was having second thoughts about running this recipe. My plan was to combine toasted coconut, almonds, ground coffee, and good chocolate into little bite-sized clusters. Simply stir all the ingredients together in a big bowl and then spoon the mixture out onto a baking sheet into little mounds. Sort of like a home-made Almond Joys for the cook who cant be bothered to make a real coconut filling, and who certainly doesn't want to do the dunking required to make a chocolate coating. I also thought it might be a fun kids recipe (you could skip the espresso beans). But in the end, they aren't really my thing...
I should add, its not that I didn't like the taste or flavor of these. I simply think they are ugly. And they are fussy. But everyone around here seems to love them, Wayne used the word decadent, so I decided to share them with you regardless. A word of warning, while I don't normally encourage refrigerating chocolate - I promise you, if you leave these out in a summertime kitchen (yes, even in San Francisco) they will crumble in your hands. So, keep 'em cool.
Coco Choco Cluster Recipe
The specifics: I used Marcona almonds (already fried, so I did not toast them) and a 70% Dolfin Chocolate, this amber colored Halen Mon Gold smoked finishing salt, and Blue Bottle Coffee Yemen San'ani - not available on their site right now. To melt the chocolate use a double boiler or if you are like me, and don't own a double-boiler cobble one together using a tiny saucepan set under a larger mixing bowl. Fill the saucepan with an inch or two of water and bring to a simmer - place the big mixing bowl with the chocolate on top of the saucepan and let the heat come up and gently warm the chocolate. Stir occasionally until chocolate is completely melted and remove from heat. Also, make sure all ingredients save the chocolate are at room temp before combining or the chocolate will never set up - for example if the coconut is still hot from toasting.
2 1/2 cups finely shredded unsweetened coconut, lightly toasted and cooled
1/2 cup toasted almonds, cooled and chopped
7-8 ounces dark chocolate, chopped
1 tablespoon finely ground espresso beans (optional)
a big grain finishing salt - if you can get your hands on a smoked one, great
Line a baking sheet with parchment paper or a Silpat. Combine the coconut and almonds in a large bowl. Place the chocolate in a double boiler (or a bowl placed over a bit of simmering water) to melt along with the ground espresso. Pour the chocolate over the coconut mixture and stir to combine. Let cool a few minutes and then drop by the tablespoonful onto baking sheet. Finish with a few grains of salt on top of each. The mixture will be a bit crumbly, but will set as the chocolate cools. If your kitchen is on the cool side the clusters will set up over the course of an hour or so. If you want to speed up the process a bit, pop them in the refrigerator.

Makes 36 clusters.